Saturday 6th November 2021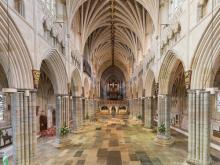 Add to Calendar
06-11-2021
06-11-2021
Europe/London
Building Limes Forum Conference, Online, 6 November
Building Limes Forum (BLF) members, lime enthusiasts, conservation professionals and trades from around the world are invited to book for this year's Building Limes Forum conference taking place online on 6 November. It will be streaming live from Exeter Cathedral, famed for its Gothic architecture. The theme for this year's conference is 'Looking Back, Looking Forward: learning from the past to inform the future.'
The one-day event features a mix of recorded and live content, concluding with the Baker Memorial Lecture, this year being given by James Simpson, OBE HonDSc FRIAS, co-founder of the BLF and twice Chairman. James wrote an article for Natural Stone Specialist magazine called 'Stone & lime in post-modern construction: Climate change and a new stone age', which you can read here.
So that the social aspect of pre-pandemic events is not lost, the BLF is hosting regional events across Great Britain to enable participants to join others to network and socialise as well as enjoying the online lecture sessions. The regional hubs will include morning tours. The afternoon lectures will be streamed to each hub and there will be an optional evening meal at each venue.
The regional hubs are:
Bodmin, Cornwall, hosted by Cornish Lime
Staplecross, East Sussex, hosted by Chalk Down Lime
Stanstead Abbotts, Hertfordshire, hosted by Between Time
Cliveden, Berkshire, hosted by Cliveden Conservation
Lymm Hall, Cheshire hosted by Ecospheric
York, hosted by Maria-Elena Calderón
Todmorden, Yorkshire, hosted by the School of Natural Building
Isle of Man, hosted by Manx National Heritage
Kendal, Cumbria, hosted by Crosby Granger Architects
Edinburgh, hosted by Simpson & Brown Architects
Charlestown, Fife, hosted by the Scottish Lime Centre
Elgin, Moray, hosted by Masonry & Lime
To book for the conference and/or the regional hubs please visit: https://www.eventbrite.co.uk/e/building-limes-forum-2021-hybrid-conference-looking-back-looking-forward-tickets-167839866559
Ticket Prices:
Online only £50 (£30 for members)
Hub £70 (£50 members) - includes tours & lunch
Hub £100 (£80 members) includes tours, lunch & evening meal.
Membership discount is open to members of Stone Federation Great Britain and the Worshipful Company of Masons, as well as IHBC, SPAB, ICON, Heritage Trust Network, Federation of Master Builders, any building apprentice and any student registered on a course related to traditional skills, materials, design and/or heritage.
NOTE: Student and apprentice bursaries are available. Please contact BLF for details at [email protected].
MM/DD/YYYY