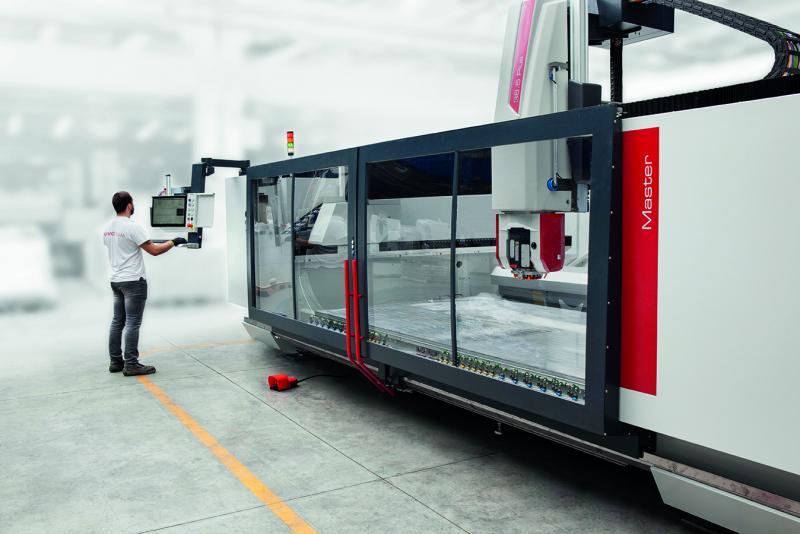 The technological revolution rolls on.
Using stone is one of the oldest of mankind's skills. As a building material its use stretches back thousands of years. Yet the stone industry is encompassing a digital revolution that is ushering in Stone Age 2.0.  
With much of this year having passed in a Brexit limbo it will be interesting to see how many British stone companies visit Verona in Italy for Europe's major international  stone exhibition, Marmo+Mac, taking place 25-28 September.
As far as exhibitors go, there are never many from the UK. LPE Group will be there again (although see below for major changes at LPE Group) with the various American products it sells in Europe, including the Laser Products' digital templater from which the Group originally took its name. It will also be supporting Italians Comandulli (edge polishers it sells in the UK).
Portland stone mining company Albion will be back again as the sole representative of British stone. Stone Federation Great Britain is not attending this year now member Peter Harrison's two-year term as President of EuroRoc is over, although Peter will be there taking part in the lecture programme.
The UK companies that represent machinery manufacturers exhibiting in Verona will, as ever, be on the stands of the manufacturers to greet buyers from the UK. 
Two of the companies that exhibited at the Natural Stone Show in London earlier this year – Sasso and Prussiani – will have new UK representatives. 
Sasso, previously sold by Pat Sharkey Engineering, is now represented by SMC Stone Machinery, which has re-branded as the Stone & Glass Group. Prussiani says it will announce its new UK representative at Marmo+Mac.
But uncertainty abounds. Nobody is sure whether the UK will be facing tariffs on goods from Europe in November or not, nor what exchange rates will do, nor what (if any) risk premium the financial markets might put on interest rates for loans, nor how the Bank of England will react, although another round of quantitative easing to add to the £435billion already printed is a distinct possibility. Increasing the money supply carries the threat of reducing the value of sterling further and adding to the upward pressure on prices. The recent fall of the pound has already added around 10% to prices of goods from Europe, which, of course, most of the machinery used for stone processing in the UK is, as well as much of the stone.
The world's financial indicators are also making the stock markets nervous, with investors fearing a downturn.
If there is one thing that makes planning difficult it is uncertainty, and we currently have that in spades.
Some in the stone industry have reacted by getting their machinery investments in quickly before we leave the European Union; others have decided to wait and see what demand is like and how much the machines and the finance for them will cost after we have left. Some are stocking up on materials, tooling and consumables.
As well as the political and economic turmoil, there is more uncertainty from the so-called fourth industrial revolution – Industry 4.0, as it is known – which is contributing to the growth in the use of natural and engineered stone, creating what you might say is Stone Age 2.0.
When you see factories like that of Marco Pernes' NeoGranite in West Bromwich, which was featured in the June issue of this magazine, it is clear the fourth industrial revolution is well under way. 
NeoGranite has invested in CMS Brembana and Bovone machinery supplied to it by Phil Birchall's re-branded Stone and Glass Group. Phil says the stone side of his machinery supply business has grown considerably. And it is likely to get even bigger now the company has also taken on the agency for Sasso.
Digital technology is everywhere – in the office, in the factory, on site, in our pockets.  BIM (building information technology) is in its infancy because it requires a lot of processing power and is currently relatively slow, but making design three dimensional and connecting the whole design and build team should have benefits.
The improvements in machinery, as well as the diamond tooling many of the machines use, have brought significant gains in productivity by stone processors, keeping them competitive and prices down. The price of stone has also been falling as less of it comes from Europe and more of it from less expensive sources, notably India, China and Brazil, although more recently also from the Middle East and Africa.
As the price of granite kitchen worktops (in particular) has fallen in real terms, so the amount of stone imported has increased. The value of the stone coming into the UK is now 5.5 times higher than it was when the current series of government statistics started in 1996. But by weight, there is 8.25 times more stone arriving (and 75-80% of the stone used in the UK is imported). 
And that is just the natural stone. There has been an even bigger increase in the amount of engineered stone (quartz and ceramics) recorded, all of which is imported. The value of the imports is 125 times greater now than it was in 1996, with most of that growth having occurred since 2013.
Cosentino UK alone had sales of £60million in 2017 (its latest figures), up 18% on 2016. Cosentino sells natural stone as well as Silestone quartz and Dekton ultra condensed sintered stone from its depots in the UK and Ireland – the ninth of which it opened this year in Newmarket, Suffolk. In 2017 its Silestone sales were up 20% on the year and Dekton sales increased 86%.
Figures produced by the government (see the graphs below) are based on VAT returns and some materials might be imported under different codes, especially ceramics coming in as tiles. And if you are wondering why there is more natural stone than man-made stone it is because the figures are for all stone, which includes hard landscaping, slate roofing and memorials, not just polished granite for worktops.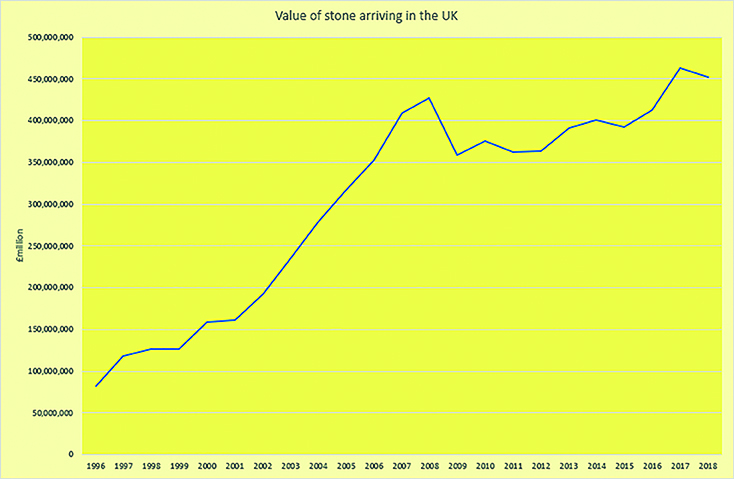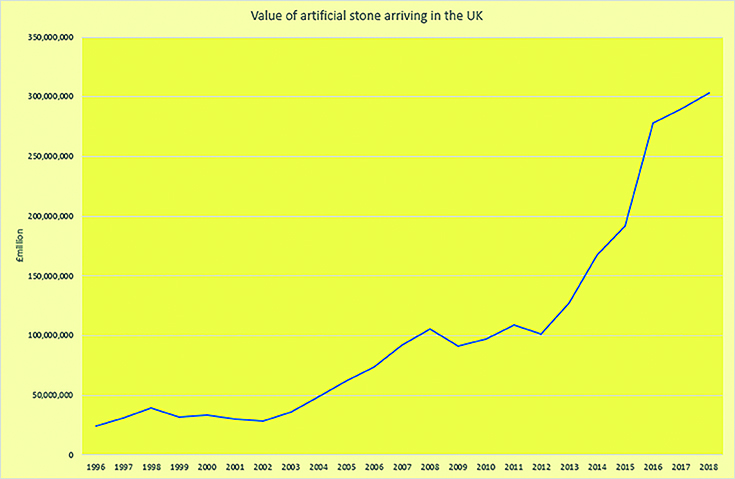 Source: HMRC
The figures are comparable over time and highlight trends, although they are not adjusted for inflation. But in the same 22 year period (1996-2018) the value of the pound did not quite halve (compared with 1996 a pound in 2018 was worth 54p, according to the Bank of England). Clearly, then, the growth in the use of natural and engineered stone is many times greater than inflation.
There was a big fall out of stone processors after the 2008 crash and a reluctance afterwards by most of those who survived to invest in machinery, although that changed as the industry started to grow again, especially with so much of the growth lately coming from large format sintered stone and ceramics. The new materials have left stone processors looking for ways to cut them successfully and quickly. Some have turned to waterjets.
A gap has developed between companies that have invested and grown and those that haven't. Those that haven't are starting to find themselves uncompetitive and there have been more processing company failures this year.  
Below, those supplying stone machinery to the UK market tell us about their latest developments, some of which can be seen at the Marmo+Mac international stone exhibition in Verona later this month (September). If you are not going to Verona, the Natural Stone Show in the UK returns to ExCeL London in its usual two-yearly cycle from 27 to 29 April 2021.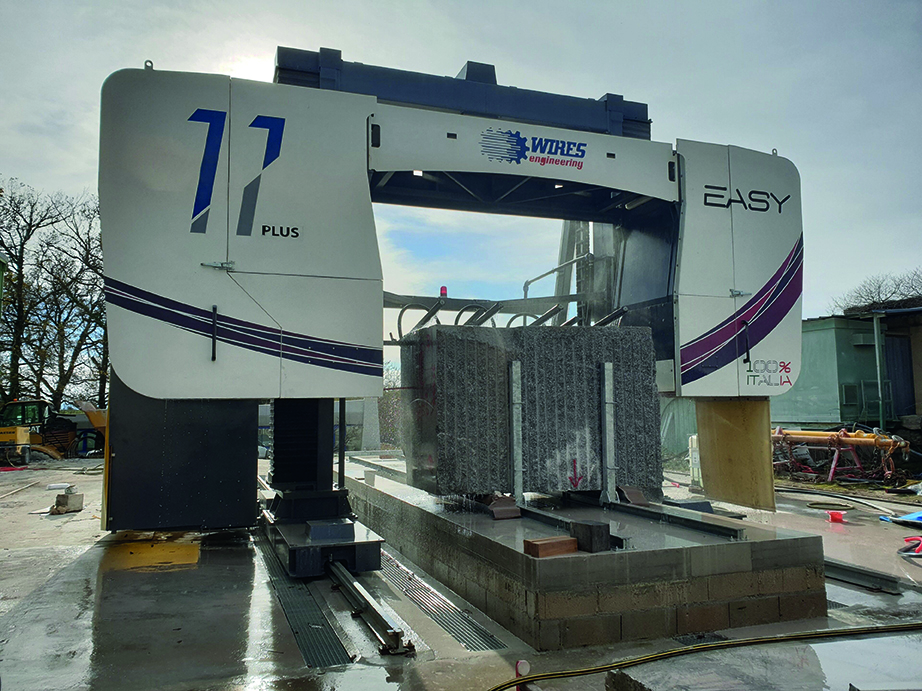 The Easy 11 Co.Fi.Plast wire saw from D Zambelis.
D Zambelis has moved into new premises this year to allow for more space to hold extra stocks of tooling and spare parts for the machines it supplies. There will be more about that in the next issue of this magazine. Meanwhile, the company will be in Verona supporting Construzioni Meccaniche Donatoni, O.M.G.M, Dal Forno, Terzago, Achilli, the wire saws of Co.Fi.Plast & Wires Engineering and the dust and water management systems of Italmecc.
Centre stage for Donatoni (Hall 2, stand E8) is a new drilling and milling machine, the SKFR-05, which is the company's main innovation at Marmo+Mac this year.
This is a machine for making cladding, offering particular flexibility for drilling holes and cutting kerfs and anchoring slots.
There are also two new cross-cutting saws, the S6L and DM1X.
The S6L is a light version of the S6P. It can be adjusted to cut marble or granite up to 100mm thick (in multiple passes). It will be shown with the usual laser for selecting the cutting areas on the entry roller conveyor and a tilting exit conveyor for removing scraps from the line.
The DM1X is an upgrade of the DM1, the simplest Donatoni cross cutter. It can carry a 350mm or 400mm blade, the position of which can be adjusted mechanically to cut either granite or marble. Also on show: the RMG trimming machine; the DM2-MB cross cutter; and the G8R cross cutter.
O.M.G.M (Hall 4, stand A5) had not finalised before it shut down for its August holiday which of its edge polishers it would show at Marmo+Mac, but will certainly want to display its Supermodulo. This has the latest generation PLC operating system for polishing straight edges and any one of about 120 different profiles programmed into it. It can calibrate, add chamfers, cut grooves and even profile by swapping the polishing heads for grinding wheels. It can be used for marble, granite or other stone up to 100mm thick. 
The company will probably also have its popular Linea edge polisher on show and possibly the Comet.
At the Dal Forno stand (Hall 2, stand E6) you will see a range of lifting equipment, including jib cranes and the popular triple-suction lifter specially designed for worktop fabrication.
On the Terzago stand (Hall 2, stand E9) you will be able to see the Forma and CUTe 625 bridge saws, both of which continue to be popular in the UK. And if you are looking for a wire saw you might like to visit Co.Fi.Plast & Wires Engineering on stand 105 in Avenue H between the halls. It is highlighting the Easy 21 compact multiwire machine.
Its new generation machines come in 5, 11, 21, 35 and 65 wire versions with a patented system for the easy positioning of removable spacers to set the cut thickness. The company also supplies diamond wires and beads. 
Then there's Achilli (Hall 5, stand C1-C2) exhibiting a wide range of saws it has modified specifically for working the new ceramic slabs and sintered stone materials as well as natural stone, taking into account the large dimensions and thin section of the new materials.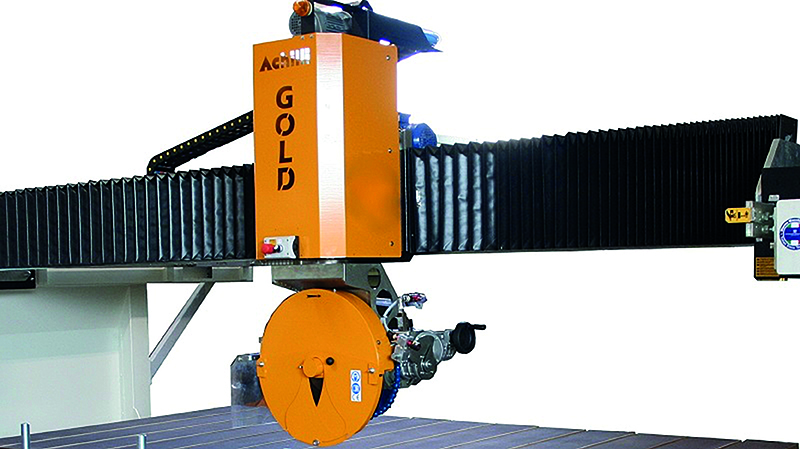 Achilli Gold four axes CNC bridge saw with automatic head rotation to program straight cuts in any direction. Core drills can be mounted on it for automatic drilling cycles. Achilli is represented in the UK by D Zambelis.
Achilli's most popular CNC bridge saws, Gold and MBS, will be on show. Gold TSB is a five axes saw. Gold is a monobloc with the option of four or five axes. It is user-friendly and can be set up to perform for drilling cycles as well as sawing. 
MBS TS is easy to use, versatile and durable. It comes in three or four axes versions and can be used to cut ceramic slabs as well as stone.
You will be able to see the head feed speed indicator that has been added to Achilli's best-selling mitre saw, the MSA, which is again important for the new generation of materials, and the manual Top working centre that can be used for sink cut-outs, inside and outside edge profiling and polishing, drilling tap holes and re-polishing the surface.
The stand will also have Achilli's construction site saws on display and various models of floor grinders and polishers, including the new all-in-one LM30-VE that can have a Cassani / Frankfurt plate mounted on it, or a planetary head plate, or a single head plate.
There is a bigger version (SC800) slab trolley to help cope with the increasing size of slabs and the AFR-A bench saw with motorised head feed for cutting stone and ceramic slabs up to 3.5m long.
If you are looking for dust and water management systems, D Zambelis will be happy to meet you on the Italmecc stand E5 in Hall 5. On display will be the new BCM 8.5 water clarifier, Air Dry 430 dust collector and the restyled Air Quattro bench dust collector.
D Zambelis will also be able to assist with any enquiries for CAD/CAM software through its partnership with Taglio. Stella and Jasper Zambelis will be available during the whole of Marmo+Mac and can be called on 07891 484806 or 07398 689336.
LPE Group - Leading Production Equipment 
There have been major changes at LPE Group with the Directors, Carl Sharkey and Simon Bradbury, splitting the businesses up with some share swaps. Simon Bradbury is now trading as Stone Industry Group (SiG) while Carl Sharkey retains the LPE name, which originally came from Laser Products Europe but is now being used to stand for Leading Production Equipment. They will be together at Marmo+Mac and can be contacted via the LPE stand.
Simon is concentrating on the American market that LPE developed while Carl will concentrate on the British and European markets. Simon owns 50% of LPE Group North America Inc (with Gerry Van Der Bas being the owner of the other 50%). LPE Group North America Inc is the 100% owner of Turrini USA Corp and represents Italian machinery company Breton in seven States, ClearCut tool calibrating worldwide and USA sales of Omni Cubed, Nicolai tooling, Easy DXF for converting physical templates into digital files and Elephant lifting and handling equipment. In the UK SiG sells Turrini water and dust management equipment and Elephant handling equipment, as well as having European distribution of Abaco materials handling equipment.
Under the Umbrella of LPE Group Ltd, Carl is the 100% owner of Comandulli UK Ltd, LPE Tooling Ltd and Omni Cubed Europe Ltd. He owns 70% of Laser Products Europe (the other 30% is owned by Clare Harris) and is exclusive distributor in Europe of ClearCut, BVC vacuum cups, NSI Solutions and Slabsmith digital stock management. He has worldwide distribution rights to Easy DXF (with Simon distributing for him in America) and UK and Ireland distribution rights of Baca Systems Robotics. The two men are still collaborating and will both be on the LPE Group stand in Verona. Simon says the move leaves him and Carl "freer to control what happens with individual companies".
In Verona, LPE Group is in Hall 4, stand G5 showing its laser digital templaters, Omni Cubed handling products, BVC suction cups, Slabsmith, Easy DXF digitising system and Clear Cut tool measuring kit, all of which were shown at the Natural Stone Show in London earlier this year. 
It will also be supporting Baca Systems (Hall 5, stand B8), which has a stand of its own. Like most of the companies represented by LPE it is an American company. It makes robot arm saws that it says are the fastest way of cutting stone. Baca managed to get a stand of its own at Marmo+Mac a bit late in the day.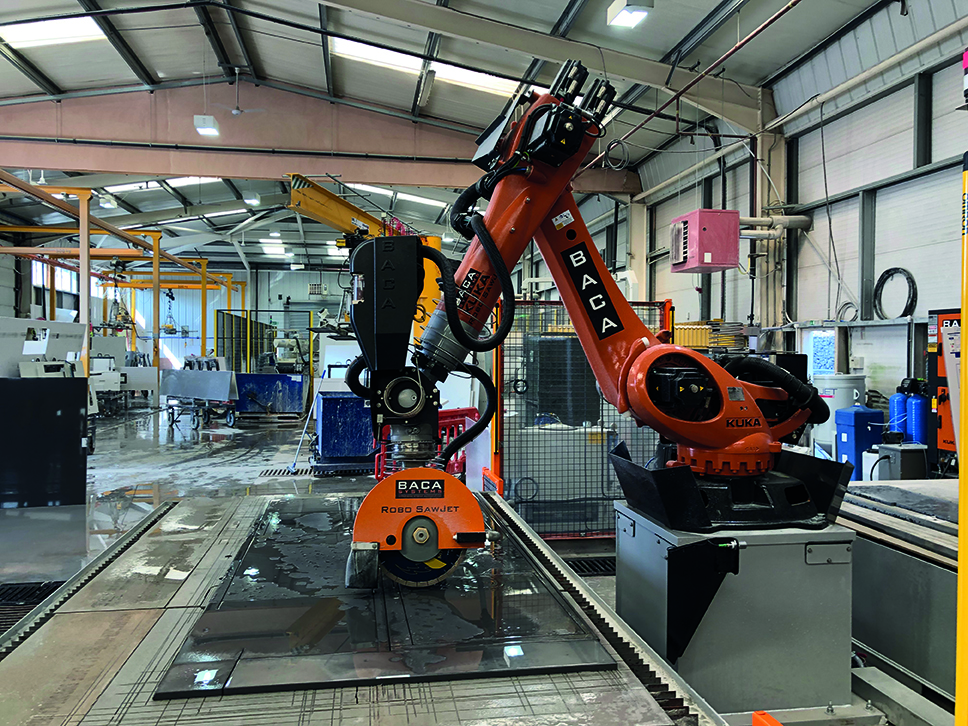 The Baca Robo Sawjet supplied by LPE Group to Natural Stone Surfaces.
Baca produces the Robo Sawjet, which is a saw on the end of a Kuka robot arm. Robo Sawjet is fast, with high pressure coils on all six axes so the head, with its 26hp motor carrying a 400mm blade, speeds from cut to cut. The motor has variable speed so the machine can cut any material. And the high pressure control lines are accessible, so they can be replaced easily and quickly when necessary without having any casing to negotiate.
More than 350 of the saws have been sold in America and one is already working in England, at Natural Stone Surfaces in Chapel-en-le-Frith, Derbyshire. Two others have been ordered by other companies.
Dave Roy, the Production Director of Natural Stone Surfaces, a company started in 2001, is delighted with the  latest addition to his 5,000m2 state-of-the-art facility that employs 140 people – quite some expansion from the company's origins in a 300m2 unit employing four staff.
Dave Roy told Natural Stone Specialist: "We were introduced to Baca by Carl Sharkey from LPE. Carl has been a trusted key supplier of machinery and 2D3D lasers to Natural Stone Surfaces for many years, so we had no hesitation investigating the Baca SawJet concept. A couple of meetings later we had done the deal!
"We have now been running our Baca Robo SawJet for several months. To say we are impressed would be a massive understatement. Our Baca SawJet is certainly one hell of a badass machine!  
"From our first contact with Baca all of their team, without exception, were fantastic in ensuring that our journey from initial consultation to installation was seamless. 
"Their team and their finished product have far exceeded our expectations. The installation guys assigned to us (Jim and Chris) were fantastic ambassadors to Baca, their attention to detail on the installation and their ability to communicate effectively for the training was refreshing to say the least.
"The aftercare has also been second to none with both Carl and Baca personnel being in regular contact. Not that the machine has needed any aftercare. The Baca SawJet has never let us down. Fingers crossed this will be the case for many years to come."
It might well be, because one of the selling points of the SawJet is that the Kuka KR210 robot should not need any maintenance for five years or 10,000 hours of operation. Even then it should only need an oil change.
On Point Engineering has developed a strong position for itself in the supply of stone processing machinery by taking on the agency for Thibaut. It also sells German ECS Eich dust and water management systems, which will be on show at Marmo+Mac, and Manzelli vacuum lifts.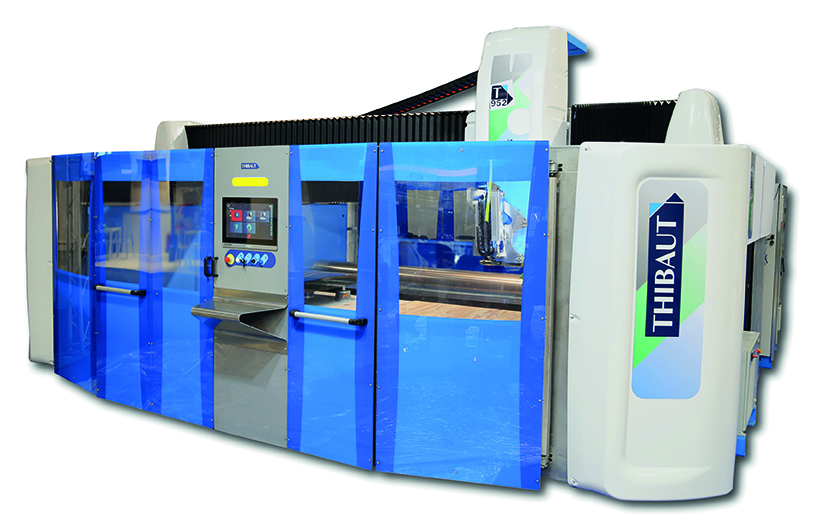 Thibaut, the French stone processing machinery manufacturer that has a good base of stone processing machinery in use in the stone industry in the UK, will have a major presence at Marmo+Mac (Hall 4, stand F2-F3-G1-G2-G3) and Bruno Machado of On Point Engineering will be at the exhibition in support of Thibaut and ECS Eich.
Thibaut is showing five of its machines, including two new for this year, as well as the dedicated tool and accessory range it has introduced with its own department under the name of TSB.
As well as exhibiting the machines,  Thibaut will show products the machines have produced – such as kitchen worktops, bathrooms and monuments. The Stone PolySphere designed by world-renowned architects Giuseppe Fallacara & Maurizio Barberio that was shown last year will also be back.
This year's new machines are the T952 and the latest version of the T812, the T812V5.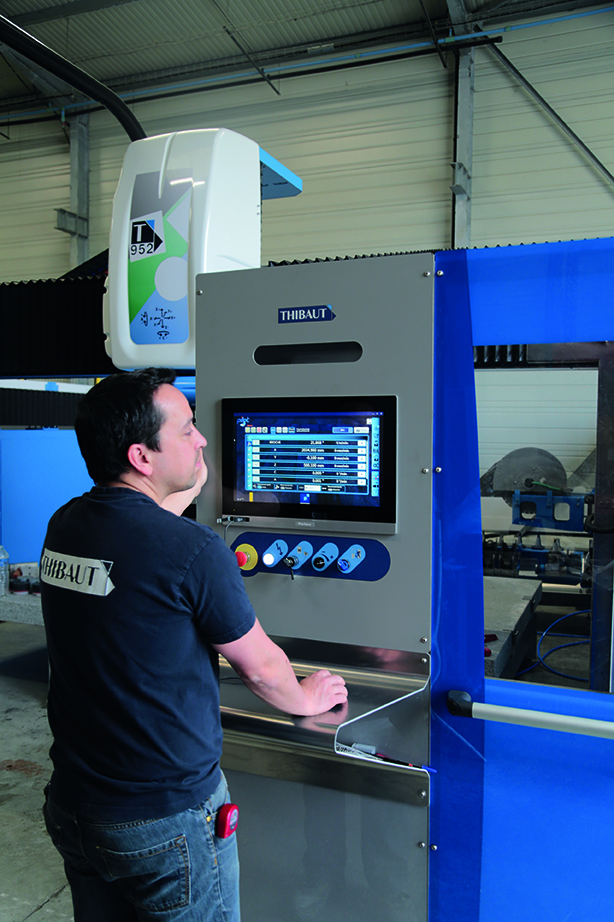 These include Thibaut's new door design to comply with current CE standards, providing increased safety to the operator thanks to their size and composition. A large screen in the door gives the operator a good view of the machining area from the control panel.
Both machines come with the latest updates of Thibaut's user-friendly 'Pilot' user interface.
The TC625 is a five interpolated axes CNC sawing  and milling centre, approved for ceramics. It can cut materials up to 200mm thick with straight or inclined edges and produce edge profiles on workpieces of just about any shape. 
Using discs from 300mm diameter to 650mm that can turn through a full 360º means a rotating table is not necessary and keeps the machine particularly compact. 
The torque and variable speed (up to 6,000rpm as standard) of the 13.2kW (S6) spindle, combined with the machine design, allows you to achieve maximum cutting speed and accuracy.
With the Thibaut ACS (angle cutting system), all cuts can be made continuously, including every corner, while the AVS (automatic vacuum lift) means workpieces can be moved without interruption.
The T812V5 is a powerful three or four axes machining centre that Thibaut says refines all the technology found in such machines. It comes in an XL version with a tool magazine capable of carrying up to 49 items.
Pneumatic pressure combined with Thibaut's new AR-3 satellite head provides unsurpassed polishing quality.
Also on the Thibaut stand this year is the Thibaut T952, a powerful six axes All-In-One multifunction machine introduced last year. It can be used as a saw, as a machining centre, or a polishing centre. It will cut out a workpiece with or without mitres or other angled edges, profile and polish the edges and polish the surface with all the accuracy expected of Thibaut machines thanks to its particularly sturdy construction.
Then there's the TC1350V2, Thibaut's only multipurpose sawing and profiling centre with a moveable beam for high capacity with minimum height. 
It easily facilitates high precision cuts in materials up to 520mm thick. With plenty of power and torque from its 44.4kW spindle motor with variable speed of 0-6000rpm and automatic tool change you can leave the machine to get on with drilling, profiling, milling, shaping and finishing the workpiece.
Completing the line up is the Thibaut waterjet, the TWJ 4020 available in three and five axes versions. The 4,000bar pressure can cut through just about any material with just a 1mm kerf. There is a choice of table size of 3.3 x 1.7m or 4m x 2m, although even the larger table is designed to make it easy to access.
Roccia Machinery in Derby is this year celebrating its 10th anniversary since Derek Fretwell formed the company after Pisani, where Derek had been in charge of selling the machinery, pulled out of the machinery supply sector during the economic crisis of 2009.
The jewels in Roccia's crown have often come from GMM, the Italian bridge saw manufacturer, which had previously been represented in the UK by Pisani. These days GMM also makes edge polishers and, since last year, waterjets.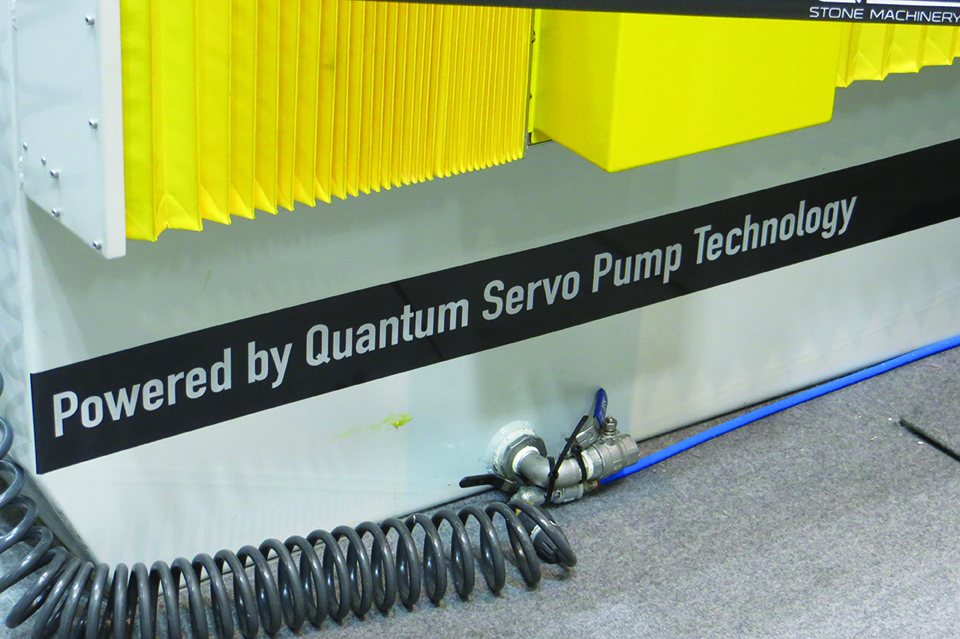 The waterjets were added when the Italians bought TWJ, an Australian company that makes Techni waterjets. This year at Marmo+Mac GMM is introducing a cutting machine that incorporates both disc cutting and waterjet technology in one machine called the Combo. 
There are more than 1,000 Techni waterjets in use around the world but most have gone into the glass and food preparation industries. There was only one being used by a stone company in the UK – at Steve Murphy's Planet Granite near Coventry. Now there are more. Since GMM introduced the Techni waterjet on its stand at Marmo+Mac last year Roccia has sold four of them.
One of the reasons GMM wanted TWJ was because the company designs and makes all the major components for its waterjets itself in what it likes to promote as 'total technology', which you have to admit sounds as impressive as when it says the machine is powered by 'Quantum servo pump technology', which refers to what TWJ has named the Quantum NXT pump that delivers the high pressure waterjet. 
TWJ claims its patented pumps are the first in a waterjet to adopt technology developed by NASA for the Space Shuttle programme. It says they are 60% more efficient than standard hydraulic intensifiers using 75% less water for cooling. They also require less power and oil and are particularly quiet and reliable.
TWJ was particularly proud of making its own pumps and of writing its own software, which includes systems analysis and internet connectivity for Industry 4.0. And GMM liked the fact that TWJ made only waterjets.
The main energy saving advantage of the Techni waterjets comes from providing only as much pressure as is needed when it is needed. When the waterjet is not cutting, the pump is in standby mode rather than sending power, water and money down the drain through a relief valve.
Techni were early adopters of five axes waterjet cutting and have a head that can rotate through a full 360degrees. Corrado Franzi, founder and CEO of GMM group, said last year of the purchase of TWJ: "This acquisition strengthens our competitive position."
Now the waterjet technology has been incorporated into the new combined machine based on the Intra bridge saw. However, the technologies have been kept separate, effectively having two machines sharing the same frame. It makes investing in the two technologies less expensive and takes up less room than having individual machines.
GMM will also be showing a revised version of the Toro edge polisher on its stand this year. The main development is a variable bevel. The Toro will now produce a consistent chamfer top and bottom on a worktop even if the worktop itself is not quite consistent.
Roccia Machinery also represents T&G Robotics in the UK, although having sold a major T&G Robotics production line to Natural Stone Surfaces in Derbyshire – it was the line that was shown on the T&G stand at Marmo+Mac last year – it has not sold any more. Natural Stone Surfaces has since taken on more robotic technology with the Robo SawJet it has bought from LPE Group (read more about that under the LPE Group entry).
Roccia has now also taken on the agency for Bottero Bimatech. Bottero supplies CNC machines to the glass sector. It bought out Bimatech, which used to sell relatively inexpensive CNC machines to the stone industry. Now it is returning to stone and Roccia felt the machines would fill a gap in its product portfolio, although you will not be able to see the machines at Marmo+Mac because Bottero is not exhibiting.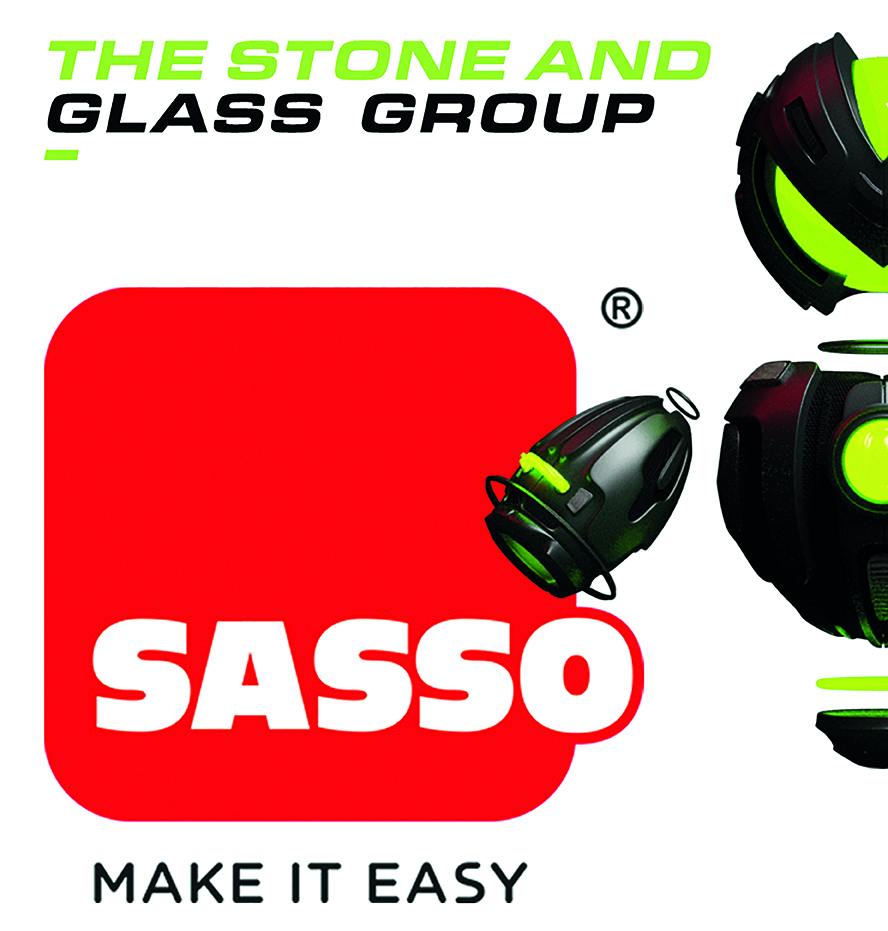 The newly re-branded Stone and Glass Group (S&GG – previously selling stone machinery as SMC Stone Machinery) has taken on the UK and Ireland distribution for Italian stone machinery manufacturer Sassomeccanica. 
Phil Birchall (MD at S&GG) says: "This is a great opportunity for us to compete in the very competitive bridge saw market with a product that differs from the norm and with a company that prides itself on innovation and service."
Sasso also has a comprehensive range of edge processing and polishing machinery.
S&GG will not only be offering new machinery from the Sasso range but will also be supporting existing Sasso customers with aftersales and servicing needs.
Phil says S&GG has been busy over the past 12 months looking at its internal processes in order to understand how they can improve the customer experience and make doing business with the company easier with reduced response times.  
"During this evaluation we realised we were duplicating many steps, depending if you are a stone or glass customer. This has caused confusion internally and we believe it has externally, too. To this end we have decided to merge the name of The Glass Machinery Company Ltd (TGMC) and SMC Stone Machinery (which was a division of TGMC) to Stone & Glass Group Ltd."
The company also sells CMS Brembana CNC workcentres and Ghines tools and equipment.
Stone Equipment International (National Masonry)
Andy Bell of Stone Equipment International (National Masonry) will be in Verona supporting his company's two main new machinery brands of Emmedue, with its CNC machines, and Marmo Meccanica edge polishers, a tried and tested industry favourite that has continued to perform well for Stone Equipment International this year from the entry level models up to the top of the range.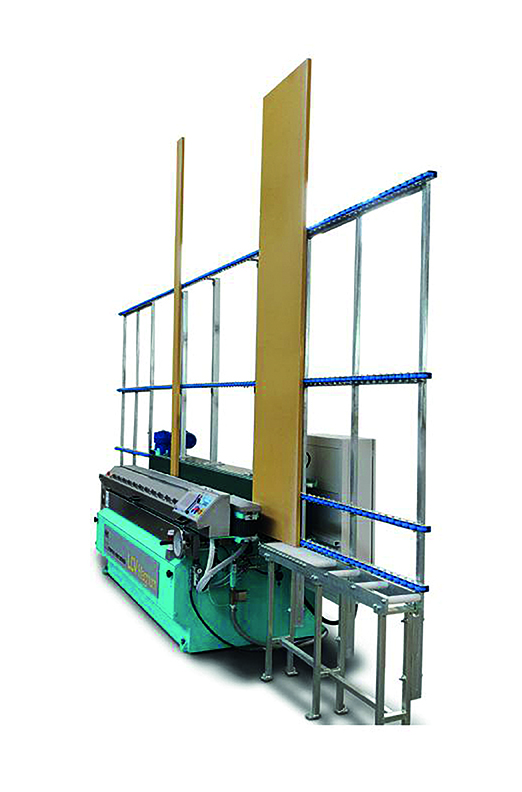 The LCV733 with support rollers for polishing the edges of islands.
The latest update from Marmo Meccanica to the LCV711 is the vertical LCV733. It is still a compact machine but uses support rollers to polish island units of as much as 3.5m x 2.5m. 
Not only does it solve the slab size problem, but the pieces come off the machine with polished chamfers. The UK's first LCV733 is going to a firm in Warrington this month (September).
The latest additions to Emmedue range are the Polar, a five axes machine with an XL blade for architectural jobs, and the Globo. 
The Globo combines a CNC miller router with a bridge saw on one machine, which will make a real difference to the pocket and the efficiency of small businesses. 
Andy says: "The Globo really is our Brexit buster with the capacity to be fitted with two or more tables separated by a sliding safety door. In businesses with fewer people working this means that while one piece is being processed, the other table can be loaded and ready to go, improving the workplace capability that can be essential for smaller operations."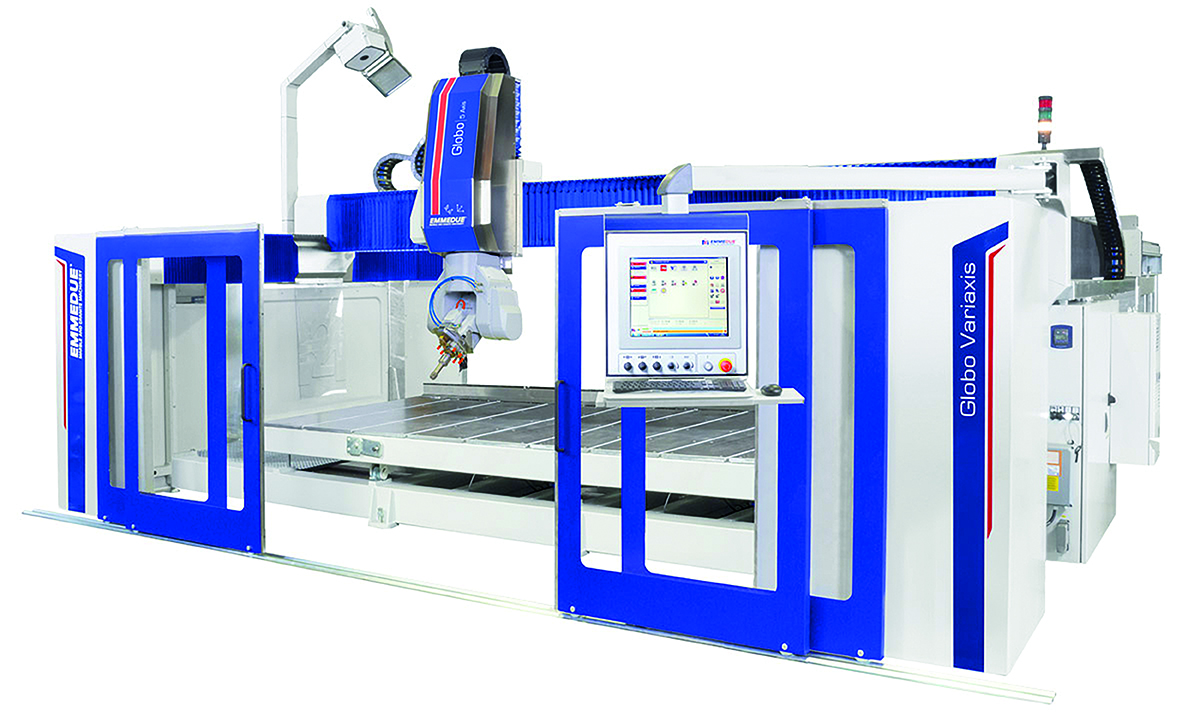 The Globo ranges from £160,000 to £230,000, depending on the specification, making it a real friend of SMEs. "This could be a game changer for many businesses who want to move forward without the expense of investing in two separate machines," says Andy.
Emmedue has been installing this machine in Italy for years and with three full-time engineers on board, Stone Equipment International is in a position to be able to do the same and offer servicing and backup.
Stone Equipment International is also a well-established supplier of used machinery, which it refurbishes in the new premises it moved into last year. It has an active marketing strategy for all its machinery, sending out newsletters several times a week. Reconditioned edge polishers often sell within an hour or so of going live on the company website. 
An integral part of this year's strategy has been the development of a new website. Borrowing from a certain car trader, the URL is www.webuyanystonemachine.co.uk. 
The existing Stone Equipment International website will still carry information about the company's new machines and other products but, as the name suggests, the new website will be dedicated to people who want to sell used equipment, whatever it may be. 
It is designed to be quick and user friendly. Once the machine details have been entered by the seller, Stone Equipment International will have a quick turn-around for a price and sale.
Sellers will be able to upload video and images of the machine if they wish and Stone Equipment International will either purchase the machine outright or act as a broker, selling the machine through the website on the seller's behalf.
Andy: "We get requests daily for all different brands of used equipment. All these calls are logged so that anyone on our priority list will be on first refusal before the general availability newsletter is sent out. We have created a digital shop window for sellers that both facilitates a quick and easy sale and frees up space for a new machine in their premises. And it is a platform for buyers to search specifically for what they are interested in. This saves everyone time and money and makes the whole process smoother and more productive.
"We feel we have put solutions in place to keep our business stable in the Brexit transition period, with our aim being to move more equipment nationally. We can cater for all budgets and brands. We enjoy great customer retention from companies that have come to us for a used machine when they first start out and upgrade their equipment with a part exchange with us as their business develops.
"We are fortunate enough to have the full support of our suppliers, Emmedue and Marmo Meccanica, and we have no doubt that these brands will continue to be popular despite restrictions that may be imposed on our exit from Europe."  
James Turton of New Stone Age is in Italy in support of the Italian companies whose machinery he sells – Officine BM; BV-Tech and Omec.
BM is launching a new type of frame saw this year, the BM Zenesis, which you can see on the company's stand in Verona (Hall 2, stand C5-D5).  
It has been developed specifically to saw granite using unique diamond segments developed by a Korean company. 
The Zenesis cuts the cost of sawing granite compared with multiwire saws – and BM has some pretty impressive multiwires. The Zenesis is not as fast as a multiwire, although the achievable down speed is a lot faster than a traditional gang saw using steel shot. 
The BMs supplied by New Stone Age recently have included BM Super and BM Super 800 monoblades. These also continue to evolve, with improvements in automation including Industry 4.0 technology. 
High efficiency motors bump up performance to give customers new levels of productivity from this economical alternative to mono wires. They are not quite as quick as a wire saw but are more accurate and a cleaner cut can mean less finishing is required.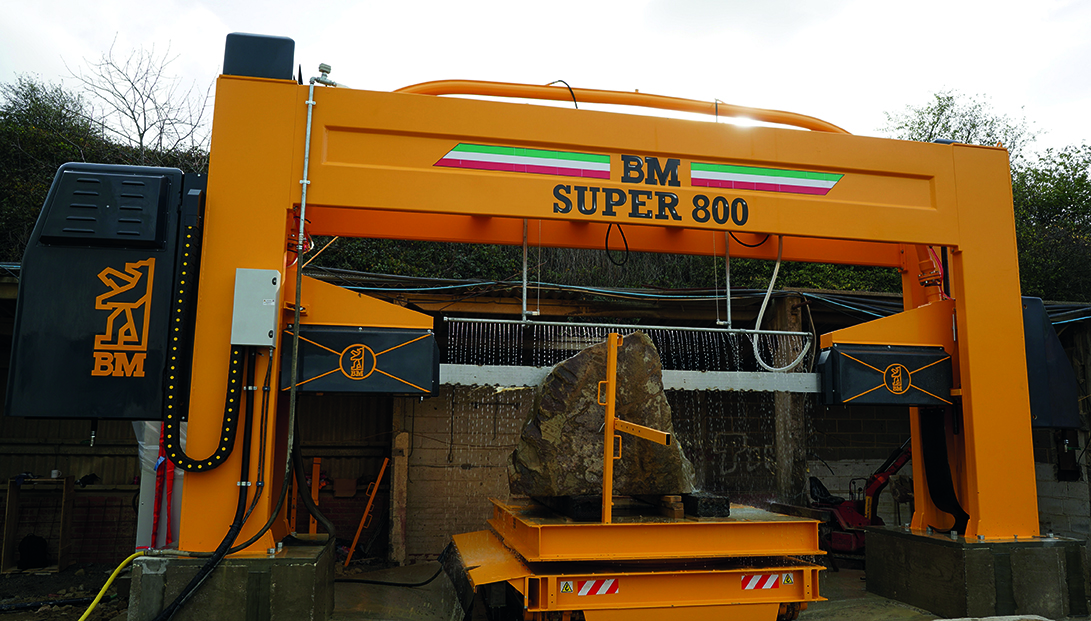 An economical alternative to a mono wire from New Stone Age.
New Stone Age also continues to offer the BM Monofil 1000 and BM Monofil 2300 monowire saws from BM.
New Stone Age also continues its close collaboration with BV-Tech to offer an extensive range of stone processing machinery to its customers in the UK and Ireland. 
One of BV's strengths is its ability to design and supply bespoke machines to suit a customer's exact requirements. An example is a production line installed at Tradstocks in Stirling, Scotland, late last year. This is for sawing particularly hard Scottish Whin stone into stone setts. 
The line consists of a 1500mm wide RBV/1500-4, four headed stripping saw, with each head containing multiple 600mm blades. The strips pass on to a motorised roller table and from there on to a laser measuring conveyor which determines where the IBV/1500 automatic heading saw will cut the setts into lengths using a multi bladed head.
BV-Tech has also provided a stripping saw with two heads for cutting internal paving at Lovell Stone. The twin heads ensure an accurate gauge paving stone. 
With the current high demand for walling stone, New Stone Age has also been supplying SSA/1200-80T automatic stone splitters that can produce up to 30m2 of walling an hour. 
The stone can then be fed through the BV-Tech  SDE/600-2H end dresser and SDA/600-2H top and bottom dresser to give the stones the pitched face customers like. It is a solution New Stone Age has provided to a number of customers this year.
BV-Tech also continues to offer its popular TBV6/1600-M block cutters and various models of bridge saws. 
At Marmo+Mac this year (Hall 2, stand B3) BV-Tech is showing  an RBV/1200 stripping saw with four heads, each capable of carrying multiple blades. 
Often when New Stone Age sells machinery it also sells water management systems from OMEC, which it also represents and will be supporting in Verona (Hall 2, stand E10). Dunhouse Quarries has installed one to replace its ageing plant.  
Dunhouse has a large, busy factory and has installed an OMEC system designed to treat up to 3,000 litres of water a minute. It comprises the main OMD60 Silo for settling solids out of the dirty water and then decanting the clean water into the OMT 40  clean water storage silo. Water is squeezed from the mud using an OMF814 automatic filter press. 
A similar system at Albion Stone on the island of Portland in Dorset has been featured in this magazine, although there it has stainless steel silos to cope with the salty marine environment. 
Breton, which has an office in the UK in Cambridge to deal with the British market, will introduce further refinements of automation on its stand (Hall 4, stand A6-C8).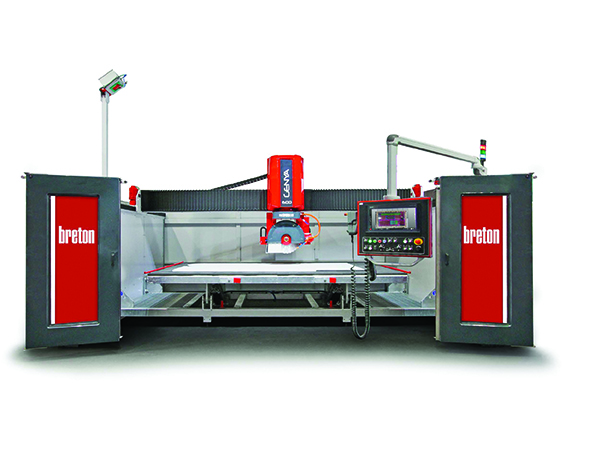 The Breton Genya shown at the Natural Stone Show in London will be on the company's stand in Verona.
It will show the new KG continuous belt polisher; a bridge saw with two spindles and a facility to print labels on the pieces to be cut; an anthropomorphic robot loading and unloading pieces from a contouring machine for kitchen top processing; a robot distributing resin over marble and granite slabs and gluing on net backing.
You will be able to see the CombiCut, of which there are a few examples working in the UK now, shaping worktops and cutting precise 45° mitres; the Hyperock vacuum impregnating resining system; a new line for producing all those samples people keep demanding; solutions for storing slabs in the least amount of space, several of which were introduced last year; and the Genya monobloc bridge saw and drill that was shown by Breton at the Natural Stone Show in London earlier this year.
There will also be the latest quartz and concrete slabs that Breton makes and sells using machinery it developed.
Intermac / Donatoni / Montresor
Intermac CNCs, Donatoni bridge saws and Montresor edge polishers will once again share a stand in Hall 5 in Verona. You don't really need a stand number because the combined presence is so big if you get to Hall 5 you won't miss it.
And once you are there be sure to take a good look at the latest Master One three axes CNC workcentre, a versatile machine capable of executing any machining operation needed in a stonemason's workshop without sacrificing performance. It can carry out complex and varied machining operations and deliver a superior finish on natural stone of all kinds and synthetic and ceramic materials for everything from vanities and kitchen tops to masonry and memorials.
It was at Marmo+Mac in Italy that Intermac first introduced the Genius cutting table, like the RSA version it showed at the Natural Stone Show & Hard Surfaces in London this year, during which the company says it exceeded all the targets it had set for the exhibition.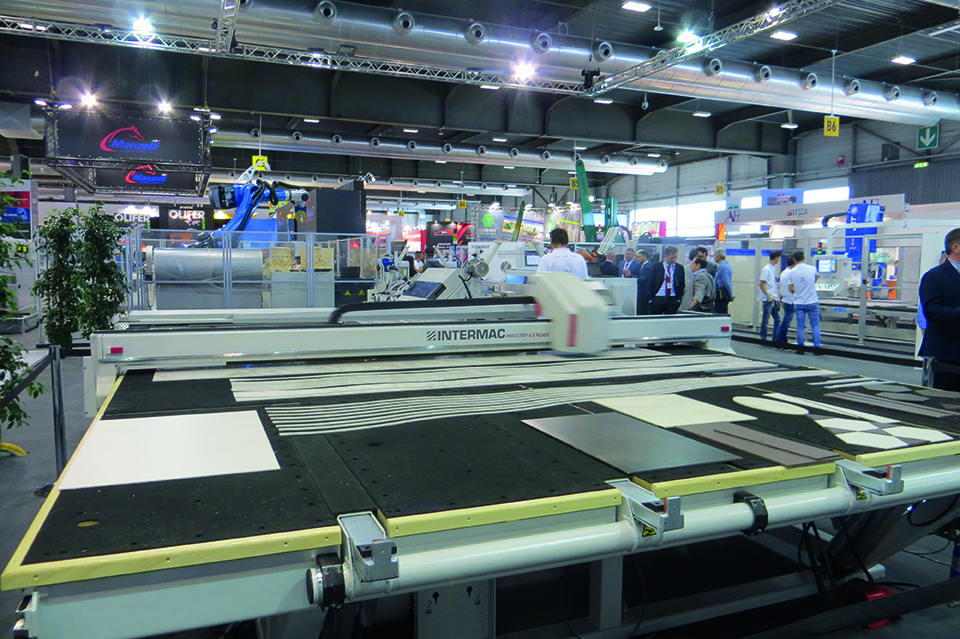 The Genius from Intermac offers a new way of cutting porcelain.
The Genius has transitioned from the glass industry as a solution for cutting ceramic and sintered stone up to 20mm thick quickly and accurately. It was described by UK Commercial Director Chris Arund as "a bit of a show stopper" in London.
A glass cutter works by scoring a sheet of glass with a diamond and then snapping it. The Genius works in the same way. It is computer controlled so can cut complex shapes to millimetre accuracy. And it cuts them amazingly quickly.
Chris said: "We take it for granted in the glass division but it's new for stone, where it's a modest investment compared with a lot of stone processing machines."
The Genius is one of the machines that can be seen in the new stone Tech Centre Intermac has opened in the UK at Daventry, Northamptonshire, where the Biesse parent company has its headquarters.
As well as the Genius, the Tech Centre has a working Primus waterjet cutter, a Master 33.3 CT four axes CNC workcentre, the best-selling Jet five axes bridge saw from Donatoni, and a Montresor edge polisher. On the machines that use diamond tooling are Diamut products, Diamut being another of the businesses owned by Biesse.
The Tech Centre is also equipped with Del Prete water treatment and dust suppression plant, which Intermac is now supplying because so many of its customers want to upgrade their water management and dust suppression systems at the same time as they install new machinery.
In Verona you will also be able to catch up with Sophia. This is Intermac's 'Industry 4.0' innovation. All Intermac's machinery is now Industry 4.0 ready, which means it has all the sensors and connections necessary for cloud-based reporting and analysis.
Sophia was developed in collaboration with Accenture, a global management consulting and professional services firm that provides digital, technological and operational services.
During the past 18 months Accurite has been building up the machinery it has in stock in its Ulverston headquarters in Cumbria, so deliveries can be made from stock.
MD Mark Brownlee says there are now well over £1.5million-worth of machines available at any one time, many of them his own brand machines, mostly made in China, although with electrics and operating systems added in the UK. 
The primary machinery (wire saws and large diameter circulars) are selling well into the sandstone and limestone sectors, with the versatile Genius multi-functional manual machines also doing well. Some stone companies find the Genius a quick and easy solution for small jobs to avoid tying up CNC time. For those who can't afford a CNC it still speeds up production as a half-way house between manual operations and CNC technology.
Mark also has used machines in stock, 90% of which have been fully stripped, sandblasted, repainted, and rebuilt (with brand new electrics if necessary) in Accurite's own workshops by its own mechanics before going on sale.
Mark says when customers have decided on a machine and have the finance available they generally don't want to wait six to eight weeks (possibly longer in the months ahead) to have it delivered.  
Having them in stock also means customers can see the machines in the UK before they buy them, which Mark says has more than tripled the number of visitors he gets at his headquarters in the past two years.
Although own-brand and refurbished machines now constitute the larger part of Accurite's business, the company does still represent the Italian machinery manufacturer Denver in the UK and Mark Brownlee will once again be on the Denver stand at Marmo+Mac, where Denver is exhibiting 10 machines (Hall 3, stand B23-C48).
There will be a live demonstration of the five axes Tecnika CNC and the Quota 3350.
Since last year Denver has made its software more user friendly and has redesigned the frames of its CNC machines to allow for longer cuts, with a more powerful on-board vacuum lifter so larger pieces can be moved.
Accurite has moved more of the training and back-up on these machines in-house, with its own technicians now able to train customers using the latest software and answer any questions on an on-going basis. Again, it is all about a rapid response so customers do not suffer from unplanned down-time.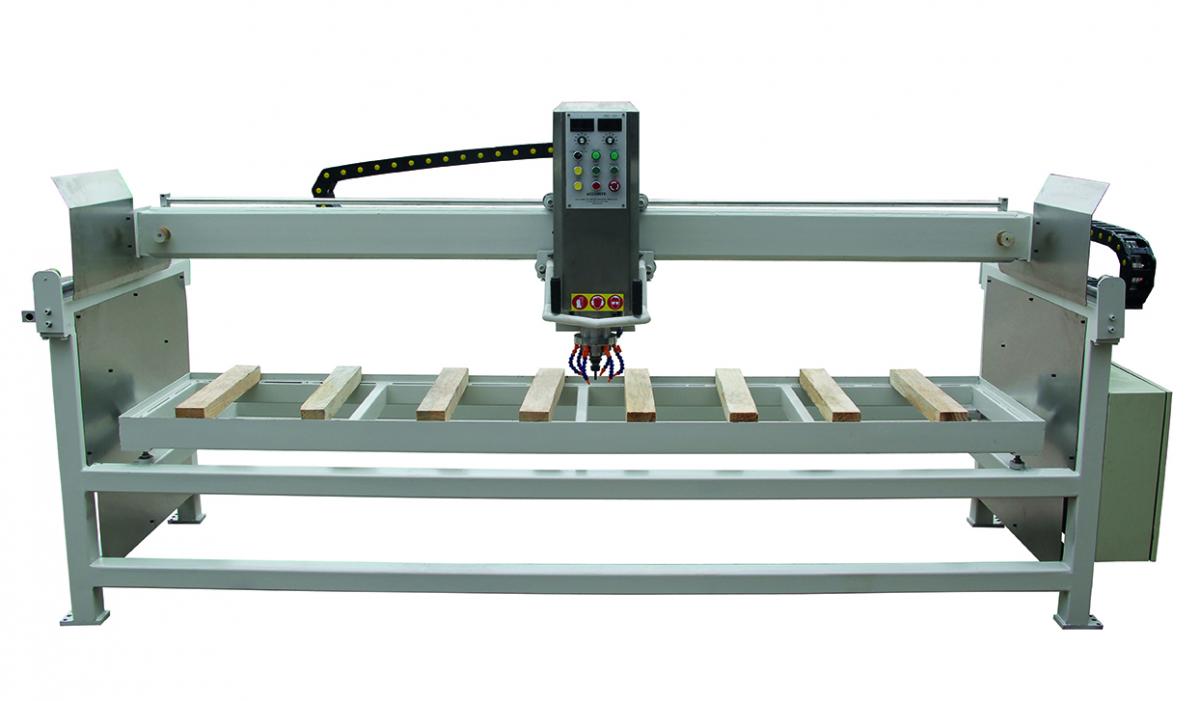 Accurite has developed its own-brand range of machinery as well as representing Italians Denver, which it will be supporting in Verona.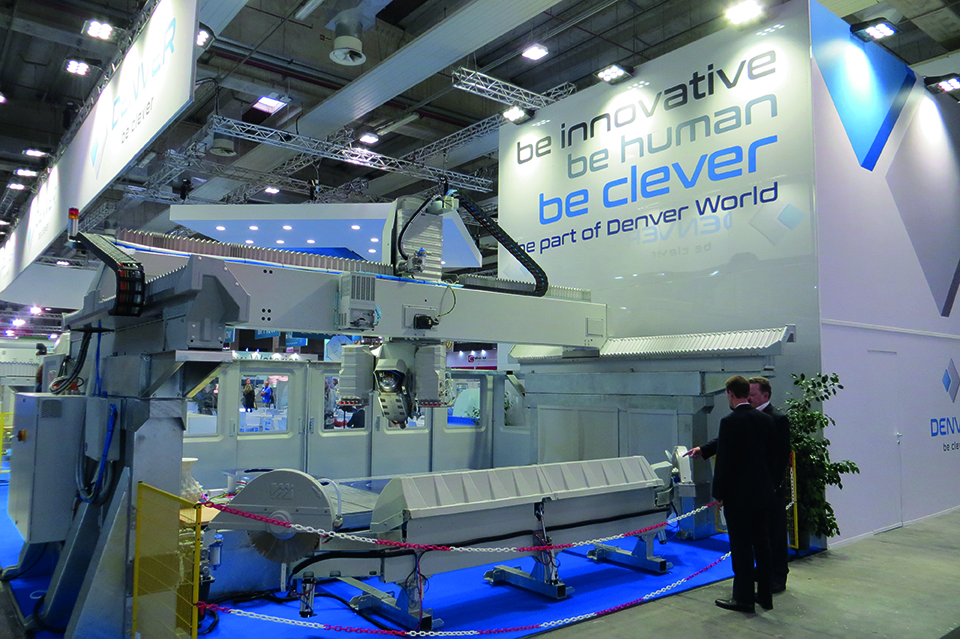 In Ireland (North and South) Denver stone machinery is now being represented by Vetro Tooling, which will also be selling Denver glass machinery in the UK and Ireland.
Vetro Tooling is now part of the Denver world, supplying the machines to the stone industry throughout the island of Ireland.
Vetro Tooling has a successful background in the glass trade, not only providing tooling but having its own state-of-the-art workshop and engineering team at its premises in Wickford, Essex, so it can produce bespoke solutions to the specifications of its customers.  
Building on its strengths from the glass industry, Vetro ventured into the stone trade a few years ago and has gone from strength to strength, even against the uncertain backdrop of Brexit. 
Vetro Tooling exhibited at the Natural Stone Show in London this year, which gained it a lot of momentum and helped it form new partnerships with both customers and suppliers alike – including the Denver connection. 
Vetro Tooling says it has the same ethos as Denver, which gives it a great opportunity to showcase the quality and service it can provide to its customers. 
Vetro is increasing the number of technicians it has in order to be able to offer service plans for the Denver machines to take the worry off the customer. And it says anyone investing in Denver's CNC technology will be invited to Denver's headquarters in San Marino, the centre of the Italian company's technological excellence to see the specialist machinery where it was created.
To make the most of the new Denver partnership, the Vetro Tooling fully responsive WooCommerce website, which was newly renovated this year, is currently undergoing more construction by the Vetro marketing team to host new content for Denver.  
It is hoped the new Denver content will be live by the end of September in time for Marmo+Mac. The tooling website will not be affected and continues as usual. 
David Lithauer, Managing director of Vetro Tooling Ltd, says: "For Vetro Tooling it is a very exciting time. Having visited the premises of Denver in Italy and meeting like-minded people in the values our companies share, I am confident we will get the support needed and that the relationship going forward will be positive for us as a company and raising the profile of Denver. 
"Our aim is to always offer our customers outstanding quality and service to rival anything currently on the market – and we continue to strive for this."
As the stone industry develops along with the range of materials it uses, more companies are turning to the specialised 'very Italian technology' of Ferrari & Cigarini that you will see in Verona in Hall 5, stand F3, and some of which was also on view in London at the Natural Stone Show this year.
Ferrari & Cigarini is this year celebrating its 50th anniversary. It designs and manufactures machines and systems for the production of mosaics, slabs, back splashes, skirting, bullnose edging, stairs and more. With a background in the tile sector, its machines cope with a wide range of materials – marble, ceramic, stone, brick and glass among them.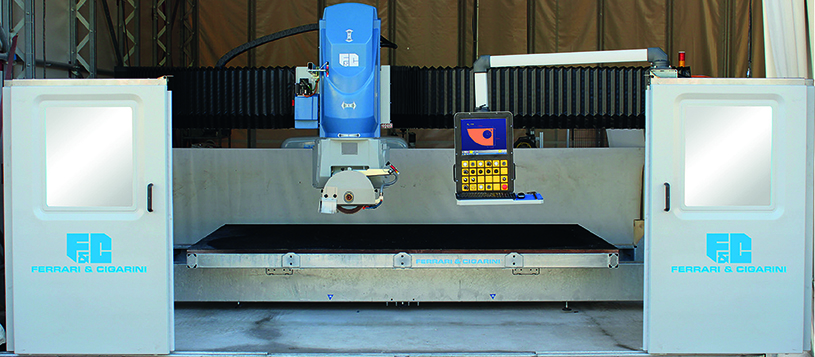 The Big Slim MFL003 Plus CNC workcentre – 'Very Italian Technology' for the stone industry from Ferrari & Cigarini.
The company also offers robotised free-standing units to automate feed-in and the palletisation of finished product on cutting, profiling, rectifying, honing and lapping lines.
It particularly came into its own in the UK stone industry with the launch of its patented Compactline in 2010, which offers  the same high standards of quality required for industrial machinery on more compact, easy-to-use equipment. In view of its success worldwide, the range has been continually expanded and now consists of more than 50 different models.
In Verona, of particular interest to UK companies is the MFL003 Plus CNC workcentre with a table and cutting area to accommodate today's jumbo size slabs, and the new cut-back MTL cutting table.
Waters Group will be at Marmo+Mac in support of the companies it represents in the UK as usual. Daniel Waters says the machinery side of his business has seen its busiest year since the peak of 2007, particularly in the first part of this year. 
Developments to look out for include a new, upgraded and heavier version of Cobalm's five axes saw, with a larger bridge and linear bearings. The Idea Top has had some upgrades as well, which should enhance its reputation as one of the best value CNCs for what it offers. 
Waters Group has taken on the agency for the full range of Mondial Mecc bench saws, so should now be able to satisfy just about any requirement a customer has for a smaller saw. Mondial Mecc has also expanded its range into larger saws, mitre saws and vacuum lifting equipment. 
For the dust extraction and water treatment plant, Waters supply the Martini Aeroimpianti range of machines. The Dust extractors all come with silicate filters as standard and at Marmo+Mac there will also be a dry air extraction system on show. 
Righetti vacuum lifts that Waters Group sells have been particularly popular. There is plenty of choice of air powered, mains electric and battery products. 
The innovations keep coming from Konig, with a new range of blades on offer for sawing the latest generation of ultra-compact surfaces (UCSs) and battery powered hand lifters for moving material. 
Waters will also be supporting other companies it represents in the UK, such as ADI CNC tools, Integra Adhesives, Sanwa Kenma and Bellinzoni.
Prussiani plans to go a step further to strengthen its sales and customer support in the UK through an association with a well-established UK-based company that already sells machinery to the stone industry. It is still in the process of finalising the agreement, so will be announcing who its new representative is at Marmo+Mac.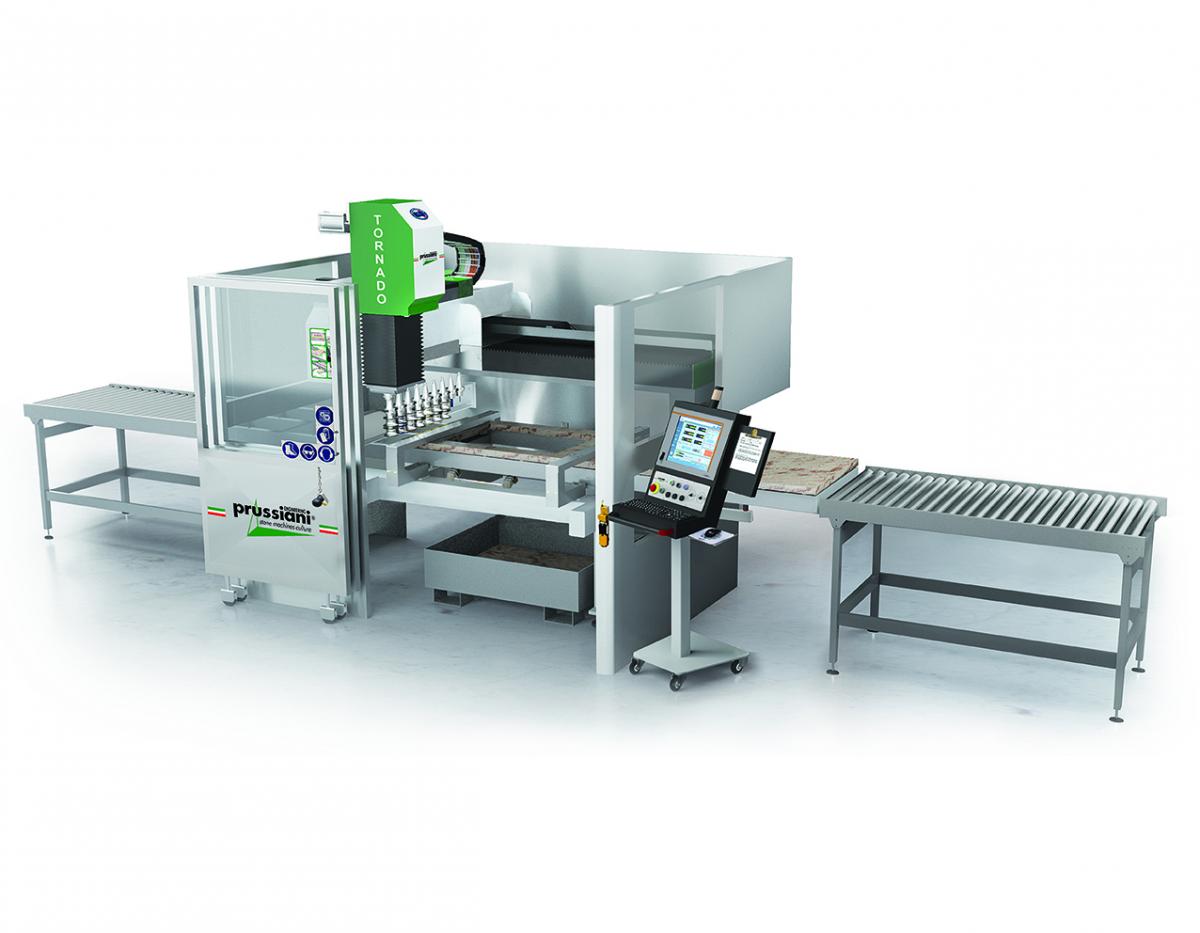 Prussiani says it will announce an agreement with an agent to represent it in the UK at Marmo+Mac.
Since 1991, Prussiani has been designing and manufacturing machines for the processing of natural and synthetic stone. It has machines catering for all sizes of production.
On its stand in Verona you will be able to see its five axes CNC WaterJet, the New Rio, and the latest Cut&Jet, which merges the cutting speed of a blade using an electro-spindle with a high-pressure waterjet. The waterjets come with KMT high-pressure pumps, chillers for cooling the hydraulic oil, water softener and camera.
There will also be Prussiani CNC work centres on show, all designed to take into account the customers' need to process natural, engineered and sintered materials. The workcentres can be made to fit the floor space available for them.
When factory space is limited but production requirements are high, there is the Tornado. This three axes CNC workcentre with an automatic tool change allows for the efficient production of sink cut-outs that are fully polished, thanks to a quick zero referencing system and user-friendly CAD/CAM software (one day's training usually covers it) and an automatic locking system with no need for suction. It also has low maintenance requirements.
The full range of Prussiani CNC bridge saws, from the entry-level five axes monobloc Star to the more advanced and customisable Champion collection, can be built with different table configurations, camera, suction cups for automatic movement, rubber tables, measuring probes and locking systems for sink cut-outs.
They come with a 3-5 year warranty, low maintenance and sophisticated online support. The smartphone Stoneapp complements customer relationship management (CRM) software to provide feedback on productivity. 
MADE IN BRITAIN
Since ASM in Bolton, Lancashire, stopped making CNC stone machinery in 2008, the only major British manufacturer making machinery specifically for stone companies has been Wells Wellcut, with its saws, tumblers and croppers. Now there's another one – Scancad Services. 
It introduced its Procarv PNC1010 CNC engraving machine at the NAMM Tradex memorial masonry exhibition in June.
The machine has been designed by Ricky Bennett, a stonemason and industrial engraver in Cranleigh, Surrey, with motion control programming by Stewart Scott of Amtech in Newcastle.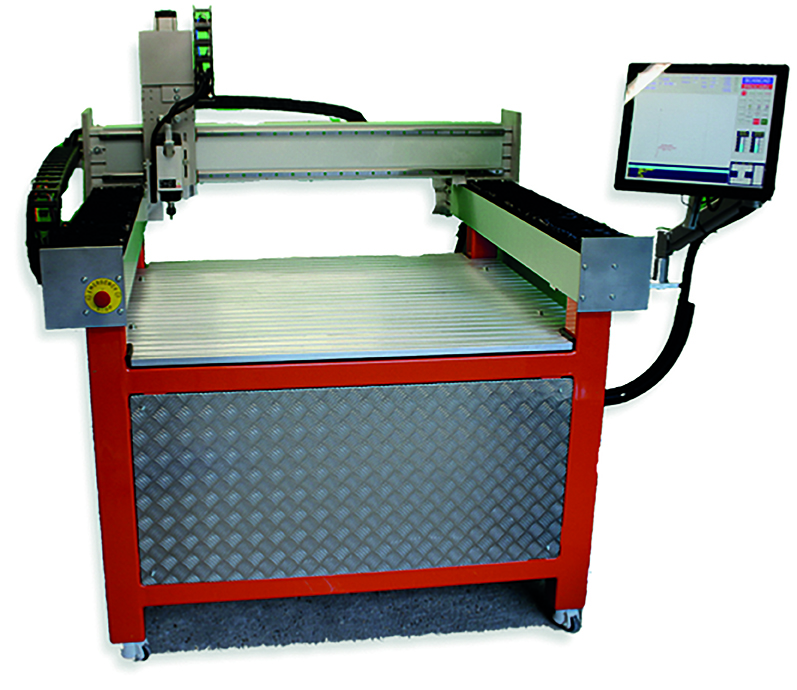 The Procarv CNC engraving / milling machine is manufactured in the UK with memorial masons in mind. 
It has advanced features that ensure it is easy to use and produces excellent results. The best of these features, say Ricky, is the laser scanner that maps the surface of the stone so precise V-cut lettering can be cut into flat, curved stones (such as ledgers) and riven surfaces. 3D bass-relief designs can also be machined using Aspire CAD software.
The heavy duty steel base easily carries the weight of any stone. There is a machining area of 1m2, although open ends accommodate any length of stone, and the Z axis is 250mm. Working on full size monoliths is no problem. You can also increase your product range by engraving metal, wood and plastic to make dedication plaques, house names and signs just as easily.
It is a compac three axes machine that cuts dry with the head enclosed and the dust removed by a vacuum, which is an efficient way of keeping dust out of the workshop. 
MGB Easy Handling, which makes battery powered sack trucks that have proved popular among memorial masons, is selling it as well as Scancad Services and it was on the MGB stand at Tradex. 
Ricky says there was certainly plenty of interest in the Procarve at Tradex, although nobody has bought one yet. You can find out more about it on the scancad.co.uk website. 
Wells Wellcut, meanwhile, is working flat out to satisfy demand for its machinery, with forward orders for its Wellcut saws going into February. It has opened a second workshop and employs nine people in its two factories. It would like more but engineers are not easy to find. 
Wells would normally take used machines back in part exchange for new kit because there is always a demand for refurbished saws, but it is so busy making new machines it does not have time to refurbish the old ones.
John Wells says: "If I had eight 1200 saws in the yard right now they would be sold. I've had three calls this morning asking if we have saws in stock!" (They don't. The saws are made to order.) "And tumblers – we've sold more tumblers in the past two years than in the previous 20. I suppose that's the way the market's going, everyone wants sawn and tumbled stone."
Wells is probably benefitting from the weakness of the pound, which has increased the price of imported machinery, as well as from more house building that has encouraged quarries to produce more walling. It might encourage exports as well but John says his last export was to Canada in March and that he has had to stop accepting orders from abroad for now in order to satisfy customers in the UK and Ireland.
Wells Wellcut has been making stone machinery for 33 years. As John says: "We have to be doing something right."