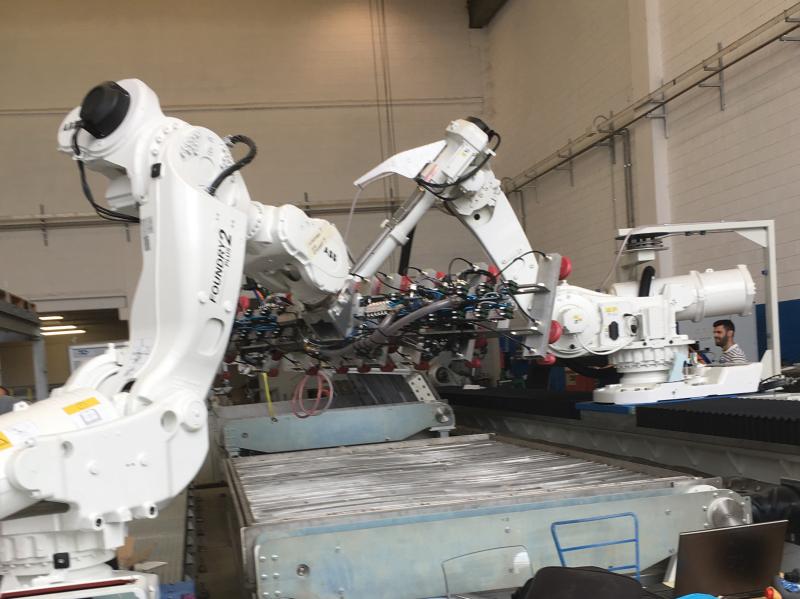 We are all part of the fourth industrial revolution, if only through our interactions with the financial sector.
It's here. It's now. And you're part of it. It's the fourth industrial revolution. It gets bundled together as i4.0 because the term is snappy and sounds modern. The driver is the interconnectedness of digital technology. And it is changing the way we live and work.
Government schemes that successfully ensured the money it conjured up from quantitative easing did not just sit in bank vaults but got out into the business community are coming to an end.
They are not exactly finished yet. If you look on the Government website (bit.ly/SupportFunding) you will find 173 schemes offering finance, equity, grant or loan support for established businesses and 135 for start-ups. But many are regional, sector or outcome specific and there is a diminishing number of them.
The Regional Growth Funds that have paid deposits of up to 20% on quite a lot of the machinery bought by the stone industry since 2010 are winding down, and any money they now distribute tends to be as loans, which have to be repaid, rather than grants, which don't.
Funding for Lending, which encouraged banks to lend by restricting their access to quantitative easing without lending some of the money on, was extended to January 2018 but there is no indication it will continue after that.
There has been a lot of machinery bought by stone companies since the referendum on Brexit in June last year, although the election in June this year seems to have given people pause for second thoughts, as some of the projects that looked certain to go ahead now seem to have stalled.
There was a lot of machinery bought before the referendum, as well. Low interest rates are the significant factor.
Sterling lost 15-20% of its value against international currencies as a result of the vote to leave the European Union, increasing the Sterling price of imports (and most machinery is imported). But base rates were halved by the Bank of England to 0.25%. Machinery is usually purchased with the help of loans (especially at today's interest rates) and investment decisions tend to be influenced more by the cost of monthly repayments than the purchase price.
One make of machinery is not imported – the saws and croppers of Wells Wellcut, the engineering company based in Lincolnshire.
Wells' saws and croppers are the workhorses of many quarries and traditional masonry companies up and down the country. The rise in price of imported machinery has no doubt contributed to the company enjoying its busiest year ever in terms of the machines it makes (more from Wells Wellcut below).
But it has been a busy year for all the machinery sellers in the UK – at least until the general election. Continuing speculation that interest rates will soon rise again might have something to do with the easing of demand for machinery since then. They will probably pick up again after this month's stone exhibition in Verona (Marmo+Mac, 27-30 September), where there will be British buyers among the 50,000-60,000 visitors from all over the World.
The fact that commercial lending is so cheap and widely available is not just a result of quantitative easing and the Bank of England's base rate. The government has also encouraged more competition to the big banks when it comes to lending money. These new sources of finance are collectively known as Fintech, or financial technology. They include operations such as Funding Circle, Alternative Business Funding, Crowd2Fund and Capital Connections. Capital Connections helps businesses secure alternative finance if they have been unable to obtain backing from the banks.
The money lent by Funding Circle, for example, comes from the government-owned but independently managed British Business Bank and more than 50,000 other investors. The British Business Bank was established in 2013 as one of the ways the government was pushing money out to businesses. It does not lend money directly but works through more than 80 other financial institutions with the intention of unlocking around £10billion of new finance for business.
Fintech is developing rapidly through the internet. Technological innovation has already changed the ways we trade and bank. As well as peer-to-peer lending and crowdfunding, there is the mobile-only stock trading app, Robinhood, and the developing technologies for mobile banking, mobile trading on commodities exchanges, digital wallets, financial advisory and robo-advisor sites (LearnVest, Betterment) and all-in-one money management tools like Mint and Level, which are apps to which you connect your bank account to analyse all your income and expenses for you.
Don't assume that Fintech is simply a fad. Fintech now touches every business the financial services industry deals with (in other words, all of them). And customers expect the same level of service and access from a small firm as a large one. Soon, everyone will expect to be able to pay with their phones.
The World is becoming connected and interconnected. That's not just true for finances, it's also true of workshops and factories.
In the jargon, it is encompassed by the term 'i4.0', shorthand for the fourth industrial revolution – the digital revolution.
In a report on i4.0, financial services company KPMG says: "We believe that the time for smallscale i4.0 experimentation is coming to a close. Indeed, to win in tomorrow's competitive environment, we believe that manufacturers will need to start being bolder in their vision, strategies and actions. And we hope this summary report of our i4.0 maturity assessments provides executives with some ideas on how to start." The report referred to is called Beyond the Hype. You can download it from bit.ly/Beyond-hype.
In stone, i4.0 so far sees CNC workcentres, bridge saws, waterjets and even some robots connected to office computers, with designers sending DXF files directly to the machines. The machines themselves can be remotely diagnosed via the internet by the manufacturers when anything goes wrong or monitored to provide information about service requirements.
Increasingly, information is also gathered and transmitted digitally from site, using digital templaters and scanners. The technology has taken hold particularly strongly in the worktops sector, although digital templaters can be (and increasingly are) used for templating floors, stairs, swimming pools or any other defined area.
The stone industry is split over digital templating between those who prefer the reassurance of having measurements made using a metal wire and those who like the convenience of a laser.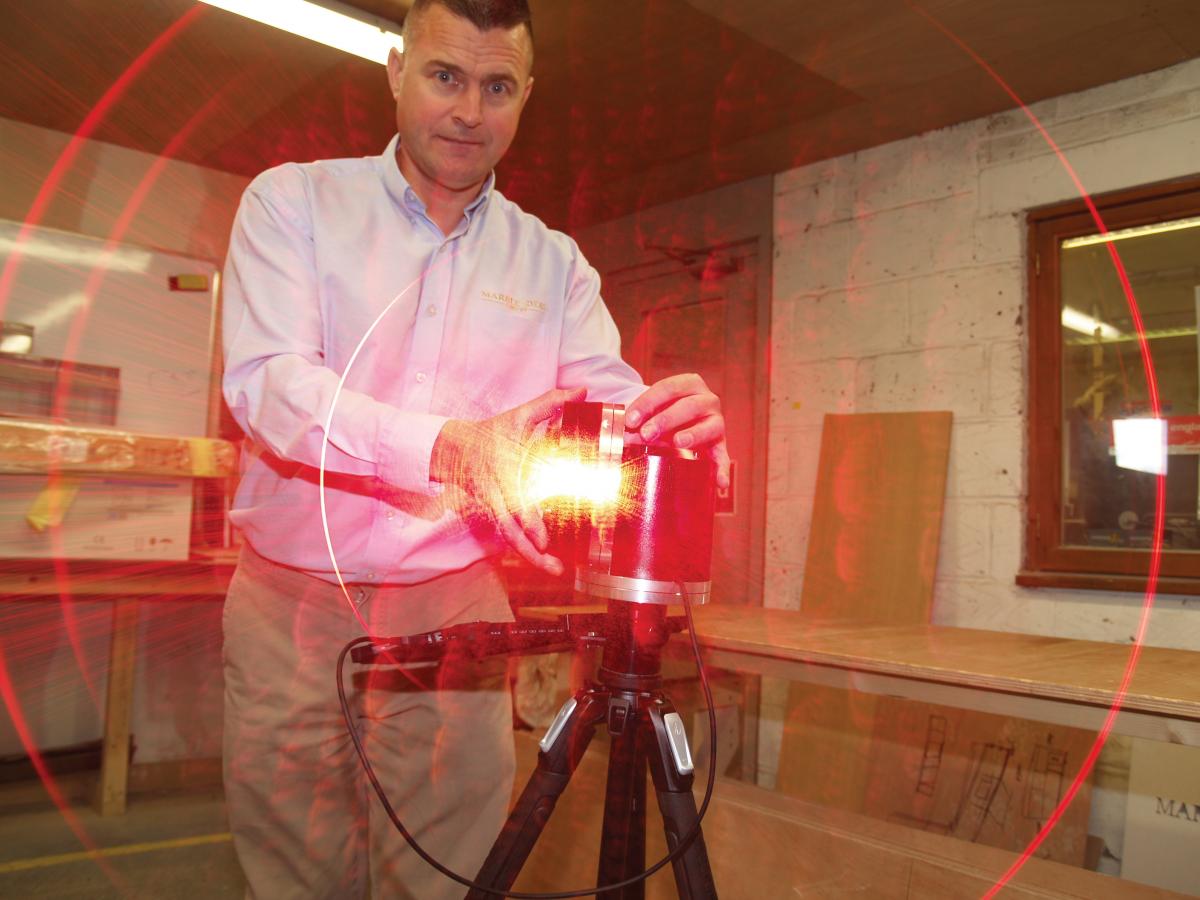 This year, Natural Stone Specialist has spoken to companies that swear by the Prodim digital templater, which uses a wire to take measurements, and those who would not use anything other than the Laser Products templater sold in the UK by Laser Products Europe. Some companies are less partisan and have both for the particular benefits of each. You can read what users said about the systems at bit.ly/NSSProdim and bit.ly/NSSLPE. Both systems now include two dimensional and three dimensional manipulation.
There are other digital templaters, some of which will be on show in Verona. And both Prodim and LPE will be demonstrating their respective systems at Marmo+Mac, Prodim in Hall 5, Stand F6, and Laser Products Europe in Hall 4, Stands G4/G5, the largest stand the company has taken in Verona as it expands its European distribution network. This year it will also be showing Slabsmith, another piece of i4.0 technology for helping stone companies improve productivity and the service they offer customers, and Omni Cubed materials handling products (read more about LPE from page 36).
Templaters are for measuring, but some companies have invested in scanners that can be used to scan three dimensional objects for use with computer-aided design (CAD) systems so they can be reproduced on a CNC workcentre. If the scanner is used to scan weathered stone in order to reproduce it as a pristine object, the scans can be manipulated using CAD. Chichester Stoneworks has such a system that it uses in conjunction with its Omag CNC workcentre.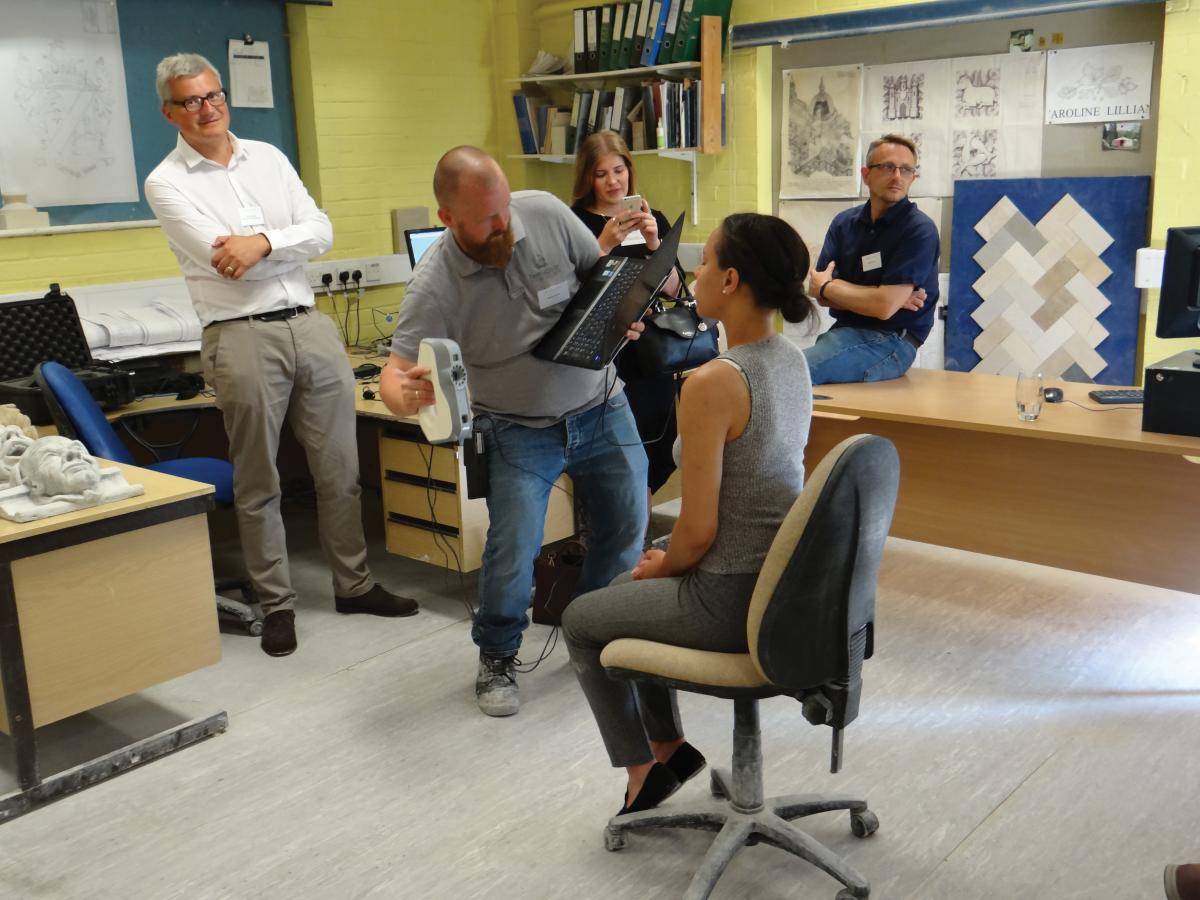 Chichester Stoneworks has the £12,000 Artec Spider from Artec 3D, designed specifically for those who require higher precision scans with intricate details.
Chichester Stoneworks has demonstrated its scanner at its past two open days by scanning the heads of visitors and running a competition to produce a bust of the winner in stone on the Omag.
In the factory, a lot of stone companies have turned to Alphacam software to integrate their design and manufacturing processes. Based in Gloucester, Alphacam is part of Vero Software. Alphacam Stone is CAD-CAM software developed specifically for the stone industry. Some machinery manufacturers incorporate it into their original machinery.You will be able to see Alphacam in Verona (Hall 2, Stand A9).
From the CNC machining of simple kitchen worktops to complex three dimensional carvings, Alphacam Stone has become the system of choice for many modern stone craftsmen.
As for the machinery itself, Natural Stone Specialist magazine asked the UK's machinery suppliers about the latest developments and what the manufacturers they represent will be showing at Marmo+Mac in Verona. What they told us follows, along with news about the companies where relevant.
*******************************************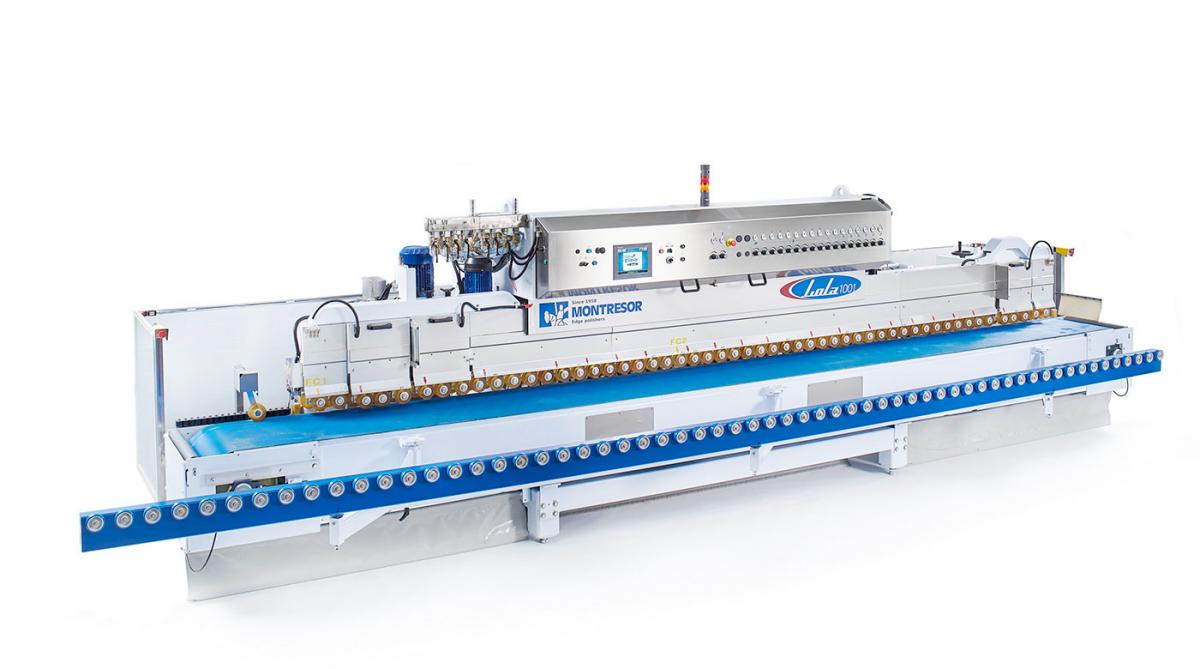 Intermac put the cat among the pigeons of the machinery market when it joined forces with Donatoni Macchine just ahead of the stone exhibition in Verona in 2015. Now it has done it again by buying Italian edge polisher company Montresor.
Intermac went out hard to win market share following the collaboration with Donatoni, offering some particularly competitive prices. Donatoni's turnover increased by 50% and the company's Jet became the world's best-selling five axes bridge saw, according to Biesse, the group to which Intermac belongs.
Not that it was only Donatoni that benefited. Being able to offer a bridge saw alongside its Master CNC workcentres and Primus waterjets also increased sales at Intermac, contributing to an increase of Biesse Group sales of 21% in 2015 to more than half-a-billion Euros and a further increase of about 20% in 2016.
Chris Arend from Intermac in the UK said that of all the machines sold by Biesse Group UK in 2016, 25% were Donatonis. And that at least half of the Intermac CNC workcentres sold to stone companies were as a result of also being able to offer the bridge saw. Having an edge polisher as well completes the line-up of machines that many stone processors, especially those making worktops, consider essential.
Intermac describes the Montresor purchase as "another milestone on the path towards creating a full range of products dedicated to professionals in the natural and synthetic stone machining sector" that will "position the company as the only choice for those looking for complete and integrated solutions for the stone industry".
Biesse Group says the Montresor purchase (along with the purchase of Movetro in glass processing) strengthens the Group's offering of i4.0 solutions in the era of digital manufacturing. It says it makes Biesse and Intermac the ideal partners for the design and construction of fully-automated, integrated turnkey production lines.
At Marmo+Mac, Intermac and Donatoni will exhibit together in Hall 5, stands C6-C7-E6-E7. Montresor was already booked in Hall 4, Stand F5. The Intermac theme is 'Think forward'. This is the digital factory that changes how manufacturing is perceived and operates, with integrated solutions that are nonetheless easy to use. The aim, as ever, is to enable you to produce better work more efficiently at a lower cost.
The addition of Montresor to the Biesse stable has resulted in a re-think of plans for the Group's headquarters in the UK at Daventry, Northamptonshire.
The plan had been to buy new premises near to the existing premises but the purchase fell through. It was then decided to spend £1.5million extending the existing building and re-organising it internally. That was going to happen this year, but now that has been put on hold as the business once again considers moving to larger premises.
This means the showroom and machinery test area at Daventry (which Biesse calls the technical centre), which was going to be shut this year while the work progressed, has remained operational. Some partitions are being taken down in the offices to make more space available for an increase in staffing that was needed even before the Montresor purchase.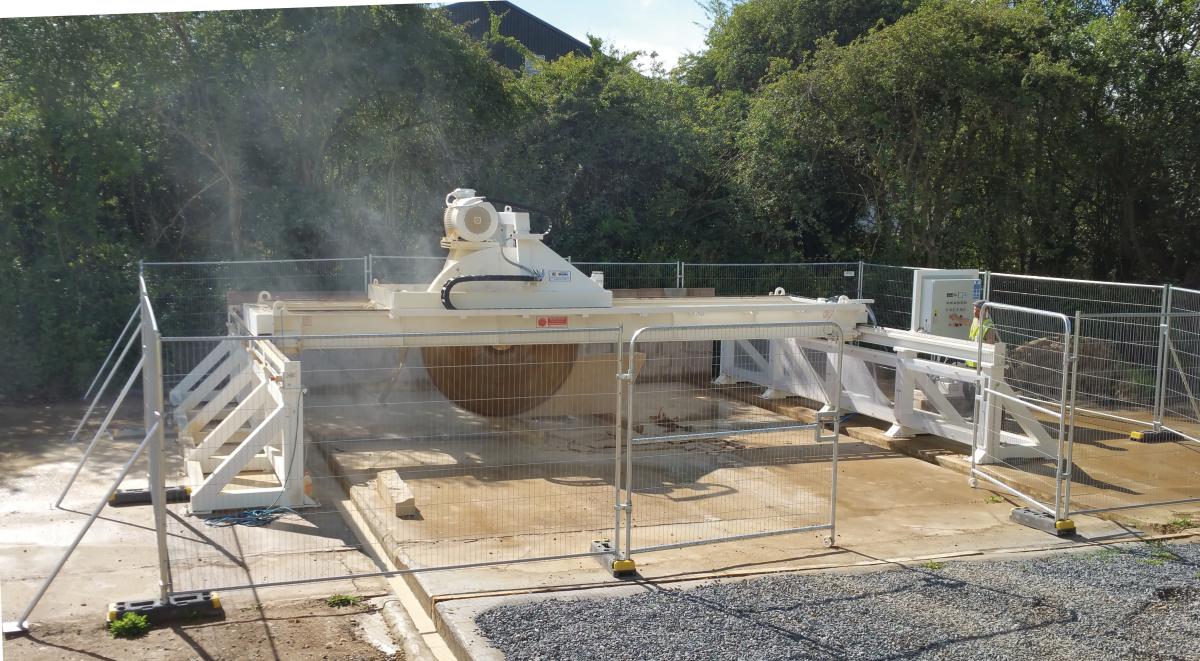 The fall in the value of Sterling might have given British manufacturer Wells Wellcut an opportunity to increase its exports, but demand for its saws, croppers and tumblers has been so high in the UK it has had to stop exporting altogether. Not that it has ever exported much. It will not be exhibiting in Verona. It never has.
Many quarries in the UK as well as traditional masonry companies have Wells bridge saws for cutting blocks, with Wells croppers and tumblers for producing walling stone. They often sit in the quarry or yard, exposed to the elements. They are normally considered workhorses. The saws include automation so cuts can be programmed but they tend to be chosen because they are simple to operate, not too expensive to buy and will generally keep going, no matter what. When they do need some maintenance, spares are readily available from Wells Wellcut in Deeping St Nicholas in Lincolnshire and are usually delivered the next day.
In order to try to keep up with demand for its machines, Wells has expanded its engineering works into a new factory it has built on a 11/2 acre site a 20 minute drive from the original factory. But John Wells, who runs the company with his son, Luke, says even before it was finished they knew they would need more space and the steel frame is already up for a second workshop on the site.
They have bought a new lathe, fork lifts, a 15-tonne truck and two new welders. They generate their own electricity because the site is a long way from the national grid. They have taken on two more engineers and an apprentice, bringing the workforce up to 11 in the factories with two site engineers installing and commissioning the machines.
Most popular lately has been the Wells Wellcut gantry saw (like the one pictured on pages 18-19, where it is painted white rather than the usual blue at the request of customer St Whites Stone). These run on rails, so several blocks of stone can be loaded in a line and the saw set up to work its way along the line automatically. Wells has installed saws with rails of between 7m and 15m lengths.
St Whites Stone's gantry Wellcut has a 2.2m blade with 7m of rails. There is hydraulic rise and fall on the head section.
Goldholme, with quarries at Ancaster and Hooby Lane, Rutland, has bought one, as has Cotswold Stone Solutions, with its Syreford Quarry and 3 Gates Quarry near Cheltenham. Capital Stone Masonry in Sheffield and Boden & Ward, stonemasons in Weedon, Northamptonshire, have also added them. There are others.
John Wells says: "Our gantry saws have become very popular due to the ease and speed they cut the larger blocks. With several more on our order book, this must be the way forward for our customers."
Wells Wellcut expects its saws to last for about 15 years, after which the company is happy to take them back in part-exchange for a new one, as there is always plenty of demand for its refurbished saws.
With the weakening of the pound increasing the price of imported machines, Wellcuts look even better value than ever, although John says they were selling fast before the fall in Sterling. He says the past three years have been the busiest the company has ever known and this year looks set to be another record-breaker.
After Sterling crashed, Wells stopped importing the multi-tooth Portuguese croppers it has sold for several years because they became too expensive. But Wells is still in touch with the manufacturer and says if the pound strengthens, Wells could start importing them again.
The latest development on the Wells cropper is side hydraulic rams. This idea was developed for a customer with large slabs to crop who was having difficulty getting flat surfaces. The electronics are controlled by two joysticks, an idea taken from the controls on the forklifts Wells use.
The hydraulic side rams overcome the problem of ending up with a convex or concave face – it happens a lot when you are cropping stone more than 200mm thick. The side rams operate at the same time as the top rams, and will only operate when all four rams grip the stone. The result: no more concave or convex faces.
John Wells says the company is always happy to try to find solutions to any problems its customers might have, especially when they lead to a development that can also help other customers.
"We do look after our customers," says John. "We go the extra two miles."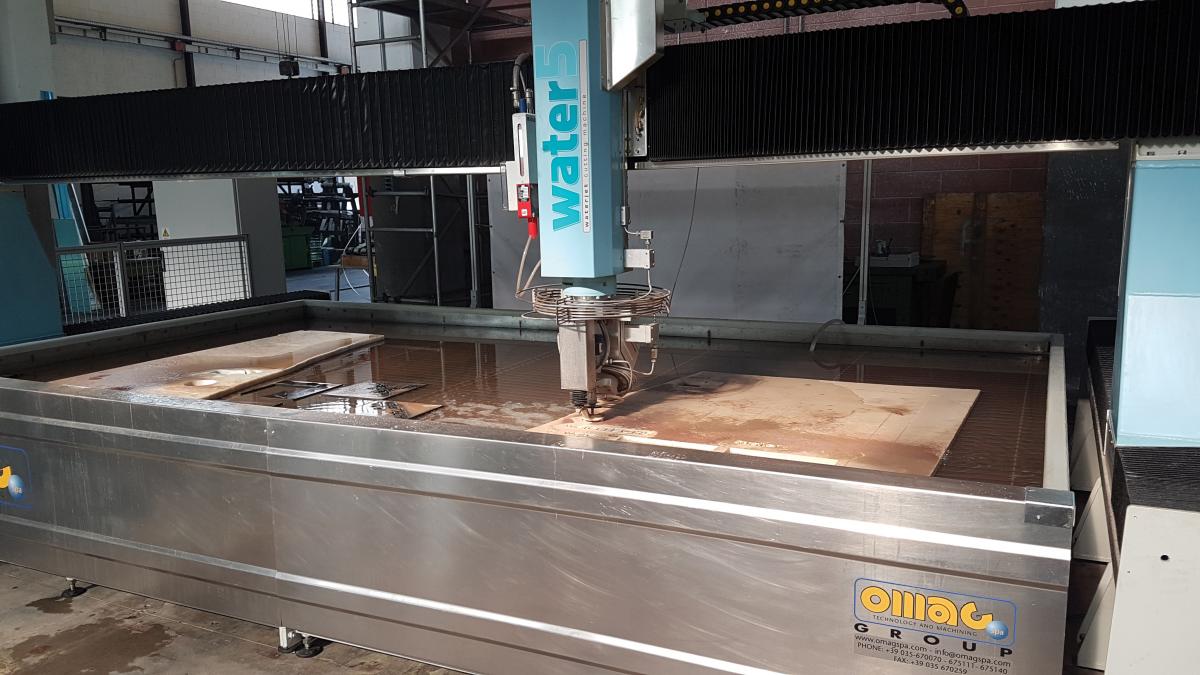 A star in the stable of British machinery agent D Zambelis is the Omag CNC workcentre, examples of which you will be able to see at Marmo+Mac in Verona (Hall 2, Stand B4-B5). Dimitri, Stella and Jasper Zambelis will be on hand to talk to British visitors.
The Omag stand is making the most of technology to show more of its products than it can get on its stand. Pride of place on the stand will go to an Omag Water 5 waterjet. But machines not on the stand, such as the Mill 4X workcentre that is particularly popular in the UK, will still be seen – via video links.
The Water 5 gets prominence because waterjets are the latest must-have technology as the stone industry expands into the processing of a new generation of sheet materials beyond granite and engineered quartz.
This is a top-of-the-range machine incorporating the latest technology but maintaining Omag's interconnectivity by using the same software it uses on all its machines, so that the operator can optimize production time and costs.
Superdense sintered materials and porcelains require different tools on CNC workcentres and saws to those used for granite and quartz, and tool changing is time consuming. So some companies have turned instead to waterjets, where you don't have to change the tools when you change the material being worked.
But waterjets are more expensive to buy and run than CNC saws and workcentres, so there is demand for both.
The Mill 4X, which D Zambelis showed on its stand at the Natural Stone Show in London this year, combines all the experience of Omag's 25 years in the industry. It is robust, sophisticated and versatile yet simple to set up for forming, routing, engraving, milling, sculpting, sawing, polishing and lathe work.
The 'X' in the Mill 4X indicates the latest extras, such as the bigger ISO 50 tool connection and a more powerful head motor. This brings the four axes machine into line with the larger Area 5 and Blade 5 five axes machines.
This means optional external gearboxes can be used for fully polishing drainage grooves with discs, instead of routers, and cutting with blades up to 400mm diameter.
Using a magnetic gearbox and tool changer with six tool positions allows flat edge polishing on natural and engineered stone, including quartz, Lapitec, Dekton and Neolith. There are also special adaptors for traditional face polishing.
Omag has two new five axes CNCs, Area 5 and the more compact Area Cut. And if you want to really push productivity there is the Area Multicut, which has automatic loading tables and automatic unloading and stacking by robot.
The even bigger Omag Blade 5 combines the features of the Areas and the ability to carry a saw up to 1600mm diameter. This machine is for deep milling and shaping of large, elaborate dimension stone and architectural items.
Then there is the robot-like Tower 7, which is exceptionally solid and sturdy for  three-dimensional precision engineering of low reliefs, inlays, kitchen tops, arches, capitals, sculptural columns. Six axes are provided by the articulations of the machine itself and the seventh comes from the rotation of the workpiece, so every surface can be worked with practically no limits to the undercut.
D Zambelis also represents saw-makers Terzago (Hall2, Stand E9) and Achilli (Hall 5, Stand C1-C2). Terzago launched its new five-axes CUTe 36/Digit bridge saw at the Natural Stone Show in London and will be showing it again in Verona, while Achilli also hopes to have a new entry level five-axes saw ready for the exhibition.
D Zambelis now sells two makes of edge polishers, OMGM (Hall 4, Stand A5), with its oscillating heads – and there is the offer of free installation for orders placed at Marmo+Mac – and CMG Macchine (Hall 5, Stand E4).
Opposite the Terzago stand in Hall 2 (on Stand E6) is another of the companies D Zambelis represents in the UK, Dal Forno, which makes handling and lifting equipment.
And if you are having any trouble finding the right tools for working any particular materials, D Zambelis will be happy to try to find a solution for you even if it involves products it does not sell itself. If you want help finding the right product, Dimitri Zambelis invites you to give him a call in Verona on 0044 (0)789 484806.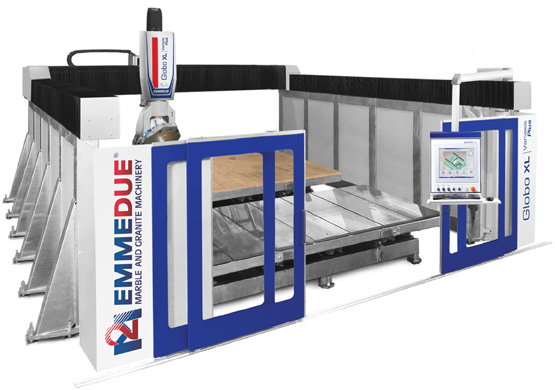 Stone Equipment International says its sales have been booming since April, when the Natural Stone Show in London proved once again to be the anchor for another successful year.
Managing Director Andy Bell says: "The show is always great for lifting the profile of the company, touching base with the industry, closing existing business and meeting new customers. We were happy to welcome our existing customers to the stand and even sold a machine on an impulse buy this year, so it's always a worthwhile and profitable experience for us."
In London, Stone Equipment International launched its new service plan. Initially, the plan was offered to all companies, irrespective of what machines they have. But it had to be rethought as it couldn't keep up with demand. The new proactive service plan is now exclusively for Stone Equipment International customers to ensure they get the very best service.
This year it also launched a warranty that is says really does cover everything – no questions asked. "This isn't an idle boast," says Andy, "it simply reflects the confidence we have in the engineering and the quality of these machines."
Marmo Meccanica edge polishers continue to be Stone Equipment International's star performer. "I would say it's the most loved machine of its kind on the market," says Andy. "It's reliable, does exactly what it says on the tin, the servicing is straightforward and quick and the support we get from Italy is faultless." Prices range from £25,000 to £120,000, so there is a machine to suit every processor.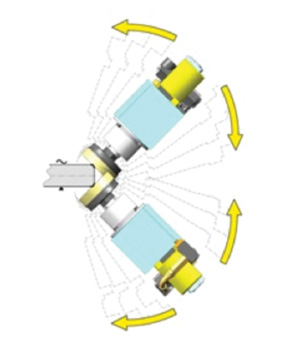 In Verona (Hall3, Stand B74/B88-B67-B85), Marmo Meccanica is introducing its LCR Special. This is a horizontal, seven head edge polisher for producing flat edges and 45° bevels on stock up to 60mm thick in both cases, and pencil round chamfers on stock up to 40mm thick.
Why 'Special'? Because, it can produce even the most demanding tight radius pencil round profile in double quick time. Normally you would need a bull nosing machine to produce a pencil round profile or would have to do it by hand. This edge polisher does it using two groups of 3+3 counter oscillating chamfering heads – the same heads that are fixed at 45° to produce the traditional flat bevels.
The standard version of the new machine is the LCR 7233 M-SE (4.6m long and with 27.5kW power). It has an ingoing calibrating / drip cutting unit, seven polishing mandrels with 150mm diameter wheels with the 3+3 counter-oscillating mandrels, plus two 45° chamfering mandrels for the pre-cut.
There is also the LCR 7233 M-O/V version, which has all the features above, except it has 33kW power, is 5.6m long and has a special bench for processing narrow strips (down to 45mm wide) for back splashes. It can also put flat or rounded corners on to 'L' shaped bordered kitchen tops. It has an exit multi-function unit for vertical cuts as well as inclined cuts, drip cuts and edge housings.
Like any of Marmo Meccanica's edge polishers, these can be customized with extra mandrels, units and automatisation, such as micro-oscillation and automatic positioning of pneumatic mandrels.
Stone Equipment International's other main machinery offer is Emmedue.
Emmedue is at Marmo+Mac (Hall 3, Stand C72/C84-C31/C43) where it will present a new combined bridge saw and workcentre, the Globo Variaxis, that saves time, space, employees and money.
Emmedue has a bigger stand this time at 262m2, on which it will present four major machines. As well as the Globo, there will be the Contor four axes workcentre; the Discovery Plus five axes bridge saw and the Astra 5 bridge saw.
Andy: "We knew when we took on Emmedue that they had only ever had limited exposure to the UK market and that it was a product our customers wouldn't be familiar with, so we are delighted with how sales have gone this year. We have exceeded our targets by 50% and the feedback from customers has been extremely positive.
"We have started selling five axes CNC machines as opposed to the standard three axes and this trend doesn't look to be slowing. The support from Italy has been superb.
"I have a great relationship with my current suppliers and have no intention of expanding to take on new products. I want to give my customers the best advice and support I can and my suppliers the results they expect. I know I can only do that if my portfolio is manageable."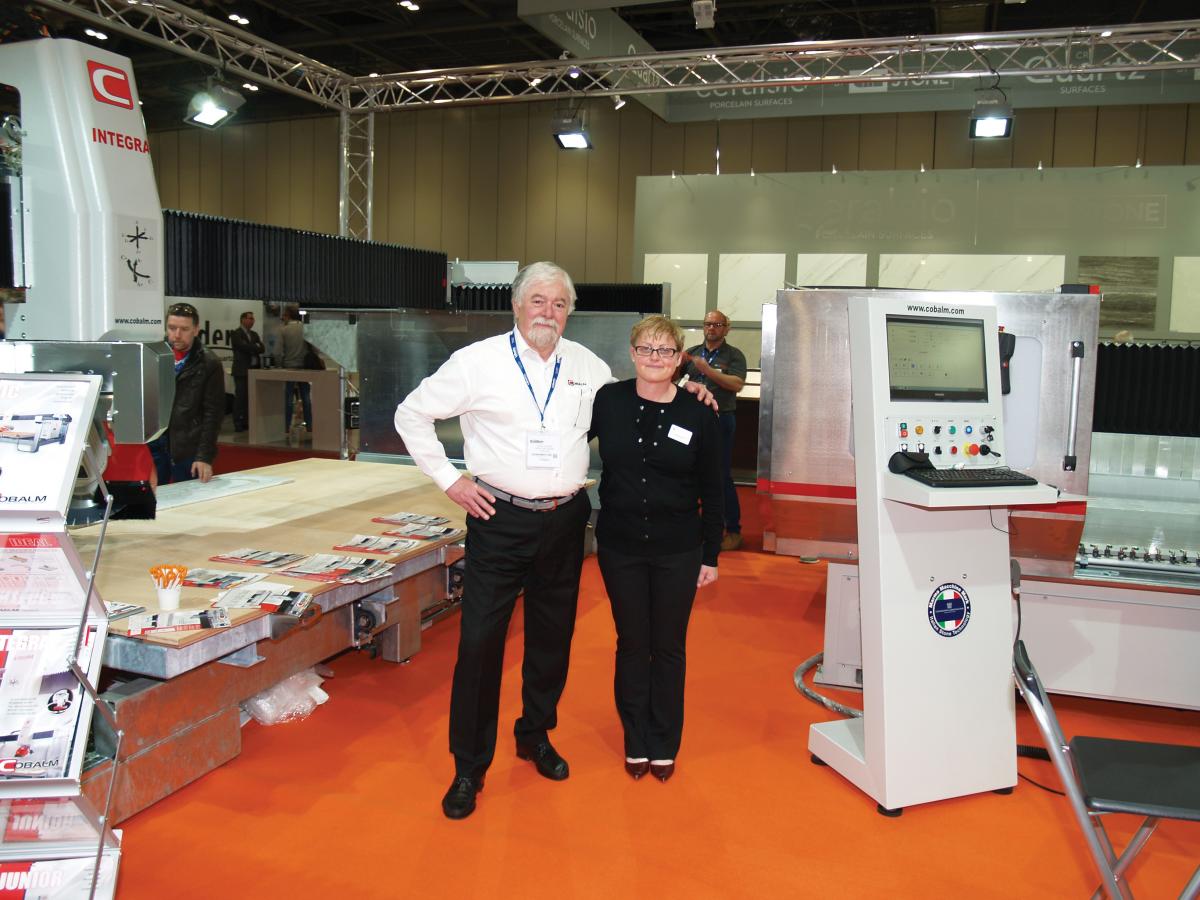 Waters Group says the Natural Stone Show in London this year was a huge success for it. With its biggest stand to date, it was able to have those all-important face to face contacts with customers. It was supported by six of its main suppliers, who joined the Waters Group team on the stand to enjoy that interaction with customers. 
Following on from the success of the London show, the team at Waters Group is looking forward to Marmo+Mac in Verona, where it was Waters Group's turn to support its suppliers: Cobalm – CNC saws and workcentres (Hall 3, Stand A30/44-A61/A75); Koenig – tools and processing equipment (Hall 7, Stand F6); Martini Aeroimpianti – dust and water management (Hall 5, Stand C4); Righetti – vacuum lifts (Hall 2, Stand C4); Flow – waterjets (Hall 3, Stand B42/B58). Waters Group will also be supporting its consumables suppliers: ADI, Integra Adhesives, Bellinzoni and Abressa. 
Waters Group is particularly keen to show customers its increased range of dust extraction systems, which includes the mobile unit from Koenig called Rexipar, introduced on the Waters Group stand at the London stone show.
It can be moved by one person to any area of a workplace where grinding or cutting is taking place. The Rexipar has sold well in the UK since the Natural Stone Show in April. If you missed it there, you will have a chance to see it again in Verona on Koenig's stand. But more about this and other dust and water management systems from Waters Group will be in the November edition of this magazine.
Also on the Koenig stand, which will once again be shared with Schmieder, there will be a lot of tools and processing solutions. One focus will be the processing of ceramic materials with 45º mitring. The Koenig bonding table for perfect edges will be demonstrated. There will also be the routing and grinding system for the production of invisible joints on kitchen tops, whether they are made from natural stone, engineered stone or ceramics.
Waters Group will be happy to show you round the Cobalm stand, where you will be able to see the latest modifications to the high specification Integra five axes saw, with its larger working area, and an Idea Top CNC workcentre that comes in a three or four axes configuration and has a frame that has been coated with polyurethane to protect it from rusting.
And the hot news from waterjet company Flow is the new Mach 500 cutting system, first released in the USA and introduced in Europe in July. Flow says it represents a quantum leap in reliability and productivity.
It has FlowXpert 3-D solid modelling CAD/CAM software and the recently introduced Compass five axes contour following and collision sensing solution. These make Mach 500 faster, more precise and more reliable. The result: greater productivity. The faster-accelerating head achieves a 15-30% reduction in cycle times compared with the Mach 3b.
The processing of natural and composite stone is one of the main product areas the machine is expected to benefit, with modular architecture and numerous configuration options enabling Mach 500 to be individually tailored to customer requirements. For example, various pump technologies and cutting heads are available.
And it is not just about the machine. With Mach 500 comes a comprehensive service and support programme.
­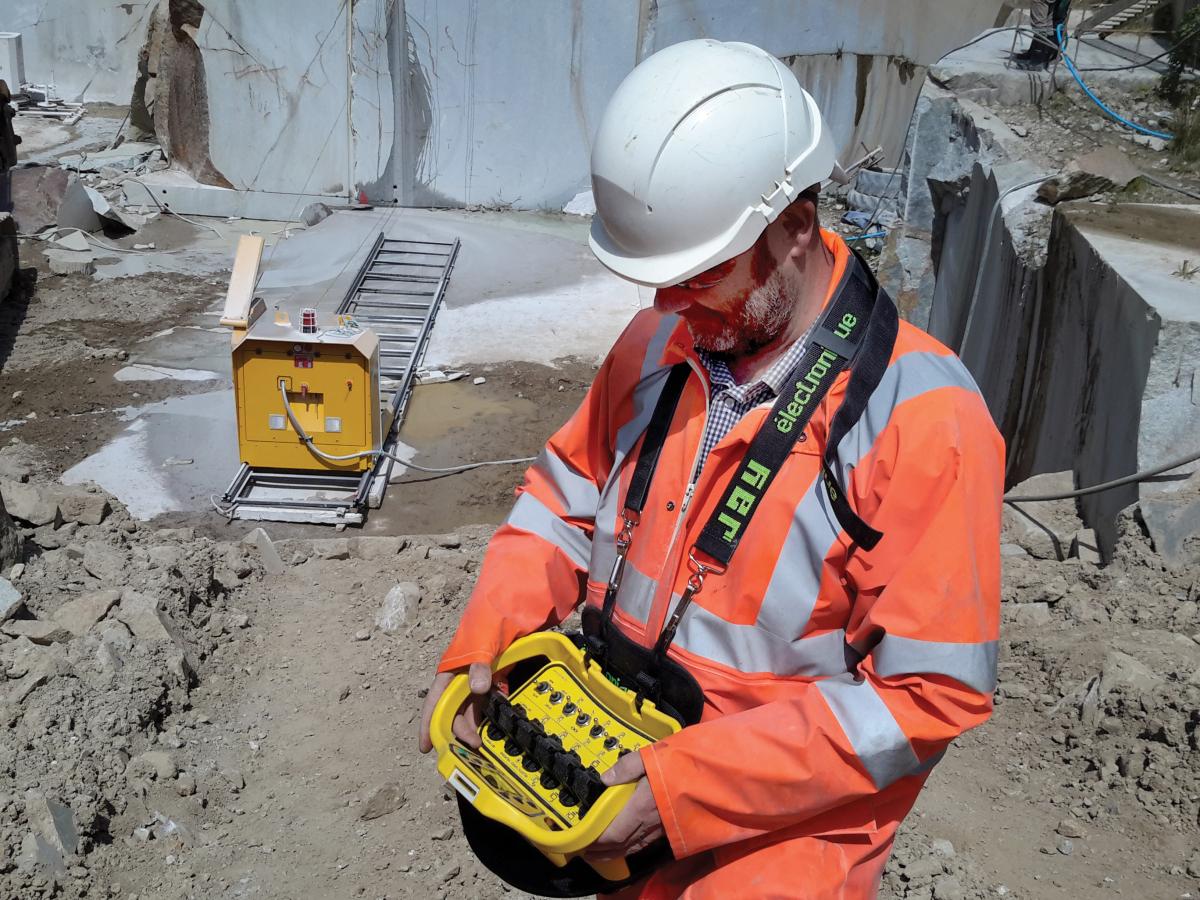 The Dazzini S900T wire saw on the stand of UK agent Pat Sharkey Engineering at the Natural Stone Show in London this year was on its way to DeLank granite quarry in Cornwall, where it is now in use.
If you want to see wire saws like it, along with quarry chain saws, hydro bags and pumps at Marmo+Mac in Verona you just have to visit the Dazzini Macchine stand in Hall 5, Stand B2, where Pat Sharkey and his son, Neil, will be happy to join you to explain the benefits of Dazzini machinery.
Dazzini is based in Carrara, home of the famous Italian marble, where it has more than 200 of its machines working in the quarries. It has many others in quarries all over the world, and Ian Skinner, the Quarry Manager at DeLank is happy to explain why.
DeLank granite has been cut from the face using wire saws for many years, but Ian was impressed by the increase in productivity achieved with the new Dazzini. He says it was previously taking two days to cut through the dense Cornish granite but now the same cut has been reduced to six hours.
Another of the companies Pat Sharkey Engineering will be supporting in Verona is Sassomeccanica.
Sasso makes CNC machines with FST or Alphacam software, bridge saws, edge polishing machines and ashlar lines. And it has seen sales grow so much in recent years that it has relocated to new, larger premises in its home town of San Benedetto, reflected by an even larger stand in Verona this time – Hall 2, Stand C2-D2-D3. 
In the UK, the K600 CNC has been popular in the kitchen worktop and general masonry sector, while the larger K900 CNC saw has also been popular among masonry companies.
Near to Sasso in Hall 2, on stand F8, will be another of the companies Pat Sharkey Engineering represents, the Sigma Group, which is a local Verona maker of dust suppression and water treatment systems (there will be more about that in the November issue of this magazine).
In Hall 5, Stand F2-G1-G2, you will be able to see the Nuova Mondial Mec bench saws, floor polishing machines, monobloc and mitre saws that Pat Sharkey Engineering sells.
Mondial Mec continues to be a major player in the affordable section of the market with a range of machines that can accommodate most budgets and manufacturing needs.
The Manta LX bench saw is the UK's most popular choice. It can be manually operated or fitted with motorised height and blade travel. A lightweight, aluminium bench saw for easy, one-man transportation to site is also popular.
All the saws have a water reservoir in the main structure and their own pump, making them self-contained.
A specialist, compact machine Pat Sharkey has introduced to the UK will also be on show in Verona, in Area A, Stand 222. From Lovato Technology, it is a machine called the Evo for turning what might be considered waste into stone cladding. It cuts a flat back, including corners, on to random sized pieces of stone.
If you want to have a look but are not going to Verona, there are videos on the Lovato website (www.lovatotechnology.com). Denfind Stone in Scotland has bought one.
Pat Sharkey's longest standing agency is for the German saw-maker Spielvogel. Spielvogel does not usually exhibit in Verona. The company has a new owner, Tobias Lindner, but will not be in Verona.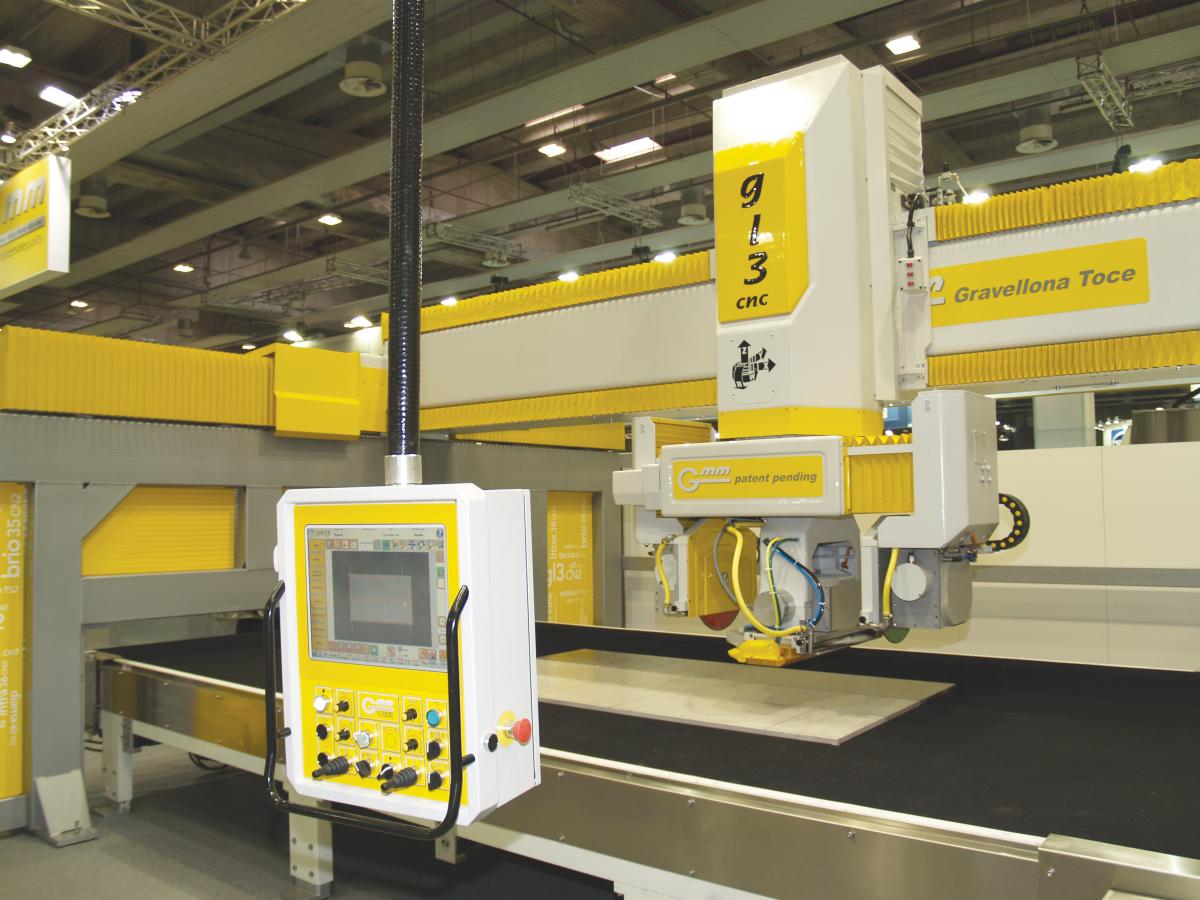 Roccia Machinery, best known as the supplier of GMM saws, also now represents T&D Robotics in the UK and has sold four of the robots to one company setting up a new factory, along with a GMM waterjet, bridge saw, a CNC workcentre and materials handling equipment.
Roccia Director Darren Bill remains convinced robots are a technology whose time has arrived and will be happy to talk to you about it on the T&D stand (Hall 4, Stand F4) in Verona. 
On the GMM stand (Hall 3, Stand B1/B21-C2/C22) there will be the monobloc eXtra 37 that Roccia had on its stand at the Natural Stone Show in London this year. It has the simplicity of a Brio but is a bit bigger so it can incorporate a vacuum lift and a camera. The table is 3.8m x 2.4m and it has a 400mm 'Z' axis to take a blade up to 600mm with the vacuum lift or 700mm without it.
GMM will also be showing the new Egil 700 CNC bridge saw that has a 'Z' axis up to 700mm, and its GL5 CN2 five-headed saw, along with a Zeda 2000 saw. Edge polishers on show will be a Tower vertical for straight edges and a Toro for straight and round edges.
Darren says in the past three years, Roccia has sold 100 GMMs into the UK and Ireland.
It has also lately sold three Pellegrini multiwires, one with five wires and two with 12 wires. In Verona, Pellegrini will be showing its range of heavyweight equipment intended for primary production in Area A, Stand 13-14.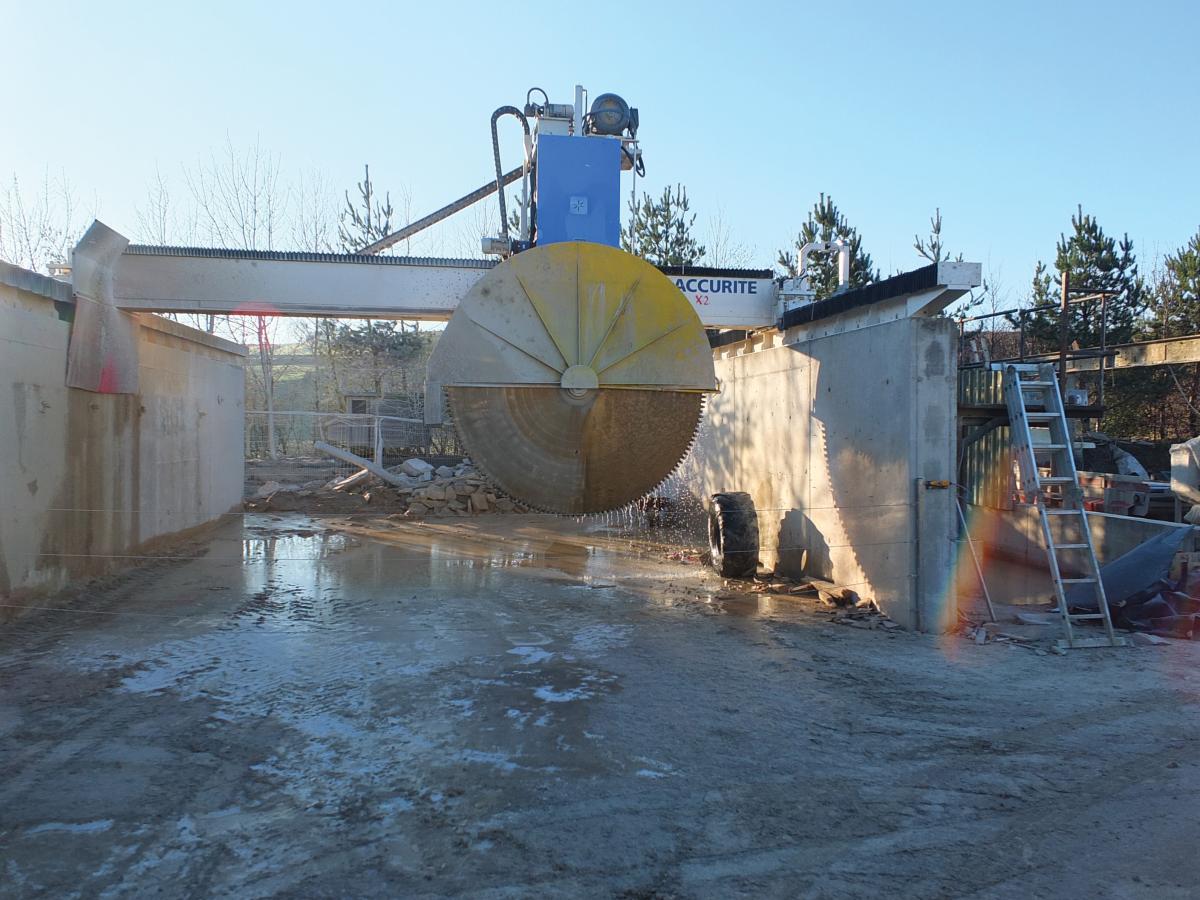 Like most of the companies selling machines in the UK, Accurite always relied on its own reputation as well as the reputation of the machines it sold. But Accurite owner Mark Brownlee has gone further than other agents by own-branding most of the machinery he sells – apart from the Italian Denver CNC workcentres and saws he has sold for many years.
Mark sources the hardware for most of his own-brand machinery in China, but rewires it and installs his own operating system in the UK at his workshops in Cumbria. Only his Accurite edge polishers are made in Italy.
The Accurite range covers all areas of primary processing, including a single wire saw for slabbing that Accurite is currently testing. There are about 50 Accurite machines now installed and working – bridge saws, jenny linds, calibrators. "Once you've got 20-30 on the ground people start to recognise them," says Mark. "Word gets round that they're value for money."
And because he adds his own electrics in the UK and assembles the machines at his workshops, he has all the spares necessary readily available, which is important. "We don't have to go to the manufacturer only to find they have closed down for August. We're self-sufficient. These days everyone wants everything now. If you don't reply to an email straight away they send another one asking if you received it."
Mark says he continues with the Denver agency alongside his own-brands because the machines practically sell themselves. He will be on the Denver stand (Hall 3, Stand B23/B47-C24/C48) in Verona, where the company will once again be showing the waterjet it introduced last year as well as a selection of its saws and workcentres.
"You have to know your collaborator," says Mark. "The Denver name is well-known in the UK and it's always going to sell itself. People buy it because of the Denver name… and because of the Accurite name… or the combination of the two. Last year was one of the best years we have ever had with Denver."
These days most people want the greater versatility of the five axes Teknika. There is one on permanent display for customers to try out at Accurite's premises. There is, on average, a visit a week from a company that wants to try them out. "They come with their operators, who are pretty switched on. I just leave them to it. We've sold 20 of them."
For many years now Mark has also sold used machinery, refurbished in his well equipped workshops by experienced staff. Much of what he refurbishes are Denvers taken in part-exchange for new machines. "We strip them, shot blast them, repaint them and rebuild them with our own electrics so we can solve any problems in-house. Then we sell them as recons. Finance companies are happy to finance them."
"Last year we sold two machines a week across the range," says Mark.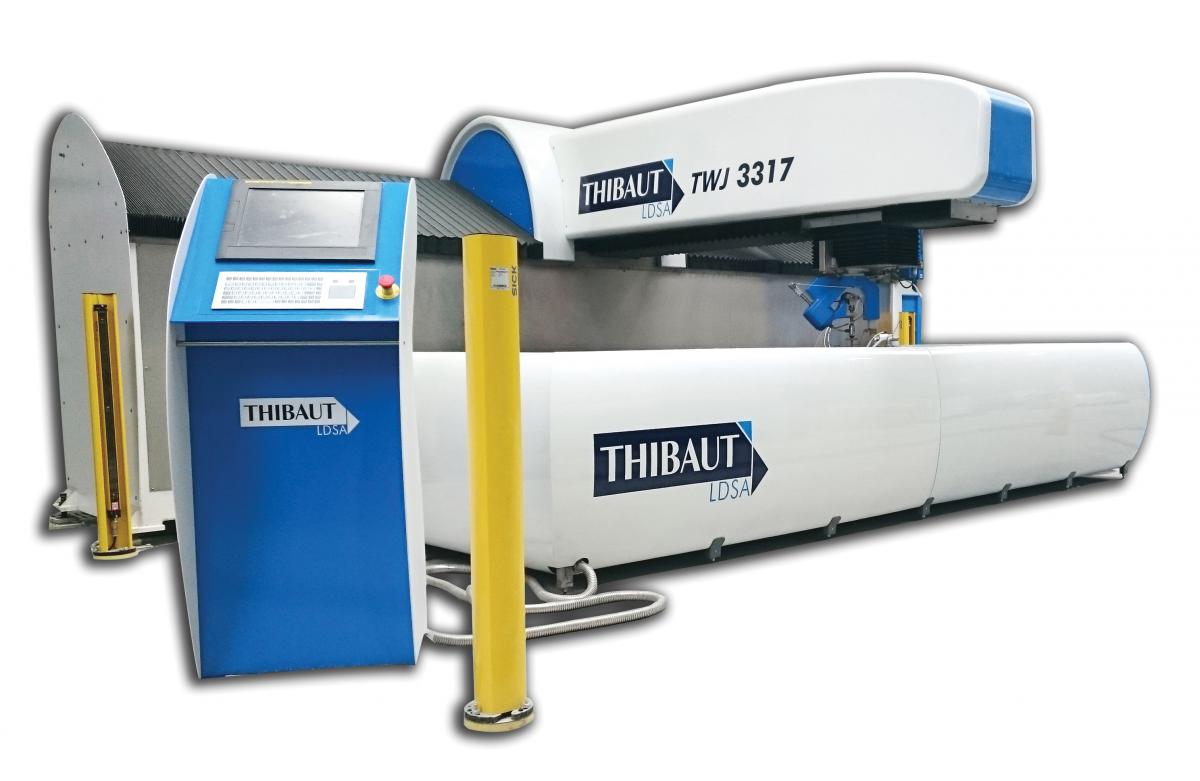 Thibaut, which has yet to replace Stephane Couteaud, its member of staff who was covering the UK, says it expects to complete sales to UK companies during Marmo+Mac in Verona this year.
The French manufacturer is in Hall 4, Stand F2-F3-G1-G2-G3, where it will show seven of its machines and, once again, its hoseless, wireless Octopod vacuum cups for holding slabs in place while they are machined. Introduced in 2015, the cups can be used on all new and most of the more recent Thibaut workcentres. If you want to try them out for yourself, you will be able to on the stand using various materials.
Octopods are being used by customers in Austria, France, Belgium, Australia, England and Hungary.
Machines on show will include the T818 M4 Tops, which comes in three and four axes versions, with two transfer tables for maximum productivity.
There will be the T658 CNC multipurpose edge profiling and polishing centre for straight or profiled edges on stone up to 200mm thick, making it suitable for memorials, and the TC600 monobloc CNC sawing and milling centre available in versions of up to five axes. It cuts in all directions (straight or inclined) automatically and can profile workpieces of any shape without moving the slab in materials up to 200mm thick. With 360º disc rotation there is no need for a turning table, keeping the machine compact.
The TC1350V2 is a multipurpose sawing and profiling centre with a moveable beam, giving high capacity without needing too much headroom. It cuts material up to 500mm thick, with plenty of power and torque available from its variable speed (up to 6000rpm) 44.4kW spindle motor.
The T858V2 CNC is a five axes CNC milling and polishing centre with pneumatic pressure in all directions. Its Scanbox automatically scans workpieces.
T108S is a Jenny Lind seen in so many masonry workshops, including many in the UK. It is easy to use for routing, milling, drilling, polishing, texturing and profiling, economical, compact and robust.
Thibaut will also show a waterjet, which it makes in three and five axes versions. On the stand will be the TWJ 3317, which has a work table of 3.3m x 1.7m. The company also makes the TWJ 4020, with a 4m x 2m table. Either way, the ergonomics are specifically designed to make it easy to access the table.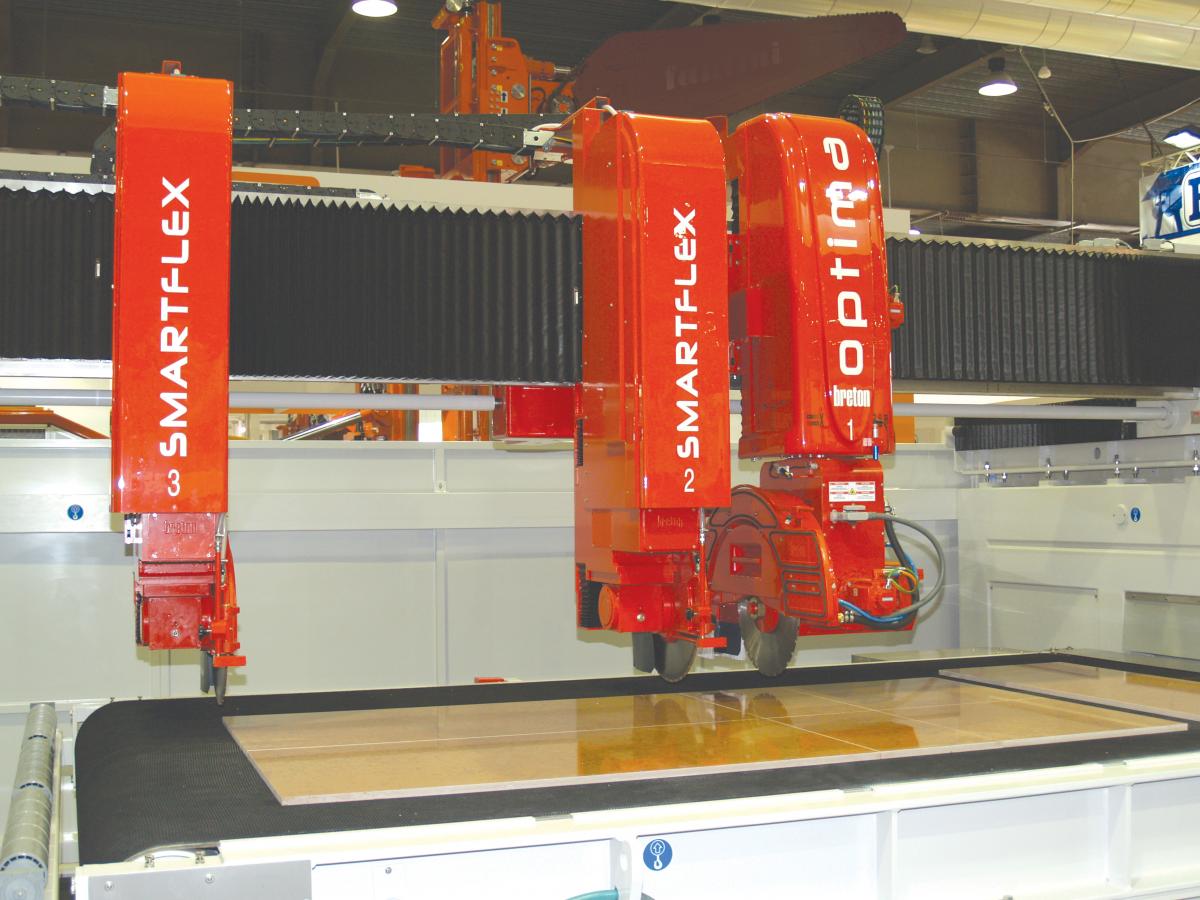 Breton machinery has been sold in the UK since 2010 by a company in the LPE Group (see page 36). But at the Natural Stone Show in London in April it was publicly announced that Breton was to establish its own subsidiary in the UK. That company is Breton UK Machinery & Services, which was registered on 20 July. Its Managing Director is Fabio Bragagnolo, who will already be familiar to many Breton customers in the UK. He will be working with technicians Dorian Watson and Gem Mallison, who have transferred from LPE. The new company is moving into premises in Cambridge.
The split is amicable. The UK was Breton's biggest sales area in Europe last year and LPE and Breton agreed it would be better if Breton serviced the market directly with its own subsidiary.
Breton's CNC stoneworking machinery and production lines are highly regarded by most of the stone industry across the world. You will be able to see some of that machinery at Marmo+Mac in Verona, in Hall 4, Stand A6-C8/B5-C5.
This year the company will showcase its Paragon multiwire machine with 5.3mm diameter diamond wires; its ResinDrone multi-axis robot for automatic resin filling of marble and granite slabs; its SmartFlex CNC cutting centre with three cutting spindles, one of which is mounted on a five-axes rotating head with a Multicup vacuum lift; and its Combicut DJ/NC five-axis combination saw and waterjet cutting centre, which has been around for a few years and for a year or so has found buyers in the UK for the first time.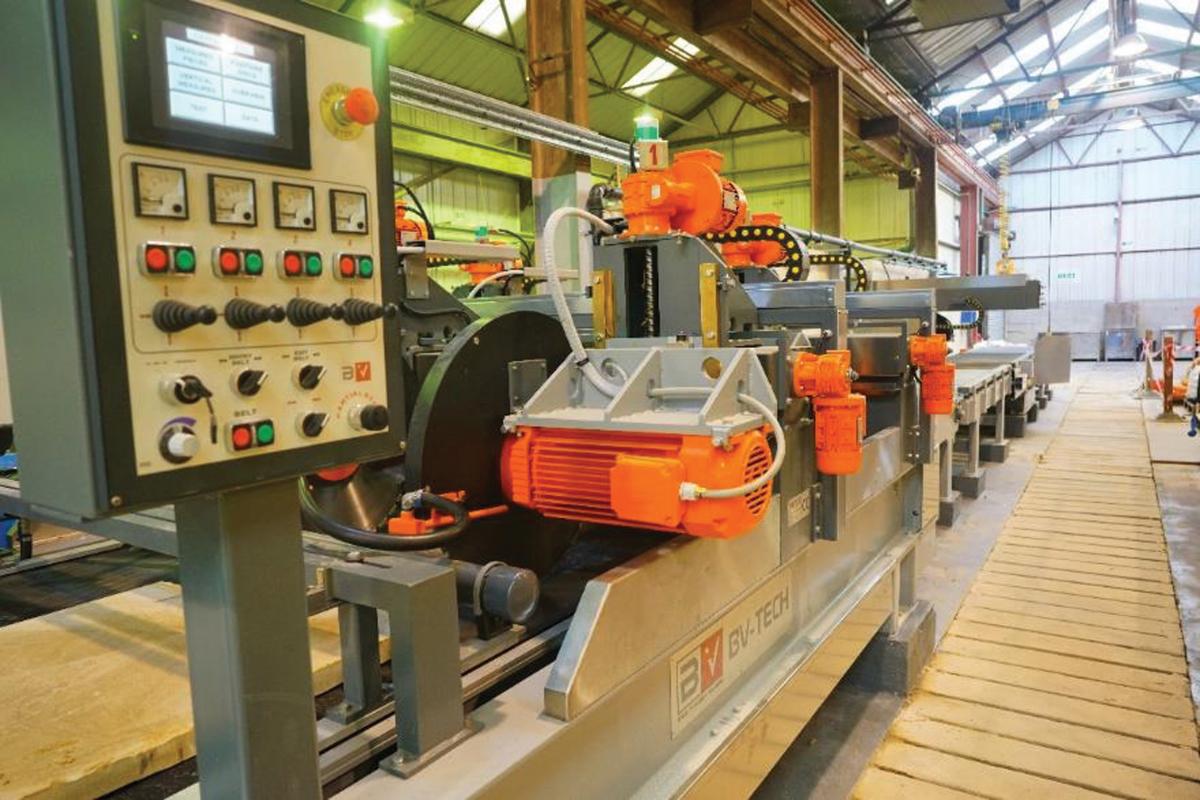 New Stone Age is celebrating its 30th year of suppling the UK stone industry with processing machinery. It puts its continued success down to the support it receives from its suppliers and its commitment to its customers.
The anniversary gives New Stone Age an opportunity to reflect on its past and look forward to its future. And as it celebrates, it says 'thank you' to all its customers, past and present.
This year it installed its 93rd BM Monoblade, the BM Super 800 Fast. The latest model has a new measuring system that uses a rack and pinion driven encoder system, fully protected against falling debris by a steel cover.
BM uses i4.0 technology that links the machine via the internet to the manufacturer, allowing BM to monitor the machine and diagnose faults remotely. You can check it out on the Kodiak Multiwire that will be on the BM stand in Verona (Hall 2, Stand C5 -D5).
New Stone Age, based near Keighley in West Yorkshire, has even been supporting other BM machinery users throughout the world, including the USA, by providing assistance and spare parts.
The same customer who purchased the new BM Super 800 Fast mentioned above, also purchased a FTBV/1400 Automatic bridge saw from BV-Tech. This 1400mm diameter saw is fully automatic and has a motorised rotating table. The saw also has a rise and fall head, which means the working height of the table is maintained at a safe height.
A second BV-Tech ashlar line has gone to a customer in West Yorkshire, adding to one supplied in 2006. The line has a RBV/1500 four-headed stripping saw and an IBV/600 heading machine. The line is being fed with sawn-two-sides slabs up to 1500mm wide and 150mm thick, which are processed into sawn-four-sides dimensioned stone. The operator of the stripping saw can decide which of four independent units are used and regulate the distance between each head. Once the slab has been cut into strips, each strip is separated on a roller table to be passed through to the IBV/600 Automatic heading machine, where they are cut to the lengths that have been programmed in. The lengths can be adjusted as the work continues to achieve the best yield from each strip, building in value engineering.
With housebuilding more active than it was for some years, demand for walling stone has picked up and New Stone Age has collaborated with BV-Tech to supply the NEW SSA1200-80T automatic stone splitter into the UK market.
New Stone Age was already selling this machine, but improvements have been made to refine it. These include new safety features.
The splitter can be supplied as a stand-alone machine or as part of a complete high production splitting line processing sawn-two-sides slab or four-sided strips into sawn bedded split-faced walling stones.
The splitter operator feeds each walling stone into the SDE 600-2H automatic end dressing machine, which automatically feeds it on to the SDA 600-2H automatic dressing machine.
This configuration has been supplied to a customer in Derbyshire as a productivity-improving complement to a splitting line New Stone Age supplied back in 2003. Each line is producing 20-30m2 of sawn pitched walling per hour.
BV-Tech is in Hall 2 in Verona, on Stand B3, where it will show its bridge saws, block cutters, polishing lines and processing lines. And if BV-Tech does not have what you want, it is always willing to discuss bespoke modifications.
Issues of water management do not get any easier, and New Stone Age has continued to see strong demand for the Omec filtration systems it supplies. You can see Omec in Hall 2, Stand E10 in Verona and there will be more about the system in the November issue of this magazine.
James Turton, the New Stone Age Managing Director, will be in Verona supporting these companies. If you want to talk to him about their products, call him any time during Marmo+Mac on 0044 (0)7720 348183.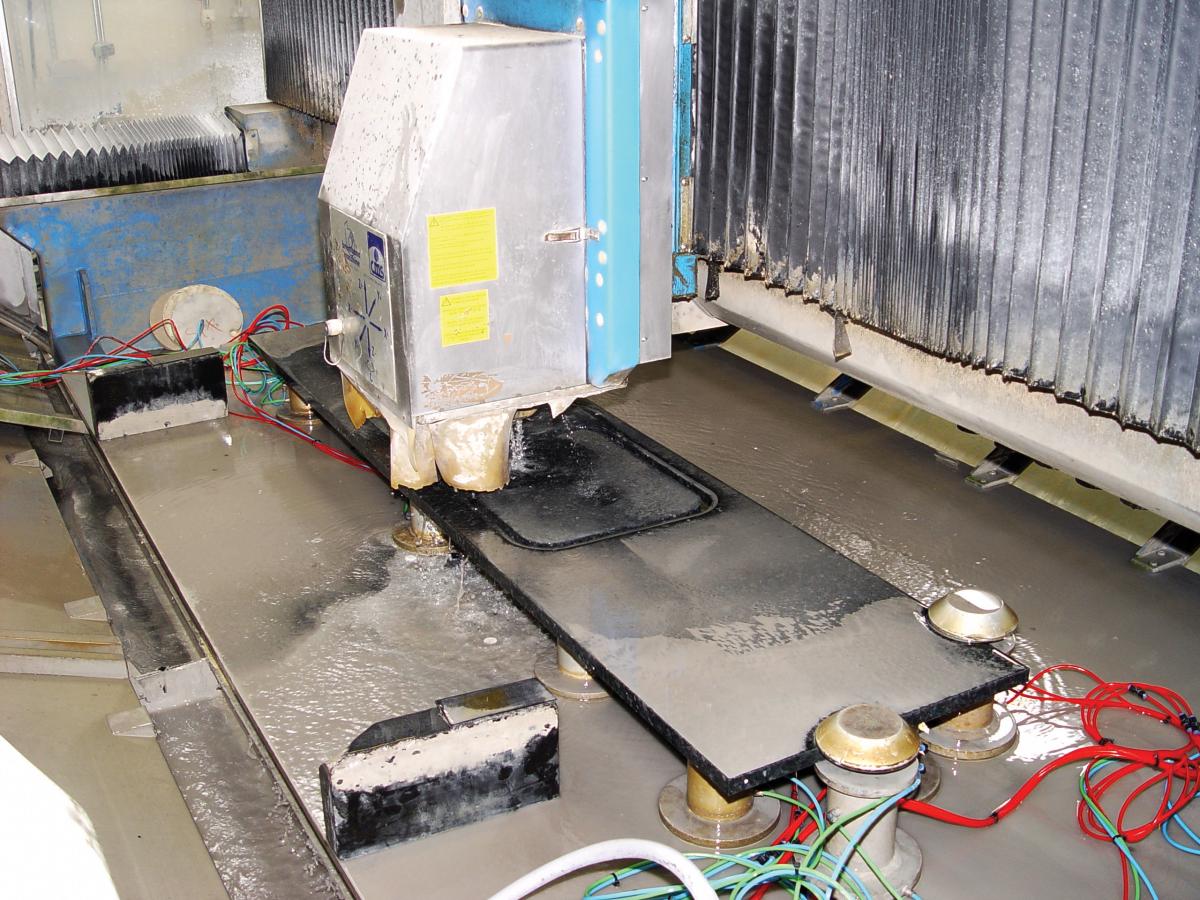 A newcomer to the stone sector is SMC Stone Machinery in Whitchurch, Shropshire, run by Phil Birchall. It entered the sector with the same companies whose machines it was already selling to the glass industry, led by CMS, with its Brembana CNC machines, and Montresor with its edge polishers.
Montresor has now been bought by Intermac (see page 22), although Phil Birchall tells NSS that SMC Stone Machinery is still under contract with Montresor. On the SMC Stone Machinery website Bovon is the only make of edge polisher shown. SMC was selling these alongside the Montresors as a specialist edge polisher for superdense engineered stone such as Dekton.
SMC Stone Machinery will be in Verona supporting Brembana (Hall 3, Stands B47/B65-C50/C70). Brembana is showing CNC workcentres, bridge saws, waterjets, combination machines with saws and waterjets, and completely integrated processing lines.
SMC Stone Machinery started trading shortly before the Natural Stone Show in London in April, where it exhibited. The Show gave it the opportunity of introducing itself to a wide cross section of the industry. Phil Birchall said the company had been welcomed with open arms by stone processors.
He said it had not been part of his agenda to enter the stone sector and he had done so largely to support CMS, whose glass processing machines are sold by Phil's original company, The Glass Machinery Company.
The Glass Machinery Company has five technicians supporting CMS among the 11 people employed by Phil Birchall's two companies, including one person just making sure spares reach customers quickly. The stoneworking Brembanas are not very different to the glass machines, so it is simple for the technicians to support the stone side as well. 
"We set the standard very high and we intend to transfer our successful glass machinery business model into the stone industry," said Phil when SMC Stone Machinery started trading.
Explaining the model later he told Natural Stone Specialist magazine: "People just want to be treated well. Treat them the way you want to be treated and you will do well. We try to inform the customers. We want their businesses to be a success, because that's what makes us a success."
It is a philosophy that seems to work. Phil says his business has grown every year, even during the difficult period of recession following the credit crunch of 2008/09.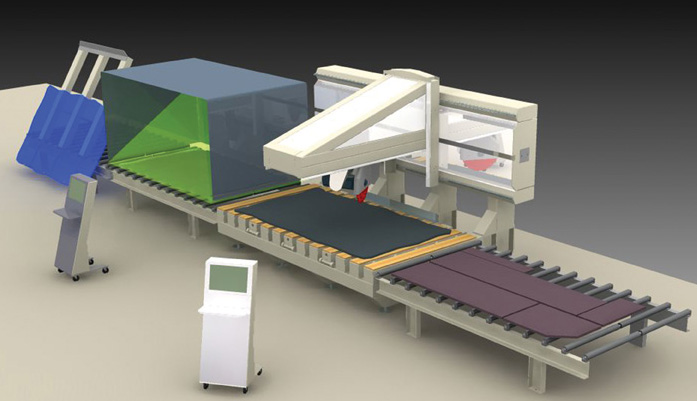 Scandinvent offers a complete range of compact to larger size CNC machines to cater for all workshop requirements.
If you are a stonemason just embarking on the automation process, the suite of compact machines enables an effective and economic way to grow your business. The C3 compact CNC is Scandinvent's original compact router. Capable of cutouts, edge polishing, surface polishing, text engraving and 3D carving, it is a versatile machine with a tiny footprint – just 2.3m x 1.25m. Yet, because of its open sides, it can work full-size slabs.
The C4 is a bigger, fully automatic version of the C3, with automatic tool change and a larger sized bed, although still compact at 2.5m x 1.8m.
Scandinvent's e3500 edge profiler and polisher is another machine ultra economical on space while delivering full slab capability. Rather than the slab being fed through the machine, it stays stationary while the head moves, so there is no need for additional space to feed the material into and out of the machine. Just 4.5m of factory space is all you need. And it can produce many different edge profiles.
The CX4 four axes CNC machine and SX5 five axes CNC saw are full-size machines with full slab machining capability.
If you are looking for a fully integrated system for production, the Scandinvent range offers networked links to the machines, enabling a digital template to be sent straight from site to the factory for immediate production. And now, with all kinds of materials handling solutions on offer, Scandinvent can offer the complete turnkey production system.
Glenn Groom represents Scandinvent in the UK. Call him on 07876 463906, or email [email protected]ndinvent.com.
********************************
Find out how you could be selling more stone in a digital world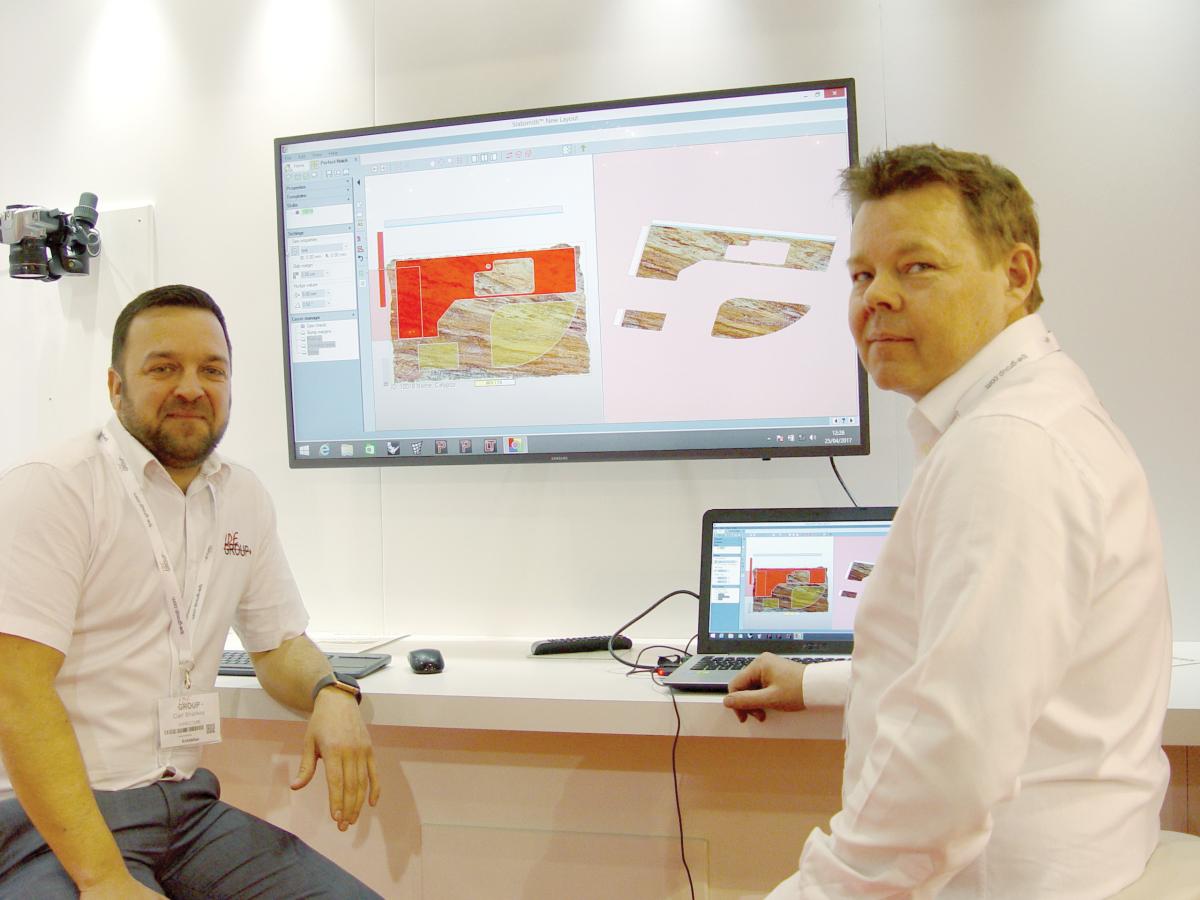 LPE Group will be exhibiting at the Marmo+Mac stone show in Verona, Italy, this month (26-29 September), looking for more distributors across Europe for the American Laser Product templaters, the Omni Cubed materials handling products and the Slabsmith automated inventory system that it sells.
Carl Sharkey and Simon Bradbury, Directors of the British group, and other members of their team in Italy will also be happy to take customers on to the stands of Comandulli to see the latest edge polishers and Turrini Claudio for water and dust management systems. But when it comes to Breton's CNC machinery that LPE Group company Breton UK has sold for many years, LPE will be happy to point you in the right direction but will not be joining you.
Getting the agency for Breton machinery was a coup for Carl Sharkey after he had started out on his own to supply stone processing machinery. He established a company in the UK to sell Breton machines – and had considerable success with it. Breton production lines have been installed in some of the biggest kitchen worktop factories in the UK.
But since then the LPE Group has continued to grow significantly and its ambitions have gone beyond the UK. Other companies have been formed by LPE as European bases for Americans and LPE Group will be in Verona this month with the aim of growing the distribution chains for these products throughout Europe.
The group has grown so rapidly it has quickly outgrown each of the premises it has occupied. It has lately moved again to a unit twice the size of its previous warehouse and offices, although on the same Tokenspire Business Park in Beverley, East Yorkshire.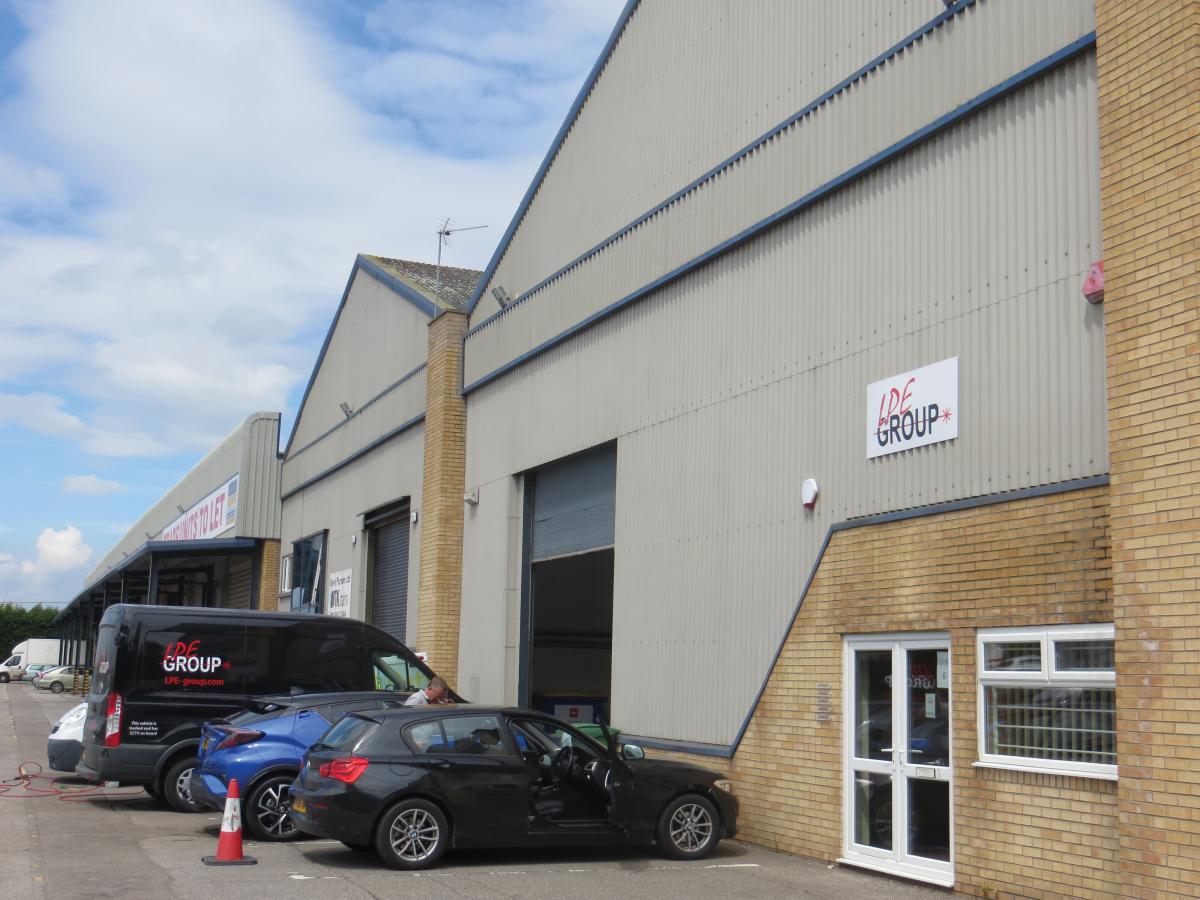 As the Group has grown, the position of Breton within it has changed. Breton UK employed seven people while the rest of the group only has nine, some of whom also had to be diverted to Breton as necessary. Breton was demanding a lot of the Group's resources while producing only 10% of its revenue. "We went to Breton and said we can't justify the investment," says Simon Bradbury.
Hence the public announcement at the Natural Stone Show in London in April that Breton would be opening its own premises in the UK and taking on the two engineers, Derion Watson and Gem Mallison, that LPE Group employed on that side of the business.
Simon says: "We will always help Breton. It's still the best machinery in the industry as far as we are concerned. They're very proud in Breton of their standards and quality."
Being the European representative for American products based in England might not seem ideal following the Brexit vote, but Carl and Simon don't believe their position has been compromised – although it might have been complicated by currency fluctuations.
Carl says: "The end goal would be for us to be a European company. There are opportunities for us in countries where we don't currently have representation where we believe we could do a lot of business."
LPE Group has a company in the Republic of Ireland it formed with Pat Swain, a major stone sector supplier there, and is opening more offices in Europe. If it becomes disadvantageous to land products from the USA in the UK for distribution to Europe other arrangements will be made, although Simon says: "I can't see Europe putting punitive tariffs on products from the UK."
The fluctuating exchange rate of Sterling lately might have been a problem, but LPE has taken it in its stride. Because customers want to see prices in their local currency, the websites, which Simon has built for the Group, show the currency for the country where the website is being viewed.
In the background, LPE has priced the products in US Dollars and local prices are a conversion based on the exchange rate automatically updated every hour. It does mean prices change slightly during a day but orders placed on the website are sold at the price displayed at the time they are placed.
LPE was already pricing the Bretons, Comandullis and Turrini Claudio dust and water management systems it sells in Euros, converted to Sterling at the current exchange rate when the sale was invoiced.
The fall in Sterling after the referendum in June last year increased prices but made little difference to the number of machines being sold. In fact, sales picked up after the referendum. "Everyone was busy, so it was less about the price than how soon they could get them," says Simon.
It is not only in the UK that companies have been investing heavily in productivity-improving machinery. It is a competitive world. But it has meant delivery times have been stretching out. The time from purchase to installation can be as much as four… even six months. It all adds to the hassle factor and it was starting to impinge on the other, rapidly growing areas of LPE's business.
LPE's Breton UK company is not closing down but is having a name change to Turrini Claudio UK as it becomes the vehicle for selling automatic water recycling and dust extraction systems, sales of which have been hot this year.
"We sold more Turrinis in the first quarter this year than the whole of last year," says Carl Sharkey. "We are doing so much business with them now it warrants a stand alone company." Until now Turrini Claudio equipment has been sold by LPE Tooling, another of the Group's companies.
LPE Group has established a good reputation in the stone industry and customers like dealing with the company, so it is not surprising that other CNC machinery manufacturers approached Carl and Simon at the Natural Stone Show in London when they heard about the split with Breton. No offers were taken up. Carl: "There's no point jumping out of one arrangement straight into another." Simon adds: "Selling machinery isn't an easy thing to do. You have to have a great knowledge of the product and you have to support it properly. You have to have your own people on the ground."
And even though demand for machinery has been high for the past few years, the market is still extremely competitive, which is good for buyers but not so good for the margins of sellers.
On the other hand, LPE is happy to continue to sell Comandulli edge polishers. There is usually less urgency about the delivery date and they are more straight forward. They are easier to install and involve less after-sales attention.
LPE is also happy to have moved into the more advanced technology of Slabsmith, which is another American product it aims to sell throughout Europe.
Carl says he came across Slabsmith when he first started talking to Laser Products. He liked the idea of creating a digital inventory of slabs that could be used for sales and setting up machines, but he wanted to see how digital templating went.
After selling more than 350 digital laser templaters, LPE was convinced the digital revolution had a place in stone processing and went back to Slabsmith.
Carl visited a stone processor using it in America. "He said it was the best piece of kit he had ever bought. It had increased the value of his slab sales by 15-20% by upselling."
It is not just software. It requires some sophisticated hardware as well and is sold as a package with two computers, a special camera and fixed stands for the camera and the slab so the inventory will be high definition and dimensionally accurate. It has already found takers in the UK.