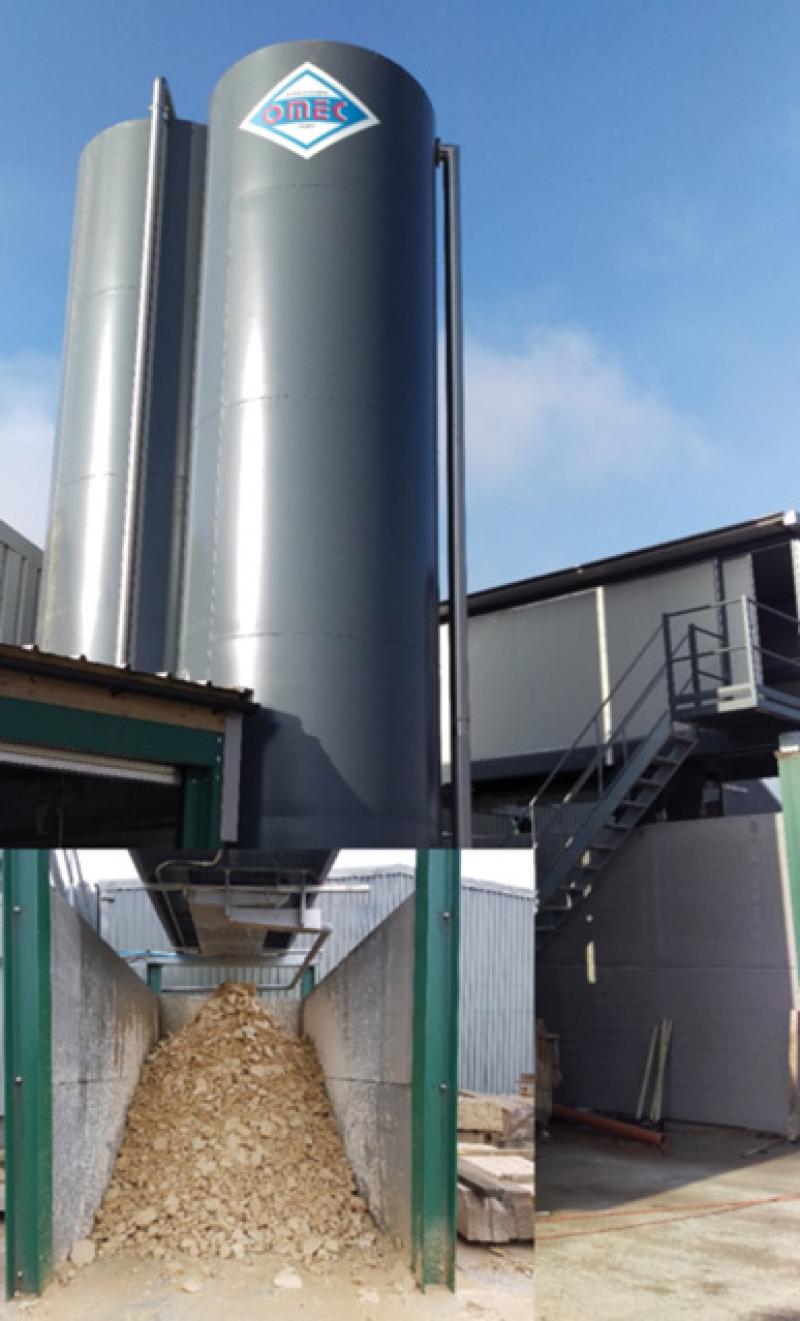 The table below is a guide from New Stone Age and OMEC showing combinations of silos and pumps and the size of filterpresses required.
More machinery needs more water. To provide it, many stone companies are now installing new water recycling systems along with their new machines. And while they are about it, many are also upgrading their dust extraction units.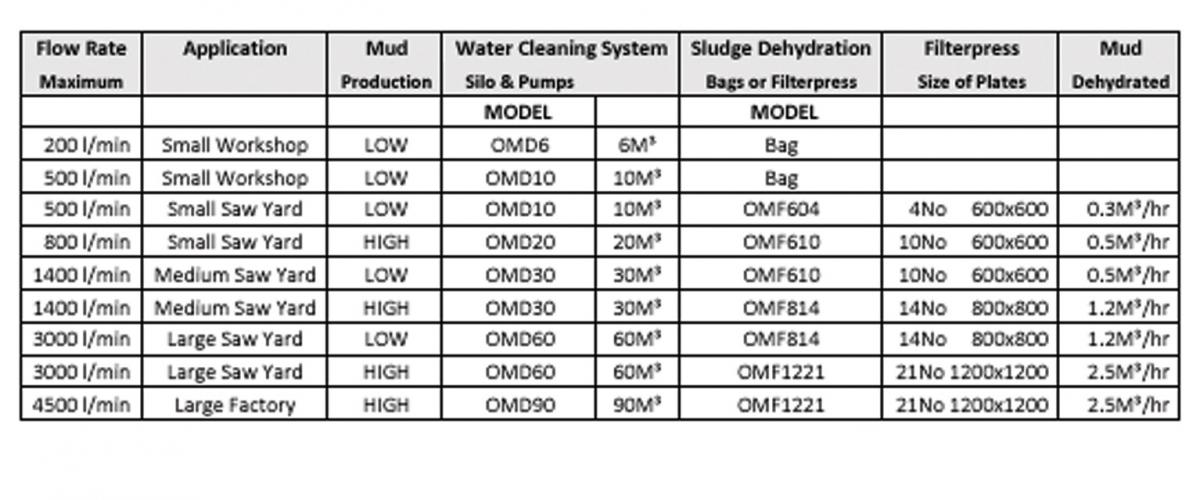 In the days when the only machine needing water for cooling and lubrication in most masons' yards was an Anderson Grice saw and masons expected to retire with a bit of a cough and white finger, water recycling and dust suppression were considered a luxury that most companies did not bother about too much. Even as we moved into the new millennium they took second place to machinery that could earn money.
Not any more. Now when stone companies upgrade their sawing, polishing and processing technology the new machines are frequently installed alongside a new water management system and improved dust extraction.
And it is not just an altruistic concern for the environment and employees. Water is expensive. And most companies would no longer get away with pouring their waste water down the drain, any more than they can expect to avoid action by the Health & Safety Executive if their factories are full of dust.
As Rob Wilkinson at Bellagio in Leamington Spa says: "Where do you put the waste water if you don't recycle?"
Bellagio has just moved to a new factory with a new Breton production line to keep up with increasing demand for its natural stone, Dekton and Silestone worktops (it is one of the UK's few Silestone Platinum fabricators).
With the move, it has upgraded its water recycling system to a Turrini Claudio DEP1000 (1,000 litres per minute), although it is also moving its existing 200 litre a minute system (also from Turrini Claudio) to the new factory. There are covered channels in the factory floor to channel the waste water to an 18,000L reservoir. The system needed only a 12,000L reservoir but Ballagio wanted to build in room for expansion. Filtered water is pumped through 100mm pipes round the 2,200m2 factory at 5.5bar. The system is topped up with 1,000L to 2,000L of fresh water a year. "That's our water bill," says Rob.
He has not calculated exactly what the savings associated with the recycling plant are, but he says: "What's it worth? It's worth what the business is worth – millions. If we were taking fresh water all the time from Severn Trent they would close us down."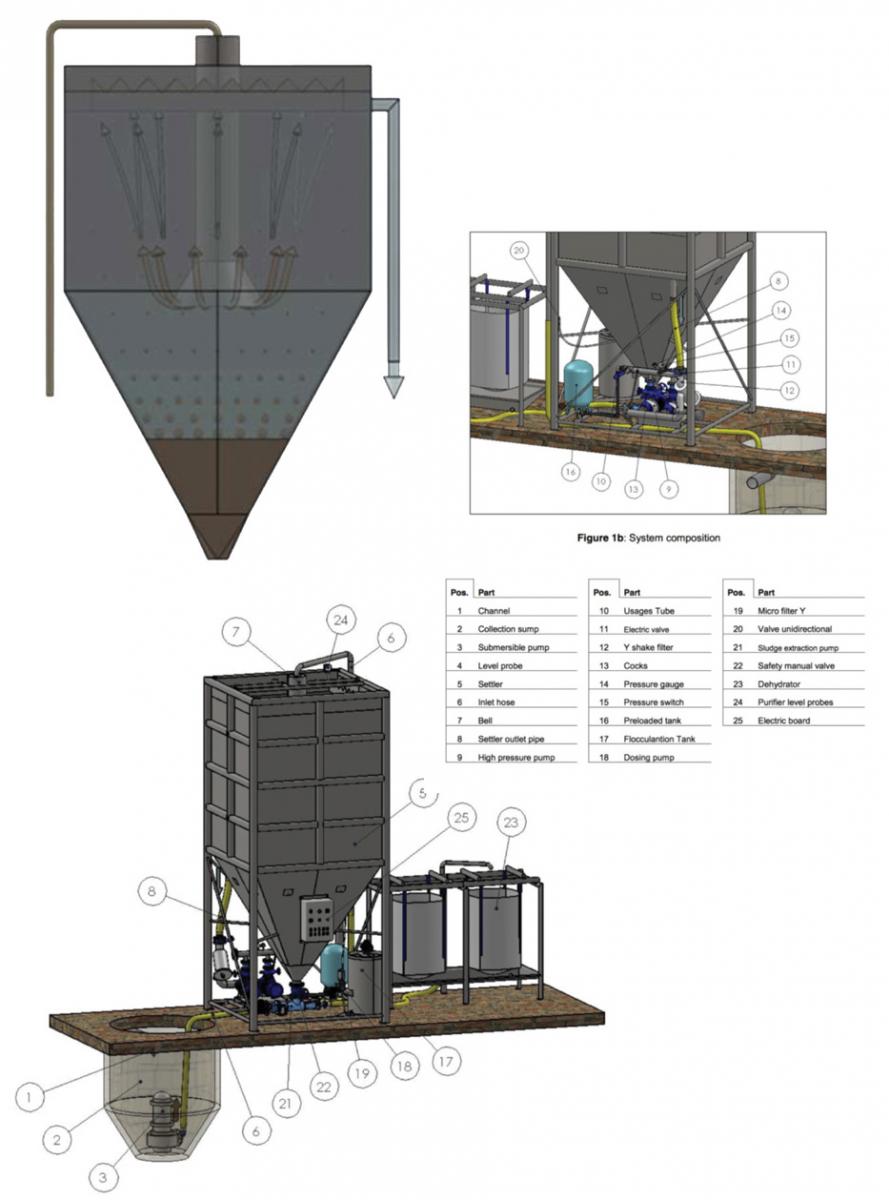 Why Turrini Claudio? "We did our homework 10 years ago and they were the ones – Breton and Turrini." Bellagio has never had any problem with either so has stuck with them, especially as both were supplied by LPE Group in the UK (although Breton has this year started running its own subsidiary in Britain).
An added bonus for the dozen people Bellagio employs as wet polishers is that there is also a new compressor being installed. The waste heat from it will be used to warm up the water used for wet polishing, which will be a lot more pleasant.
Bellagio has also installed Turrini Claudio MBS40 dust cabinets. This is a dry dust extraction system with a Teflon-coated Polyester filter, so any dampness will not damage the filter. A jet of compressed air keeps the filters clear and they should be washed every 5,000 hours or so.
The sludge from the DEP1000 recycled water is emptied from the silo into two filter bags. After a couple of days of draining it is put into the same skip as offcuts from the manufacture of the worktops and the skips go to a recycler who processes all the material as hardcore.
Another company that has just had a new Turrini Claudio recycling system installed is J Rotherham in Yorkshire. The waste from its systems goes to a company that uses it as a medium for growing tomatos.
J Rotherham had an existing Turrini Claudio water recycling system with two silos that it has replaced with two DEP1000s this year. It installed one earlier in the year and the second has just gone in.
The changeover to the new system was necessary because of the continued growth and mechanisation of the business. Its production lines now include nine Breton CNCs, three routing robots and a saw-cum-waterjet robot, three Comandulli edge polishers and three Breton bridge saws. "We just didn't have enough water," says Mark Dennis, Production Manager at Rotherhams.
Hence the need for the two new 1,000L/min Turrini water recycling systems that carry water at 5bar through 100mm pipes around the factory.
Until the second new system was commissioned, the old system, also from Turrini, continued to supply water to the factory. The swap over was simple, says Mark – it involved just two valves. Production was not interrupted.
"It's plug and play," he says. "It's a really simple system. The thing is not to play with it. It will look after itself so don't mess with it once it's been set up." He also says it is a good idea to stick to the manufacturer's advice and use minimal amounts of flocculent that help the solids settle out of the liquid.
The main filters remove particles down to 250µ (microns), but that would risk scratching the surface of polished granite and marble, so Rotherhams has a second in-line filter to 200µ and then 50µ filters at each machine.
The benefits are a better quality finish on the stone and tool life extended both because there is more water available and it is cleaner. An unanticipated benefit on the Breton Optima saws is that the vacuum lifts do not get clogged up so quickly because the extra water is washing away the debris from the surface of the stone before the vacuum lifts make contact.
It is even saving 10 minutes of cleaning down time at the start of each shift because the extra water is keeping the machines cleaner as they work.
New Stone Age in Keighley, Yorkshire, has been selling Italian company OMEC's water recycling systems for more than 13 years. These systems have now become the solution of choice for many in the industry because of their proven track record.
There are more than 20 of them installed at stone companies in the UK, from small compact systems of 200 litres a minute all the way up to 3,000L/min. There is no doubt New Stone Age and OMEC thoroughly understand the need for correctly dimensioned systems specifically suited to the special nature that UK stone presents.
This year, Dringstone Ltd in North Yorkshire looked to New Stone Age to provide a complete water treatment system of up to 1,500L/min. It considered other manufacturers, but found the quality of the OMEC system second to none.
Dringstone was advised by New Stone Age, ensuring it got a system fully capable of meeting its requirements. The company was impressed by OMEC's galvanised structures and stainless steel pipework and fittings.  
Being exposed to the weather of the North Yorkshire moors, it also liked the fact that the design of the silos and filterpress housing offered protection against frost and wind, which is not true of all systems.  
The Dringstone solution comprised an OMD30 silo (30m3) for cleaning the dirty water from the saws.
The dirty water from all Dringstone's machinery arrives into a collection well. In the well there are two suction pumps, one working and one on standby. There are two pumps because this is the critical point in the system and if it fails it can stop the factory working.
The treated water overflows into an  OMT30 silo for clean water storage. This provides a good head of water to feed the clean water pumps that were included in the installation. Again there are two pumps, one working and one on standby, to ensure there is no downtime for maintenance.
The pumps were dimensioned on request of Dringstone to provide up to 4.2bar pressure, as the company does a lot of washing down on the flat floors around some of the existing saws.
The filterpress is a hi-tech OMF814, pressing 0.33m3 per cycle. It automatically monitors the dehydration (pressing) side of the water treatment system and is fully programmable using the latest touchscreen controls, so the customer can schedule it. Once it is programmed, the customer can forget about it.
The system monitors the operation and if there is a problem it presents a series of photos and suggests what to do to remedy it. It will flag up when the filterpress has filled the collection area and it requires emptying, for example.
The filterpress fully regulates its own cycles and only presses if it is necessary. This ensures a good press each time. 
Normally, the filterpress would be supplied and installed on four galvanised columns, if the mud is to be discharged into a skip or trailer. Or the customer can build a concrete support / boundary walls to retain the pressed mud. In consultation with New Stone Age, Dringstone decided to construct four H-section columns with preformed concrete panels bolted in between, as it was quick and easy to construct.
Another of New Stone Age's customers, this time in the South of England, has purchased a 3,000L/min OMEC system due to be installed this month (November). The decision to go with OMEC followed a visit with New Stone Age to Dringstone.
This bigger system has the same OMF814 filterpress as Dringstone's, but with an OMD60 Silo (60m3) for cleaning the dirty water and OMT40 (40m3) for storage of  clean water. Both silos are manufactured in stainless steel for corrosion resistance. As the customer is near the coast they will have to cope with the salt of a marine environment. 
OMEC has also supplied Coagulant Dosing Systems, which integrate into the water cleaning system to further improve water clarity. This can be particularly important to customers who process both dark and light coloured materials and do not want contamination when switching between the two.
For customers who have CNC machines and need their recycled water to be filtered to an even finer degree, OMEC has developed special filters to remove microscopic particles so seals and bearings on machine spindles will not be damaged and a perfect polish can be achieved on marble and granite.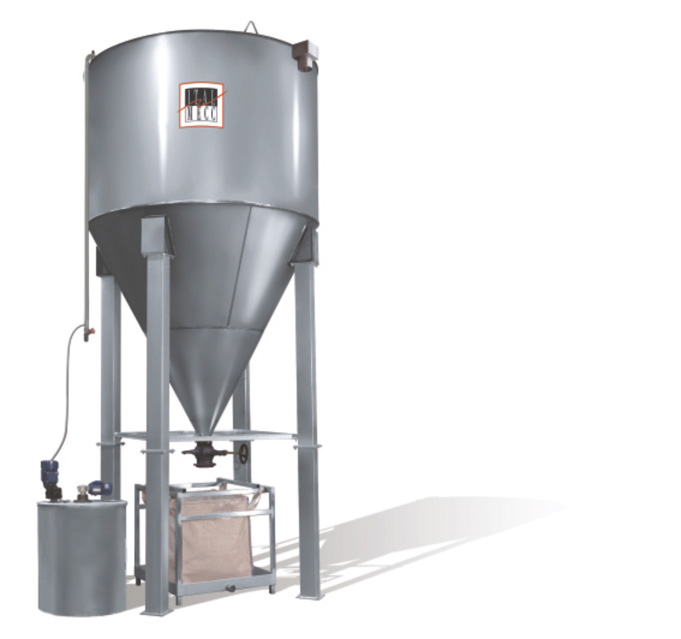 When Aktiv Design bought a sophisticated new Thibaut TC600 five-axes bridge saw for its factory in Harroagte that already housed two T812 workcentres, two bridge saws and a CMG edge polisher, it was left little option but to upgrade its water recycling system. So it spoke to D Zambelis, the company that had been supplying it with the diamond tools and consumables for its workshop for the previous five years.
"We met Zambelis first at the Natural Stone Show in London and I had learnt to respect their honesty and integrity," says Aktiv Director Ricky Cuff.
He looked at various water management systems and even went to Italy to see the companies that make some of them. His choice was an Italmecc C8 system supplied by D Zambelis. "Stella [Zambelis] gave us very good advice and support," says Ricky.
And he has had no cause for complaint. "The system is easy to use and works very, very well. It does deliver what it says on the tin." What it says on the tin is that it will supply 300L/min of water at 4bar. "That's more than enough," says Ricky.
To accommodate the new TC600, Aktiv had extended its 700m2 workshop by an extra 300m2. It had a water recycling system in use but it was far too small to cope with the extra demands. "We needed a bigger system to supply the volume of water we needed and that would allow us to grow further."
The company put 90mm pipes round the factory to carry the water to the machines and built a concrete slab for the 8,000L Italmecc silo to stand on. It also decided to add a separate 7,000L tank to hold clean water.
Aktiv processes a mixture of natural granite and engineered quartz and uses a small amount of flocculent in the silo to help the solids fall out of suspension. The collected mud is drained in a bag that goes into a skip for disposal with the offcuts.
Aktiv also installed two Air Dry Italmecc dust extraction systems. They ventilate workstations used by the four masons who are among the 18 people employed by Aktiv.
The masons wear full helmet dust masks and Ricky says the dust extraction system is about keeping the factory clean, so the masons are breathing clean air when they have finished their work and remove their helmets. It also keeps the air clear for the four people working in the machine shop and anyone else who happens to visit the factory.
The Italmecc Air Dry 430 is a reliable, compact and flexible dust collector cabin suitable for all kinds of dry cutting, grinding and polishing of marble and granite. It is efficient, easy to clean and maintain, and because it does not use water does not add to the humidity level in the workshop and does not have sludge to dispose of.
Its water-proof filters, which are automatically kept clear by computer controlled jets of compressed air, remove inhalable particles of up to 10µ, helping stone companies achieve legal limits on respirable crystalline silica.
Also available from Italmecc is the new Airbox, suitable for wet and dry cutting and polishing. It is equipped with the latest, low energy fan motor and an aluminium fan, using an innovative blasting system for the atomization of water. This is a concept that overtakes the old systems of belt motor and water wall cleaning. It achieves a high degree of extraction, cleaning and reliability, which is a common characteristic of Italmecc products.
Another customer of D Zambelis that chose the Italmecc water recycling system is UK Ceramics & Stone in Addlestone, Surrey. There, Neil Formby did not even look at any other systems. "We buy everything from Stella [Zambelis]. I have always bought from her because we get a good service and a good product… it's the service more than anything."
UK Ceramics & Stone is a tiling contractor that started fabricating four years ago because it was using a lot of stone and no longer wanted to be reliant on supply from other companies. At first the company just had a sump and a pump, but with Terzago and Achilli saws from Zambelis and a refurbished LCV edge polisher it became clear the company needed a better water recycling system for its 325m2 factory.
It chose the Italmecc C4 with a 4,000 litre silo. Neil says it is simple to use – just press a button on the control panel and it delivers 200-300L/min at 3.2bar as required through 53mm pipes.
Installation, which was carried out by UK Ceramics & Stone itself, involved cutting a 600mm deep channel in the factory floor to carry used water to a reservoir. Cleaned water is stored in two tanks and the system circulates 5,000L of water that needs topping up three or four times a year. Monitors on the tanks indicate when they need topping up.
 There are two pumps feeding the system, which also provides water for washing down. The pumps are inverters and only work as hard as the system requires, which Neil likes because it means energy is not wasted keeping the pressure up when it is not needed. It is only if all the machines are working at the same time that the second pump will kick in. Usually one will provide as much water as is required on its own.
The system uses a flocculent that needs topping up about once a month. The sludge discharges into a sack, normally twice a day, and the sack might take a month to fill. The sack then goes into the skip.
It is simple to use and does what is required of it, which is just what Neil had hoped to achieve.
D Zambelis also supplies systems with the EcoPress rather than bags for removing water from the sludge. These come in various sizes but are most commonly used on larger systems used by quarry operators. They have a stable, compact frame made in 3mm stainless steel.
The EcoPress (which gets its name from its low energy requirement) is managed by a PLC with graphic touch screen programming. It is fitted with large plates and an automatic release system so the cakes are efficiently ejected after the sludge has been pressed.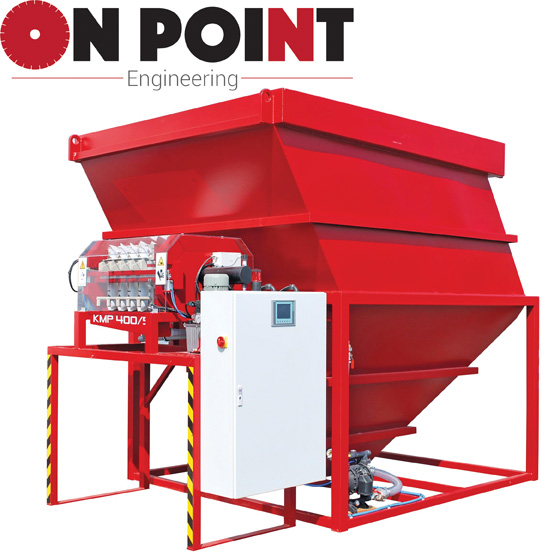 A new machinery agent called On Point Engineering introduces itself. The company has been set up by Bruno Machado, who has been in the stone industry for many years and says he has a passion for it. One of the first ranges from the company is the German-made ECS Eich water treatment system. Some of this equipment is already installed in the UK – at Rossi Stone Surfaces in London, for example, and Robertson Granite's new factory in Aberdeen.
On Point Engineering's aim is to sell world class machinery backed up by individual care packages with 24-hour call out of the company's own engineers, who have a wealth of experience in the stone industry. The Bronze, Silver and Gold packages offer coverage ranging from three years to five.
Based in Grantham, Lincolnshire, On Point Engineering intends to cater for clients all over the UK. It will hold an extensive range of spare parts in stock ready to respond to customer needs. There will also be instant access online assistance available at www.onpointengineering.co.uk.
The ECS dust extraction system DSC6 is effective and powerful with self-cleaning filters. It is a fully automatic with a suction performance designed for heavy dust environments. Roofed cabins ensure the air flows into the extractor rather than allowing dust to rise into the factory, although the roofs can be folded open if required. The Siemens control automatically detects the level of dust in the working area and increases the suction performance as required, which means the system only uses as much electricity as it needs while effectively removing dust from the atmosphere.
The combination of features gives the system a long life with minimal maintenance.
ECS water treatment is highly regarded by stone companies in many countries, with more than 520 systems installed and working successfully all over the world.  
They are German engineered with high quality structure and components and are widely recognised for their reliability and durability, yet remain particularly competitively priced.
There is a wide range of water treatment systems available from ECS, both fully automatic and semi-automatic, delivering between 150L/min up to 2,000L/min. And the design of the silos means they do not need flocculents to aid the settlement of solids out of the water.
There is a system to provide just the right answer to the requirements of all stone companies, from the largest to the smallest, and to cater for most budgets.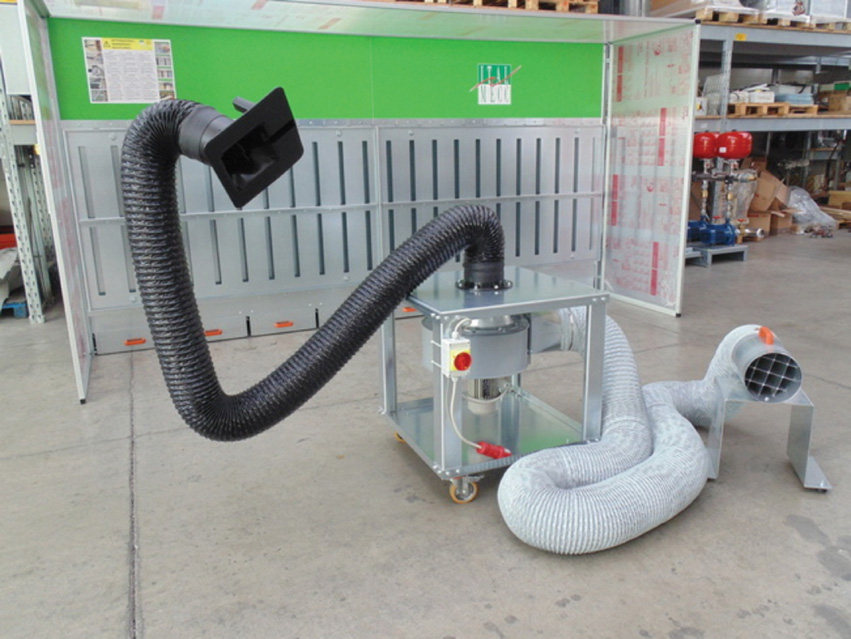 New from D Zambelis is the ItalMecc Magnum-E suction arm. This articulated dust extraction arm is lightweight and manoeuvrable.Its patented trunk stays where it is put and the powerful motor sucks in all types of dust up to 10m away.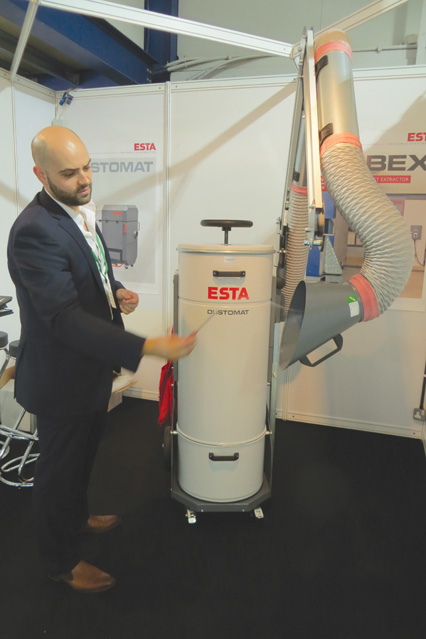 The Dustomat-16m from Esta. It is being demonstrated by Chris Byrne of McCarthy Environmental in Northampton, which sells Esta dust extractors in the UK and Ireland, at the NAMM Tradex memorial masonry exhibition in Leamington Spa this year. The Dustomat-16m mobile dust extractor was developed especially for stonemasons using power tools on high silica content stone, such as granite or sandstone. Its Hepa filter gives it an 'M' rating on the extraction of harmful dust. It is available in 240V and three phase versions, and there is a 110V version for site use. It needs to be connected to an air line to clean the filter once a week or so. German engineering means it does not rattle or vibrate, making it quiet to operate. This is just one of a vast range of Esta industrial dust extraction solutions covering any size operation available from McCarthy Environmental.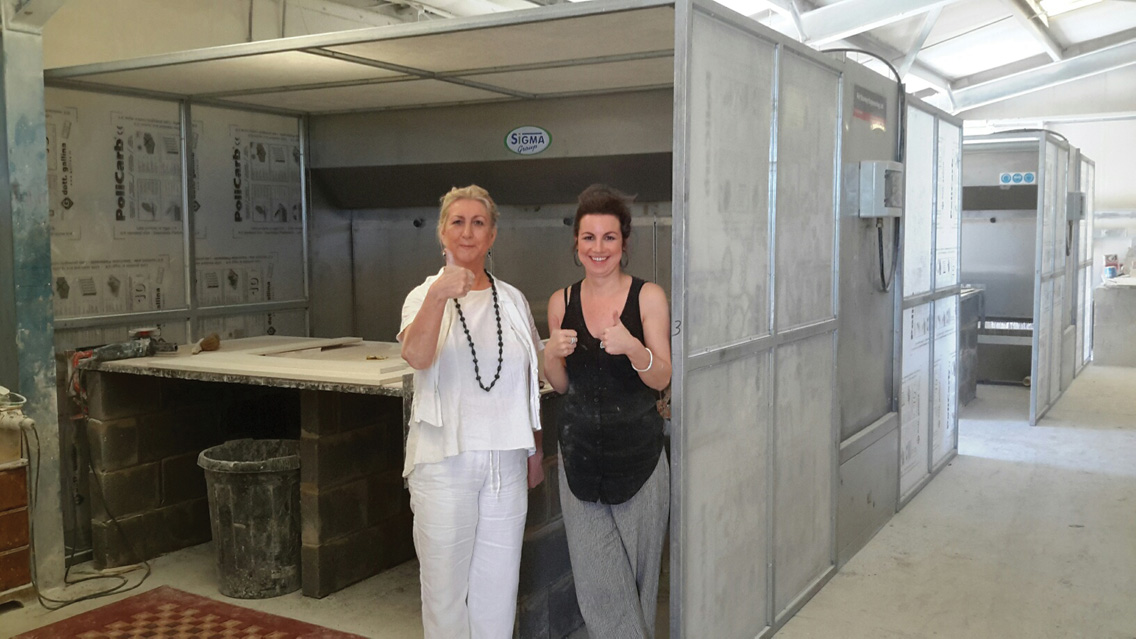 Jane Wordsworth (left) and Nicola Clayton, Directors of Doncaster bespoke fireplace specialist Findley House, with the two, double sided Sigma dust suppression units they have bought from Pat Sharkey Engineering. It is called dust suppression rather than extraction because Sigma water walls turn the dry dust into a wet medium – so no dry dust to disturb during periodic maintenance. The Sigma water walls are available in lengths from two metres to six meters, with airflow ranging from 9,000m3 to 33,000m3. All the equipment is manufactured from stainless steel and the units can be supplied with plenum filters if external ducting is not possible. Sigma's complete range of dust suppression equipment, water walls and water treatment systems are sold in the UK by Pat Sharkey Engineering.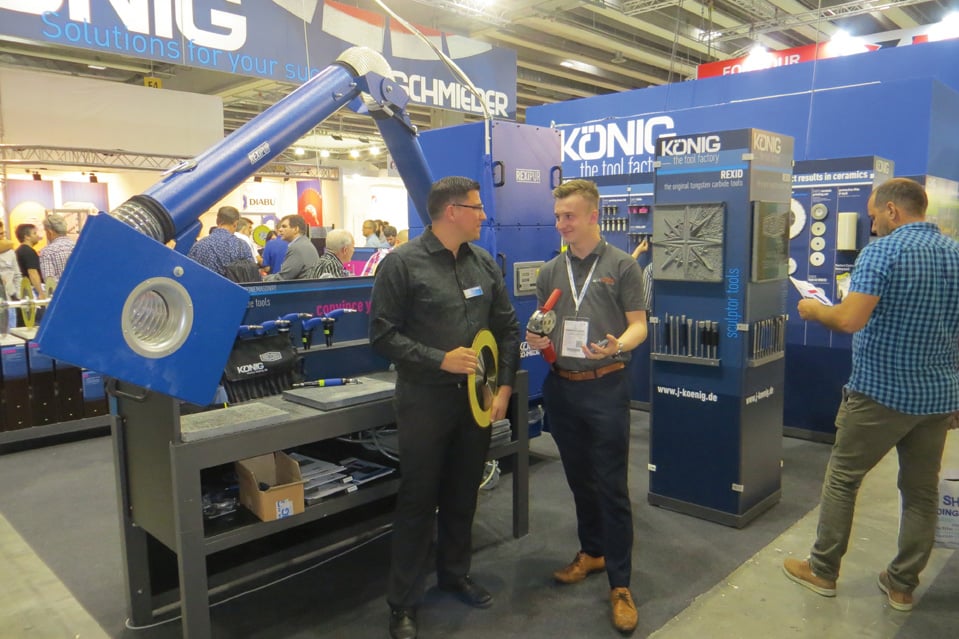 Machinery, tools and consumables company Waters Group is best known in water management and dust control for the Marti Aeroimpianti systems it has sold for many years. Waters has an extensive range of products from the Italian manufacturer to offer every size of stone company. But now it also has the low cost, versatile, self cleaning dry dust extraction system pictured below on the Konig stand at Marmo+Mac in Verona this year, where Fernando Schneider (left) of Konig is pictured talking to Daniel Down from Waters. Konig is a wholesaler with 13,000 items in its catalogue. It is represented exclusively by Waters Group in the UK. And the REXiPUR dust extractor, at less than £10,000, is proving popular. Waters started taking orders for them when Fernando demonstrated one on the Waters Group stand at the Natural Stone Show in London in April this year and have had a steady stream of orders for them ever since.