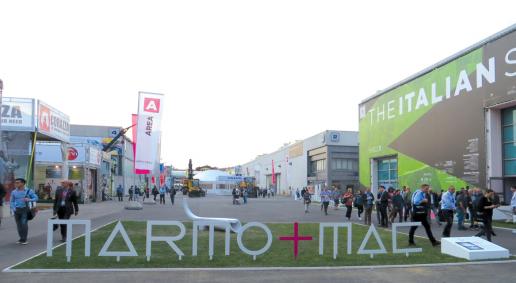 It has taken a long time, but with stronger growth in the world's economies, confidence has returned to the stone market internationally, which was reflected at Verona's 52nd stone exhibition.
At Italy's international stone exhibition in Verona last year, Brexit was a major topic of conversation for all nations. This year it wasn't. Growth has strengthened in many countries and both stone suppliers and the suppliers of machinery, tools and consumables for extracting and fabricating it were happy to shrug their shoulders at Brexit. This year, of more interest were the latest developments into what is known as Industry 4.0 – the fourth industrial revolution of digital connectivity.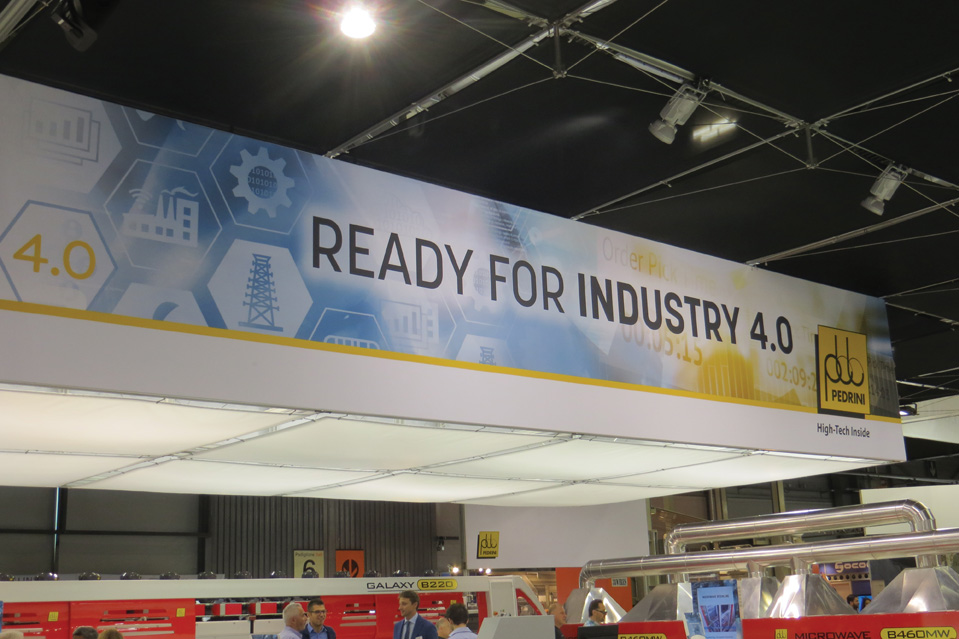 The exhibition, previously called Marmomacc, rebranded itself this year as Marmo+Mac.
In 2015, the Italian Government had included the exhibition in its Made in Italy promotion plan and on the opening day this year the Under Secretary of the Ministry of Economic Development, Ivan Scalfarotto, renewed the commitment to the sector by announcing the extension of funding to the 2018 show.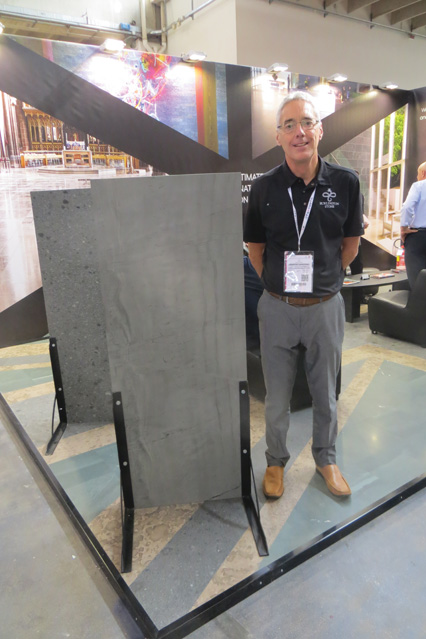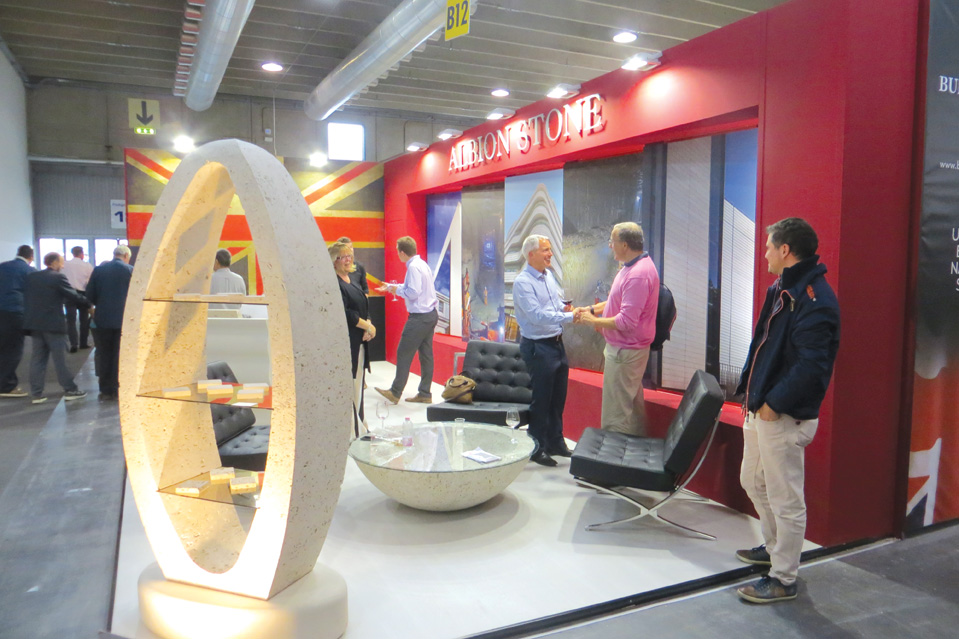 As usual, there were few British companies exhibiting. Cumbrian slate and limestone company Burlington and Portland limestone producer Albion Stone have become regulars and were back again, although Forest of Dean Stone Firms, the Forest Pennant sandstone producer that has joined them for the past few years, was absent this time. It said after last year's event the jury was out on whether it would return because it had not uncovered the international market for its stone it had hoped to by exhibiting in Verona.
The LPE Group was back again continuing its global expansion. Directors Carl Sharkey and Simon Bradbury started going international by representing American Laser Products' digital templaters in Europe. It is now also representing other American companies, including OmniCubed materials handling equipment and the Slabsmith digital inventory system and is building Europe-wide distribution networks.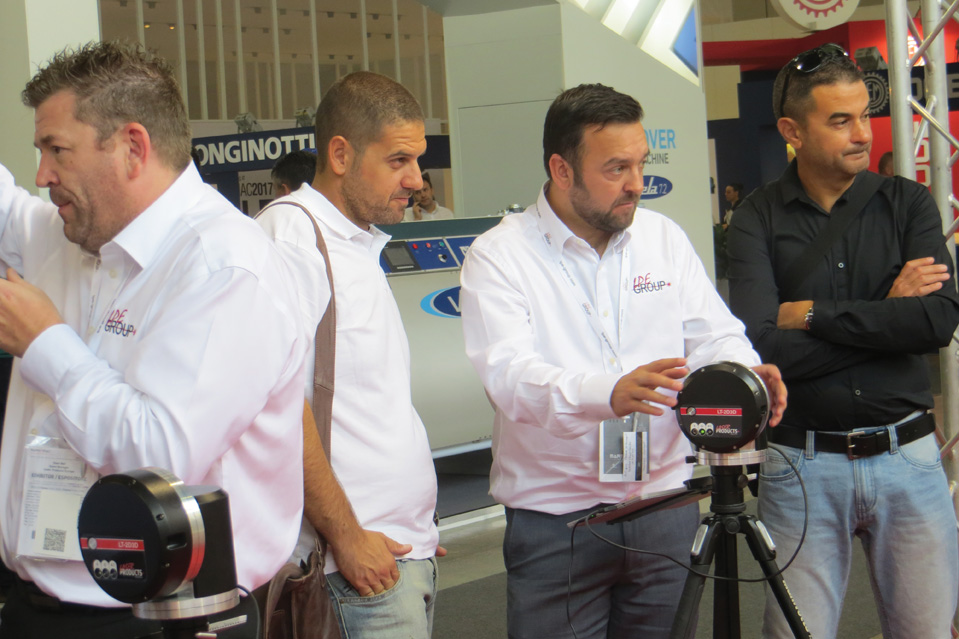 At the same time it has started taking products the other way across the Atlantic, having set up a company in America to represent Turrini Claudio water management and dust control systems there.
Stone Federation Great Britain was back for a second year on a stand it was sharing with EuroRoc, the confederation of European stone associations. Peter Harrison of Harrison Goldman specialist stone consultants, who is the Stone Federation Great Britain representative on EuroRoc, is currently the president of the European organisation. Presidents serve for two years and Peter is now into his second year.
Stone Federation participated in both the World Stone Summit and the Euroroc General Assembly, both of which took place during Marmo+Mac this year.
Albion Stone and Burlington Stone are both members of the UK Stone Federation. Other members exhibiting included chemicals companies Fila, Lithofin and Mapei, and tiling accessory company Schlüter-Systems. Stone Federation's newest member, the Portuguese stone producer LSI Stone, was also exhibiting.
And, as it has been for many years, this magazine was there on a stand in an area between halls reserved for magazine companies from around the world. It shared the stand with the UK's own Natural Stone Show.
With the Eurozone the largest economy in the world and Italy established as a centre of world trade for the stone industry (75% of its sales come from outside Italy), it is not surprising this is one of the world's four major stone exhibitions. That the industry internationally is booming again was indicated by a record attendance with more than 60% of visitors coming from outside Italy.
The organisers say there were 1,650 companies exhibiting, 64% of them international, based in 56 countries other than Italy. Visitors came from 147 countries, including, of course, some from the UK.
UK visitors included those looking for machinery, which is why most of the UK companies that sell imported machinery attend the Verona exhibition to support the manufacturers whose products they sell in the UK.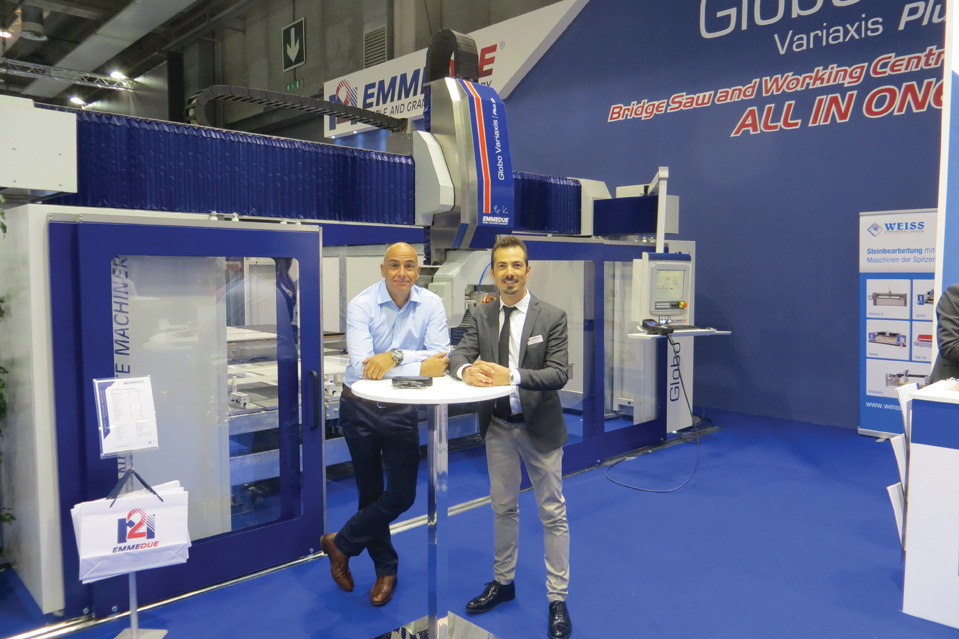 On the Emmedue stand, for example, there was Andy Bell of Stone Equipment International talking about the latest machine from Emmedue, the Global, which is a combined bridge saw and workcentre with a double table, so work flow interruption is minimal, with work being unloaded and the next job prepared while the machine is still working.
Andy told NSS: "This has been our best year ever in the UK – the Natural Stone Show in London this year was really good for us." He was hoping there would be more sales as a result of Marmo+Mac.
There was plenty of productivity-improving machinery on show, thanks to the increase in speed and processing power of the latest computers. They included three- and five-headed bridge saws and, from Intermac, some adaptations from the glass side of its business that have proved beneficial for the new UDSs (such as Dekton) and porcelains. They include the Genius cutting table that can cut the materials at 150m/min and a double edge polisher to polish opposite sides of a workpiece at the same time.
The fourth industrial revolution (abbreviated to i4.0) is also bringing improved productivity by getting machines 'talking' to each other and using the 'internet of things' to allow them to be monitored and up-dated remotely.
Photos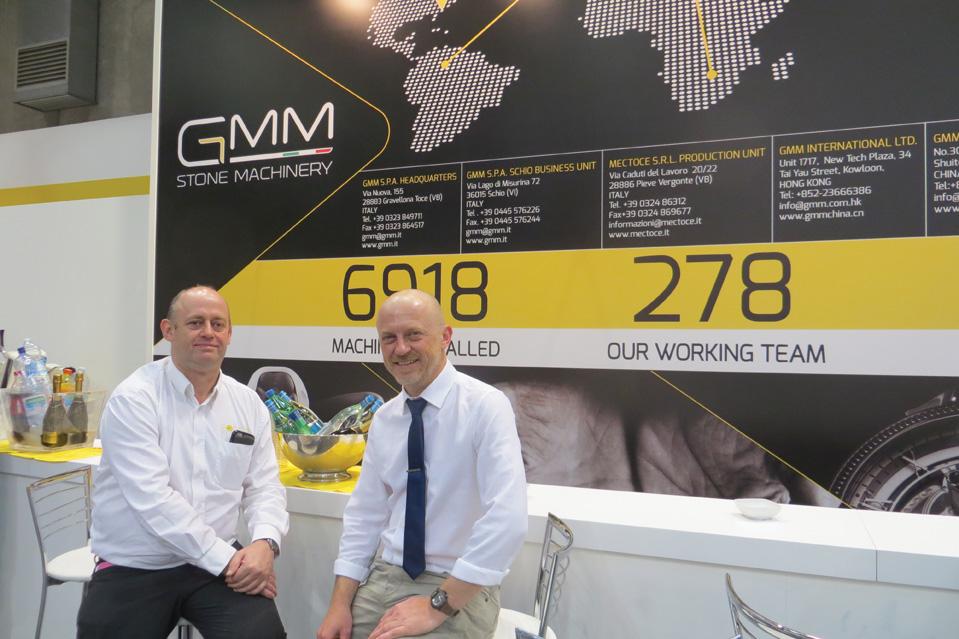 Darren Bill (left) and Arran Langford from Roccia Machinery, the UK representative of GMM. GMM was launching a new logo for its operations worldwide, incorporating the green, white and red of the Italian flag.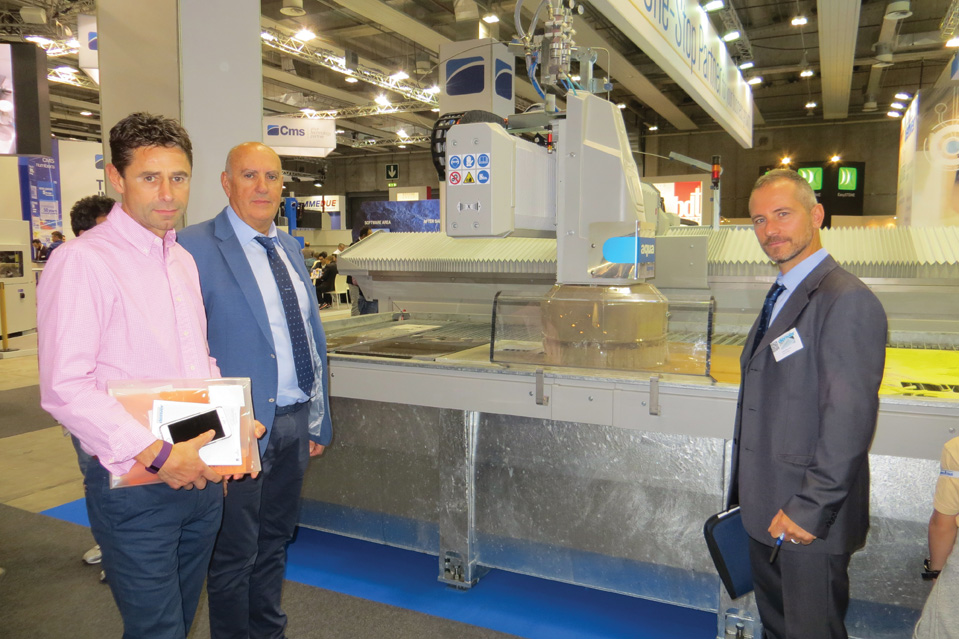 Mark Brownlee of Accurite (left) with Alvaro Giannoni, the owner and President of Denver, which Accurite represents in the UK. Right is Franco Barachini, the area manager covering the UK and Ireland.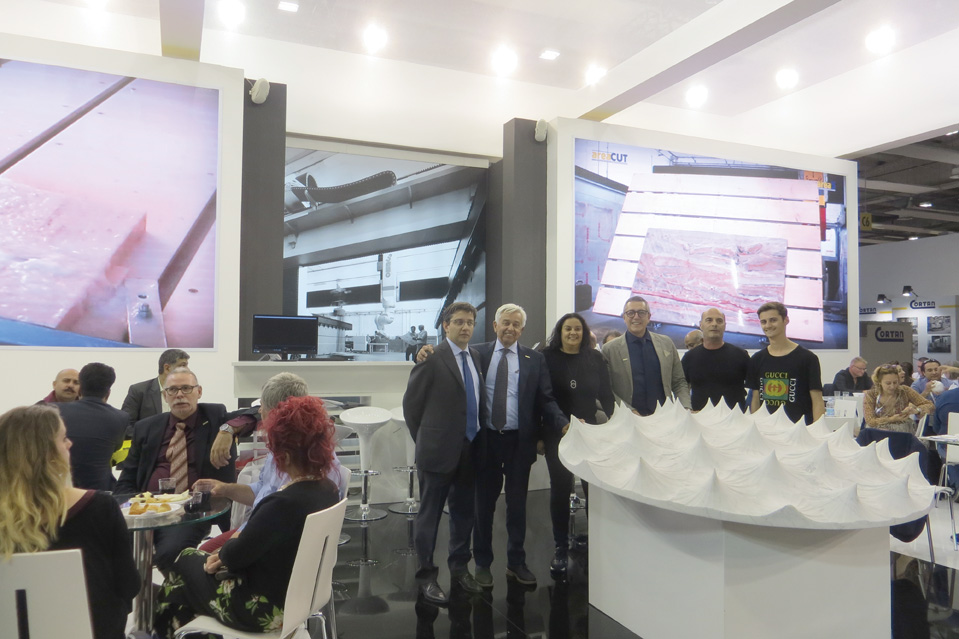 Omag had huge screens with live links to its factory to show any of its machines in action rather than having them on its stand. The line-up here (left to right) is Omag owner Sergio Albani and his son Angelo, Stella Zambelis, Marco Cavelleri from Omag, Dimitri Zambelis and his son Jasper. The company D Zambelis sells Omag CNC machines in the UK.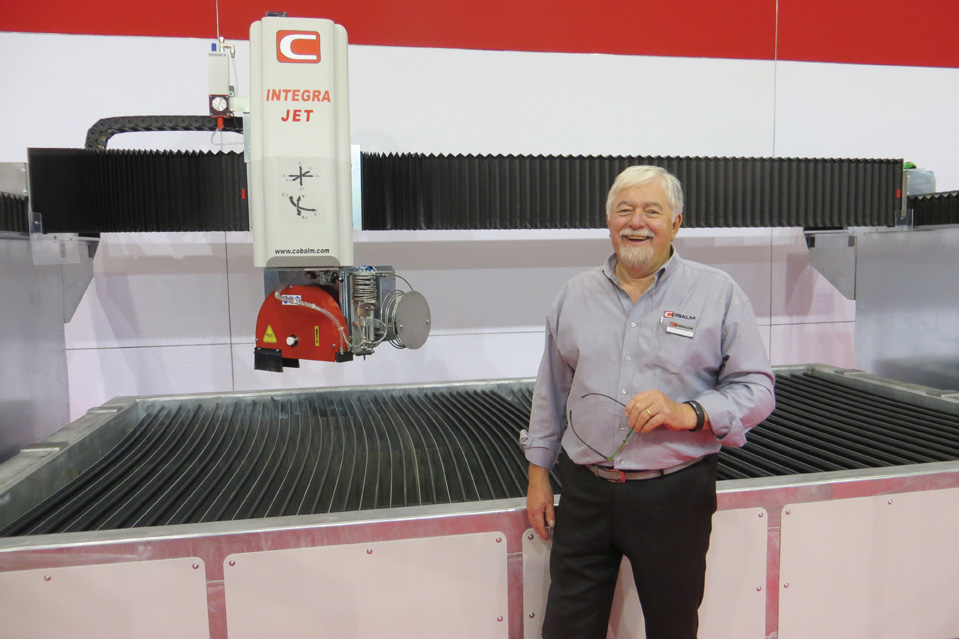 Aurelio Gramellini of Cobalm with the new Integra waterjet. Cobalm is represented in the UK by Waters Group.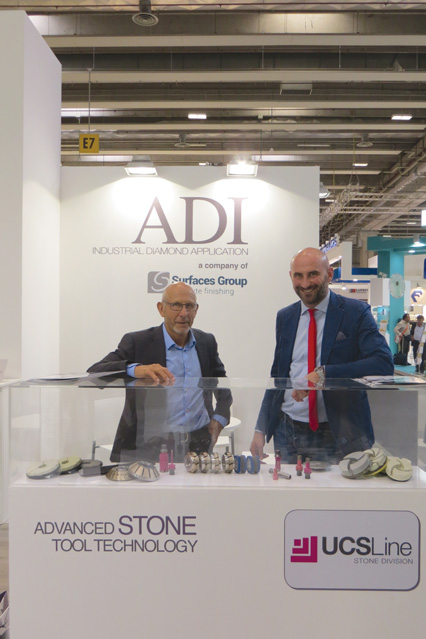 Brian Waters (left), founder and owner of Waters Group, with Carlo Artina of ADI, a diamond tool company represented in the UK by Waters Group. Brian says sales of the tools have been so good Waters has had to add a mezzanine floor to its warehouse to accommodate extra stocks of them.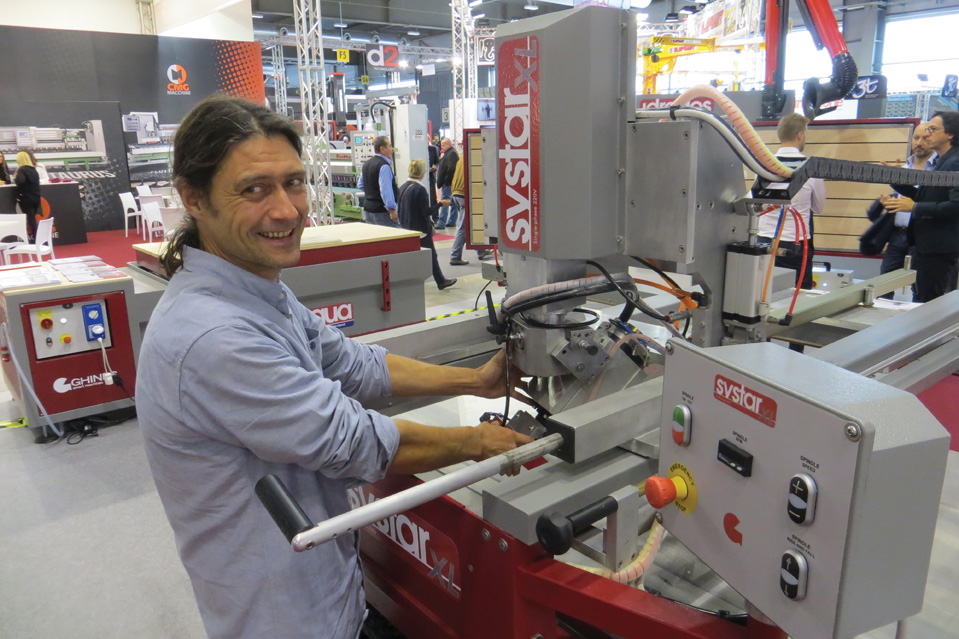 Dave McEvoy is the new agent in Ireland for Ghines, which was following up the launch of a small CNC last year with a bigger one this year. It is low cost but versatile.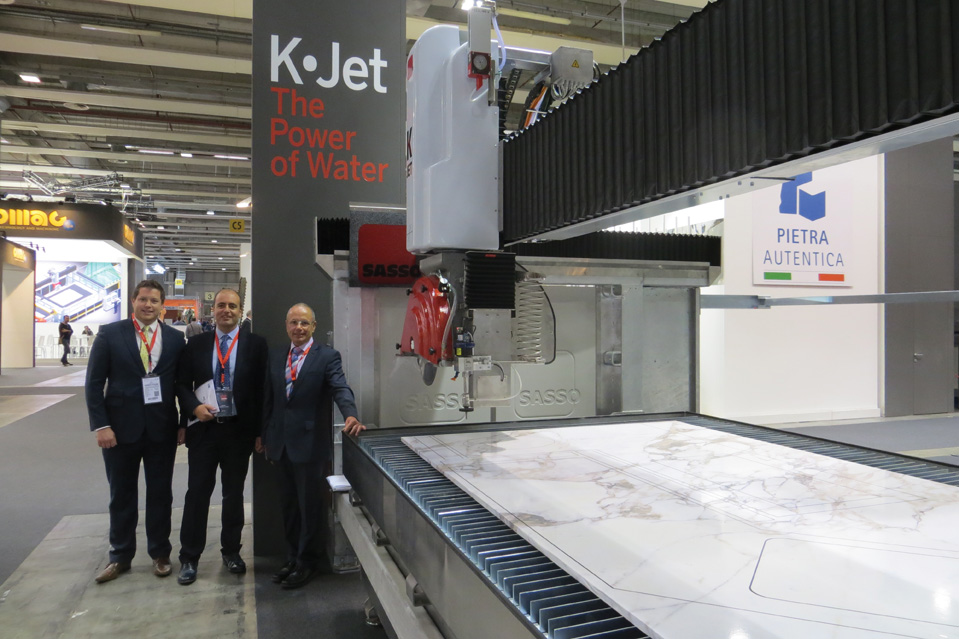 Neil Sharkey (left) and his father Pat Sharkey flank Sasso Vice-President Mario Leali in front of the new Sasso K-Jet waterjet. Pat Sharkey Engineering sells the Sasso range in the UK.