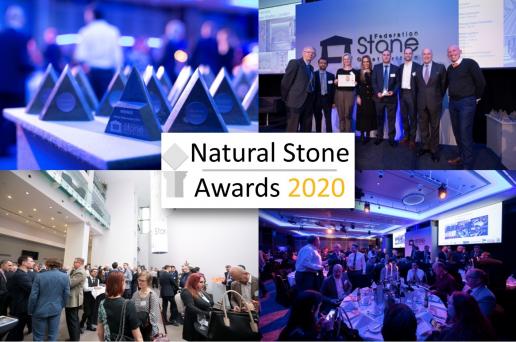 Entry deadline for this year's Natural Stone Awards is now 29 May.
Because of the difficulties associated with the Covid-19 lockdown, Stone Federation is extending the entry deadline for the 2020 Natural Stone Awards to Friday 29 May.
Any natural stone project in the British Isles can be entered in the Natural Stone Awards by any member of the team involved, including the architect, main contractor, stone contractor, stone supplier, client or building owner. To enter your project go to bit.ly/AwardsEntry20
The Awards will be presented at a ceremony in London in December. It will be an opportunity for the industry and its customers to gather together as they chart a course of recovery from the difficulties of Covid-19.
Any industry is stronger when it stands together and the 2020 Natural Stone Awards will be a celebration of collaboration.
The Awards celebrate and recognise the excellence of design in natural stone projects from all areas of construction. Each Awards see work from throughout the British Isles entered across the various categories.
The Awards showcase the wide range of stones used in all aspects of construction, highlighting not just its aesthetic qualities, but also the low carbon, sustainable, durable contribution it makes to construction. It is the ideal building material for interiors and exteriors, hard landscaping and the public realm, in new build and heritage.
When the current lockdown is over the world might be a different place. But whatever the future holds, it is important to be on the front foot in promoting businesses and materials. The Natural Stone Awards offer an unparalleled opportunity for showcasing your company's contributions to the built environment.
The competition is open to all stone projects, not just those that involved a member of Stone Federation Great Britain, and the Federation encourages the whole industry, whether you are a stone supplier, quarry operator, contractor or consultant, to join in promoting the benefits of using natural stone in projects.
This is an opportunity to gain widespread recognition for your company and to be a part of an event that shows why natural stone truly is the king and queen of building materials, providing architects, designers and clients with a sustainable, durable and stunningly attractive complement to designs of the highest calibre.
The best statements really are written in stone.