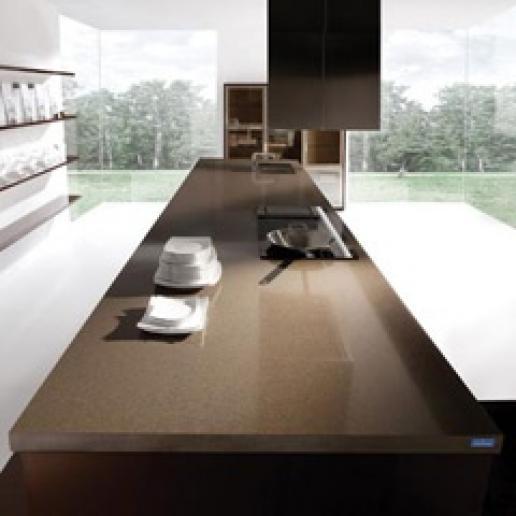 Engineered stone : Quartz
Quartz composites have taken stone companies involved in worktops unequivocally into the fickle world of fashion. And the height of kitchen fashion at the moment is concrete grey

Whether you call it Platinum, Gravel, Oyster, Concrete Block or something else, the hot colour for Quartz kitchen worktops now is, apparently, grey. "It's a very European look," says Jacquie Hayhoe, who markets CaesarStone for Rochdale company Ebor.
Of course, not everyone wants the latest fashion and suppliers of quartz say the biggest seller is still polished black, with or without mirror chips in it.
Light colours are also popular, although Wendy Brown, who markets Quarella's PianoForte quartz in the UK believes there is a North-South divide, with dark colours preferred in the North and creams and greys in the South.
She believes the market is highly influenced by the media. "If Sarah Beeny featured an orange worktop on the Property Ladder everyone would want orange."
It is an important point. Quartz tries to be very much at the cutting edge of fashion and, in spite of the continuing popularity of black, owes its success to its ability to both follow and establish fashion trends.
As Mary Ford at MFS Stone Surfaces says: "It's evolved." MFS were early into the market with Italian-made Arenastone that has seen many new colours and new finishes over the years, like the recently introduced Crema Venato, a cream colour with a vein in it, and the textured finish they call Velvet. Mary also says the lighter colours are particularly popular in London.
Like any fashion product, quartz has to keep evolving to remain in the front line and each producer tries to keep one step ahead of its rivals in novelty value. Some of the ranges are available not just as 20mm or 30mm slabs for worktops, but also in matching 12mm slabs and tiles for walls and (albeit rather expensive) floors. Large format 12mm thick slabs are easy to handle and bond to walls.
Quartz composites are made using a process developed by Italian machinery company Breton. Quartz slabs are now made by many companies around the world using the process patented by Breton owner Marcello Toncelli in 1977, although it was not until large format (3m x 1.4m) slabs were introduced in the mid-90s that quartz really started to take off.
Making the slabs involves mixing together crushed quartz, polyester resin, pigment and possibly pieces of mirror or other additives. The mixture is poured into a mold and compacted before going into a kiln for 30-45 minutes. The finished slabs go into an air cooling machine before being calibrated and finished.
Although the process avoids the primary sawing necessary in the initial processing of natural stone, it uses a fair amount of energy in the extraction and processing of the quartz and the production of resin and pigments, as well as for making the slabs themselves, which is why quartz composites are more expensive than most granites.
In the UK, quartz really only started its meteoric growth in popularity after the turn of the millennium and since then companies processing granite have been forced by customer demand to encompass it or lose out on a significant and, until this year at least, still growing sector of the market.
MFS have been in the market longer than most people. They were selling quartz in the 1980s, although only smaller size slabs were available then and it was not used for kitchen worktops. Mary Ford can remember the days masons said they processed stone not man-made products. "A few years down the line they have come back to us saying they can't afford not to use quartz.
"There is a bit of a learning curve for the people in the factory, which is why we let fabricators come here and have a bit of a training programme if they feel they need it."
She does not believe the end user shares the stone industry's perception of a division between natural and engineered stone. "The average end user doesn't realise quartz isn't granite," she says. "They aren't really interested in how it's made. They like it and want it because of the colour."
The sales pitches for some quartz products have been a little over-enthusiastic at times in order to make the material seem so much better than granite and justify the higher price. And quartz is still compared favourably with granite by those selling it, notably pointing out that it is non-porous so it will resist stains without needing to be sealed and that its flexural strength is five times greater than granite's so it does not snap so easily.
But some of the froth has now been removed from the pitch and the material survives on its own merits as another weapon in the mason's armoury to take a larger share of the kitchen – and more recently bathroom – market.
Complaints that quartz made expensive diamond tools wear out more quickly than granite and that there was a danger of the resins in quartz materials being scorched if they were worked too quickly or with not enough water have faded as diamond tools have been designed specifically for working quartz and it becomes apparent what can and can't be achieved with experience.
It should be noted that quartz is the same form of silica that exists in just about all natural stone and there is more of it in quartz composites than there is in most stone. When worked, quartz composite can lead to the production of respirable crystalline silica (RCS) that can cause silicosis and which the Health & Safety Executive (HSE) are currently clamping down on.
Roy Bush, who looks after the stone industry at the HSE, says: "It's a high silica content product and should be treated like any high silica content stone."
Being worked wet and usually on CNC machines, quartz composites should be safe, but the HSE have said RCS can be held in the air and inhaled in fine particles of spray, not just as a fine dry dust, and companies working quartz should at least be aware of this and monitor exposure levels as the law requires.
There is little doubt that quartz has expanded the market for stone companies in the kitchen sector. You can't know definitely, of course, because all the market share taken by quartz might possibly have gone to granite or other stones if quartz did not exist. But it probably wouldn't have. In fact, quartz has probably even helped the growth of granite worktop sales.
As Francisco Martinez-Cosentino Justo told NSS: "If we don't do this we leave the market to plastic and steel and wood that don't benefit stone companies. The stone industry can't turn its back on quartz products – and I'm telling you this as the President of the Stone Federation in Spain of which I was one of the founder members."
Francisco is also the President of Silestone manufacturers Cosentino, originally (and still) a Spanish stone company, but now with 85% of their €400million annual turnover coming from Silestone quartz.
"Natural stone will always be in demand but in the world of the kitchen natural stone has a small percentage, which makes it susceptible to a challenge from steel and plastic and wood."
But, adds Francisco, because stone companies only have a small part of the kitchen market, quartz offers them the potential of growth by taking a larger share of it – growth that is not easy to find elsewhere in the mature stone sector.
"Either we adapt and the stone industry develops its own weapons or the stone industry will find it very difficult," says Francisco.
Until 1998 Cosentino had one Silestone production line. Today they have 12 producing 4,200,000m2 of quartz a year.
Francisco points out that stone producers in Europe are vulnerable to competition from low cost producers of natural stone elsewhere in the world who have little or no environmental or worker welfare constraints on them.
"If today we didn't have Silestone there would be serious problems in the sector for small stonemasons."
To compete, he says, Europe has to innovate. "That's something that's very dear to me. We're in a world of innovation in natural stone as everywhere else. The only chance we have is innovation – and not just in products, but also in marketing."
What he means by innovation in marketing is the creation of brands and the building of awareness of them and loyalty to them.
Cosentino are doing that not only with Silestone but also with their SenSa range of factory impregnated granites that are coming on to the UK market in the autumn and the Scalea range of Spanish marbles.
Cosentino have earmarked €470million over the next four years for product development of natural stone and man-made products.
"Stone and Silestone complement each other. A company can't have only one product and customers want both products from the stone industry," he says.
Inconveniently for Cosentino, one of the unique selling points they have created for Silestone is being countered by competitors. It is their use of Microban, which they advertise as: 100% antibacterial, 100% peace of mind.
Competitors say that because quartz worktops are not porous they are naturally hygienic anyway, which may be true but it depends how thoroughly they have been cleaned. The point about Microban is that it kills germs.
But there has also been some suggestion in America that Triclosan, an antibacterial agent in Microban, might harm people. There have been reports that it can lead to allergies and even, by reacting with sunlight, possibly to potentially harmful dioxins.
Triclosan is so commonly used in a vast range of hygiene and cosmetic products, including toothpastes and soaps, that there have also been fears it is leading to the evolution of more antibiotic-resistant bacteria.
Of course, it may be another scare on a par with the one associating radon gas with granite worktops (see page 5 in this issue).
Christophe Gontier, the Managing Director of Cosentino UK, says: "Silestone quartz worksurfaces are completely safe for use in the home. The National Sanitation Foundation (NSF) has certified Silestone quartz antibacterial worktops by Cosentino as a safe material for direct contact with any kind of food."
Cosentino are not alone in trying to represent their quartz as a premium quality brand rather than a generic product. DuPont also aim for the top end of the market with their Zodiaq range. They claim to have led the fashion for grey with the launch of Concrete Block in 2005. The range was, they say, the first matt finish 'urban' toned set of colours for quartz surfaces. And they believe they are about to launch the next fashion, saying new colours and aesthetics are on their way for 2009, although you will have to wait until then to see what they come up with.
DuPont Zodiaq quartz surfaces are made in Canada, next to a mountain of quartz that supplies raw material for Zodiaq. They believe the quality of the quartz used in their product is important, both for accepting the pigments added and for leaving the colour of them unaltered, as well as for strength.
The Zodiaq palette consists of 30 colours and tones – including that selection of solid shades with a honed, matt finish inspired by urban materials such as concrete.
Another major quartz force in the UK is Quarella, the Italian manufacturers of PianoForte quartz.
The Quarella Group employs 400 people in five factories, four in Verona and one in Naron, Spain. They make 4,000,000m2 of composite a year.
There are more than 45 colours in the PianoForte range, all available in a polished finish and some in their version of a textured finish that they call Chenille. Their latest offering is a range of built up moulded edges up to 100mm thick. And there's the promise of new colours being introduced at the Marmomacc stone exhibition in Verona in October.
PianoForte slabs are held in stock in the UK at the distribution warehouses of The Thomas Group in Manchester, Quartz Italia in London and Gerald Culliford in Surrey, supplying a growing network of experienced fabricators.
Another major brand is CaesarStone, made on four lines in Israel and available in the UK from Ebor in Greater Manchester (and soon also from a new warehouse they plan to open in the South East).
Ebor came to be the distributors of CaesarStone in the UK through their relationship with Breton, because they sell Breton stone processing machines in the UK. Through Breton they were introduced to plants where quartz composites are made, one of which was CaesarStone's in Isreal.
The three latest CaesarStone products have a mottled pattern that is difficult to achieve in quartz and helps them consolidate the position they claim at the top end of the market.
There are three colours available: Raven, which is dark grey; Oyster, light grey; and Ginger, beige. Next to come is a speckled quartz called Mosaici. It is being presented as environmentally friendly because it is made from recycled material.
CaesarStone have a product collection that is, as they describe it, a living entity constantly evolving in rapid response to the needs of architects and designers. There are 70 colours and finishes ranging from fine-grained salt and pepper motifs to coarse-grained colour blends with variegated textures. There are three finishes: polished, honed and Viento (textured).
CaesarStone maintain an air of exclusivity about their range by restricting its availability to fabrictors they approve.
Jacquie Hayhoe says: "We supply fabricators in most regions but it's not about the volume of fabricators we supply, it's about the right people – people who subscribe to what we subscribe to in terms of quality. A bad job reflects badly on us."
But not all suppliers are so concerned to present their products as being so exclusive. At London wholesalers MGLW, who sell Compac quartz made in Portugal, Rogerio Moutinho is straight forward about his approach: "We are all selling the same materials made by the same Breton technology. Quality is pretty much even throughout. We're not better or worse, it's just a colour scheme – which colours are more sexy. There's a range of colours pretty much standard then there are the more swanky colours.
"We have recently introduced six different colours – greens, orange, purples, a really light blue, pale yellow. They are a complement to the plainer colours. We find some food outlets want to brand themselves and these bright colours really suit them as a brand identification. That takes us into new areas where natural stone could never get."
There are 35 colours available from Compac and Rogerio confirms that, as well as black and light colours, browns and greys are selling well.
He says that Compac have introduced some multi-coloured slabs, but feels what most people like about quartz is that it is a regular and predictable colour. It is the fact that stone isn't that encourages some people to choose quartz, he says. Compac is available in a honed and even bush-hammered finish with a riven finish resembling slate coming soon. But most people still prefer a polished finish, says Rogerio.
Also coming up from Compac are even larger size slabs.
Roger Lill at wholesalers B-Stone in Northamptonshire also takes a more prosaic view of quartz and is happy to sell it to any processor. He says the two ranges of quartz he sells account for half the slab he sells for worktops (the other half being natural granite).
The two quartz ranges sold by B-Stone from their new warehouse are Diresco from Belgium and Technistone from the Czech Republic. Roger says they complement each other because Diresco's range is plainer and more neutral while Technistone offer stronger colours in their Venetian and Taurus ranges together with mirror-chip Starlight colours.
As well as 20mm and 30mm thick slabs, B-Stone are finding a ready market for 12mm slabs for walls. And in line with the present trend, Diresco will be launching what they call Concrete Grey at Marmomacc in Verona in October.
CaesarStone: www.ebor.co.uk
Compac: www.naturalstonefloor.com
Diresco: www.diresco.be
DuPont Zodiaq: www.zodiaq.co.uk
Arenastone: www.marbleflooring.co.uk
Quarella PianoForte: www.pianofortequartz.co.uk
Silestone: www.silestone.com
Technistone: technistone.firstnet.cz