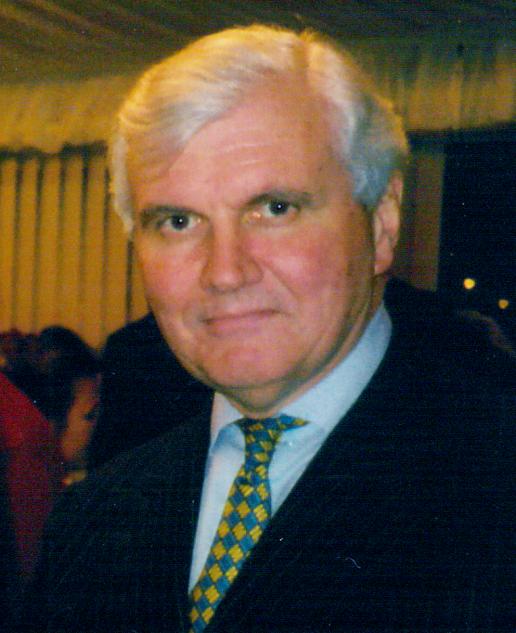 Mike Dewar, a soldier who brought peace to warring memorial masons.
Mike Dewar, who moved into PR after successful careers in the army and the International Institute for Strategic Studies, taking over in 1995 the account for what became the Memorial Awareness Board (MAB), died on 1 August.
Mike was often described as a 'gentleman', which ably sums him up – erudite, polite, always a pleasure to be in his company.
Graeme Robertson, who Chairs MAB, said this: "Mike Dewar and I became friends through business over 20 years ago when he became the PR consultant acting for MAB on behalf of the whole memorial industry. He was a charming and ebullient gentleman who was capable and successful in all aspects of his life, including in the military, as a defence analyst and afterwards in business.
 
"Mike was always a very interesting and engaging dinner companion and his occasional forays into Scotland, with which he had some affinity, often resulted in him landing a salmon on the bank of one of its famous rivers.
 
"He was truly 'a man of parts'."
Mike had three careers. He was in the Army, rising to the rank of full Colonel. He then became Deputy Director of the International Institute for Strategic Studies (IISS) in London, before moving into PR and establishing his own agency. With his roots in Scotland, he was also the Chief of the Dewar Clan, although he lived in Somerset. He leaves a wife, Lavinia, and four children. There will be a memorial service to him in Downside Abbey, Bath, on 20 October.
When Mike left the IISS he joined a PR agency called Albemarle, but it was not long before he left to set up his own agency. At that time he had led the PR element of the MAB campaign for about a year with Albemarle and was considered so successful that MAB wanted to stay with him rather than with Albemarle.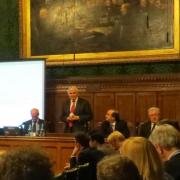 When he took over the MAB account he said PR companies should be changed at least every five years to keep campaigns fresh, but he continued to help MAB even up to last year when he took the debate about councils selling memorials to the public into the Houses of Parliament.
Mike took over the MAB account following its split with Sam Weller, who had masterminded its PR campaign since it was established in 1983 as the promotional arm of the memorial industry by the National Association of Memorial Masons (NAMM). Once it had been established it took on a life of its own, which, by 1995, had led to conflict with NAMM over the safe fixing of memorials after two youngsters had been killed in separate incidents by falling memorials. There was a debate by MPs in Parliament, although their panic over the safety of cemeteries was short-lived, soon being overtaken by other events. Sam Weller was sacked to return harmony to the sector and Albemarle was appointed to head the MAB campaign.
Colonel Mike Dewar was well known as a commentator on military matters, often appearing on TV and radio news programmes, and being quoted in the national press, explaining military and security tactics. The MAB account helped him establish his own PR agency, which later became known first as One is More and later simply as One. He successfully got memorialisation discussed on radio, appearing for interview and on phone-ins. He got features in the Guardian newspaper, the Daily Express and Harpers & Queen, as well as so many local and regional newspapers and magazines. He ran several successful Cemetery of the Year competitions before instigating an 'old and new' photographic competition among the public, which again rose the profile of stone memorialisation.
He made a significant contribution to public awareness of stone memorialisation and its importance in the grieving process in a campaign paid for by memorial masons with a voluntary surcharge of 1%, collected by wholesalers. At that time it raised about £50,000 a year, with contributions even coming from the private cemetery operator SCI and the Co-op.
Mike took debates about memorialisation to the Houses of Parliament. Just last year he got an MP to sponsor a debate in a committee room about the selling of memorials to the public by local authorities, although even the MP who sponsored it did not stay to hear the arguments. Some local authorities were represented, however.
But by then Mike was fighting cancer. He never recovered from his illness, despite a courageous fight that involved chemotherapy every other week for 18 months. The funeral was private. 
Mike Dewar was commissioned into The Rifle Brigade in 1962. He was a platoon commander in Cyprus and in the jungle campaign in Borneo, an instructor at The Royal Military Academy, Sandhurst, served in Berlin and Germany during the Cold War, was a Company Commander in Northern Ireland, served as General Nigel Bagnall's principal operations Staff Officer in the British Corps HQ at the height of the Cold War, commanded The Light Division Depot and The 2nd Battalion The Royal Green Jackets, and was the first Colonel Defence Studies.
He left the military in 1990 to take up the appointment as Deputy Director of the International Institute for Strategic Studies (IISS) in London, where he became a familiar face on the nation's TV screens as the leading UK commentator on The Gulf Wars, Iraq, Northern Ireland, the Bosnian conflict and Afghanistan. Not only was he able to draw on his military experience but he also travelled to many of these conflict zones as part of his duties at the IISS.
Mike Dewar was an established author on military history and contemporary military issues with 15 published books. His best known works include The British Army in Northern Ireland, which has been required reading at several Staff Colleges for many years; A History of Deception in Warfare; A History of Urban Warfare; Brush Fire Wars and An Anthology of Military Quotations.
Having established his own PR company, the clients he worked for apart from MAB included Fujitsu Defence & Security, The Harris Corporation of America, Supacat, The British Frozen Food Federation, Iceland, Waitrose, the MOD and BAE Systems, as well as other smaller accounts.