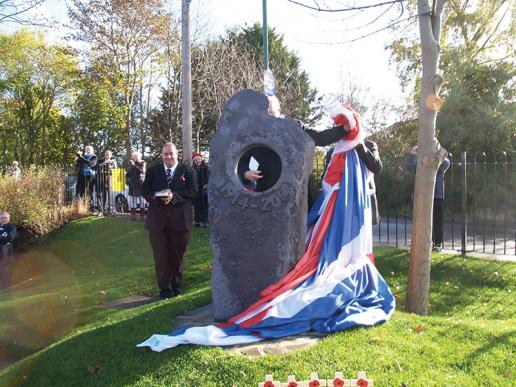 The unveiling in November.
On 10 November, the day before Armistice Day, there was quite a gathering on a piece of reclaimed land at the entrance to Romney railway station in Hampshire when a new World War I centenary memorial was unveiled.
Carved from Welsh Slate by sculptor Caroline Dear in a polytunnel of a local garden centre because the stone was too big for her to handle otherwise, and first shown to the public on Caroline's stand at Chelsea Flower Show in 2014, the memorial has the dates 1914 and 2014 carved into it surrounded by poppies.
Caroline was among the guests invited to witness the unveiling of the stone by Brigadier David Harrison, Hampshire chairman of the Royal British Legion. The memorial was then blessed by Romsey vicar the Rev Canon Tim Sledge.
It took longer than had been anticipated to get permission to erect the memorial and reclaim the piece of land for it to stand on, donated for the purpose by Great Western Railway. The Three Rivers Community Rail Project spearheaded the project with the British Legion and were instrumental in bringing it to fruition.
The unveiling took place during the centenary of the Battle of the Somme, one of the bloodiest of the First World War, and crosses and a wreath were laid next to the memorial to commemorate local soldiers who had died in the battle. George Goodman and Connie Noble, pupils from the local primary school, read extracts from biographies of two of the local soldiers who died in the battle.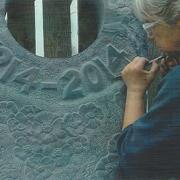 Caroline was a civilian swimming instructor for the Army for many years and has worked for the Commonwealth War Graves Commission, which led her to carve the memorial. She says the design evolved as she carved, with only the date being set out. She says: "It was magic; so therapeutic." And she admits to being moved by the unveiling ceremony. "I nearly burst into tears after the blessing," she said.