Sacred Stones is a company that has been established to build meaningful stone resting places for cremated remains. Its 'barrows' are inspired by the ancient burial mounds of our prehistoric ancestors.
Around 600,000 people die in the UK each year and about 75% of them are cremated. Most of the rest who are buried will have a memorial, usually of stone, erected to mark their final resting place. Some of those who are cremated will be commemorated with a plaque or small memorial of some kind, perhaps on columbaria, but in many cases the ashes will simply be scattered somewhere that seems appropriate.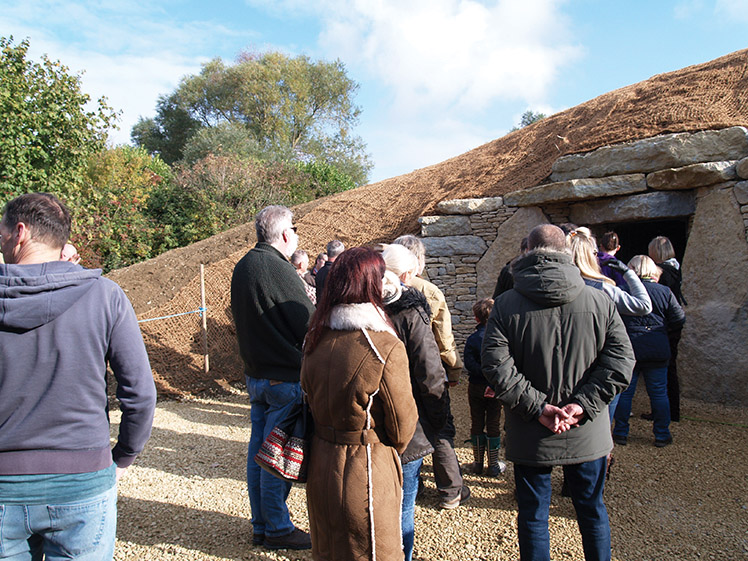 For some that is fine. But the bereaved often subsequently find they want to communicate with the deceased and would find comfort from going to a place where the physical mortal remains are retained. Bereavement councillors have long since recognised the value of such commemoration.
Now a company has been formed under the name of Sacred Stones to reclaim and extend the use of stone as a medium of memorialisation for cremated remains by looking back to pre-history and replicating neolithic barrows of the kind constructed at Stone Henge and Avebury 5,000 years ago.
Its first round barrow was opened at Willow Row in Cambridgeshire in October in front of an appreciative audience of all ages who came along to see the newly completed structure. About 100 people visited and all were suitably impressed.
Regular readers of this magazine will be aware that this is not the first 21st century barrow to have opened. That distinction goes to a long barrow opened by a farmer, Tim Daw, on his land at All Cannings between Stone Henge and Avebury in Wiltshire. Tim was among those who visited the new round barrow on its opening day.
It was Tim's barrow that eventually led to the formation of Sacred Stones.
The long barrow was built by Martin Fildes and Geraint Davies of Riverdale Stone, with a bit of help from other wallers.
Tim Daw also works as a steward at Stonehenge, which is what led to him coming up with the idea of building a new long barrow. He admits he did not really believe he would get planning permission for it because the site he wanted to use is in an Area of Outstanding Natural Beauty. But he applied anyway and the only objections came from English Heritage, which was worried that visitors might think it was genuinely a neolithic structure.
That would not have been a danger with the original plans because Tim had intended to build his burial chamber in concrete. However, Martin Fildes read about the scheme in The Times newspaper – and the fact that it was reported in The Times demonstrates the level of interest in the idea – and contacted Tim.
Martin persuaded Tim not to use concrete but to build the barrow in the same way it would have been built 5,000 years ago, using natural Sarsen stone found in the surrounding fields. Martin also convinced Tim that Riverdale Stone was the company to carry out the work.
Martin and Geraint enjoyed building the barrow and felt there was a significance to it that pleased them. "The way people have reacted to it shows it is important," says Geraint.
Martin adds: "After building that first one I knew there was something in it. Geraint and I got the buzz for it at All Cannings. I knew we could deal with the construction side of it, but selling the concept to land owners and the bereaved needed to be handled sensitively. Toby is good at that."
Toby Angel is the Managing Director of Sacred Stones, the company that has been formed to build the barrows.
Having built the long barrow at All Cannings, Martin and Geraint could see there was a business opportunity for building more barrows. And they seem to have been right.
Sacred Stones has been formed by Martin and Geraint with Toby (an entrepreneur) as MD and Mark Davis (a scientist) another Director. Toby has taken care of  the marketing and successfully engaged the consumer media with coverage in the national press and on prime-time TV, as well as plenty of regional coverage.
He says he was introduced to the idea of building barrows by Mark Davis, who is a friend of his. "He came to me with this idea after he had met Martin. I thought it was mad at first but when I told my wife about it she told me to look at it again."
The land for the Willow Row barrow was provided by farmers Richard and Cordelia Squire, who had a copse which they felt lent itself to the idea of the barrow, with the trees providing cover for the mound.
Other land owners have also now expressed an interested in having barrows on their land and the next one is planned for a site between Hereford and Ross-on-Wye on the Welsh borders. Plans for one in Hampshire are progressing and there have even been enquiries from abroad.
Sacred Stones says there could also be training spin offs from the building work to help fill skills shortages, perhaps working with organisations such as QEST (the Queen Elizabeth Scholarship Trust) and Help for Heros.
It is all a bit New Age. The All Cannings barrow was even consecrated by a Druid, although the new one at Willow Row is deliberately secular so it can be used comfortably by anyone of whatever beliefs, although if you want your particular niche blessed by someone, that is just fine.
The barrow has more than 300 niches that can carry between one and seven urns. You rent the niches for 15 or 25 years, or in perpetuity (which nowadays constitutes 99 years). They are £1,500 for 15 years up to £4,800 for 99 years. And once the time is up, the ashes can be scattered in a nearby wooded area where a commemorative tree can be planted if required.
Once an urn containing ashes has been put into a niche, the niche will be sealed with a stone that the bereaved will be encouraged to have inscribed, although records will be kept of the name of the deceased and the people who have rented the niche.
At the opening of the barrow at Willow Row, Louis Francis, a stone carver and lettercutter from Milton Keynes, gave a demonstration of his craft to the visitors and displayed some of his work. Louis is deaf and had a signer with him to help him answer visitors' questions.
A felt worker, Clare Bullock, also demonstrated some of her skills. She is making felt covers for the bronze containers that will hold ashes in the smaller niches.
The barrow was built by Geraint and Martin with the help of up to six others at a time, using local stone supplied by the nearby Churchfield Stone Company, which quarries its own stone. Churchfield has also produced the York stone slabs that separate the niches horizontally and the hexagonal Portland limestone niches for the specially made single bronze caskets that fit into them.
The original barrows are considered to have been built using dry stone walling techniques, but Geraint believes the builders would probably have put local clay or soil between the stones to bed them just because it makes the construction easier. Most of it would have subsequently washed away, leaving the structures looking as if they had been constructed dry. Geraint and Martin have used hydraulic lime mortars but the walls look as if they have been built dry.
No former was used to create the dome in the centre of the round barrow or the arched roof of the area around it. The stones are simply corbelled. Neither is there a key stone in the middle, just a cap laid on top. The weight of the stone holds it all in place.
The dome in the centre was finished first, which was not a good idea, says Geraint, because it made it difficult to construct the corbelled roof of the outer ring. It was built that way just because once they had started to build the central dome they were keen to see what it would look like finished. He says he would not do it that way again.
There is about 400 tonnes of stone in the round barrow. That has been covered with 1,000 tonnes of earth seeded with meadow grass to minimise its impact on the landscape, although it is pretty well hidden in any case.
Construction was labour intensive because each stone had to be dressed and laid by hand. As Martin said, when you watch someone dressing a stone for six minutes to fit it into place you get an idea of how much work went into it. "It was a real labour of love," he says. Toby Angel describes it as a "herculean team effort".
At All Cannings, nearly all the niches have been filled in the two years since it opened. And they are going fast at Willow Row.