It's been a crazy summer, says James Pack of Pack Masonry. 
Most of the houses being built in Holburne Park, Bath, sell for more than £1million. And there are nearly 200 of them. They maintain the tradition in Bath of building with the stone that takes its name from the city.
Winning the contract for the stonework on the new homes marked a step change in the growth of Pack Masonry, with its factory workshops in former farm buildings in Bradford Leigh, Bradford on Avon, with easy access to all the Bath Stone quarries and the city of Bath, where much of it is used.
Pack Masonry Ltd was formed by James Pack in 2014. He was joined three years later by his partner Maritza Becker as a Director of the business. She manages the accounts department.
Working with them is James's brother, Nic Pack, who is in charge of production, and Martin Park (which is not a spelling mistake, he is not related), who trained both brothers in stonemasonry 30 years ago when they were apprentices at Stonewest Cox, as it was at that time, at its depots in Trowbridge and Corsham.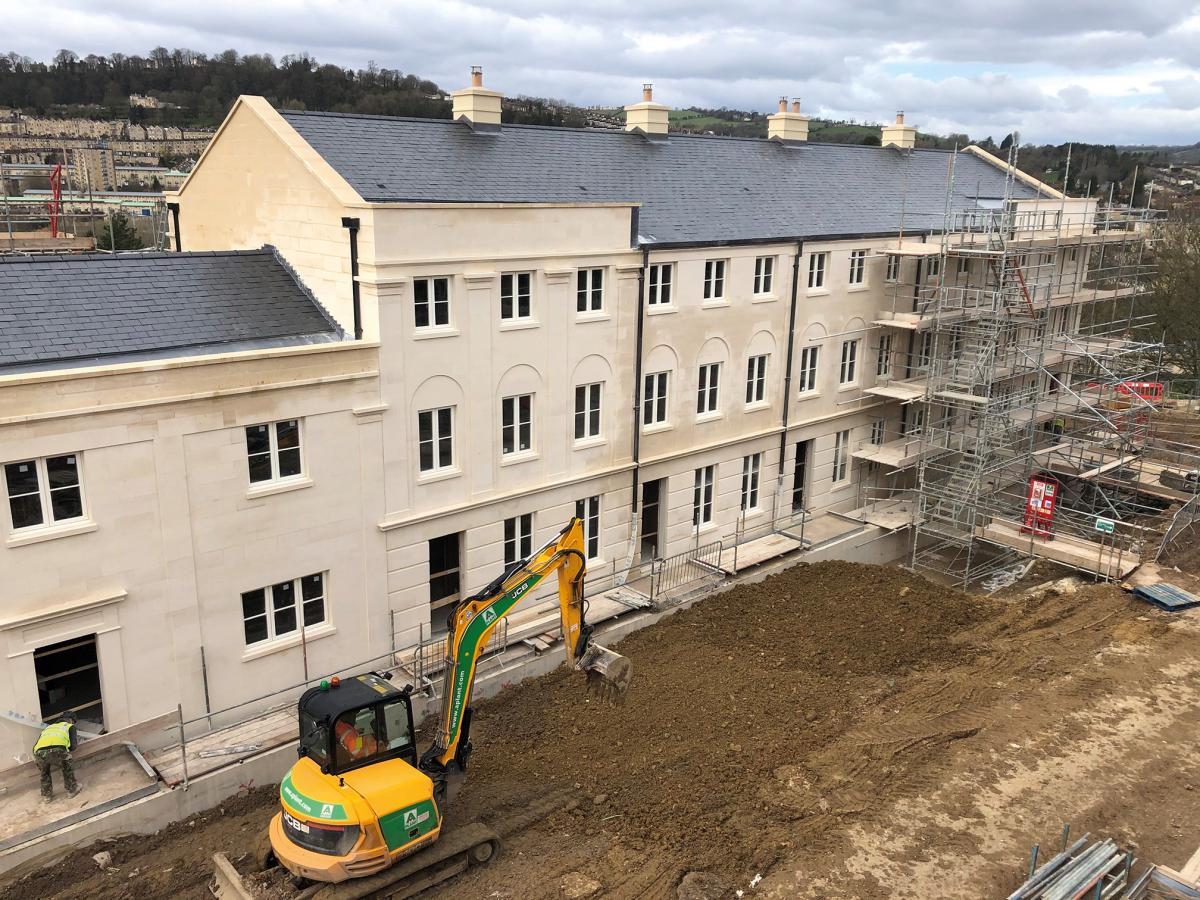 Above. Some of nearly 200 homes being built at Holburne Park in Bath on former Ministry of Defence land. Pack Masonry is producing and fixing the Hartham Park Bath Stone. It gained the contract for the work after moving into its new factory workshop in Bradford Leigh, Wiltshire, in 2018.
Pack Masonry was not the first company contracted to build the houses at Holburne Park. When the development started James Pack was not in a position to be able to take on the work. He was working out of what had previously been a piggery, with an office and a banker and no machinery. But the business grew rapidly and the move into the former farm buildings in Bradford Leigh gave James the opportunity to invest in machinery, most of which he picked up second hand.
His first saw was a new Wells Wellcut 1800mm for cutting blocks of mostly Bath and Portland limestones that he bought for the projects he won. He has since bought a 1200mm Wells Wellcut for secondary sawing, three second-hand Terzagos, a lathe that came from an engineering company, a wire saw made by Portuguese company Minorsa, and a Waldrich Coburg stone planer for producing long lengths of mouldings.
The expansion of premises and machinery has given him the capacity to produce masonry for other stone companies as well as his own projects, and supplying masonry for the trade all over the country has become an important part of the business.
 James was donated a chain saw on a frame by Matthew Hawker of The Bath Stone Group, which he uses to saw up waste stone. He uses the fine dust from sawing in the lime-based mortars he prepares for a perfect match with the stone.
In the past couple of months he has upgraded his water recycling system, which had previously consisted of lagoons that were inadequate for supplying clean water to all the machinery he now has. He has invested in an Ital Mecc flocculent system with a filter press, supplied and installed by D Zambelis (there's more about that from page 18).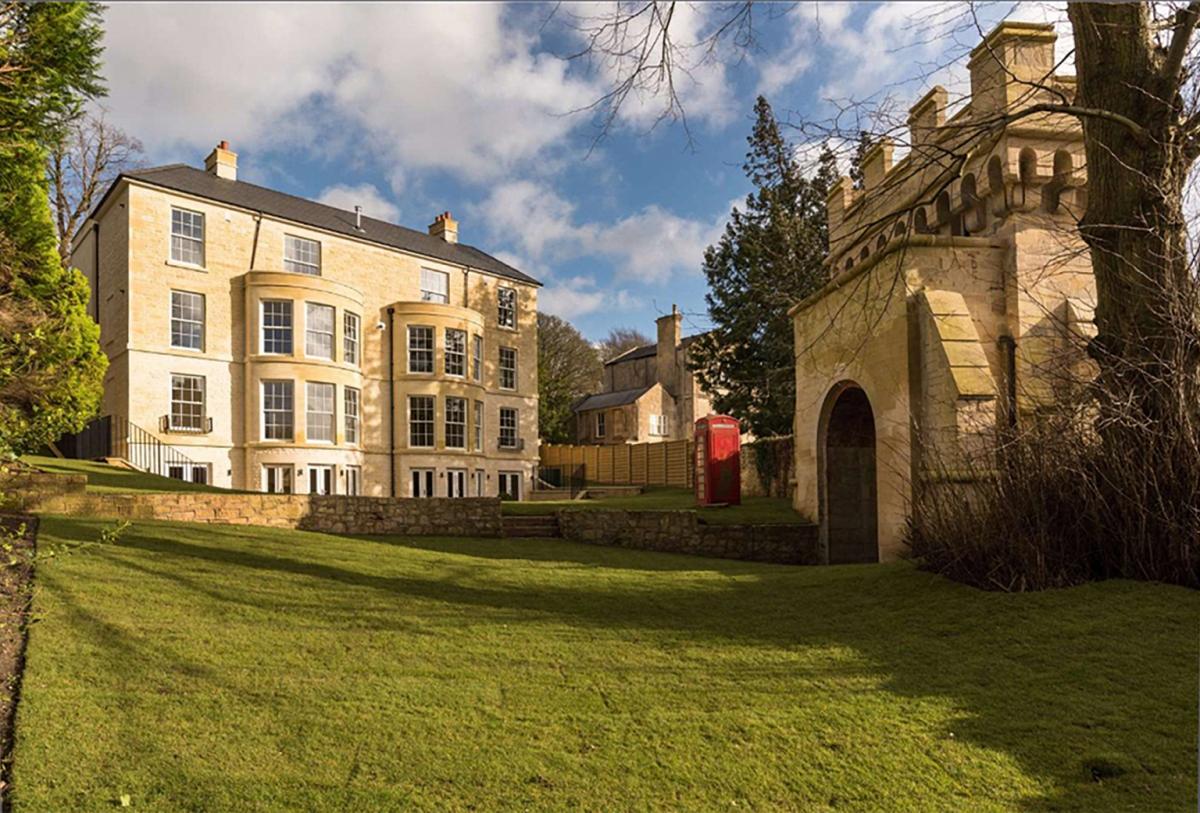 The rear elevation at Beckford Gate in Bath. Stoke Ground sawn, split and tumbled Bath Stone was used to the rear and side elevations and architectural dressed Stoke Ground to the front elevation.
Now he has clean water, his next investment is going to be in an Omag CNC workcentre, which will help resolve the labour shortage the industry is suffering. The Omag will also come from D Zambelis, which represents the Italian manufacturer in the UK. D Zambelis also represents Terzago, although it says it was unaware of the Terzagos at Pack Masonry until James contacted it about the Ital Mecc water system last year.
All the water used by Pack Masonry in the factory is rainwater collected from the roofs. The south sides of the roofs also have photovoltaic cells that are feeding electricity into the factory and the national grid. They were already installed when James took over the buildings, although he now gets the benefit of the feed in to the national grid as well as the factory, which helps reduce the cost of the energy he uses.
With the move into the new premises and the investment in machinery came more work for Pack Masonry, although James says when he moved in he had just a week's worth of work on the books, so it was a leap of faith.
Before the end of the first year, however, the Holburne Park project had been secured.
By the time Pack Masonry moved to its new premises, 61 of the houses at Holburne Park had been built, but the developer was having issues, so James was asked if he would like to quote for the stone cutting and fixing for the next phase. He did and was offered the contract. It was by far his largest to that time and he admits signing it "was scary".
Holburne Park has two years left to completion of all the properties. It was originally going to be three, but the properties are selling well and the programme has been accelerated.
While still at the piggery, James had been joined by his brother, Nic, in 2017. By then Nic had left stonemasonry to become a lorry driver, but his stone skills had not deserted him.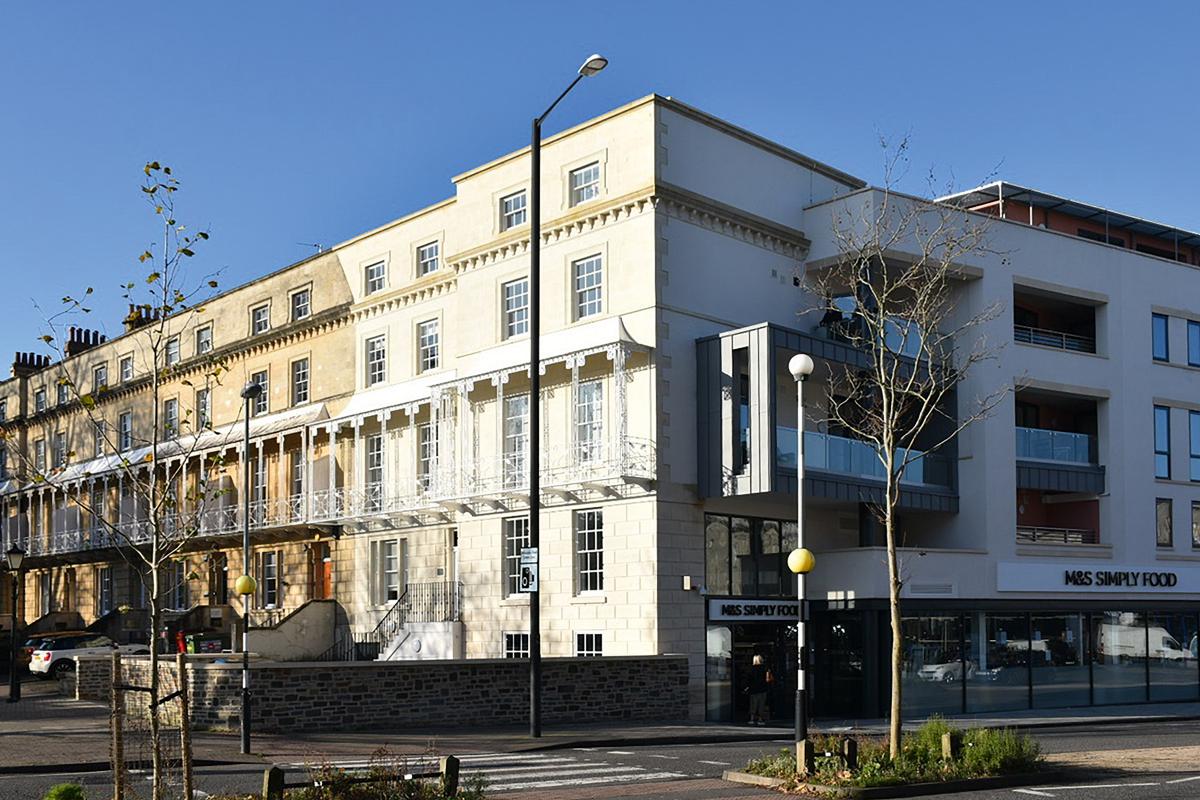 Whiteladies Road in Bristol, where Stoke Ground Top and Base beds were used to match the detail of the existing building.
Martin Park joined Pack Masonry after freelancing to produce the drawings and schedules for two of the projects James won – at Whiteladies Road in Bristol and Beckford Gate, Bath.
When he agreed to come and work for Pack Masonry he had only wanted it to be part-time, but it quickly built up into being full-time as the company rapidly grew, although he says he has enjoyed the success.
In fact the workload has grown so much that Martin has had to call on Andy Moore at Pietra Masonry Design to help him out with some of it.
Onsite, fixing is carried out by sub- contractors who James and his colleagues have known and worked with for many years, although James says fixers are in short supply, as many in the industry can testify.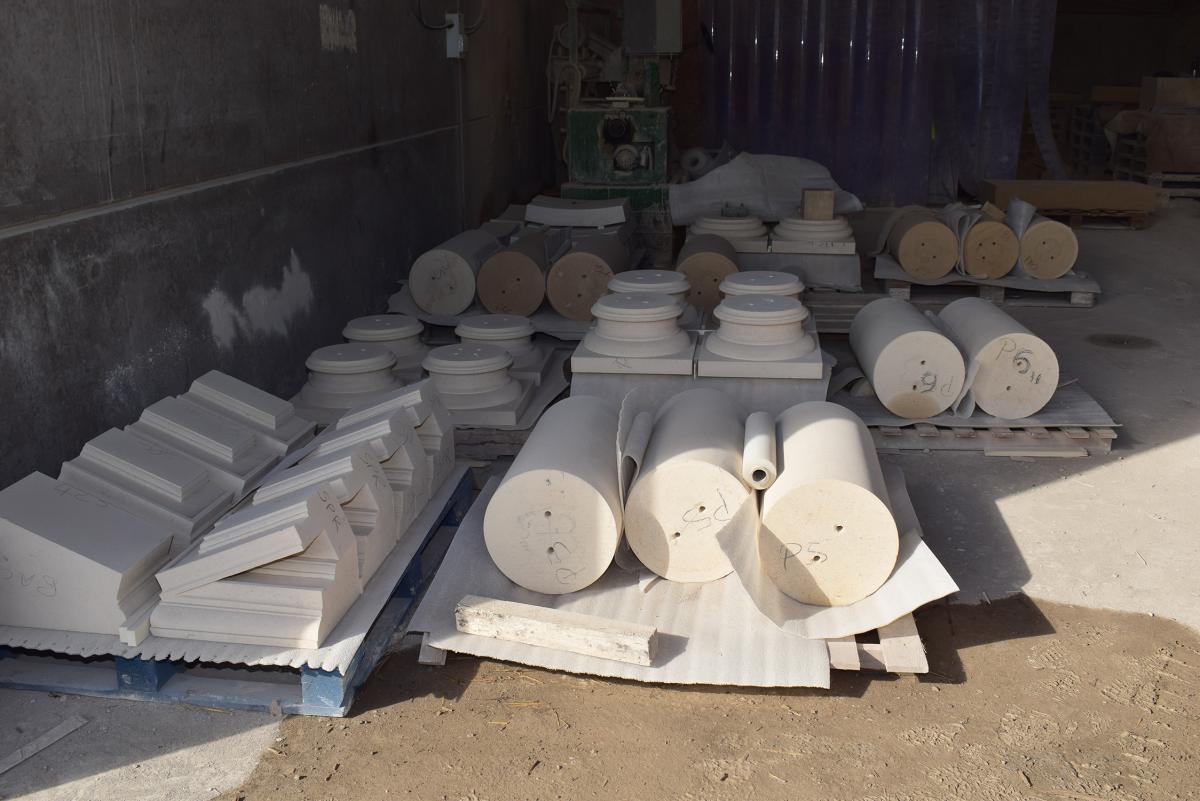 Pack Masonry is a major trade supplier of architectural stone to other stone companies as well as producing stone for its own projects.
James knows all about fixing, having worked with a bricklayer as a team that called themselves Sulis Masonry before forming Pack Masonry. James: "Banker shops are a young person's game and I had reached that point where I had done my thousand miles of coping. So I went into fixing and that was the start of me expanding my knowledge of the construction industry. I had been on the banker with multiple companies – such as Lonsdales, Mather & Ellis, and numerous masonry companies in the South West – and had learnt to work a range of different natural stones.
"Now I was fixing, and because I knew stone it didn't take long to get into that, so me and another trowel, Paul, set up Sulis Masonry."
When they eventually went their separate ways, having worked on such notable projects as the restoration of actress Jane Seymour's former house near Bath, James established Pack Masonry.
At first he was fixing for other companies but could see them keeping the 'management' fee and not filtering much of it down to him, so he decided he would be better off quoting for his own jobs.
His first was the development of a former Sea Cadet site in the centre of Bath. He had bought the Wells Wellcut by then to cut blocks, but his former piggery buildings were not big enough to accommodate comfortably the 300m2 of stone needed for the Sea Cadet site. That's when local contacts helped and he was able to move to Bradford Leigh.
Pack Masonry's sites are now overseen by Site Managers Pete Bagnall and Luke Sawyer.
Then, just when everything was developing nicely, along came the coronavirus pandemic. The day after the Prime Minister made his television appearance in March last year announcing the shut-down, Pack Masonry duly shut down. But having spent the next 48 hours assessing the situation and finding out what was permitted and what was not, James read it that work at the factory could continue. Production  resumed after two days of being closed with a skeleton crew of three people socially distancing in the yard.
James decided his premises were big enough to accommodate the Covid restrictions and keep the people working there safe with the extra hygiene precautions required. When restrictions were eased, the number of people working in the yard and offices returned to the normal 12.
Building at Holburne Park stopped during the first 2020 shut-down, but that gave Pack Masonry an opportunity to get ahead with production, so when sitework did resume the stone could be delivered immediately.
After that the workload continually increased. "We've had a crazy summer this year," says James. "We've just priced another large development project in Bath stone."
There is no shortage of stone, although James believes the shortages and price hikes of other materials and transport are starting to hit. But whatever the future brings, Pack Masonry is confident in its ability to adapt and prosper.
Below. In the yard are blocks of all the major Bath Stones and Portland limestone.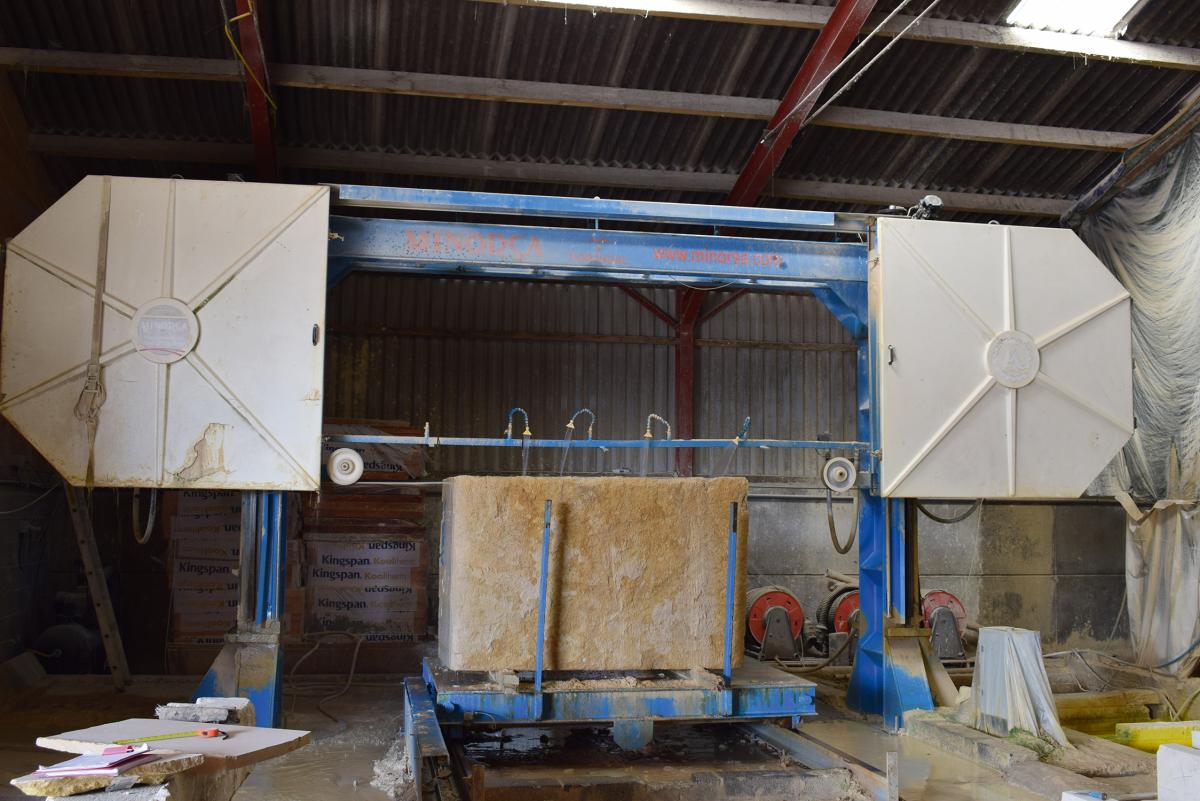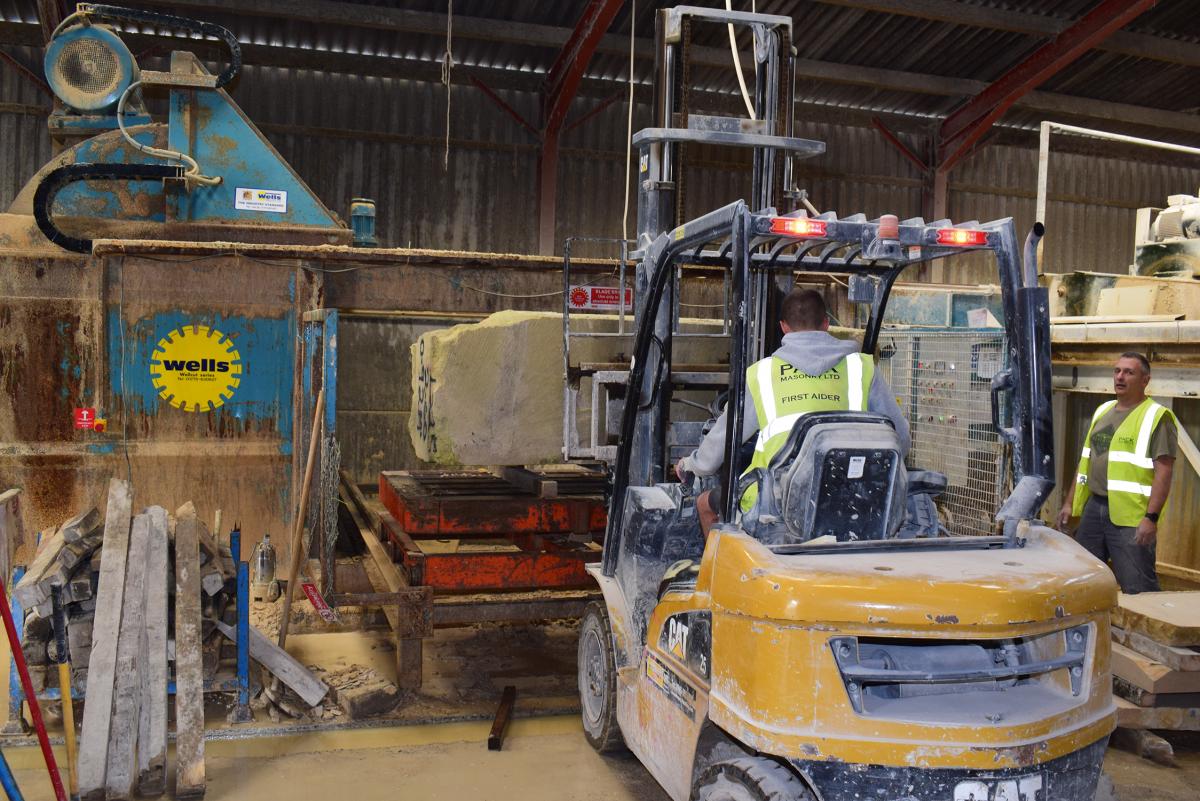 Above. The Minorsa wire saw and one of the Wells Wellcut saws.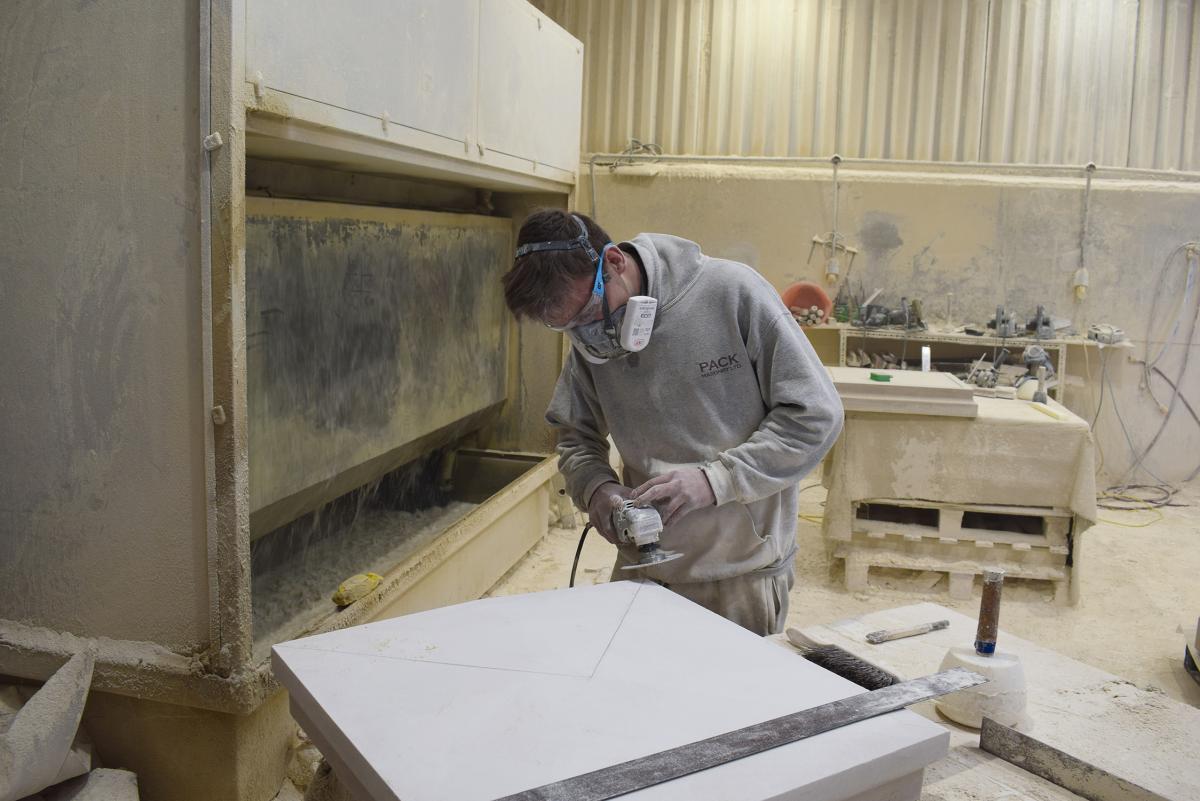 Above. Two of the banker masons are trainees attending Bath College, one on the new Trailblazer apprenticeship.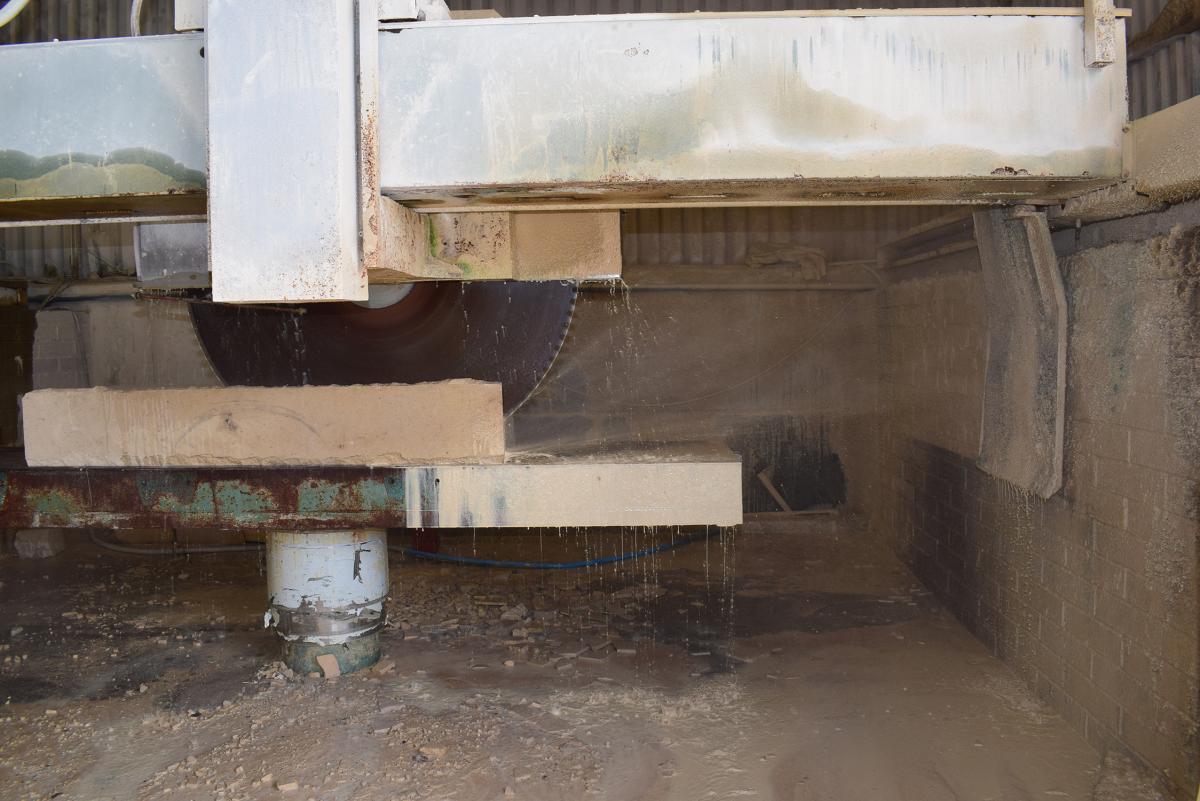 Above. One of the Terzago saws.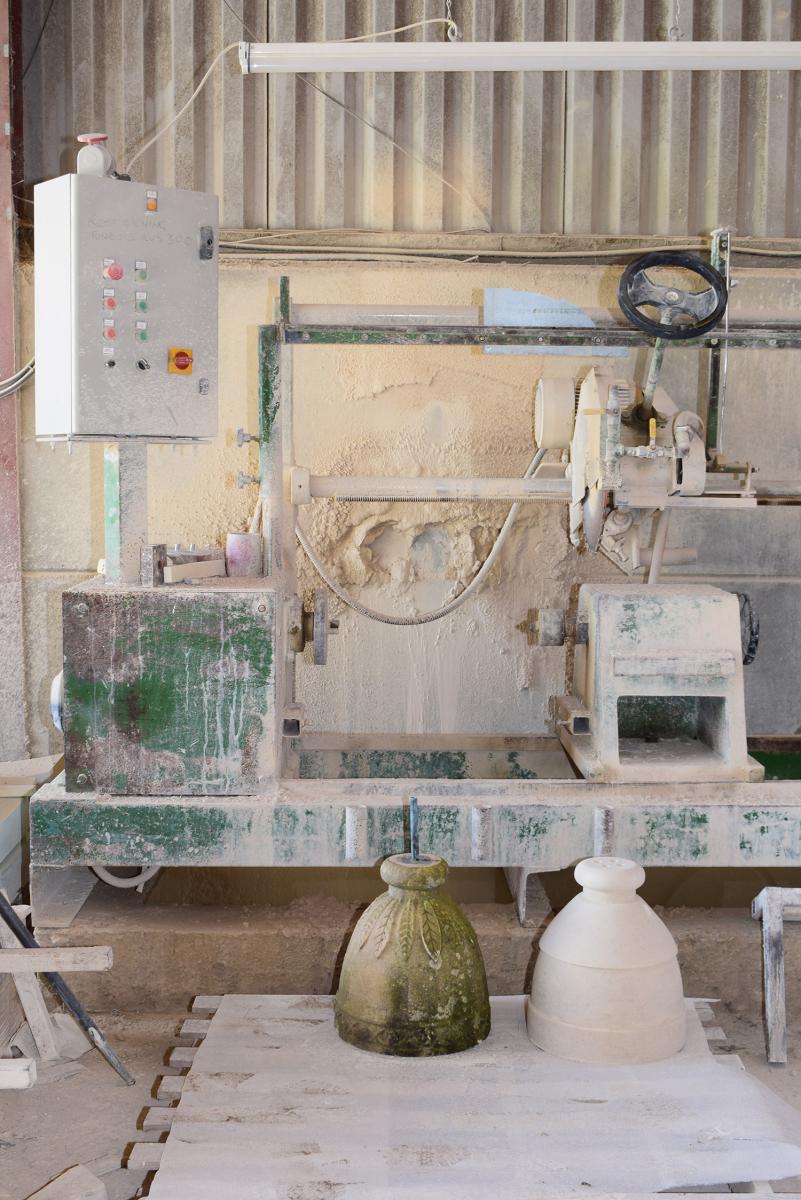 Above. The lathe, which has just produced a blank to be carved as a replacement lid for a funeral urn.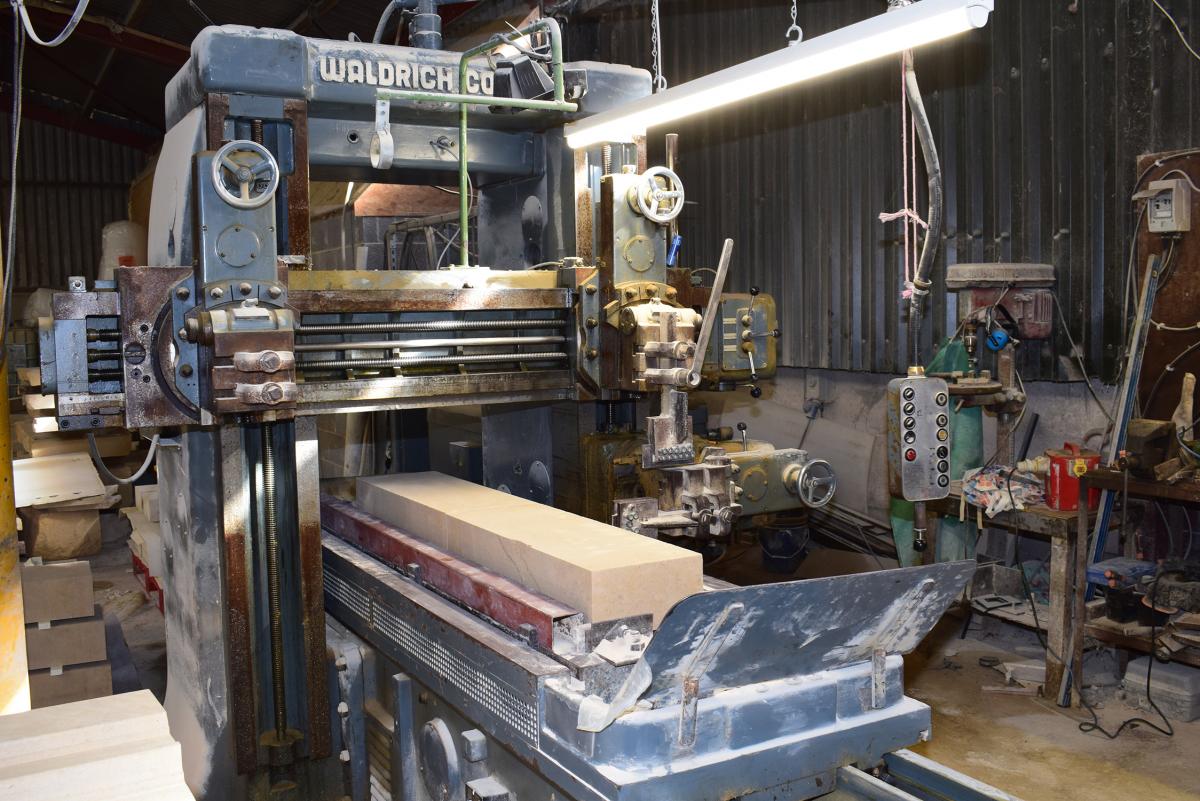 Above. The Waldrich Coburg planer used for producing lengths of mouldings.