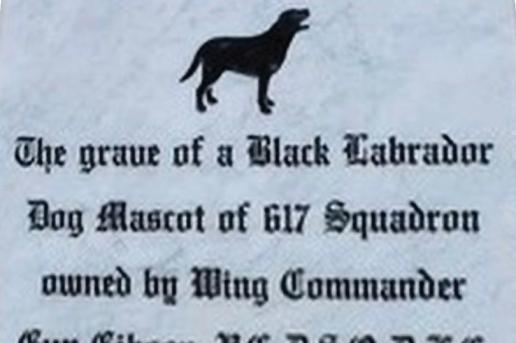 The new memorial produced by Draper Memorials, who are proud of their work.
You have to feel sorry for Ian Credland of Draper Memorials in Lincolnshire. He does a lot of work for the RAF, as he has done since 1974. In June he was asked to re-word the memorial to a dog owned by Wing Commander Guy Gibson of Dambusters fame to remove the dog's name because it is a racial slur to black people. Instead of the N-word, the dog is now simply a 'Black Labrador' on the memorial.
As the memorial is not available for public viewing the change might have gone unnoticed had Ian not put it on the company's social media platforms. "We are proud of what we do," he told NSS. The memorial faithfully reproduced the original in Carrara marble apart from the name change.
After the inevitable deluge of trolling and outrage, the post was removed.
Ian felt somewhat aggrieved. As he said, if he had not made the memorial someone else would have. And the RAF has been a good client of his over a long period of time, so he did not want to lose them.