Major changes as new Stone Industry Group formed from LPE Group
There are major changes at LPE Group (which took its name originally from the American Laser Products templaters it sells in Europe) with the Directors, Carl Sharkey and Simon Bradbury, splitting the business up with some share swaps. Simon Bradbury is re-branding as the Stone Industry Group (SiG) while Carl Sharkey's business retains the LPE name but changes what it stands for to Leading Production Equipment.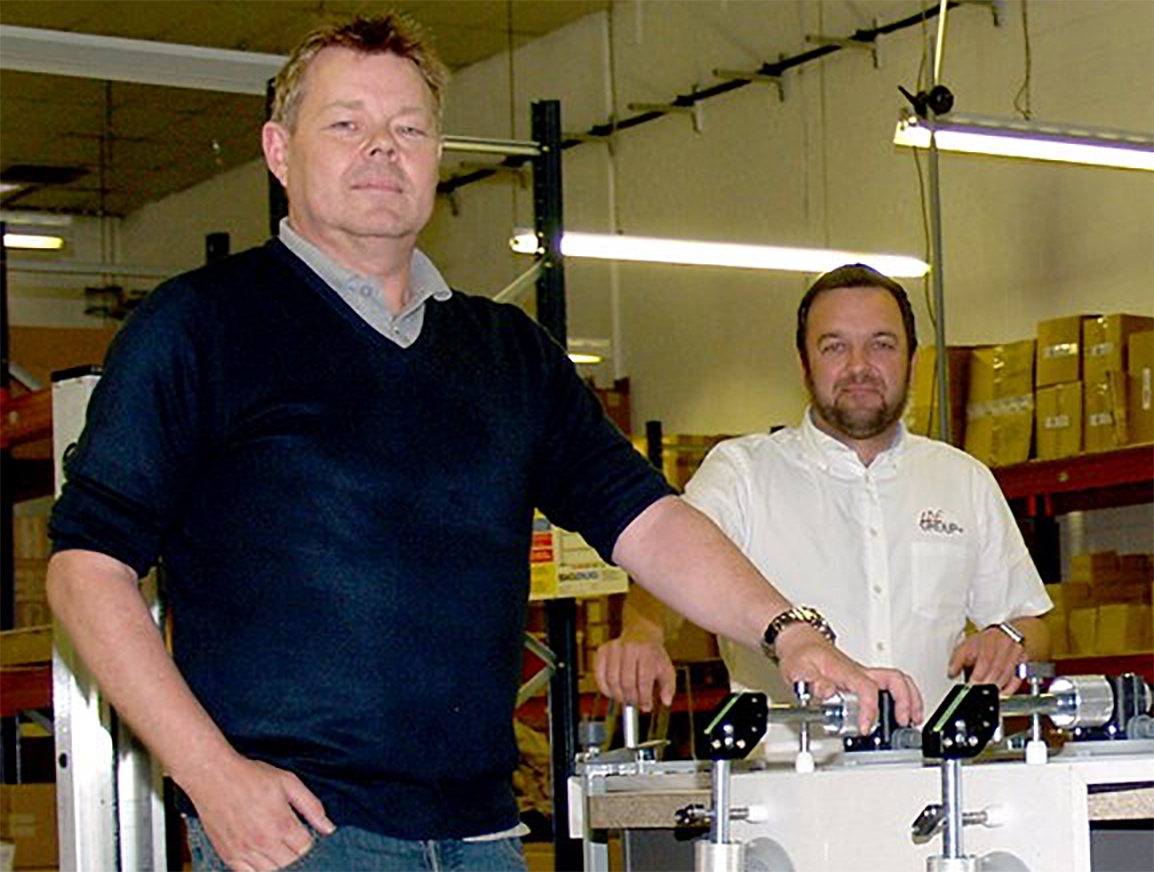 Simon Bradbury (left) and Carl Sharkey.
In Verona the LPE Group / Stone Industry Group is in Hall 4, stand G5, showing its laser digital templaters, Omni Cubed handling products, BVC suction cups, Slabsmith stock and production control system, Easy DXF digitising system and Clear Cut tool measuring kit, all of which were shown at the Natural Stone Show in London earlier this year. 
LPE will also be supporting Baca Systems (Hall 5, stand B8), which makes robot arm saws the LPE Group is now selling in the UK. Baca managed to get a stand of its own at Marmo+Mac a bit late in the day. 
Baca, like other companies LPE represents, is American. It produces the Robo Sawjet, which is a saw on the end of a Kuka robot arm. Robo Sawjet is fast, with high pressure coils on all six axes so the head, with its 26hp motor carrying a 400mm blade, speeds from cut to cut. The motor has variable speed so the machine can cut any material. And the high pressure control lines are accessible, so they can be replaced easily and quickly when necessary without having any casing to negotiate.
More than 350 of the saws have been sold in America and one is already working in England, at Natural Stone Surfaces in Chapel-en-le-Frith, Derbyshire. Two others have been ordered by other companies.
Dave Roy, the Production Director of Natural Stone Surfaces, a company started in 2001, is delighted with the  latest addition to his 5,000m2 state-of-the-art facility that employs 140 people – quite some expansion from the company's origins in a 300m2 unit employing four staff.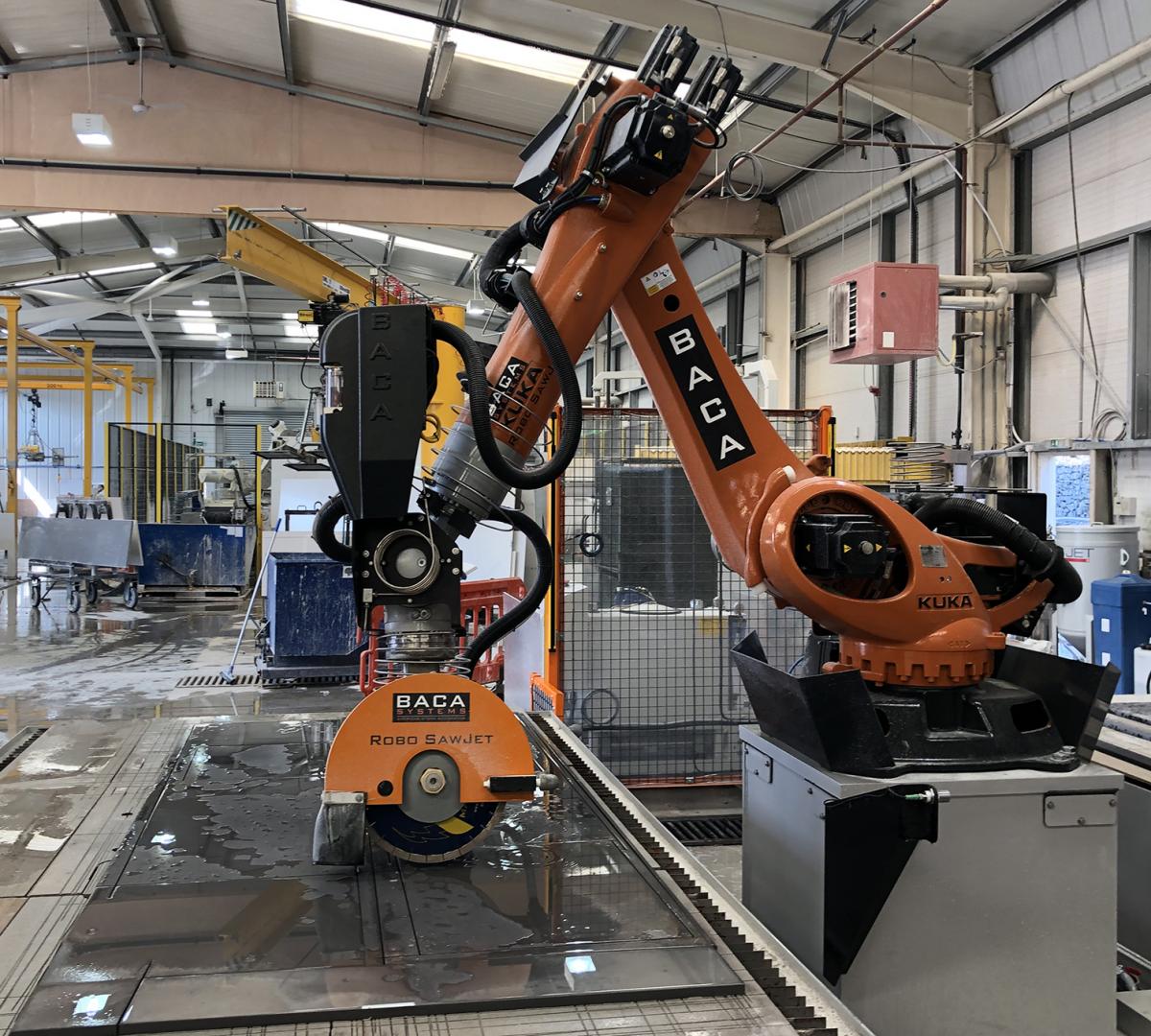 The Baca Robo Sawjet at Natural Stone Surfaces in Derbyshire.
Dave Roy told Natural Stone Specialist: "We were introduced to Baca by Carl Sharkey from LPE. Carl has been a trusted key supplier of machinery and 2D3D lasers to Natural Stone Surfaces for many years, so we had no hesitation investigating the Baca SawJet concept. A couple of meetings later we had done the deal!
"We have now been running our Baca Robo SawJet for several months. To say we are impressed would be a massive understatement. Our Baca SawJet is certainly one hell of a badass machine!  
"From our first contact with Baca all of their team, without exception, were fantastic in ensuring that our journey from initial consultation to installation was seamless. 
"Their team and their finished product have far exceeded our expectations. The installation guys assigned to us (Jim and Chris) were fantastic ambassadors to Baca, their attention to detail on the installation and their ability to communicate effectively for the training was refreshing to say the least.
"The aftercare has also been second to none with both Carl and Baca personnel being in regular contact. Not that the machine has needed any aftercare. The Baca SawJet has never let us down. Fingers crossed this will be the case for many years to come."
It might well be, because one of the selling points of the SawJet is that the Kuka KR210 robot should not need any maintenance for five years or 10,000 hours of operation. Even then it should only need an oil change.