Make the most of the digital age with Prodim
If there's one thing the coronavirus pandemic has taught us it is that this is without question the digital age. Even those who had previously eschewed the digital communication revolution discovered it did not take them long to pick it up.
The same revolution has taken place in stone processing workshops. And with CNC saws and workcentres filling stone processing workshop factories, digital templating has really come into its own.
The first widely adopted digital templating system used in the UK was the Proliner from Prodim – and it remains one of the top-selling systems preferred by many, not least among them worktop fabricators, for its accuracy, reliability and ease of use, thanks to having a physical, retractable cord that is an integral part of the hardware to take measurements.
The templates produced can be used to make 2D or 3D designs that can be immediately sent back to the office digitally without the templater having to make the journey. It is a simple matter to produce a DXF file to transfer the template to the CNC machine to work the stone.
The phenomenal and continuing increases in memory and processing speed of computers and digital communications that make continual improvements to programs possible make computerised production ever more productive and easy to use. That includes the latest developments to Prodim's digital templating solutions to eliminate all uncertainty before installation.

On-site measuring with the Proliner has always achieved accurate digital templates in the fastest and easiest way. These days the Prodim Factory software maintains the high quality and ease of use of the equipment while preparing the digital templates for production... and more.
The latest tools in the Prodim Factory software enable stone templaters and fabricators to design their projects while making use of insightful views in both 2D and 3D. The software helps ensure there are no human errors by alerting the operator when problems occur, such as a collision of solids. That's how the latest improvements help build confidence. And they have been made in response to customer feed-back. As Prodim says: "We listen, adapt and improve to provide the best digital templating flow."
Below are some of the latest developments made by Prodim:
Proliner 7X CS and Proliner 8X CS models have improved hardware and software that includes motion detection, so if the unit is accidentally moved or knocked it will sound a warning alarm.
Proliner Generation 4X software, introduces:
Dedicated templating apps with Proliner measurement settings and functionalities tuned for the specific job in hand
New editing features for easier alignment of cut-outs as well as a 'closed shape check' for production
Dedicated DXF output formats for CNC machinery
Prodim smartphone apps offer:
Proliner File Transfer to transfer files from the Proliner to an Android device via Bluetooth to send directly to the office, thus saving even more time
Proliner Update so the Proliner software can be updated anywhere, anytime
Proliner Remote so you can use a smartphone as the Proliner remote control

Prodim Factory software with new and improved features for the stone industry:
Improved CAD Drawing tool with the addition of helpful pop-up instructions, insightful design views in 2D/3D and the 'closed shape check'
The ability to construct multiple planes, create solids, and check and correct collisions in 2D/3D
New methods to build a digital slab inventory for engineered and natural stone
The ability to use digital slabs for matching and designing in 2D/3D
Export drawings, reports and production files with dedicated DXF output formats.
Take a free web demo
Seeing is believing, so contact Prodim for a free online demonstration to see the digital templating flow solution in action and learn how it can improve productivity in your business and help it to grow. Call 0031 492 57 90 50 or email [email protected].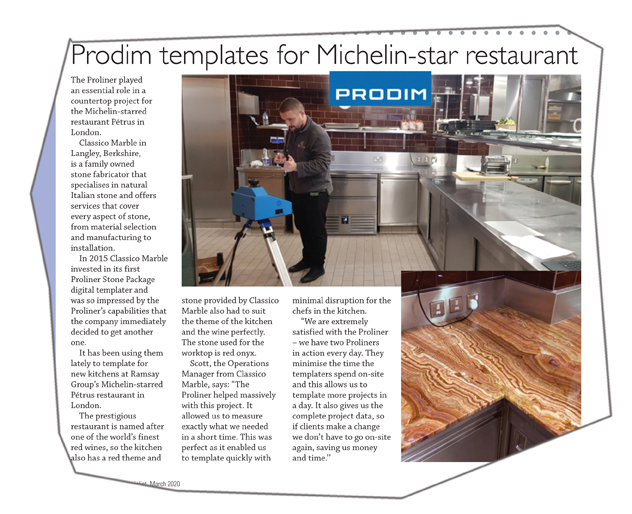 Flashback to NSS in March and the report on how Classico Marble in Langley, Berkshire, had used its Prodim Proliners for the countertop project at the Michelin-starred Pétrus restaurant in London. Classico invested in its first Proliner Stone Package in 2015 and was so impressed it immediately bought a second. Both are used daily. One aspect Operations Manager Scott particularly likes is that the Proliners provide complete project data, so if clients want to make a change, Classico does not have to revisit the site, saving time and money.