NeoGranite embarks on a lean journey into the future
Waste is time and time is expensive. That's what NeoGranite in West Bromwich learnt from employing consultants to help it with the design of its new factory. 
NeoGranite has doubled the size of its production area this year to more than 2,000m2 with the opening of a new, hi-tech factory in a unit next door to its existing building, aiming to increase capacity to 500 kitchen countertops per week.
Sales Director Wendy Anderson says the new factory makes NeoGranite the most technically advanced stone processing company in the UK. It's hard to disagree.
"But," says Wendy, "we still have a lot to learn. We're always open to change."
Before opening the new factory, NeoGranite's Managing Director, Marco Pernes, visited a company in Germany he found on the internet that was the most automated he could find.
"I spent a couple of days there," says Marco. "They were happy to talk to me. They are where we should be. They are making 800 kitchens a week."
When the new factory was being planned, the Finance Director, Kevin Corey, called in a top logistics consultant to help. "I wanted third party verification," he says.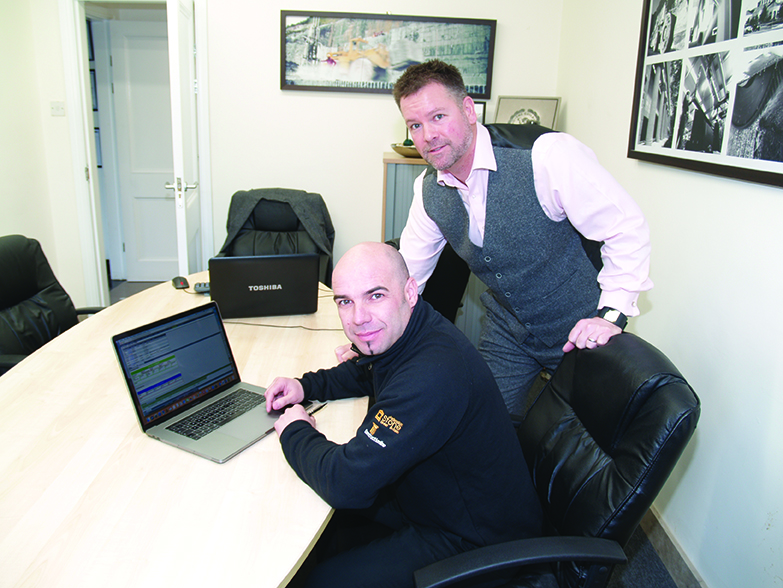 Marco Pernes (seated) and Kevin Corey.
He went straight to the top and engaged the same company that has advised Jaguar on its UK production. That has informed the layout and organisation of the factory and confirmed NeoGranite's decision to buy the most sophisticated and productive machinery it could.
Most of that machinery is from CMS Brembana and Bovone, brands supplied in the UK by the Stone & Glass Group. Included are two Brembana five-axes Sprints, that were developed in conjunction with NeoGranite with rotating tables (see video below), so one side is loaded/unloaded while the machine is producing the next piece on the other side.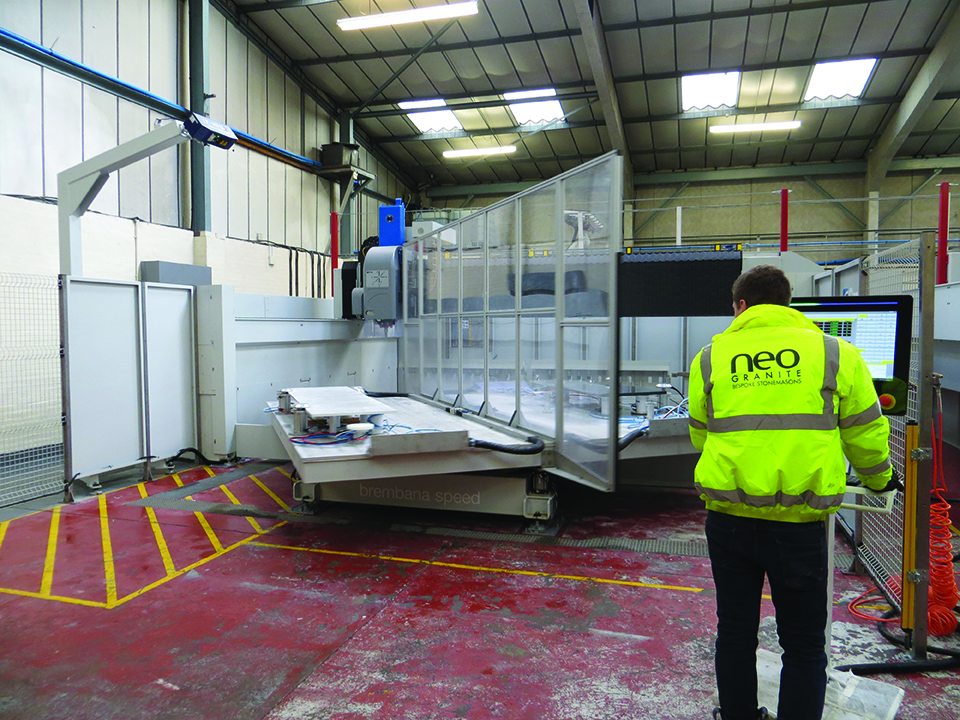 There are only four Brembana Sprint lines like this in the world and NeoGranite has two of them.
It also has two Bovone edge polishers, loaded and unloaded automatically by Robot arms. Marco Pernes says most of the work from the factory goes through these machines and with robots they can be left working overnight without human intervention.
The new machinery joins all the machinery NeoGranite has ever bought because its expansion has come from adding kit rather than replacing it. The first bridge saw Marco bought is still working for him.
At that time it was just him and the saw, which he calls Bridget – all his machinery has been given a name, which is written on it. In the factory, the machines are known by their names rather than what they are.
The saw, like Marco and all the people on the shop floor, comes from Portugal, where Marco joined his family in the marble industry when he was 14. He came to the UK in 2004 with the intention of staying for a year. But now he has now set up home here and is not planning to leave.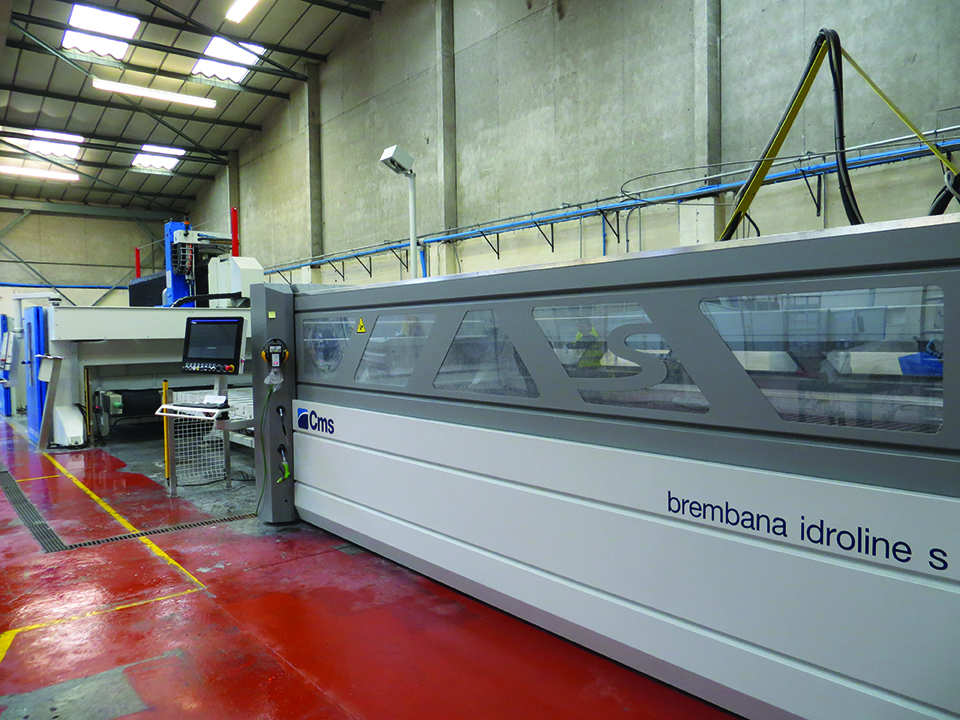 The new machinery also includes a Brembana Idroline waterjet cutter. It is not as fast as a bridge saw but plays its part in reducing waste – and reducing waste was an important lesson NeoGranite learnt from the consultants.
That's not just a question of reducing waste from materials, but also wasted time.
If finished stonework is not right, it takes time and materials to rectify or re-make it. Waste is time and time is expensive.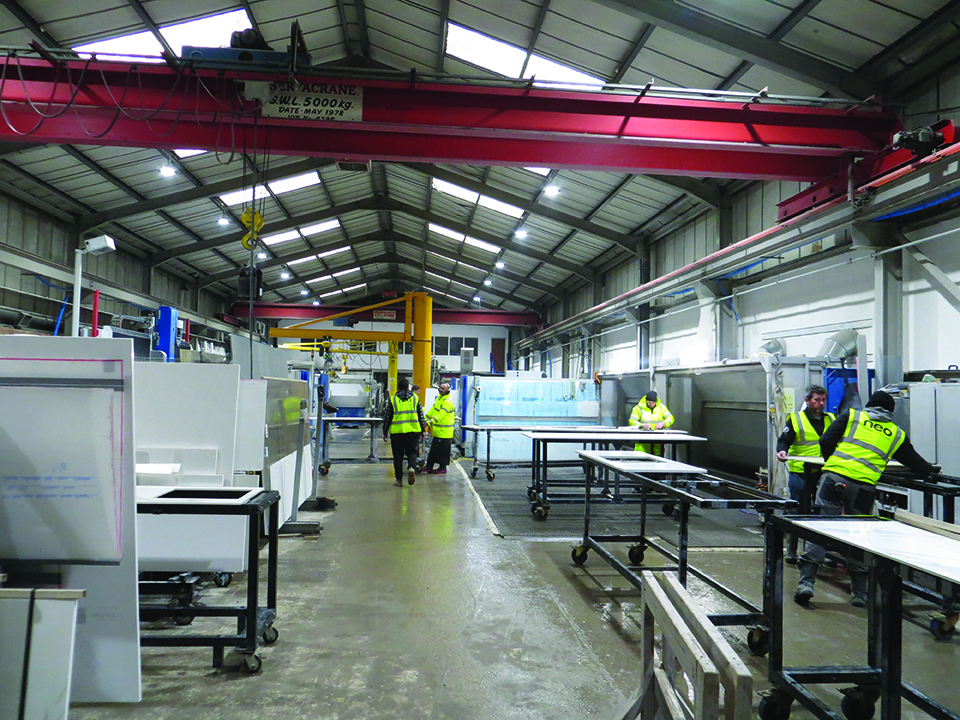 Handling and re-handling also wastes time, so the flow of work through the factories minimises handling and automates as much of what cannot be eliminated as possible.
Of course, one building rather than the two the company now occupies would be beneficial, as Marco appreciates, but he wants a couple of years of consolidation to pay for what he has before he thinks about moving.
Before the new factory opened, NeoGranite employed 24 people. It is increasing that by 50%. They are not all in the factory, though, as the company also needs more templaters and fixers.
Those out on the road all have their own iPads with live feed to each other and the head office. And, of course, they have digital templaters (they use Prodim, which Marco believes is quickest) although some trade customers still insist on Corex templates being produced.
Neo has found an increase in the number of fabricators using its services to make and supply ex-works, a formula that can provide a win-win if managed correctly.
It would be wrong to think of Neo as being all about volume countertops, as the original factory includes not only up-to-date machinery but also plenty of skilled masons.
This is all necessary as the new addition to Neo's portfolio is a boutique stone gallery in Clerkenwell, opening this month (June) under the name of Project Stone and headed by Sales Director Deane Thomas, who says it will be the pinnacle of his 30 years in the stone industry.
It will not display kitchen worktops. The aim is to show designer pieces, some conceived by American designers, that push the boundaries and challenge the concept of what can be achieved with stone. NeoGranite has the machinery, skilled masons and motivation necessary to do that.
The design elite in London come from all over the world and work without geographical boundaries. Neo has already produced some work for clients who wanted it for overseas projects and Marco sees no problem doing more of that.
"The UK market is not very forgiving. If you can work here you can work anywhere. Brexit has put the brakes on at the moment but once it's over I think everything is OK."
Some 40% of NeoGranite's turnover comes from domestic customers, mostly local to the factories in West Bromwich, where examples of the work the company can produce are displayed in a showroom area and where a new Cosentino Training Centre is being created, all directly adjacent to the factory premises.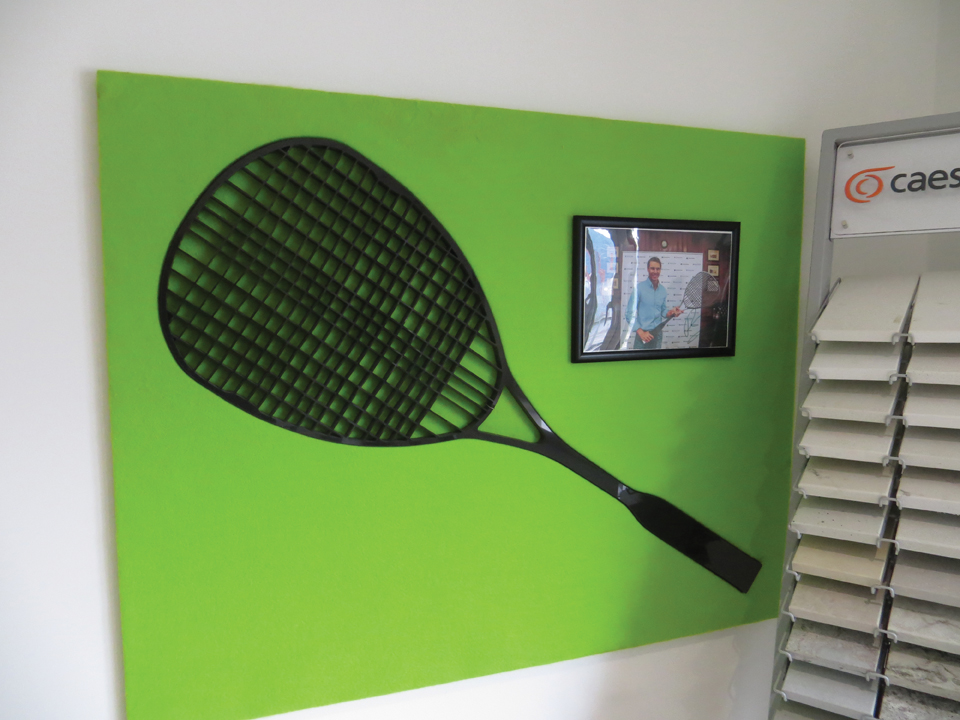 On a wall of the showroom is a giant tennis racket NeoGranite made for Cosentino in Dekton, Cosentino's ultradense sintered material, for a promotion with tennis star Rafael Nadal, whose tennis academy Cosentino sponsors.
NeoGranite is happier with Dekton these days because it believes it has learnt how to use it better than most, which gives it an edge.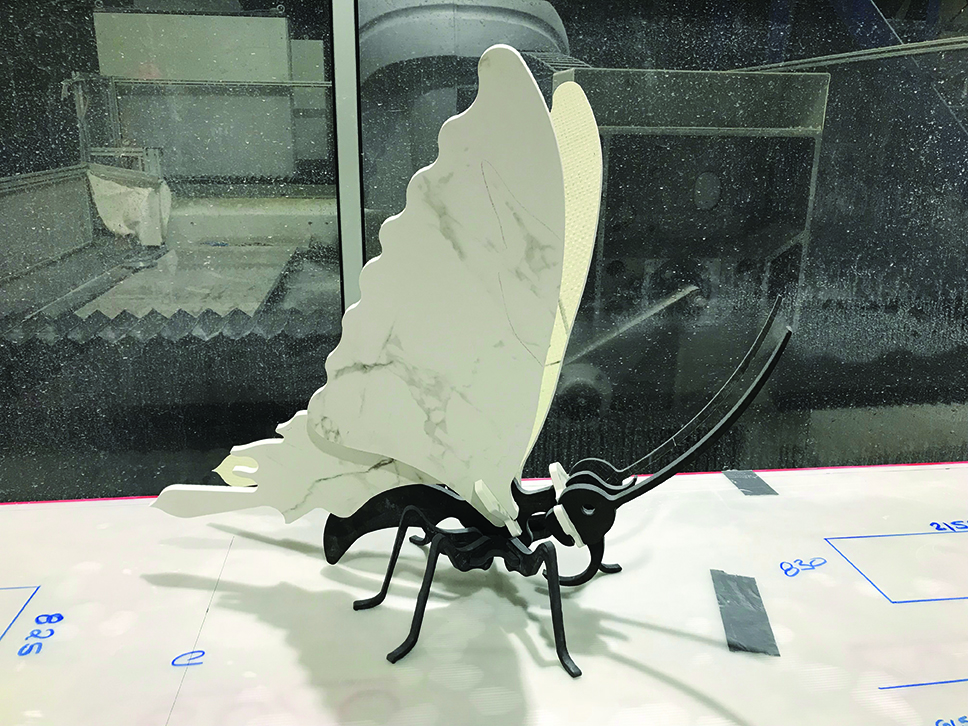 When NeoGranite first used Dekton the sawyer trying to get to grips with it worked through the night. He was cutting pieces to make a giant butterfly. "It was two-o-clock in the morning and he had just finished when a piece snapped. He started crying like a child," says Marco.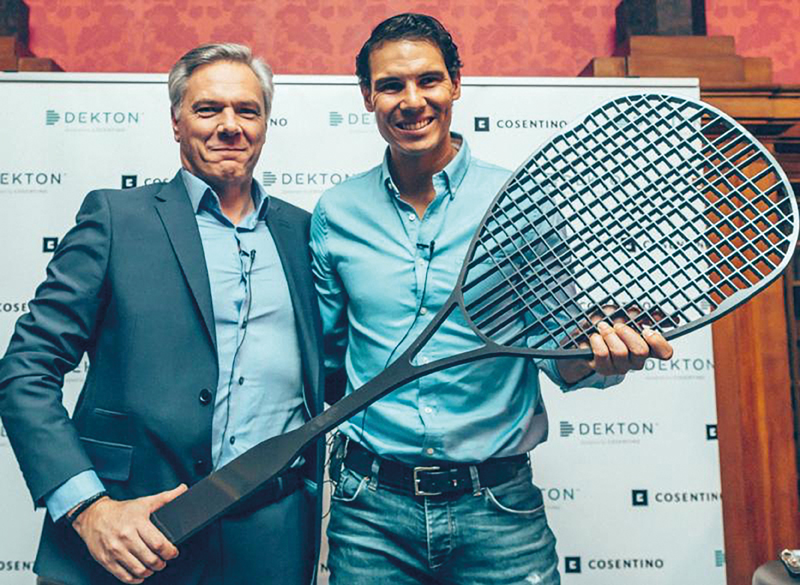 Even the racket being held by Rafael Nadal and Cosentino's UK Director, Paul Gidley, in the picture on the left was only achieved after two failures. "But we didn't give up – we never give up," says Marco.
It was four years ago that NeoGranite first started using Dekton. Since then it has learnt how to set up the cuts, the long and the short, in the right order. And one of the older CNCs is now used exclusively to cut the edges off the sintered stone to remove the stress from the slabs before any other work begins.
About 70% of NeoGranite's sales these days are of quartz, about 20% ceramics and sintered stone and the rest from natural stone, mostly granite. Marco does not anticipate sales of natural stone falling any further because he believes there will always be people who want the natural product, especially in the high end residential market.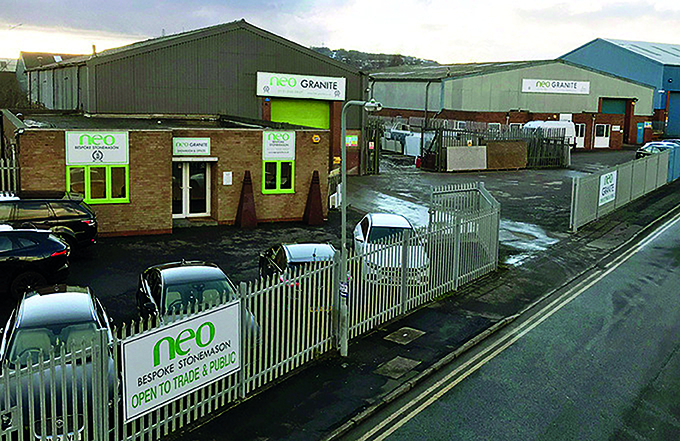 NeoGranite's current site is the third it has occupied in its relatively short life. It moved to its present site in 2017 and the new factory that came on stream in March resulted from buying a neighbouring unit.
Since NeoGranite embarked on its 'lean journey', following Japanese principles of 'just in time' manufacturing and creating the shortest flows of materials and information, Marco says the bottom line has shown a dramatic improvement. "We are now able to be super competitive," he says. Kevin adds: "It's about getting more out of existing resources."
Marco says for the customer it is about quality and delivering on promises. He sums it up like this: "We're building a reputation based upon under-committing then over-delivering."
Pictured below are some of NeoGranite's finished projects.