the Natural Stone Show / Hard Surfaces 2019 - PREVIEW
At the Natural Stone Show / Hard Surfaces 2019...
Stone from the UK and around the world
Latest developments in machinery, tools and consumables with working demonstrations
Co-locating with Hard Surfaces for the first time
More than 50 seminars exploring stone and hard surfaces
Architect & Designer Day (sponsored by Johnston Quarry Group) with associated CPD seminars hosted by international expert Vince Marazita
Treniq VIP buyers programme visits
Historic England Conservation Area supported by the Institute of Historic Building Conservation (IHBC), the Society for the Protection of Ancient Buildings (SPAB) and the English Stone Forum + IHBC CPD-accredited seminars
Hard Surfaces seminar programme chaired by journalist and blogger Joe Simpson
MaterialDistrict featuring 136 material innovations + Innovation Meets Design seminar by Material District founder and creative director Els Zijlstra
Stone Federation Village at the heart of the Show with CPD-accredited 'silent seminars' and Federation AGM
Stone Award and Tile Award Galleries
Looking for stone to set you apart from your rivals? Need to improve your productivity with the latest machinery? Want to see if there are better tools and consumables you could be using? Like to stay up to date with the industry you work in by networking? Then come along to the Natural Stone Show / Hard Surfaces exhibition in London at ExCeL from 30 April to 2 May.
If you have some clients you want to impress you might also like to invite them along for an enlightening day out when they can get a better understanding of your work and perhaps choose the materials they will use on their next project.
The natural stone market in the UK is now more than five-and-half times the size it was when the first Natural Stone Show was held in 1995 – 563% in 2017, according to the tax authority HMRC. That's way above inflation, which the Office for National Statistics says was 82.74% in that period.
But that is not the whole story, because a plethora of new sheet materials have augmented the stone processing industry's repertoire and helped it take even more market share from other sectors, particularly in interiors and especially since the turn of the millennium.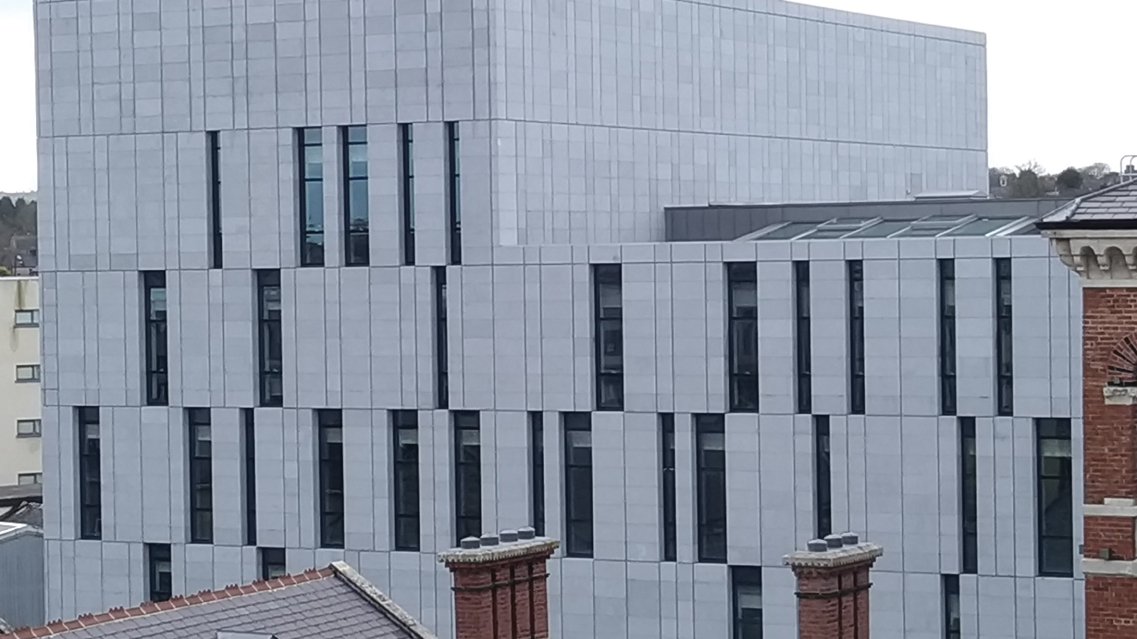 Fatima Stones' Irish Blue limestone on Cork Court House.
It is in recognition of the growing product portfolio of the stone industry that the Natural Stone Show this time, for the first time, co-locates with the new Hard Surfaces exhibition, where you will be able to see examples of the quartz, sintered stone and porcelain materials that have grown to become such a significant element of the products supplied by stone processors.
And if you want to know what's coming next, there is a feature in the show curated by MaterialDistrict, probably the World's leading match-making platform for innovative materials. It will display 135 surfaces, some of which could be the next big thing for the stone industry.
If you would like to know more about the developments that have led to this explosion of new materials, the lecture programme associated with the exhibitions includes a day devoted to them, chaired by journalist, blogger and self-confessed tile addict Joe Simpson.
If the new generation products don't float your boat, don't despair. The lecture programme also includes a day on the architectural use of stone and a day on the use of stone in conservation – and conservation has its own dedicated area of the Stone Show, with experts from Historic England, the Institute of Historic Building Conservation and SPAB (the Society for the Protection of Ancient Buildings) on hand to answer questions from visitors.
There will be more about the selection and use of natural stone on the stand of Stone Federation Great Britain, which, along with 25 of its members, has a 'Stone Village' as a central feature of the Natural Stone Show. The Federation is holding a series of CPD-accredited 'silent' lectures on its stand (given through headphones to cut out the background noise of the exhibition).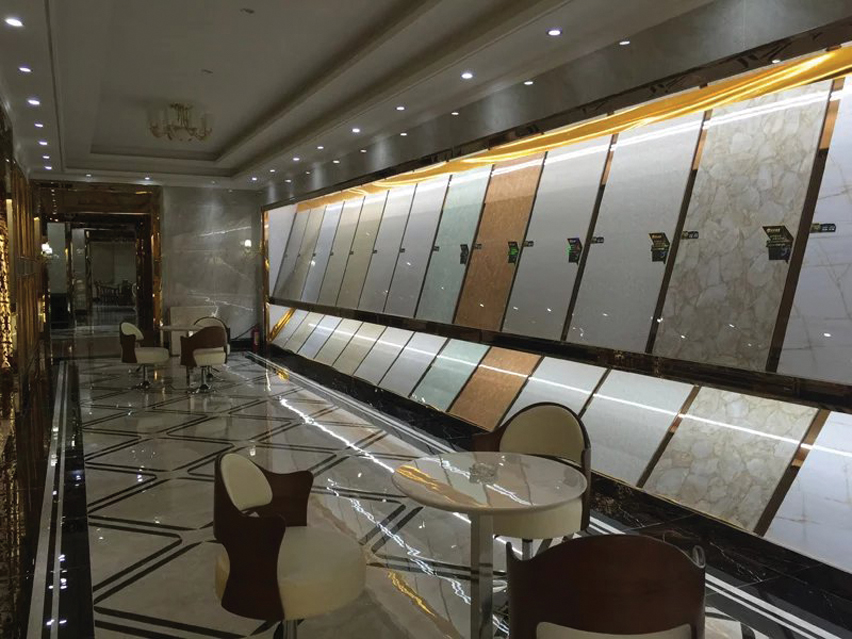 Stone from China. This is a display by Xiamen Kaili.
As well as the stone itself, the exhibition includes the machinery, tools and consumables that have played such a significant part in the growth of the stone industry by making it possible and affordable to fashion stone like never before.
The exponential growth of computer processing power and speed has revolutionised the way the industry works, although that has only been made possible by the no less significant development of diamond tooling, which has not only become appreciably more affordable but has also produced compound economies by working faster and producing better finishes, so less handwork is necessary.
Developments that have taken place in processing capability have even been instrumental in the development of the latest generation surfaces because without the machinery and tools available today, processing ultradense materials and sheet ceramics would be out of the question.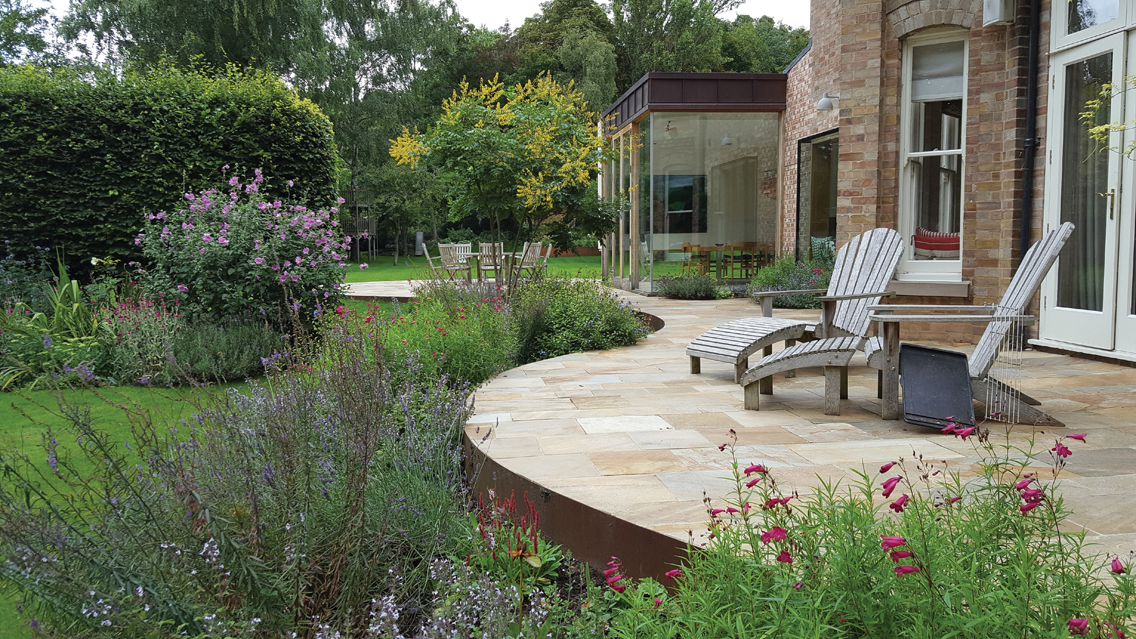 Donegal Quartzite sawn paving from McMonagle. 
So what exactly will the 200 or so exhibitors offer at the Natural Stone Show and Hard Surfaces this year? We asked them to let us know and, while there is not room to include everything, we hope the following will give you a good taste of what you can expect.
The full list of exhibitors with contact details, descriptions and stand numbers will be in the Official Show Catalogue that will be arriving with subscribers of Natural Stone Specialist magazine shortly and will also be available free to visitors at the Shows. And, of course, the information is online on the shows' websites – the URLs are below.
But for now, here's a look at what some of the exhibitors have told us about their plans to whet your appetite for a visit to ExCeL at the end of April / beginning of May. 
Chinese and Indian companies will be there to show you their ranges. It depends on the projects, but most years 75-80% of the stone used in the UK is imported and most of it comes from China and India.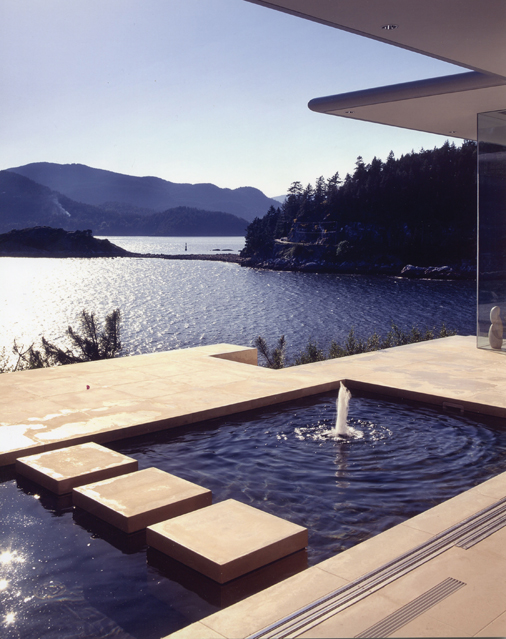 External paving for a swimming pool with a view in Santafiora stone.
India is the UK's biggest trading partner in stone but China comes a close second. Chinese companies exhibiting include Xiamen Ally Group, which sells granite, marble and quartz as kitchen countertops, bathroom vanity tops, tub surrounds, floor tiles, wall tiles and mosaics fabricated in its own factory.
Xiamen Current Commence Co specialises in high quality granite and quartz for worktops and cobbles, paving slabs and kerbs.
Fortune East says it is one of China's leading fabricators and exporters of building stones complying with all European quality standards. It offers granite, marble, quartz, artificial marble and more.
Xiamen New East Stone Company has its factory in Wuhan, near the new G603 (Hubei) quarry area. It offers blocks, slabs, tiles, mosaics, cut-to-size, water jet patterns, columns, vanity tops and counter tops.
QinHui Stone from Xiamen sells granite tombstones, countertops, tiles and slabs. It says it has advanced stone processing equipment and strict quality control and management systems.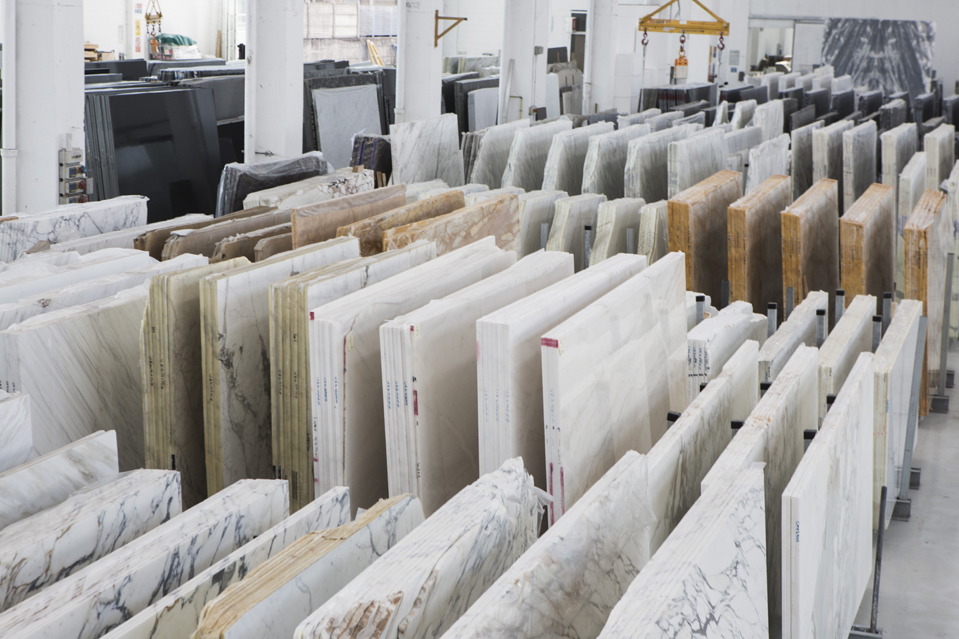 CMP Solmar holds substantial stocks in the UK at its warehouse in Hertfordshire.
Tony China Stone Trading Co is owned by Tony Wang, who has 10 years experience of supplying chinese natural stone products to Europe, America and Asia. He describes himself as an intermediary who can find you the best supplier with the most competitive price to save you money on stone sourced from China.
Xiamen Thinkrock Stone Import & Export Company supplies lightweight honeycomb-backed panels that it will manufacture and deliver to project requirements. It says it produces 600,000m2 of material a year.
There are more exhibitors from China, including Fujian XinAn Machinery Company, which is promoting its range of bridge saws, polishers, a wire saw and other stone processing machinery.
The Indians include companies such as B&H Stones London, Mehta Stone Consortium, Natural Stone Concepts and R R Paving Stones.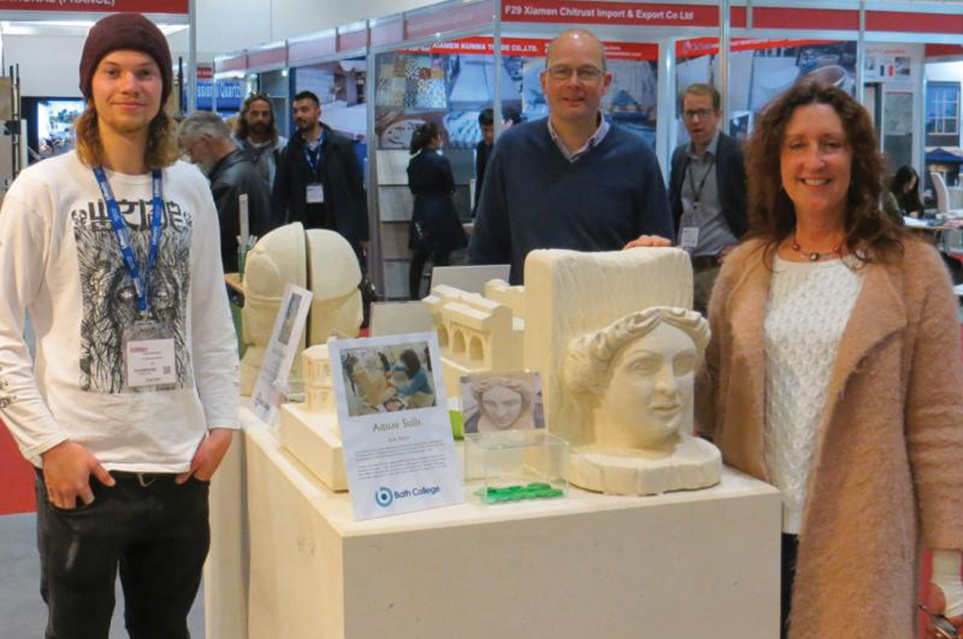 Who will win the Lovell carving competition? You decide.
But stone from Europe has enjoyed a renaissance of late, along with a growing appreciation in the UK of marble and of the shorter lead times of stone supplied from Europe compared with the Far East. Italy, Spain and Portugal have all enjoyed an increase in exports to the UK of marble, granite and quartzite.
One of the Portuguese companies exhibiting, Airemármores, a family company celebrating its 35th anniversary of quarrying and processing Portuguese limestones and marbles, has even joined Stone Federation Great Britain in order to help it penetrate the market in the UK and Ireland. It exports 90% of its stone to an ever growing and impressive list of international projects.
Fatima Stones is a Portuguese company that has been quarrying Irish Blue Limestone in Lecarrow, Co Roscommon, for the past five years. It has supplied the stone for many public and private buildings in the Irish Republic – Cork Courthouse, Limerick Courthouse, Drogheda Courthouse, Adare Manor Hotel – as well as many projects in Belgium and Holland, where the Irish stone is a perfect match for Belgian Blue.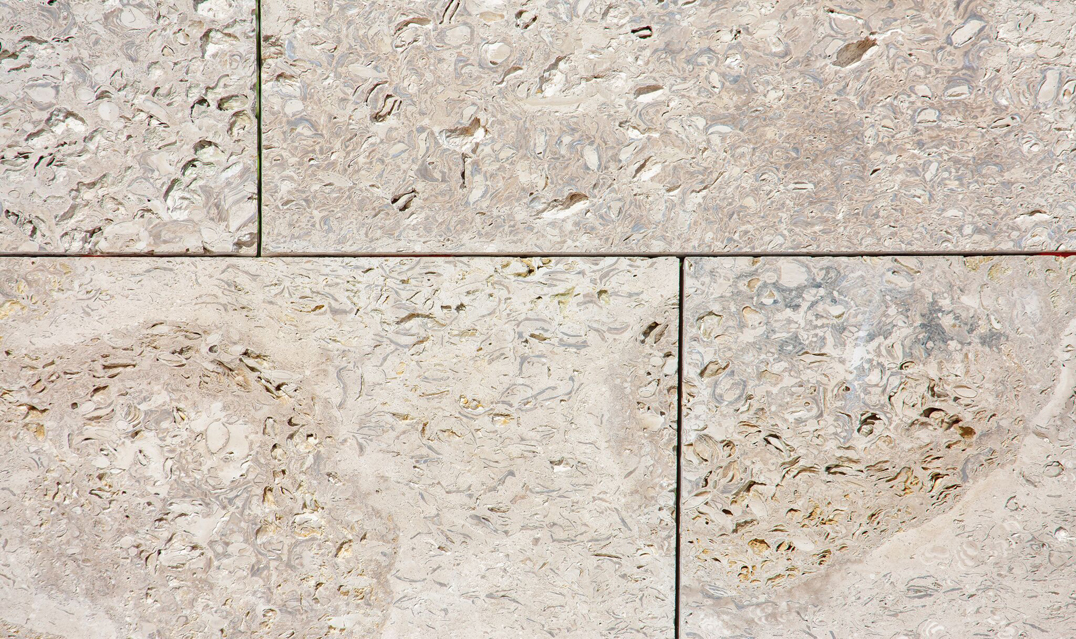 A new bed of Portland limestone called Ostrea Patch Reef from Albion Stone.
Fatima is exhibiting for the first time at the Natural Stone Show in London and has chosen to do so because the firm has lately made a multi-million Euro investment in production and now has the capacity to deliver two containers of finished product a day. The company says the investment has "prepared us for the future."
There will be more Irish stone from McMonagle Stone. Here it is the acclaimed Donegal Quartzite and Mountcharles Sandstone, both riven from the rugged landscape adjacent to Ireland's wild Atlantic coastline.
You will be able to see it in various forms, including paving and setts and the company's unique Stoneer Cladding, which is 30mm thick but has the look of full depth ashlar once built.
And if you are interested in cladding systems, Generix is also exhibiting its ventilated façade system that has been used with so many different kinds of stone.
Other Europeans include Marmi Colombare and Pietre Santafiora Srl from Italy, Grani Roc from Spain, Manologlou Marmi Granit from Greece and Stone Senses from Belgium. And there is a whole pavilion with a variety of Spanish stone producers.
Pietre Santafiora from Italy has been extracting and processing natural stones from its quarries in Tuscany for 40 years, with the stones being used for major construction projects worldwide. The company offers Santafiora, Lavagrigia and Lavarosa. 
Another Italian company is CMP Solmar, with its head quarters near Lake Como in the north of the country, although it also keeps stocks in the UK at its own warehouse in London Colney, Hertfordshire.
CMP Solmar supplies marble, granite and onyx slabs and also Okite quartz. At ExCeL it will be highlighting Valentine Grey and  bright, vibrant Valentine Red marble from Spain, on which it has worldwide exclusivity.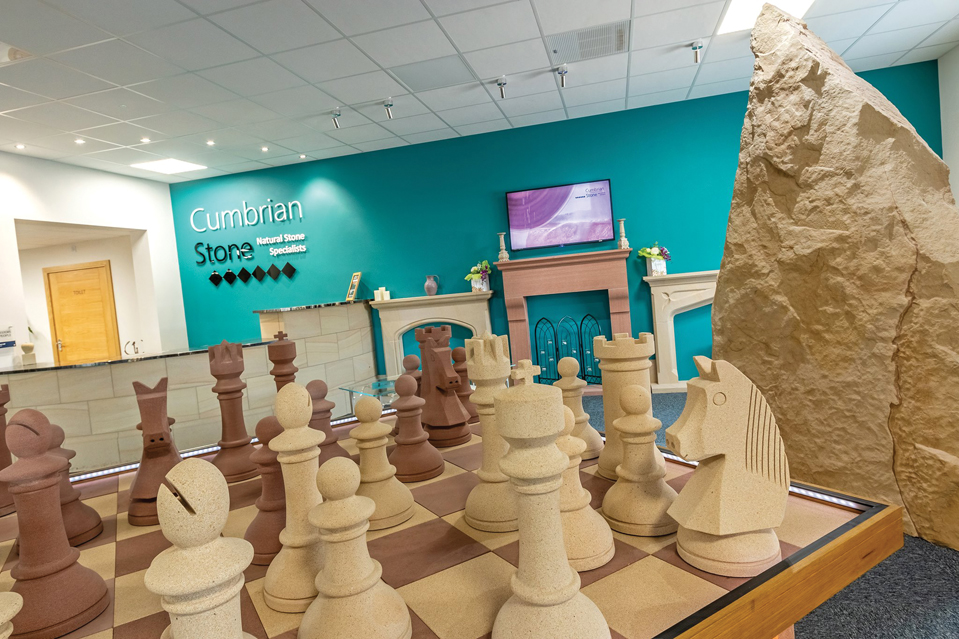 You will be able to take a virtual reality tour of Cumbrian Stone's showroom and factory on its stand at the Natural Stone Show.
As we reported in our first look at the Natural Stone Show / Hard Surfaces last month, there is also a lot of British stone on show as major stone suppliers such as Lovell, Johnston (which is sponsoring the Architect Day this time), Stamford, Albion and others start to flex their muscles.
They all have their stories to tell: Lovell and Johnston have moved into the Bath Stone market, Stamford Stone has become the sole supplier of Clipsham limestone since the previous Stone Show in London by buying a competitor and Albion has a new bed of Portland limestone that it will be showing in London for the first time.
Stamford Stone says natural stone has always been part of its family history and local heritage. The company is based just outside the picturesque stone town of Stamford on the famous Lincolnshire limestone belt. Stamford Stone operates three quarries – the 20-acre Clipsham Medwells Quarry, over a century old; the 30-acre Greetham quarry, which it took over in 2014; and now the Clipsham Quarry Company site that gives Stamford Stone its exclusivity on Clipsham limestone.
The company has supplied such iconic buildings as York Minster, Windsor Castle and the Houses of Parliament, as well as stone for housebuilding and a great many sympathetic restoration and extension projects.
Stamford Stone is also proud to have picked up the accolades in the Repair & Restoration Interiors and Interiors categories of the Natural Stone Awards last year for, respectively, a private residence at Swaffham Bulbeck and the Nazrin Shah Theatre Centre at Worcester College, Oxford.
"We're an innovative company with traditional values and we're excited to be bringing our beautiful natural stone to the Natural Stone Show for the very first time," says Stamford Stone.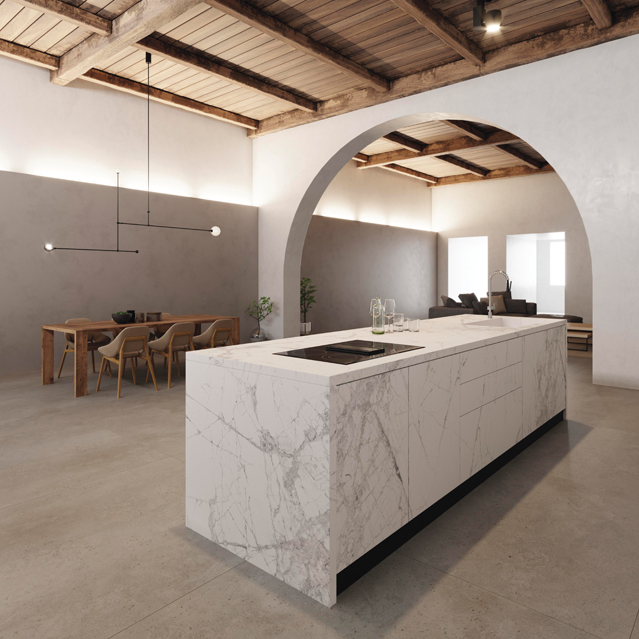 An island of Cervino Satin, one of this year's new finishes in Ceralsio from CRL Stone.
Cumbrian Stone will be showcasing its range of 10 British sandstones. Centrepiece of the stand will be a hand finished chess set, which can normally be seen in the company's showroom in Penrith.
Visitors to the show will even be able to have a look around that showroom and take an intimate, behind the scenes tour of the company's production facilities thanks to a virtual reality guided tour.
For those who prefer the real world, the company will be taking bookings on its stand for a half day CPD and factory tour in Penrith. And all visitors to the stand will be given a free copy of Natural Stone – A Buyer's Guide, an educational publication for anyone considering using natural stone on their next project.
On the Lovell Stone Group stand there will be a selection of carvings by City of Bath College students in the company's Hartham Park Bath Stone. Visitors will be invited to vote for their favourite carving and the one that receives the most votes will earn the student who carved it a cash prize.
People love hard surfaces. Horizontal and vertical, inside and out. And they love the look of stone. But one of stone's selling points is the variation with which nature alone can imbue it over eons in the making – and that is not always what a customer wants. So mankind has come up with more consistent alternatives for stone processors to transform into the worktops, floors, wall linings, showers, paving... and a whole lot more of the products they make.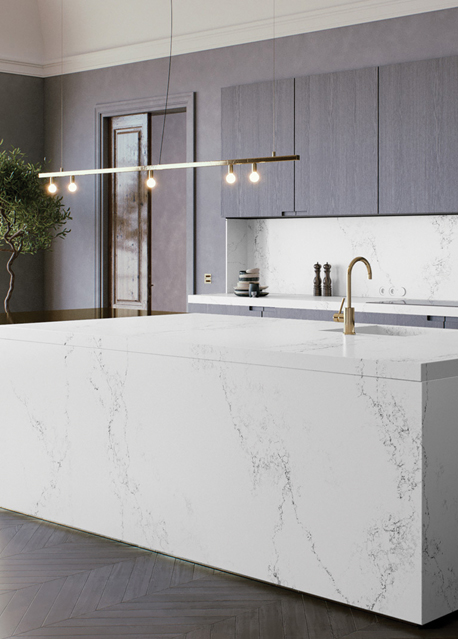 Empira White is the latest launch from quartz company Caesarstone.
Quartz, sintered ultradense surfaces, large format porcelain... they have greatly expanded the stone industry's market share of surfaces and they continue to do so, notably in worktops. After all, who really wants plastic faced chipboard?
The range of hard surfaces also goes beyond the stone industry into tiling, where clay, glass and metal are appearing as additions to traditional ceramic and stone.
These products have also expanded the aesthetic of interior design (in particular, but also cladding and hard landscaping) as they do not have to look like stone.
They have tended to emulate stone because of the popularity of that look and because the minerals used to make the materials are often basically stone. But now they are taking on the look of wood, iron and steel, concrete and other materials, especially with a distressed, industrial appearance that has found a ready market among the urban chic.
One of the companies offering such looks at ExCeL is Caesarstone, which is fighting hard to become the UK's market leader in quartz, distributing its ranges from its warehouse in Enfield. Jon Stanley, Vice-President Marketing, says: "Caesarstone will showcase its wide range of quartz surfaces and finishes at the Show, including the award winning Metropolitan Collection.
"In addition, we will showcase our latest marble-inspired product, Empira White." Empira White was Launched on 13 February. 
"Marble continues to be one of the most desired stone styles for UK kitchens and bathrooms, demonstrated by the ever growing interest in our Supernatural and Ultranatural collections. We expect this trend to continue through 2019 and into 2020."
Another company, CRL Stone, will be showing its complete range of more than 75 colours of Ceralsio ceramic and CRL Quartz surfaces, including 12 new colours – six Ceralsio colours that are out now and six CRL Quartz colours being launched this month  (March) – all inspired by natural marble or incorporating the growing trend for industrial designs. There will also be an area of the stand displaying the company's stone tools and accessories, the complete range of which is laid out in a new 132-page catalogue.
Italian company Ceramica Fondovalle will show its My Top brand of large format 12mm and 20mm thick slabs.
MyTop porcelain stoneware surfaces already include 12mm thick slabs, non-straightened and mesh-mounted, and now will also include 20mm thick slabs with marble veining running through the whole thickness in the 1.63m x 3.24m slabs. This is achieved thanks to the Naturtech technology installed on the Continua-Plus line allowing sophisticated material mixes managed by Easy Color Boost and Freestile technologies created by LB.
Fondovalle says the technical and aesthetic qualities of porcelain stoneware have been boosted to challenge natural materials as worktops, bespoke baths, washbasins, sinks, table tops, cupboard doors, container lids and custom furnishings.
Brazilian company Guidoni has two new quarries and the 'Emerald Green' pictured here is one of the stones from them.
Baked Earth offers natural, handmade terracotta tiles made in its family-owned factory. Baked Earth can supply just a few meters or a container load and the tiles are suitable for outdoor and indoor use – and are ideal with underfloor heating.
Ceramiche Keope is thinking big. It is introducing Emotions, a new range of extra large porcelain stoneware slabs.
These are surfaces that capture the elegance of marble, the warmth of wood and the urban appeal of concrete and resin. There are 15 collections offering more than 50 colours in five finishes and three thicknesses (6mm, 12mm and 20mm). Slab sizes are 1.2m x 2.4m, 1.2m x 1.2m, 3.0m x 2.4m and the latest 1.2m x 2.78m.
The new PLUS extra large slip resistant slabs are specifically for indoor-outdoor applications to maintain the visual aesthetic and functional continuity between interiors and exteriors.
Chinese company Zhongguanshi Stone Industry Company supplies quartz, glass and composite engineered marble kitchen countertops.
Quartz company Quartzforms introduces a whole new solar system of marble-effect quartz with its Planet collection. There's Mercury, Venus, Mars, Jupiter, Saturn, Neptune and Pluto. There is no Uranus or Earth. The standard size is 3.05m x 1.4m in 12mm, 20mm and 30mm thicknesses, with jumbo slabs of 3.2m x 1.64m in 20mm and 30mm thicknesses.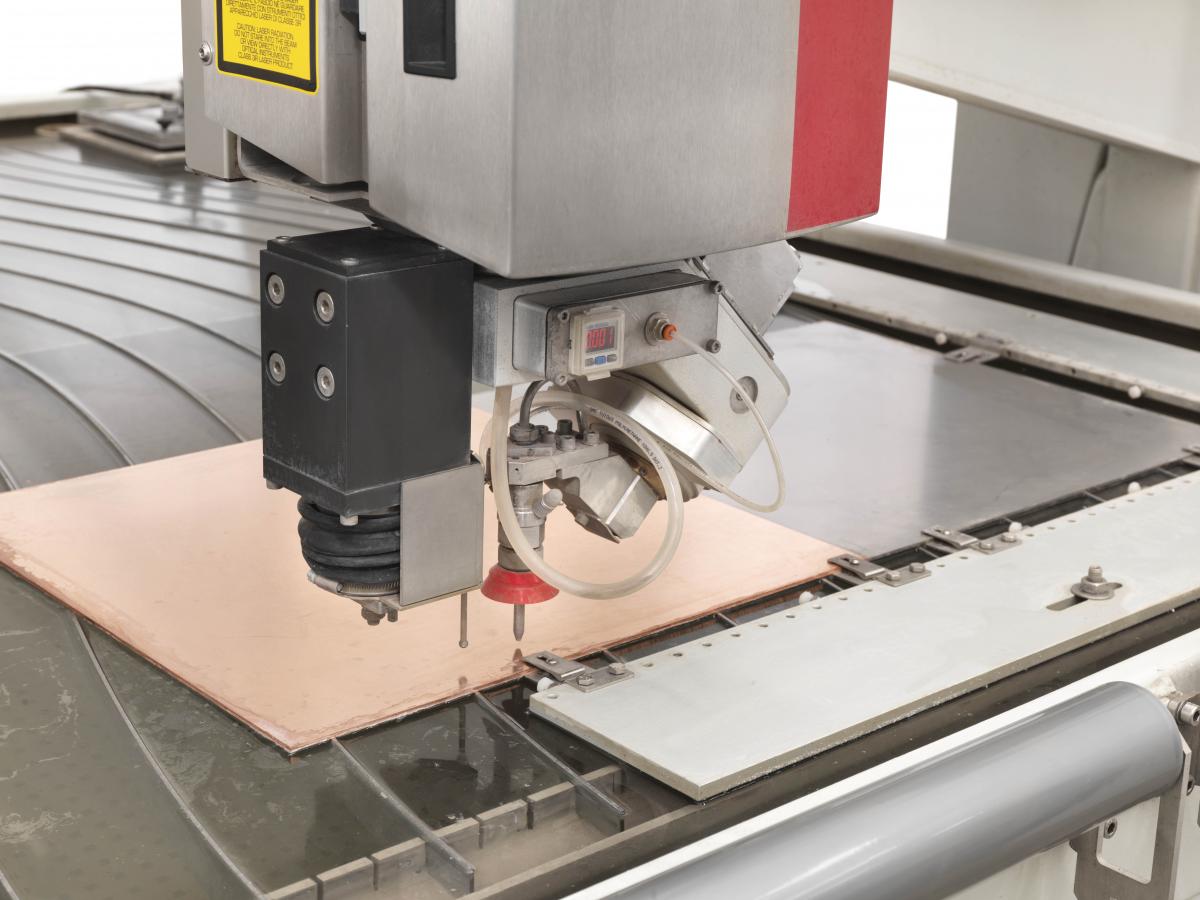 This is the Intermac Primus waterjet cutter that will be on the Intermac stand. But the company also promises something completely new for cutting ceramics.
If you are looking to gain an edge on competitors by investing in new machinery, tools or consumables, the Stone Show offers you a chance to make a hands-on assessment of what's available from leading suppliers.
In machinery there are manufacturers exhibiting on their own behalf, such as Intermac, Breton, Prussiani and Sasso (although Sasso will be supported by UK agent Pat Sharkey Engineering), alongside major UK distributors such as D Zambelis (Omag, Achilli), Stone Equipment International (MarmoMeccanica, Emmedue, Ghines), LPE Group (Laser Products, Fab King, Omni Cubed, Comandulli, Turrini Claudio), On Point (Thibaut, Manzelli and ECS eich) and others.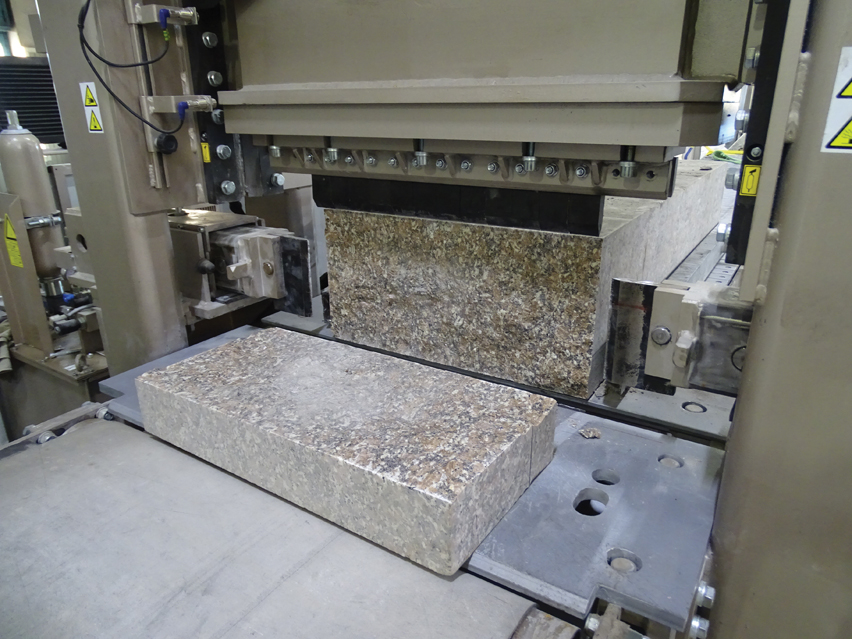 Gestra, from the Czech Republic, introduces its stone machinery, including this cropper.
Intermac UK promises something completely new, never before seen at the UK Stone Show from any company. Chris Arend, Commercial Director, says: "We are very excited to be demonstrating something new to the sector, but we're going to be keeping it under wraps until closer to the show."
It will take its place alongside the Intermac Master CNC workcentre and Primus waterjet, Donatoni Macchine bridge saw and Montresor Edge polisher that give Intermac the complete stone processing package.
And if you are getting involved in the Internet of Things (IoT), you might like to look at Intermac's Sophia, which provides a comprehensive overview of machine performance, with remote diagnostics, machine stoppage analysis, and fault prevention. It promises the next big jump in productivity improvement.
The Intermac stand will have something for everyone, from those looking to purchase their first CNC machine to those seeking technology fully capable of integration in large production lines.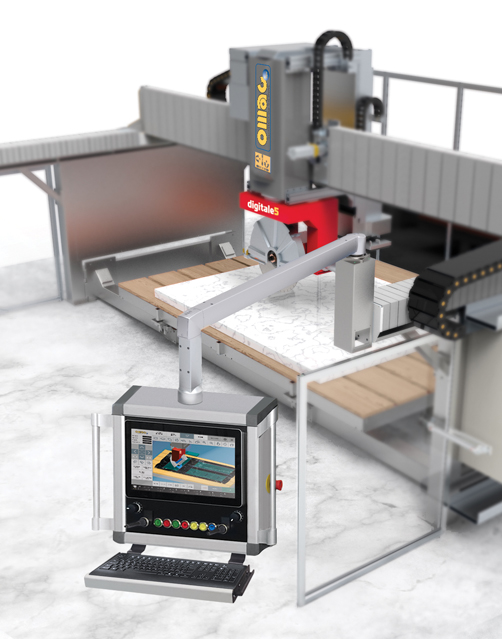 There will be more high technology on the D Zambelis stand, where products sold by Zambelis will be shown working on a screen wall. Stone CNC machine giant Omag, which Zambelis represents in the UK, has had the same sort of arrangement on its stand at the Italian exhibition of Marmo+Mac in Verona for the past couple of years.
The latest from Omag is the Digitale5. You will be able to see it on the D Zambelis stand.
There will, however, be an Omag Digitale5 five axes bridge saw / milling machine on the stand for you to see. It is making its debut at the London Stone Show following its introduction last year.
There will be a wide range of handling equipment to help keep you safe and healthy and the tools, chemicals and abrasives that D Zambelis sells, including the new Odyssey blades – a unique 125mm blade that can be used to dry cut all natural stones, quartz and the new ultradense sintered materials.
You will even be able to enjoy an ice cream from the Gelato trolley, although you might be asked to make a donation to MoonWalk London 2019 that D Zambelis is supporting to help fight breast cancer.
On Point will be showing a Thibaut five axes CNC Saw and machining centre, a water treatment system and waterwall from Eich, plus vacuum lifts from Manzelli, including two new versions being introduced at the Show.
On Point does not want to say too much in advance, but promises it will be well worth your while to visit the stand, where there will also be plenty of food!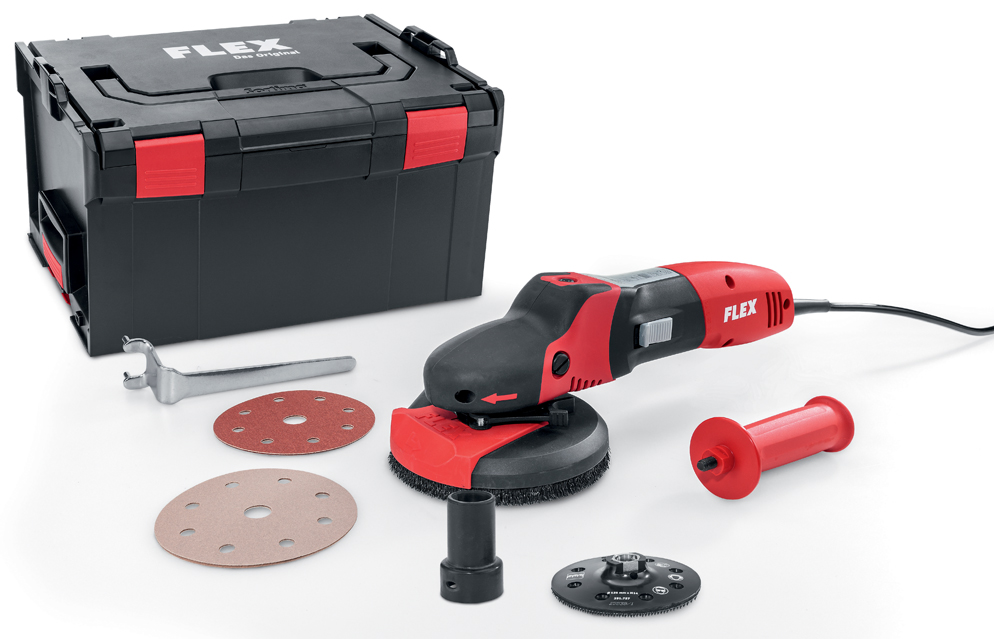 You will find everything you want from power tools tough enough for the stone industry on the Flex stand.
Making a move into the UK market is Gestra from the Czech Republic. It has been making stone splitters (guillotines) since 1992, and with demand for sawn and split walling growing along with the increase in housebuilding, it sees an opportunity to expand into the UK. As well as the croppers,  it offers conveyors and its own novel manipulator for handling the stones.
There will be all kinds of tools to choose from at ExCeL, from hand tools to diamond machine tools. At the diamond end of the market, tool manufacturers have been concentrating on developments to make it easier to process ultradense sintered stone and porcelain.
Diatex, for example, will be showing its Poker line of long-lasting diamond blades for cutting jumbo sintered and ceramic slabs rapidly and cleanly. The company says it has tested its blades successfully on Dekton, Neolith, Laminam, Porcelain Gres, Techlam, Sapienstone and Maxfine, among others.
Each blade comes with what is called a D-Code (it is a QR code) that can be read by a smartphone or tablet to access information about the correct speeds and feed rates for the material being cut.
Vetro Tooling, with its Kline range of CNC tooling, is a relative newcomer to the stone industry. Hannah, the company's digital guru, will be on the stand to demonstrate its new website – and if she convinces you to sign up to it at the Show there's the promise of some superb, show-specific savings.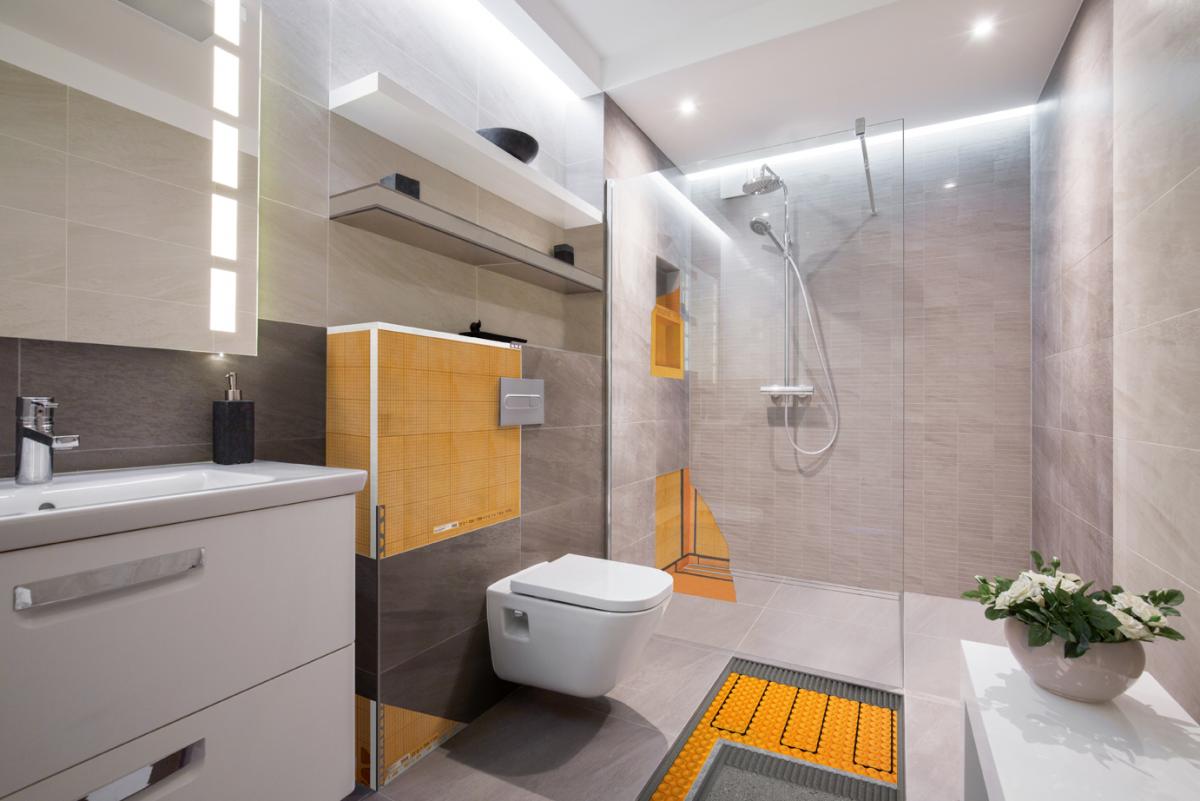 On the Schlüter stand, cut-away sections will reveal the Schlüter products.
Schlüter plans to demonstrate its all-round prowess, not just of­ products but also of applications and services.
The Coalville-based UK operation of the internationally renowned company is selective in the national exhibitions it attends, but has identified Hard Surfaces, in conjunction with the Natural Stone Show, as an excellent match for its solutions and sphere of work.
It promises a unique stand with a functioning wetroom as a focal point, tiles strategically cut-away to reveal Schlüter's solutions for substrates, waterproofing, uncoupling, under-surface heating, drainage and profiles.
Latest additions to the company's portfolio will include the Schlüter-Troba-Level, a pedestal system for loose-lay tile and pavers, and the Schlüter-Shelf range of designer shelving solutions.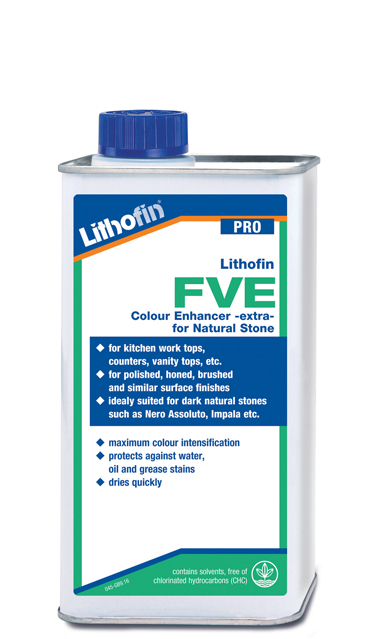 Lithofin is introducing Lithofin FVE, a colour enhancer for worktops, vanity tops, floors and smaller areas of stone such as shower trays, being added to more than 60 advanced cleaning, protecting and maintenance products at the show.
The intense depth of colour produced by Lithofin FVE, even on today's textured surfaces or slip-resistant floors, needs to be seen to be believed. Ans at the same time as bringing out the colour of the stone it also gives it water and oil repellence.
New from Lithofin is the FVE colour enhancer that joins more than 60 other products on the company's stand.
When you visit the stand, don't forget to hand in your Golden Ticket that will be on the front of the Natural Stone Show / Hard Surfaces Official Catalogue, available at the Show and sent in advance to subscribers to the Natural Stone Specialist magazine. With the Golden Ticket you will be able to enter the Lithofin Prize Draw that has more than 50 prizes on offer.
On the Dry Treat stand, three new products will be introduced.
Stain Proof PQ has been specifically designed for the latest generation of porcelain, engineered stone and quartz surfaces. It seals micro pores to create a unique molecular bond for long lasting protection against oil and water stains.
Then there is Stain Proof WB, a single application waterborne sealer with the same attributes as Stain Proof PQ and the same 10-year warranty, but for use with stone and masonry surfaces.
The third product is Stone & Masonry Cleaner. This is for removing stubborn organic stains and deeply embedded dirt in porous stone. It is a deep penetrating foam that lifts dirt from the stone, and with a pH of 7.5 it can be safely used on most substrates, even historic structures. It is ready to use and works quickly – a true labour saver.