See stone-only garden sculpture at On Form in Oxfordshire
On Form, staged every other year at Asthall Manor in Burford, Oxfordshire, is dedicated exclusively to stone sculpture - sculpture you are encouraged to touch, because part of the beauty of carved stone is that it's tactile.
This year's month-long On Form comes to an end on Sunday (10 July). Normally, most of the works on show are sold.
Set in the 10-acre garden of the house Rosie Pearson bought and renovated, as well as spilling into three rooms of the house itself and a church in the garden, On Form has grown steadily since it started in 2002 and this year features 268 works by 39 artists, chosen by Rosie and her fellow curator of the exhibition, Anna Greenacre, for their distinctive and different styles, so tere hsould be something to interest everyone, whatever your taste in sculpture.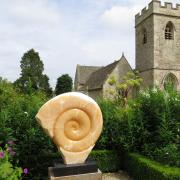 The pieces were mostly from the UK, although there were also works from artists from Norway, Switzerland, Italy and the Netherlands. And, for the first time, half (almost) of the sculptors are women.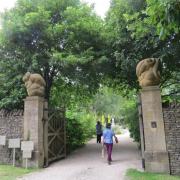 On Form started after Rosie had commissioned a pair of gateposts from Anthony Turner, whose work is once again included in the exhbition this year. Since then the selling exhibition has featured some of the greatest contemporary names in stone sculpture – this year's include Peter Randall-Page, Paul Vanstone, Lucy Unwin, Alasdair Thomson, Julie Vance… well, they are all listed with biographies on the On Form website (www.onformsculpture.co.uk).
Some of those exhibiting this year would have been familiar to the On Form faithful, others returned after an absence and some were new to the event.
This year's exhibition expanded into the landscape, with a wavy path of sculpture leading you across the watermeadow to the banks of the River Windrush. And the Ballroom of Asthall Manor, which has for years provided an elegant but minimalist interior gallery at On Form, had a new look and an introduction to the Living with Sculpture project.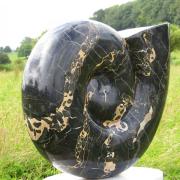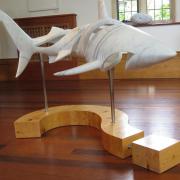 Living with Sculpture is a collaboration with designer and antiques dealer Toby Lorford. It provides visual inspiration for living with sculpture at home, where works of art can rest as easily on a kitchen table as on a grand plinth. The aim is to challenge the idea of displaying art in a gallery and turn sculpture instead into an object of love.