Dry stone waller appears in McVitie's new ad campaign
Tara Whitcher, a dry stone waller from the Peak District is showcasing her craft as part of a new advertising campaign from McVitie's. The advert airs for the first time today [4 October] and features legendary news anchor and journalist Sir Trevor McDonald, who returns to the news desk for the first time since he retired 15 years ago.
Shot on location in Glossop close to Tara's hometown, the campaign entitled There Is Only One playfully addresses how McVitie's – famed for some of Britain best-loved biscuits including Digestives and Rich Tea – is often copied but never equalled and was created by agency TBWA\London. The soundtrack is provided by Brit-award winner, Little Simz.
In the tongue-in-cheek advert, Tara can be see constructing a dry stone wall with Sir Trevor narrating "Great Wall Jill…but there's only one great one," before an image of the Great Wall of China appears in the next frame.
Since Tara set up her Instagram account, Stone Waller Girl, she has amassed countless followers and speaks openly about the challenges women in the stone industry face.
She said: "I've never done anything like this before and wanted to push myself before I turned 30. Everyone on the shoot was so lovely and it only happened because of two amazing women I am connected with on Instagram who I've still not even met in real life – Kristie de Garis and Elizabeth the Wild Woman Shepherdess. They encouraged me to make a 30 second audition clip and I couldn't believe it when I found out I got the part".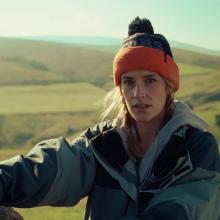 The ad will will run until 11 November across TV, cinema, and online and can also be viewed below: