Tarkett helps define the Nocturnal Animals eating experience
Eating out has become a national pass-time for a sizeable section of society. But who wants dinner in a boring old restaurant when you can have a whole eating experience served up by a celebrity chef.
One such eating experience is offered by chef Alex Claridge in Birmingham. He has become a celebrity for apparently having a fun take on food and by lambasting his customers for their bad manners in not turning up to eat it after booking a table. He will be at the BBC Good Food exhibition in the NEC in Birmingham 13-16 June.
In fact, he now has two eating experiences to excite you because he has just opened a second. It is called Nocturnal Animals and is in the Bennett's Hill district of Birmingham. It joins his original restaurant, The Wilderness, in the city's jewellery quarter.
For Nocturnal Animals, Alex craved an outlandish yet opulent concept, according to restaurant design specialist Faber Design, who delivered it for him using Tarkett's iD Mixonomi and Acczent Excellence 80 flooring ranges in a funky Herringbone pattern to set the tone, thanks to Tarkett's bespoke Floorcraft service.
According to its website, Nocturnal Animals is a playful and provocative venue. It was inspired by a music playlist titled 'All out 80s', which Alex Claridge encouraged Faber to listen to so that it might inform the designers' creative processes.
Faber's response has been to conjure up a combination of neon-infused, eighties-inspired glamour and tongue-in-cheek branding.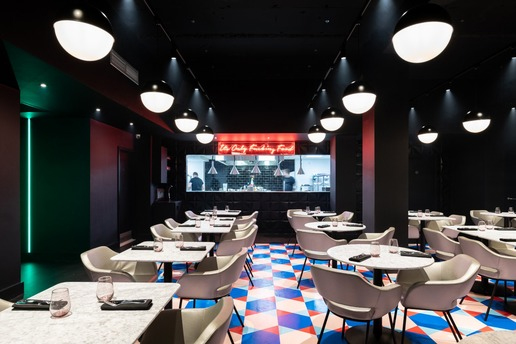 The unorthodox layout of the flooring is in black and white Acczent Excellence 80 tiles, custom cut by Tarkett's Floorcraft and laid in a chevron pattern. In the main restaurant, iD Mixonomi's Aqua, Drage, Cobalt and Strawberry are laid out in a geometric, harlequin design.
Tony Matter, creative director at Faber, is pleased with the colour blocking, vivid graphic prints, postmodernist silhouetted furniture and kitsch neon signage.
 "Design projects don't come much better than this," he says. "The strong eighties aesthetic is so current right now, and working with someone like Alex Claridge who has such creative flair meant we could really produce something special.
"We knew the flooring should play a major part in the interior direction, drawing visitors in, and Tarkett's cutting-edge ranges were the perfect solution. Not only do they have the trend-led style we were seeking, but the functional qualities are second to none."