Consumables: Getting stuck into stone
Adhesives, grouts, sealers, colour enhancers and the various other consumables used with stone continue to evolve. Here, some of the suppliers talk about their latest developments.
Kerakoll's latest launch is Fugabella Color. This is a resin-cement hybrid colour grout and sealant range formulated with a mix of natural binders that have been hybridised with resin and other additives to give lower volatile organic compound (VOC) content for reduced environmental impact than cement or epoxy-resin grouts.
The 50 colours have been chosen by Italian architect and designer Piero Lissoni to be the most relevant for modern interiors, from neutrals and pastels to vibrant solids. They will, says Kerakoll, tone harmoniously with the wide range of stones popularly in use today.
Fugabella Color follows the launch of Kerakoll's award-winning Biogel adhesive range in 2017. The range consists of Biogel No Limits (standard set C2 TE S1), Biogel Revolution (rapid set C2 FTE S1) and Biogel Extreme (R2), a two part hybrid gel. They can all be used on any substrate with any type of tile, including natural stone, internally and externally. The gel technology uses natural polymers with a low environmental impact and virtually VOCs.
The adhesives stay the same consistency as when first mixed even after a long period in the bucket. The mix does not shrink and it is softer and easier to work with. The consistency means it wets the entire tile as well as the substrate, giving an excellent bond and superior performance. It has high-grab with no slip and the inclusion of resins mean it has a high shear strength, so it can be used on deformable substrates.
Similar technology has been applied to Fugabella Color, which can be used in pretty much any temperature or environmental condition anyone is going to work or live in, so the same grout can be used for every application.
It can be mixed to a consistency that suits the fixer and the site – and with low levels of water absorption, it is like the Biogel adhesive with the consistency remaining constant in the bucket over time, so there's no danger of colour variations as a result of adding more water.
Whatever consistency you choose, the mix is always light and easy to work and remains 'sticky' on the trowel. The colours won't fade as resin-cement grout is not subject to salt or lime efflorescence, there are low levels of joint staining, and it has complete protection from common acids and superior resistance to abrasion compared with cementitious grouts.
Fugabella Color is accompanied by a co-ordinating range of silicone sealants in the same colours. These develop a high degree of adhesion so the seal stays watertight even on joints subject to deformation.
Safe, simple to choose, easy to use and effective. That's Kerakoll's aim. It has made it its mission to design products that are as safe as possible for both the environment and human health without compromising performance – and to make choosing the products as simple as it can be.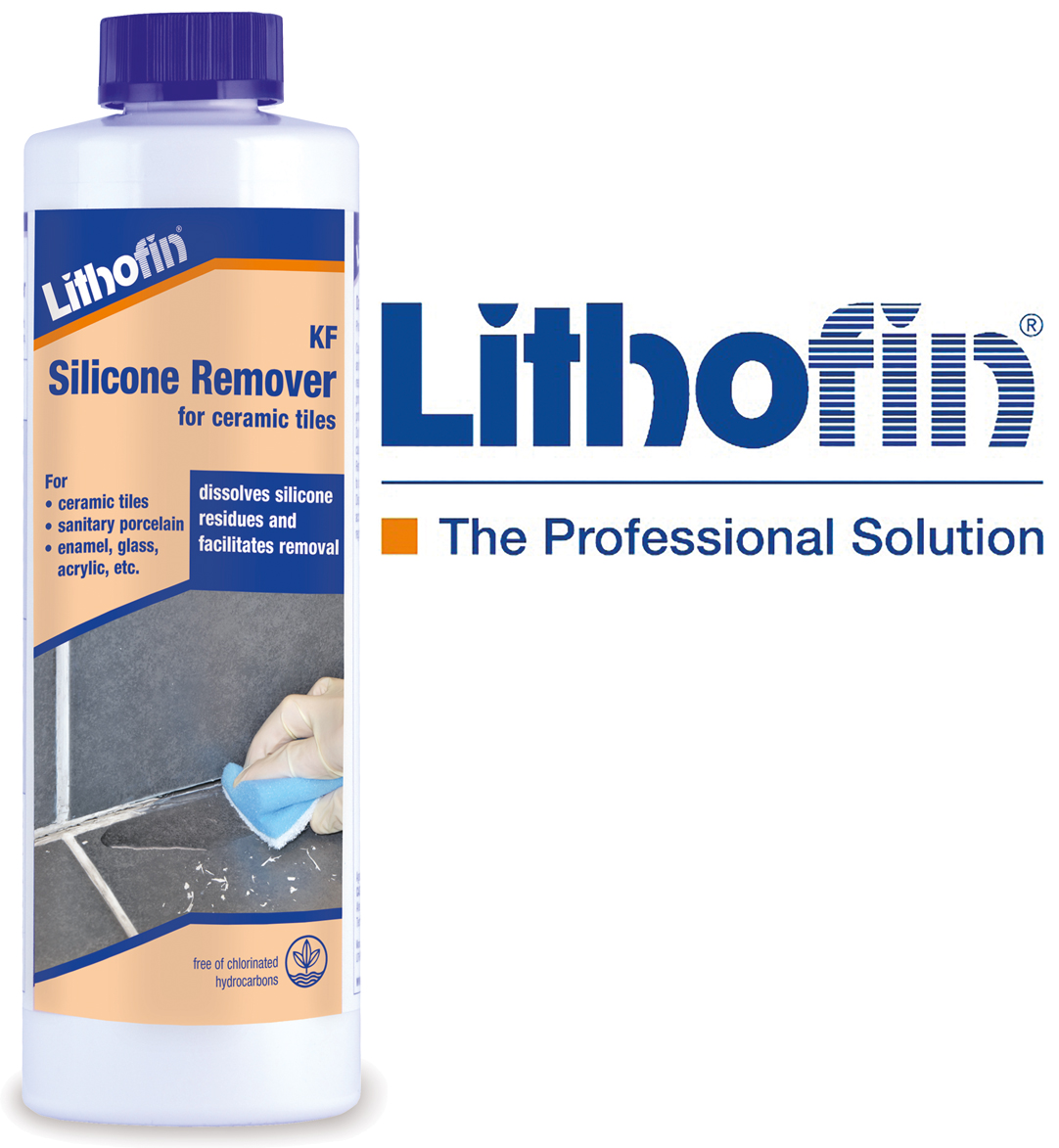 Lithofin is the market leading brand in the industry with its scientifically advanced products that clean, protect and maintain stone and tiled surfaces.
Casdron Enterprises is the sole agent for the Lithofin range in the UK and has an experienced team of technical advisors on hand to assist with any product queries and problem solving. Its Technical Support Line is open Monday to Friday, 8.30am to 5pm (excluding bank holidays) on 01962 732126.
In the past year Lithofin has been testing and releasing products that are proving invaluable to the modern tiling contractor. These up and coming new products aid the contractor, tiler or client by ensuring professional installation and maintenance of the chosen product.
Casdron is having great success with the newly released Lithofin Silicone Remover for cleaning off silicone stains and removing old silicone joints. The product can be used on all solvent and acid-resistant substrates such as ceramic tiles, sanitary porcelain, enamel and glass.
This gel remover can be used on vertical and horizontal surfaces due to its viscosity, which also gives it longer exposure time to deal with more stubborn residues. It dissolves practically all types of silicone and is simple to use.
Another new product is the Lithofin Care Kit for Ceramic Kitchen Work Tops. This is just what fabricators in the rapidly growing ceramic and thin porcelain worktop sector have been waiting for. 
The fabrication process on these types of surfaces can leave residues and in the case of polished ceramics these will be found in the open micro pore structure. The residues make the surface rougher and therefore more prone to binding dirt and developing stains and marks. An initial deep clean is essential and can be achieved with Lithofin KF Cement Residue Remover, which leaves the surface clean and clear of these residues.
We have created an advice sheet specifically for these new products to help ease any problems in manufacturing these tops, and the new care kit is perfect for the customer, so they can maintain their work surface easily.
The correct regular maintenance regime is essential. It is only when it is treated properly that the ceramic surface will retain its outstanding properties and unique appearance.
The new Lithofin Care Kit for Ceramic Kitchen Work Tops contains: Lithofin KF HyClean, a mildly alkaline cleaner for regular use, giving quick and easy cleaning during and after cooking; and Lithofin KF ClearTop for an occasional intensive clean to remove stubborn residues.
Akemi has introduced Pearl Impregnator spray sealant. Based on organic active agents it gives high coverage and effective protection after 10-20 minutes at 20°C.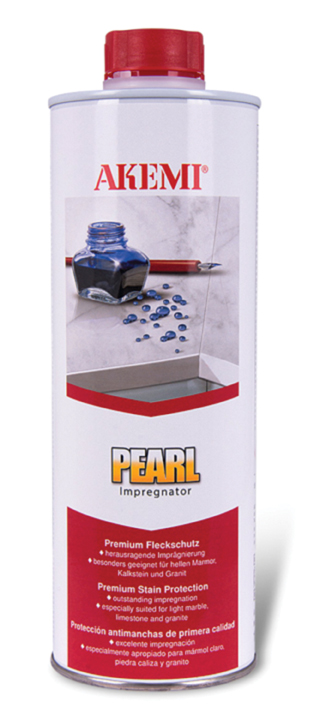 The manufacturer says Pearl Impregnator offers effective protection against water and oil on natural and artificial stone with polished, ground or textured surface.
It is especially suited for the treatment of light coloured marble and limestone surfaces. It can be used on floors, in kitchens, bathrooms (wash tables, shelves, marble tiles on walls and floors), tables, window cills, even on façades to make graffiti easy to wash off.
Ardex natural stone products incorporate the company's Rapidry Formula technology that 'locks' the mix water into the mortar. It not only cures rapidly and in a controlled manner, it virtually eliminates any risk of water staining, curling or warping in natural and agglomerated stones.
Granite, marble and limestone are naturally durable materials that can last a lifetime. However, like any product, they have to be installed properly.
The main issue associated with natural stone is determining whether the stone is moisture sensitive or not and, following that, using the correct products to fix it.
Typically occurring during the bedding and grouting process, moisture from traditional adhesives and grouts can migrate into the stone and cause discolouration, staining and warping.
For fixers using moisture sensitive natural stone or agglomerated stone – or if you unsure just how sensitive your materials might be – Ardex has developed products to give you peace of mind, helping to ensure a risk free installation.
There is:
Ardex S 27 Microtec Natural Stone Wall & Floor Tile Adhesive, which can be grouted after 2 hours but has a 60 minute pot life.
Ardex S 28 Microtec Semi-Pourable Natural Stone Floor Tile Adhesive for solid bed fixing large format floor tiles and slabs. Again, it can be grouted after 2 hours and has a 60 minute pot life.
Ardex MG Marble and Natural Stone Tile Grout. This comes in five colours, can be used in joints up to 8mm, and the floor can be walked on after 90 minutes.
Ardex ST Elastic Silicone Sealant is resistant to weather, UV-radiation and commonly used cleaning chemicals and disinfectants, contains a fungicide to combat mould growth, and comes in 13 colours plus transparent.
Ardex X 7001 is a pourable, rapid drying Microtec fibre-reinforced floor tile adhesive for moisture-sensitive applications such as tiling on to wood-based sheets and boards and for natural stone installations.
Ardex says because X 7001 is pourable it is suitable for solid bed fixing large format floor tiles without having to butter the backs. It is suitable for use with underfloor heating.
Ardex S 20 is a rapid drying tile adhesive for fixing moisture-sensitive natural stone wall and floor tiles using bed thicknesses from 5mm to 20mm. Tiles can be trafficked and grouted three hours after fixing, regardless of bed thickness.
Ardex X 32 can be used outside as well as for interiors in bed thicknesses from 3mm to 30mm, making it ideal for fixing uncalibrated natural stone and for smoothing uneven floors and walls before tiling. Again, tiles can be trafficked and grouted three hours after fixing, regardless of bed thickness.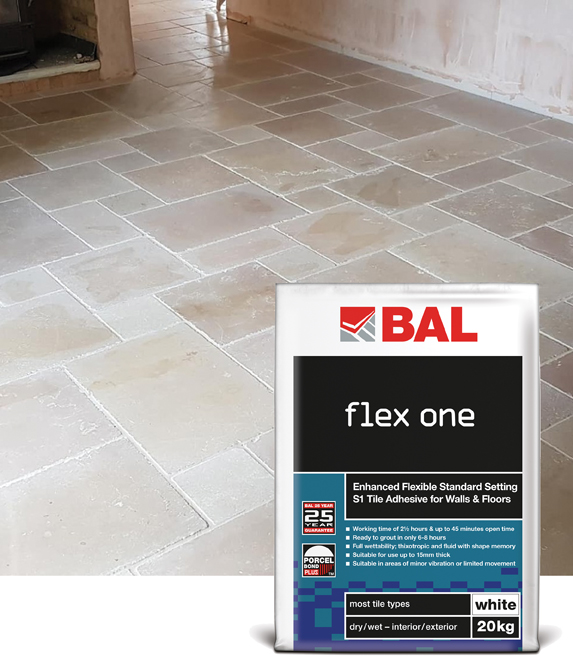 This year, BAL has introduced Flex One, a standard set white adhesive that can be used up to 15mm thick. It is ideal for use with stone.
BAL says the aim is normally to finish an installation as quickly as possible, leading to the use of rapid-setting adhesives so grouting can begin quickly. However, this can provide challenges during installation.
With its 'One' rapid-set technology, BAL has already helped fixers by creating rapid-set products with extended open and working times that are still ready to grout in three hours.
With ever larger tiles, designs (and therefore laying) can be complex, with possibly difficult or irregular backgrounds on-site. And summers are getting hotter, reducing still further the open time of rapid-set adhesives.
Semi-rapid products have been launched based on retarded rapid-set formulations but there is a limit to how much traditional cement chemistry can be retarded before strength is reduced. Viscosity can also be increased so application becomes more difficult.
BAL says its technology is the first truly to enhance traditional standard-set chemistry for long open and working time performance while still allowing grouting to be carried out after six hours.
BAL Flex One has a 21/2 hour working time and a 45-minute open time at 20°C, allowing more working time to fix in warmer conditions and less wastage in buckets. There is also more time to adjust larger tiles and more time when working on particularly complex installations.
With a six-hour set time, the new adhesive allows fixers to grout in the evening or early the next day, significantly cutting down installation time compared with traditional standard setting products that require up to 24 hours to set.
What's more, it uses BAL's super smooth gel rheology technology, a thixotropic formulation that means there is no need to add water to keep it workable.
Slip resistance easily exceeds the requirements of EN 12004 for T rated adhesives.
Highly flexible with S1 deformability, BAL Flex One is suitable for use with all tile types including ceramic, porcelain, natural stone (including uncalibrated stone for floors), mosaics, terrazzo and brick slips.
It can be used for interiors and exteriors in dry and wet environments, even total immersion in swimming pools.
Because of its flexibility, BAL Flex One can be used on installations subject to a certain amount of movement and vibration and with underfloor heating.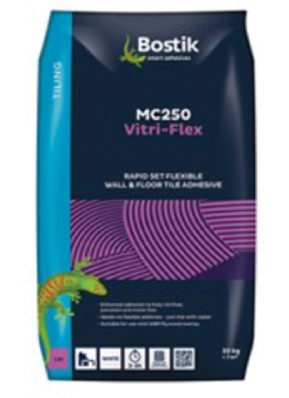 Bostik says natural stone tiles are a popular choice for home floor and wall installations because stone is a versatile material that gives a range of finishes from polished to rustic homely charm. But because limestone and marble are particularly susceptible to low pH levels (acidity) it is important to chose the right adhesive for use with stone.
Bostik's range of products for use with natural and synthetic stones include MC310 OPF, which has high water resistance for use in wet rooms and swimming pools. It can be used for interiors and exteriors and can accommodate a limited degree of vibration.
It has been formulated specifically to accommodate large format slabs as a one part (just add water), non-slip, flexible adhesive for floors and walls.
Available in white or grey, Bostik MC310 OPF will bond to a range of substrates, including correctly prepared calcium sulphate (anhydrite) screeds, gypsum plaster, concrete, plasterboard, sand /cement screeds, blockwork, brickwork, glazed surfaces and vinyl tiles.
Another in the Bostik range is MC250 Vitri-Flex, a rapid setting, thin and thick bed flexible wall and floor tile adhesive that has enhanced adhesion and needs no flexible additives – simply mix with water.
Available in white and grey, Bostik Vitri-Flex is for fast track installations, enabling tiles to be grouted just two or three hours after fixing, depending on conditions.
It is suitable for most interior and exterior installations. It can be used with under floor heating and in areas subject to limited vibration. When fully cured, it is suitable for wet areas, such as showers.
Bostik says all its natural stone tile adhesive products are specially modified to meet the complex demands that come with natural stone flooring and wall tiles. For example, they are polymer-enhanced or modified to give them the flexibility required to accommodate the rigidity of stone. The company's thick-bed adhesives (up to 25mm) are ideal for uncalibrated stones.
LTP has added two new treatments to its Ecoprotec range, which has for many years provided protection and maintenance solutions for the stone sector.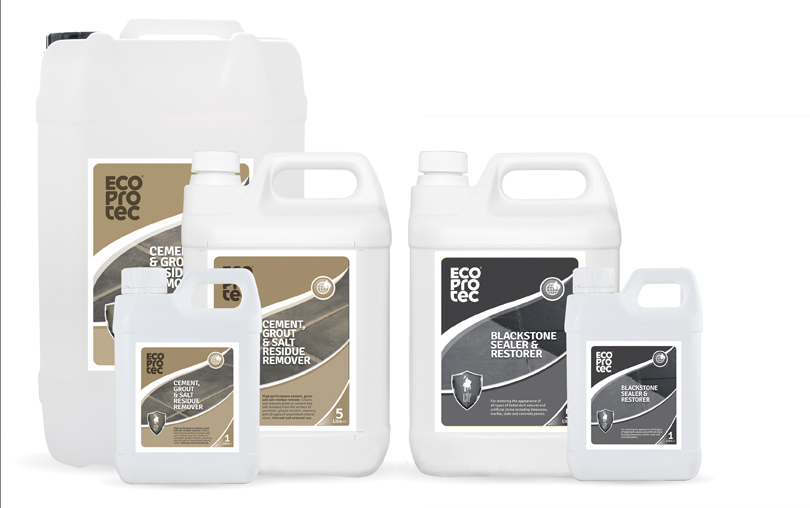 All its treatments are backed by its advanced research in water-based technology and combine high performance with low odour and low VOC formulations.
The products are designed to care for tile and stone surfaces – indoors and out – and are developed and manufactured by LTP in the UK.
The latest innovations include Ecoprotec Cement, Grout & Salt Residue Remover. Normally acids would be used to remove cement and grout residues, but they are not ideal, especially around limestone and travertine.
Ecoprotec Cement, Grout & Salt Residue Remover can be used with impunity on all types of tile and natural stone surfaces except those with a polished finish, because it will dull the shine.
Notably, it can be safely applied to unpolished acid-sensitive limestone and travertine surfaces. As well as removing new and existing building residues, the Remover also disperses rising salt residues caused by issues including substrate moisture and spot fixing.
Other new treatments include Ecoprotec Blackstone, an outdoor sealer and restorer for dark natural and artificial stone surfaces. This water-based impregnator restores the appearance of faded limestone, marble, slate and concrete. It is fast and safe to use and the permanent finish created provides protection against the elements.
It can be applied in multiple coats until the desired darkening colour effect is achieved – from grey to ebony. It is then cut back to remove excess.
Advice on specifying the correct treatment for surface type and symptoms can be accessed on LTP's Product Selector tool for the contract market at ecoproductselector.com.
If you would like to try the new products before committing to them, free samples are available. Email your request to [email protected].
From Mapei there is Keracolour Flex, a high performance, flexible, water repellent grout for floors and walls in a range of contemporary colours to complement modern tile designs and décor.
It is for joints from 1mm to 6mm wide and has Mapei's DropEffect technology that causes water to bead up on the surface rather than penetrating the grout.
It is for use with porcelain, ceramic, natural stone and glass tiles and mosaics in domestic and commercial installations.
It can be used for interiors and exteriors, including façades, swimming pools, wet rooms, showers, conservatories and gyms.
It can be mixed with Mapei's Fugolastic for heavy duty use such as exposed façades, balconies or swimming pools with wave machines.
Mapei's Marble & Stone is a white, high performance flexible rapid setting variable bed adhesive designed for the installation of natural stone under a wide range of service conditions.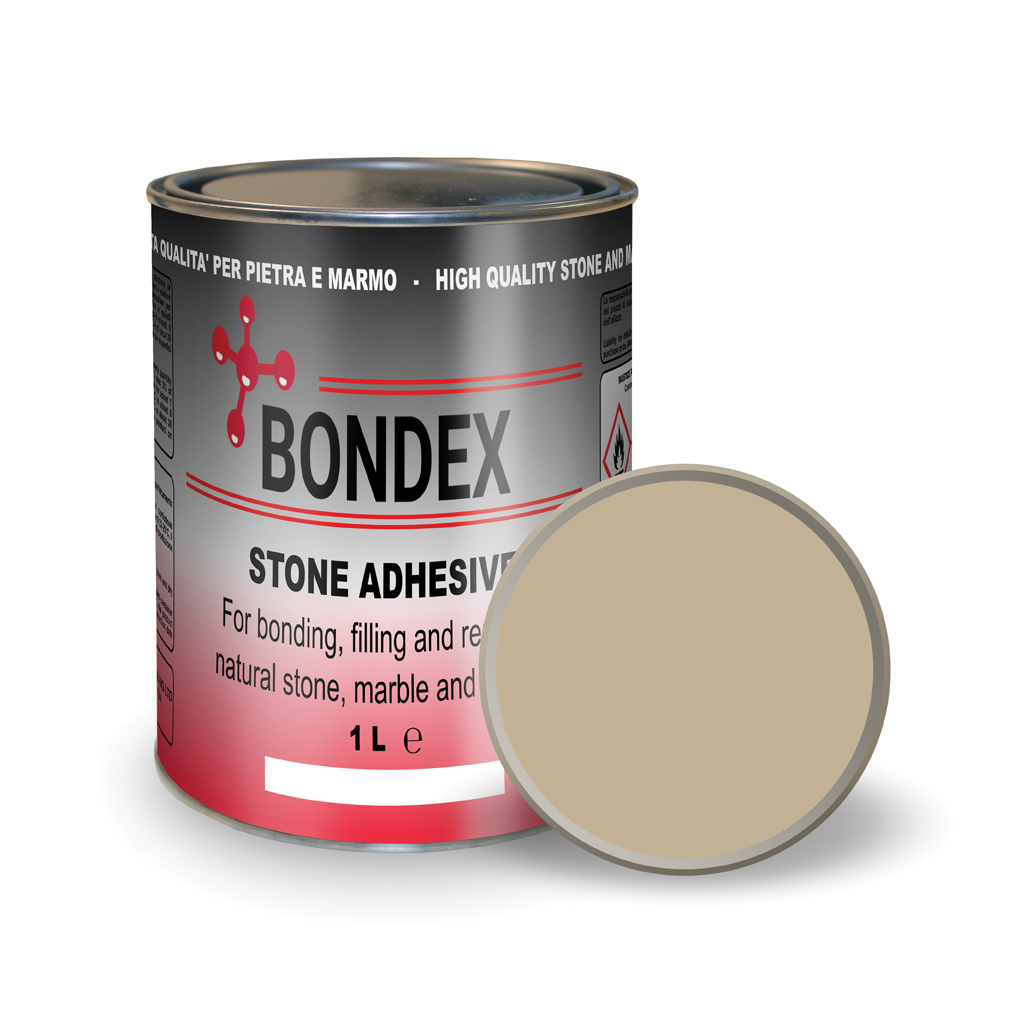 When it comes to glues, there are so many to choose from it is hard to determine which is the right one for your project.
One way is to select the MPa you require. But what is an MPa? Stonegate Precision Tooling offers an explanation.
MPa is an abbreviation for the unit 'Mega Pascal', which is essentially a measure of strength. To put it into perspective, marble has a tensile strength of 7-20MPa and concrete 2-5MPa.
The higher the MPa, the higher the ultimate tensile strength.
A standard, universal stone glue, such as Bondex, has a rating of 3MPa, whereas the new Styrex is stronger, and the Dekton-accredited two-part Seam-It glue comes with a rating of 8MPa. All are available from Stonegate.
If you are looking for an adhesive suitable for stonework to stand up to the outside elements, you should look for a minimum rating of 15-17MPa, says Stonegate.
Once you have chosen your adhesive you might want to colour match it with the material you are sticking together.
Tenax kindly provides a cheat sheet to show which of its glues match different types of Caesarstone quartz, but what if you need a match for a material other than Caesarstone?
Stonegate has sought to relieve this common pain point by providing colour matches for various types of stone. And if the company does not have a match already on the system, you can send it an offcut and Stonegate will colour match it for you.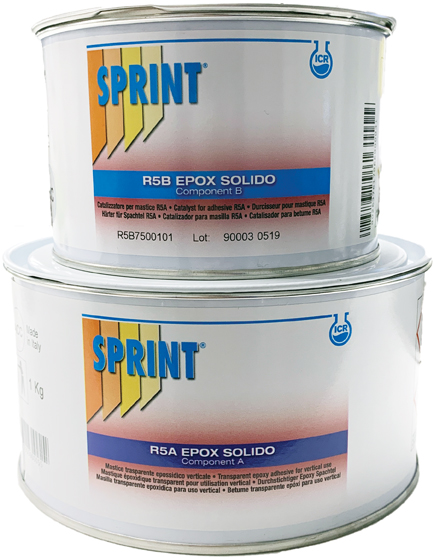 Stone machinery, tools and consumables supplier D Zambelis has a range of products developed specifically for the stone sector, to which it has now added two new products for use with the new generation of synthetic stones (Dekton, Lapitec, Neolith).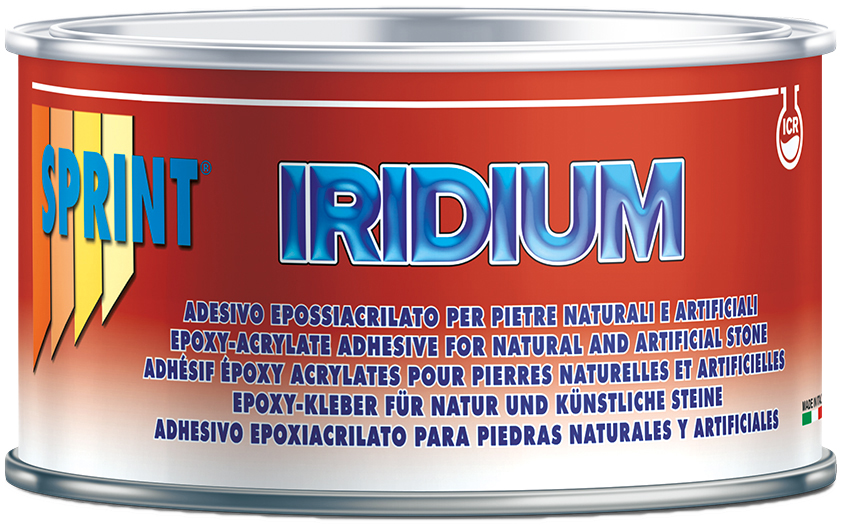 Iridium specialised solid epoxy glue is for synthetic materials used in interiors and Sprint R5 A/B is recommended for exterior uses and mitring.
Iridium is available as transparent, black or white, although they can be modified with the addition of traditional paste pigments.
Sprint R5 A/B, is a solid epoxy glue that is transparent, although, again, it can be coloured using traditional paste pigments.
Waters Group has a full range of sealers, cleaners, adhesives and special products for all natural and man-made materials. The newest products from Bellinzoni and KGS sold by Waters Group are cleaners, enhancers and adhesives for porcelains and ceramics.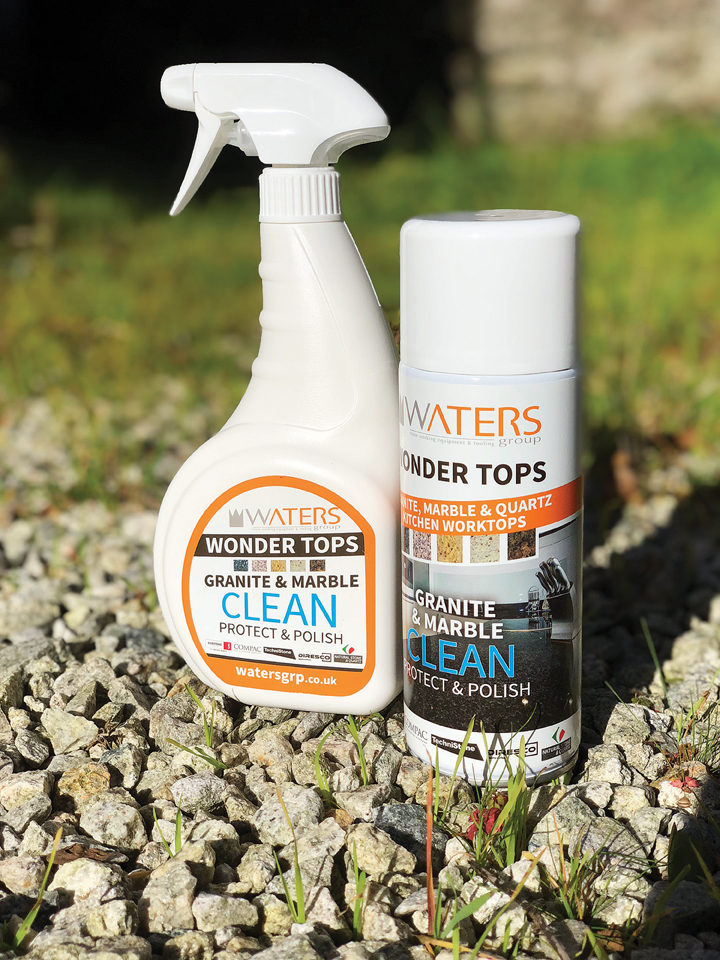 The adhesives are generally stronger to work with the often thinner materials, where the surface area being joined is small.
Waters Group also has in stock more than 130 colours of Integra Bonder XI, with access to more than 300 colours in total.
That might sound daunting but the range has an app with colour swatches and charts and adhesives calculators to help you find the perfect match for your project quickly. Waters Group is also on hand to help if you get stuck.
Bonder is the main seller from the Integra range, although sales of Integra Ultra have been soaring in the past six months. Ultra is UV resistant and mainly used for outdoor applications. It comes in the same colour range as other Integra adhesives.
Waters Group also keeps adding to its own brand range. The latest launch is an aerosol spray hard surface polish to make maintenance easy for the end user. And it has introduced own brand mastics.
It has also increased its stock-holding substantially in the light of Brexit to ensure whatever happens customers will not experience any shortages.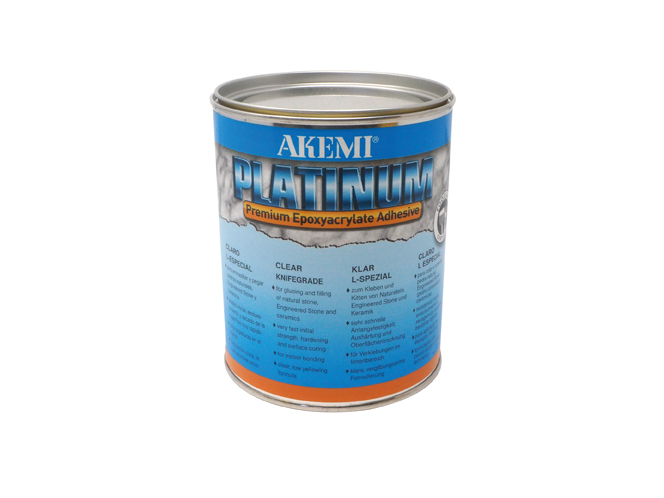 CRL Stone sells ceramic and quartz surfaces suitable for kitchen worktops, bathroom countertops, flooring and wall cladding, and it also offers a wide range of top-performing Akemi adhesives and sealants for a quality finish on all its installed products.
The Akemi range includes adhesives, fillers, silicones and two repair kits, offering a one-stop solution for the maintenance of stone, ceramic and composite surfaces.
CRL Akemi Platinum Adhesive, for example, is available in knife-grade and liquid formats. Totally transparent with a particularly high bond strength, it results in a clean, neat finish even on the most visible areas. It can be used for bonding and filling of all materials with vertical or horizontal applications, including (but not limited to) CRL Quartz and Ceralsio ceramic surfaces.
Using Akemi's CC colour coding system, CRL Akemi Platinum Adhesive can be dyed using the company's Spectrum Paste.
Also part of this colour coding system is the CRL Akemi Composil Silicone, specially formulated for expansion and connecting joints in engineered stone. No discolouration in the contact area ensures perfect joints every time.
While the CRL Quartz and Ceralsio brands are no doubt important factors in CRL Stone's continued success, CRL understands natural stone still plays an important part in the UK stone industry. With this in mind, CRL Stone always has a readily available stock of a wide range of products for use with granite, marble, limestone and travertine.
These include CRL Akemi Stain Repellent Nano, Marmokitt 1000, Marmorsilicon and Crystal Clean.
Added to this is an extensive range of aftercare products, including various care kits, cleaners and polishes for the perfect final touches to a fabricator's installation.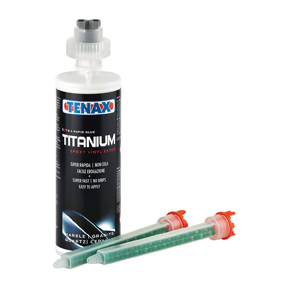 This year Stonetools has responded to customer requests for a range of cartridge-based glues that offer better visual results than previous glues, are stronger and are colour matched to new materials such as Dekton. They come in the form of Tenax Glaxs and Tenax Titanium.
These two-part glues can be used to create virtually invisible structural joins in various materials. They are mainly used for mitre bonding and glueing vertical seams.
For these applications, says Stonetools, cartridges make it easier to apply the glue precisely and the colour is consistent because it is not mixed by hand.
Glaxs is strong for glueing even the thinnest Dekton, Lapitec, Laminam, Neolith and all other such slabs, as
well as quartz.
Glaxs can be used for exterior projects as well as for interiors as it is UV stable, resistant to variations in temperature and sets even at low temperatures. It is clean and easy to use on site, even when customers are at home as it is solvent free.
Because it is UV stable and will not yellow it is a good choice for use with light coloured quartz.
It is available in two finishes and 70 colours, matching to 3,500 different quartz and ceramic surfaces, including a full colour match to Dekton.
This extensive colour matching and the properties of the adhesive mean that whatever make of product a fabricator is using, one type of cartridge is all that is required. All colour match charts can be downloaded from the Stonetools' website.
Titanium is for use with quartz, granite and natural stone. Stonetools market it as a low cost adhesive that bonds in a short time and, once cured, is flat, shiny and easy to polish.
All Glaxs and Titanium colours are available from stock from Stonetools and are available on the Tenax Colour Matching app downloadable from the App Store or Google Play – the new digital way to match glues to the materials you are using.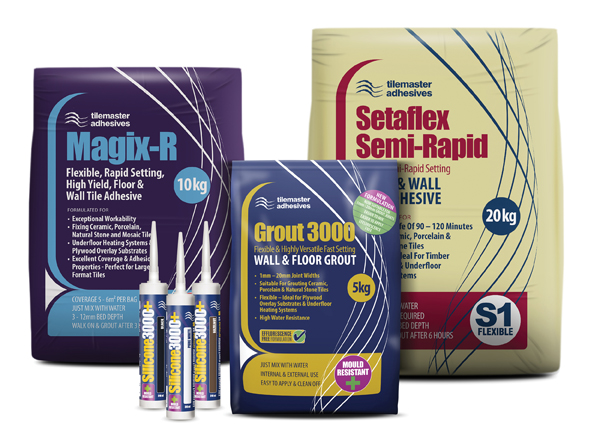 Tilemaster Adhesives has adhesives and grouts for use on all substrates and with all setting requirements for stone finishes – from limestone pavers to Carrara marble mosaics.
For large format stone installations, Tilemaster Magix offers high-yield, excellent wetting out properties and slip resistance. Magix-R, the rapid-set formulation, can be walked on and grouted after three hours. Other adhesive options include Setaflex Semi-Rapid, a slip-resistant formulation with a 90-120minute pot life. With bed depths up to 12mm, it can be walked-on and grouted after six hours.
Both Magix and Setaflex are classified S1 and help prevent staining occurring when used with natural stone. Both are suitable for solid substrates and substrates with a limited movement or vibration, including plywood overlay and underfloor heating systems. They can be used inside and out and in shower, wet room and swimming pool areas.
Tilemaster Adhesives' Grout 3000 range can also be used for interiors and exteriors. It has 18 colour options and offers an efflorescent-free joint that's mould and water-resistant. It can be used for joints from 1mm to 20mm deep and wide. It is easy to mix, apply and wash off the face of the tile. It has a working time of 30-45minutes, can accept light foot traffic after approximately three hours and has a final set time of 24 hours.
For colour-matched floor expansion joints and waterproof seals, there is Silicone 3000+ in each of the grout shades. This low modulus (ie able to accommodate movement), neutral curing sealant creates a waterproof, mould-resistant seal.
Own brand care kits for your customers
Once a worktop, bathroom or floor has been installed in a customer's house you might want to offer them a kit of products to look after their new purchase and let them know they can purchase the kits from you going forward.
Italian company XStone has put together a range of care kits that include cleaning and maintenance products, applicators and rubber gloves. And XStone will own-brand the kits with a stone companies' own details, even personalising microfibre cleaning cloths with printed or embroidered logos.
Selling or giving a customer a care kit with your company logo, name and address on it will make sure they remember you the next time they want stone or when people they know ask them where the stone came from.
It also shows customers you are not just installing their new stone and turning your back on them, but that you care about them and will be there for them in the long term. You probably already know that word-of-mouth recommendation is the best advertising you can have and showing you care can help make sure you get that recommendation.
A care kit can be the icing on the cake for your customers that will make you the go-to stone company for your area. Propose a kit for routine cleaning and maintenance or, when and if necessary, a kit for the removal of stains and blemishes with instructions and FAQs, even a QR-Code to a tutorial video. You can find out more about XStone's offer at en.xstone.it.
Revised BS 5385-1 says backerboards should be used, not plywood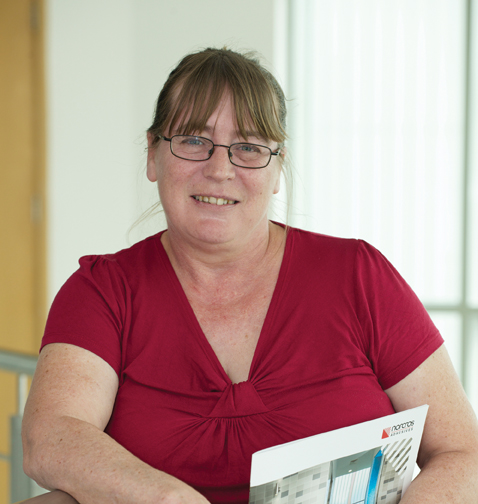 Mandy Searle, Head of Technical Services at Norcros Adhesives, outlines how the most recent revision to the British Standard for Tiling, BS 5385-1: 2018, includes a significant change that affects natural stone installations.
The latest version of the British Standard on tiling no longer recommends direct tiling to plywood. Instead it states that a bespoke tiling backer board should be used.
Paragraph 6.1.2.6 states that: "Proprietary tile backerboards are available to provide a suitably rigid substrate to receive direct tiling and are available in a variety of materials and thicknesses, which should be selected for the relevant conditions. A tanking system might be required for boards used in wet areas, eg showers and wetrooms. For natural stone tiles, stainless steel fixings should be used to avoid staining."
Paragraph 6.1.2.7 states that: "The use of sheets and boards that are subject to movement from changes in moisture content should be avoided. Plywood and other wood-based sheets and boards should not be used for direct tiling."
The removal of plywood from the new Standard is necessary due to the wide variance in the quality of plywood now on sale in the UK. A lot of cheaper imported plywoods are not able to provide a stable and rigid background.
Fortunately, this comes at a time when specially developed tiling backer boards are available. These are stable and moisture resistant and the latest versions are more environmentally friendly.
According to the British Standard, the weight limits of commonly used substrates are: plaster skim – 20kg/m2; plasterboard – 32kg/m2. Natural stone slabs for walls would be expected to be nominally 20mm thick, which equates to a weight of approximately 60kg/m2, meaning these substrates are not suitable to receive a stone tile finish. Tile backer boards offer the perfect solution and Norcros Adhesives has two options for this.
Norcros Pro Board can support up to 85kg/m2. It is a cement-coated board of lightweight construction that provides a hard-wearing, fire-resistant waterproof surface ready for tiling.
Now there is also Norcros Pro Ply Tile Backer Board. This can support up to 80kg/m2. It is a high performance, mineral based, water-resistant backer board that is mould-resistant and exceptionally strong.
Manufactured using a process that produces very little CO2 emissions (unlike cement-particle and gypsum boards) it is silica and asbestos–free with a Class A1 non-combustibility fire rating, making it ideal for use with underfloor heating and in build-ups for fire resistant systems and firewalls. As with all Norcros Adhesives products, Norcros Pro Ply is covered by a lifetime guarantee.
Norcros Pro Ply Tile Backer is suitable for use internally and externally on both walls  and floors. It is exceptionally strong and easy to use. It can be fixed using Norcros Rapid Porcelain or One Part Flexible adhesive or with stainless steel fixings.
The strength and rigidity of the board allows bathroom accessories to be fixed through the tiles into the backer board. It is also suitable for overboarding new and existing timber floors, covering concrete floors or stud and masonry walls.
It is available in 6mm and 12mm thicknesses in a sheet size of 1200mm x 800mm.
Both the Norcros Adhesives boards can be used in wetrooms, with the junctions between boards sealed with a polyester tape bedded in cement-based adhesive.
Natural stone tiles should be fitted to the board using Norcros Rapid Porcelain & Stone S1 Adhesive. This is rapid-setting cement-based adhesive with a bed thickness of 2-10mm, specially formulated for fixing porcelain and stone tiles to a variety of substrates. Being fibre-reinforced, it gives increased flexural strength and optimum crack bridging.
A suitable grout for a natural stone installation would be one of the new Norcros '4 into 1' Grouts. This range is both efflorescence-resistant and water-repellant. Efflorescence is the movement of salts towards the surface of a porous material (such as the grout lines) where it can leave an unsightly deposit. In some tiling installations this can be a real problem.
The formulation also contains Norcros Stop Mould Antibacterial additives to protect against mould and discolouration, which can occur in areas subject to moisture or high humidity.
The grouts can be used for exteriors as well as interiors and even in swimming pools. They have a high flexural strength, making them suitable for use in areas where a limited background movement or vibration can occur, such as in heated floors or where tiles have been laid on wooden flooring.
They are also suitable for use in wider joint applications (up to 12mm), making them ideal for natural stone tiles, when the joint should never be less than 2mm.
The range comes in 15 colours, chosen to complement modern tiles including natural stone, and to match the existing successful Norcros Flexible Wide Joint grout range.