Construction continues to improve, says Barbour
Following the amazing month-on-month increase in construction orders in July as the industry got back to work after Lockdown, August fell back to more normal levels of activity, says Barbour. 
The value of construction contracts in the three months to August is put at £4.4billion. That is 21.2% up on the three months to July (although still 8.5% below the same period in 2019) but disguises extreme monthly fluctuations. 
Compared with July, orders for August alone were 37.6% lower at £3.9billion. However, that is still 146.9% higher than the recent low point of £1.6billion in May.
The figures are published in the latest edition of the Economic & Construction Market Review from industry analysts Barbour ABI. You can download the full report from http://ubm.io/2FRLrwm.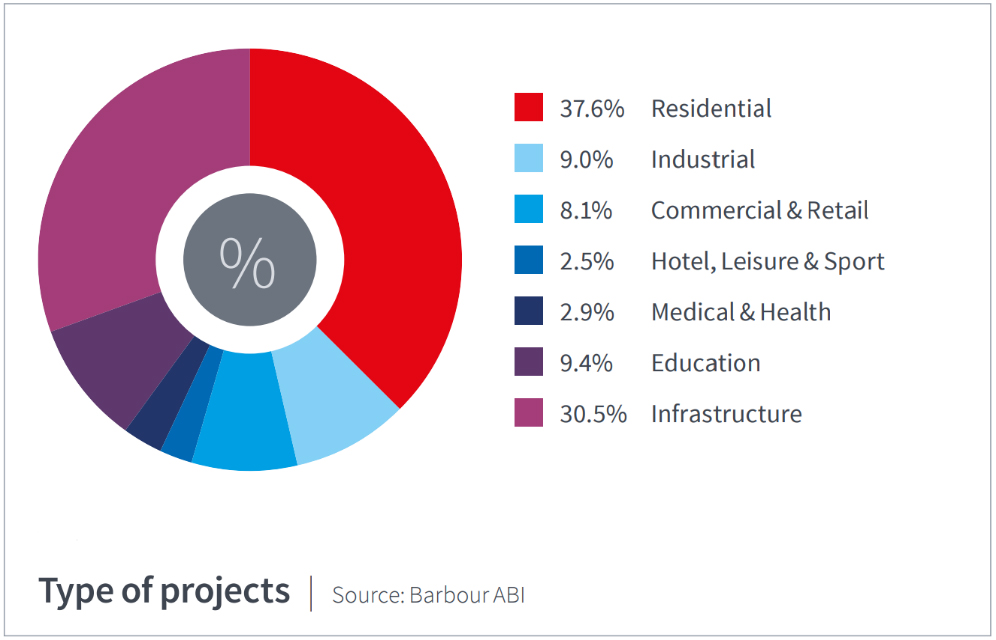 Analysis by sector indicates that house building continued to lead the recovery, accounting for 37.6% of contracts awarded. Infrastructure was second and vying for third place were education (accounting for 9.4% or orders) and industry (9.0%).
The leading region in August was Yorkshire & Humberside, accounting for 23% of contracts awarded. The North West was second, followed by London.
Commenting on the figures, Tom Hall, Chief Economist at Barbour ABI and AMA Research, says: "The UK economy continued its stronger than expected recovery in July, growing by 6.6% following June's expansion of 8.7%. The economy has now recovered around half of the lost output between March and May. In the construction industry, contract awards returned strongly in July, but in-month awards were significantly lower in August."
About Barbour ABI:
Barbour ABI is a provider of UK construction intelligence services. It is the chosen provider of Construction New Orders estimates data to the Office for National Statistics and partner of the Government's Infrastructure and Projects Authority in providing the National Infrastructure and Construction Pipeline.