Stone in landscaping: For the love of nature
Natural stone is the natural complement to planting as attention turns to carbon reduction and mindfulness.
Demand for stone in hard landscaping continued to grow last year, but cost of living increases this year combined with the easing of Covid travel restrictions that are encouraging more people to fly abroad for their holidays could be among the factors that are now about to take some of the heat out of the market.
The Covid lockdowns and working at home, with householders not able to spend their money on family holidays abroad, was as good for the garden market on the residential side of landscaping as it was for the worktops sector. Larger private and public sector commercial projects have also showed little sign of abating following the initial lockdown in 2020.
The high cost of shipping and containers, as well as additional Brexit-imposed costs of buying stone from Europe increased the price of imported stone and helped indigenous stone producers.
Lower cost imported stone has undoubtedly raised the profile of the use of natural stone for hard landscaping ever since the 1990s, but many councils and clients like the idea of using more locally produced materials, a preference that has increased since emphasis on tackling global warming and working towards Net Zero carbon emissions has grown.
With Far Eastern stone supplies hit by the pandemic and shipping and container costs multiplying, the price difference between imports and indigenous stone reduced.
However, the graph below shows that the volume of imports of setts, curbstones and flagstones – the only category of stone imports that can be identified as being specifically for natural stone landscaping – continued to increase throughout the pandemic. The drop in value of that stone in 2020 can be accounted for by importers taking advantage of deferred VAT payments allowed by HM Revenue & Customs in response to Covid, because the figures come mostly from tax returns.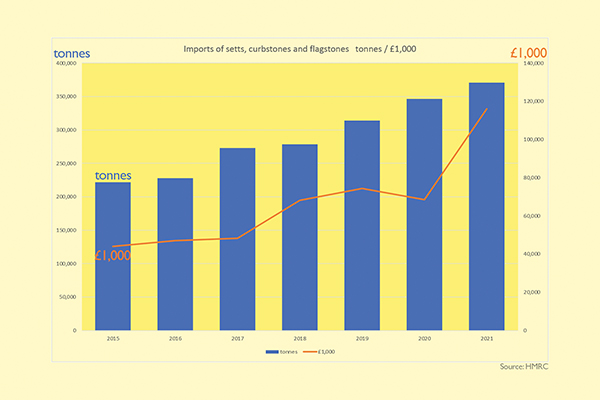 Some of the indigenous stone advantage of higher price imports was lost in April this year when British quarries were no longer allowed to use red diesel. The duty paid on red diesel was 11.81p/litre when road users were paying 57.95p.
Although the Chancellor reduced the duty by 5p a litre to 52.95p in the Spring Statement in response to rapidly rising fuel prices, worsened by Russia, a major oil producer, invading Ukraine, the 5p duty reduction went mostly unnoticed. Quarries facing a sudden hike in the price of their fuel when it became liable to the full rate of duty of 52.95p were left with no option but to pass on that extra cost to their customers.
Contractors also lost the right to use red diesel on-site, adding to their costs, which were already increasing due to the rising prices of products and labour.
RAC fuel spokesperson Simon Williams said when diesel prices reached a new high in May (not yet included on the DBEIS graph below): "Sadly, despite the Chancellor's 5p a litre duty cut, the average price of a litre of diesel has hit a new record high at 180.29p.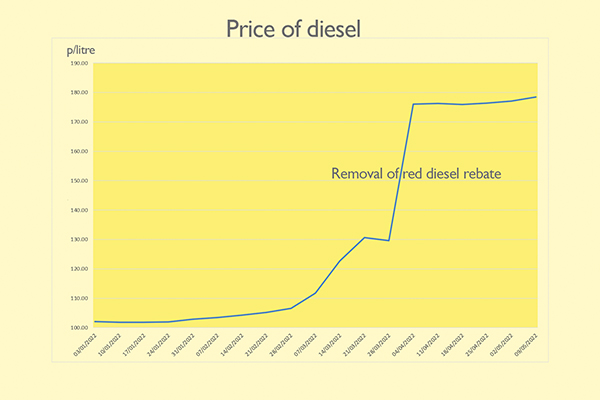 "Efforts to move away from importing Russian diesel have led to a tightening of supply and pushed up the price retailers pay for diesel. While the wholesale price has eased in the last few days this is likely to be temporary, especially if the EU agrees to ban imports of Russian oil."
An indication of the confusion in the market to the various forces at work over the past few years comes from the fluctuation in the price of shares in Marshalls, a PLC supplying indigenous and imported natural stone (as well as concrete products) for hard landscaping, with sales of more than £500million a year.
In response to the Covid lockdown Marshalls' share price fell from a high in January 2020 of 876p to 519.5p in April that year. In September last year it was back up to 840.5p and on 12 May, the day after Marshalls' AGM this year, was down to 534.5p.
At the AGM Marshalls said it expects to be able to pass on price rises through the supply chain and remains confident about its own prospects for the year ahead, while acknowledging it expects "a more uncertain trading environment".
In a trading statement just before its AGM Marshalls said revenues for the first four months of 2022 were up 5% on 2021 to £201million, in spite of "a very strong period" in 2021 that included record sales volumes for the months of March and April.
The increase in revenue was helped by price increases already imposed this year and came from the public sector and commercial markets, which account for two-thirds of the group's sales, led by a strong new build housing market, where Marshalls expects demand to continue.
The domestic market fell 9%, which Marshalls said was "largely due to more holidays being taken in 2022 compared with 2021 when the country was in lockdown".
Having just spent £535million on buying concrete roof tile company Marley, Marshalls says in future it will report under three separate categories of its business – Marshalls Landscape Products and Building Products, and Marley Roofing Products.
For the 2021 annual report presented at the AGM in May, the company reported Group revenue for the year ended 31 December 2021 of £589.3million, an increase of 26% compared with 2020 and 9% more than 2019. Pre-tax profit was £69.3million.
Vanda Murray OBE, Chair of Marshalls, says: "Here we are in 2022, after a challenging couple of years and with much global focus on how we shape our world and the places around us. The evolution of our purpose is to create better net positive futures."
She explains that means putting more into society, the environment and the global economy than the company takes out, and understanding the impact of its actions.
Last year's COP26 meeting of the world's governments to discuss global warming had served as a timely reminder of the need to take climate change seriously and, she says: "I'm proud to say that Marshalls is well placed to take on the challenge. Last year, we committed to being a net zero business by 2030 as part of our plan and we are well on our way to achieving this.
"We're already making changes, with focus on reducing plastic packaging, using lower emission fuels in our manufacturing sites and installing more solar panels."
She said the global pandemic had "reminded us of the value of our public services – and why it's so important to pay our fair share of tax." It had also shone a light on ethical issues, where Marshalls were "supporting and upholding human rights at home and overseas in our supply chains".
She says: "As focus on ESG rightly continues to gain momentum, we ensure we have structures in place so that our environmental, social and governance processes are at the core of our decision making and reporting.
"In 2021, an ESG internal audit was undertaken by a third party to look at our processes and controls. It also looked at our preparedness for the future and our alignment to reporting frameworks. The feedback was positive and we are in a strong position to embrace the changes in this space."
Other changes in the hard landscaping sector include Talasey's move into new headquarters in Scunthorpe, Lincolnshire.
Talasey was once called Natural Paving Products and supplied mostly natural stone. It is still proud of its range of ethically sourced imported natural stones but changed its name as it expanded its product offering into other areas.
It says strong and consistent sales growth over the past few years meant it outgrew its head office near Doncaster, so it moved to the new four-acre site in Scunthorpe, where 1.5 acres of mature landscaped gardens showcase the company's landscaping products.
The head office includes nine en-suite rooms for visitors staying overnight, because part of the company's ambition is to make the site a UK centre of excellence for the landscaping industry.
Another move comes from Fitzgerald Contractors, which has transferred ownership to an employee trust. Managing Director Nick Coley, who bought the business from Bouygues UK in 2013, completed the transaction to the trust in February, so Fitzgerald employees now own 100% of the business.
Nick and his fellow directors retain their positions, but employees influence decisions through an employee council.
Employee Ownership Trusts are growing in popularity as they offer benefits for businesses, their employees and owners looking at succession planning.
The art of paving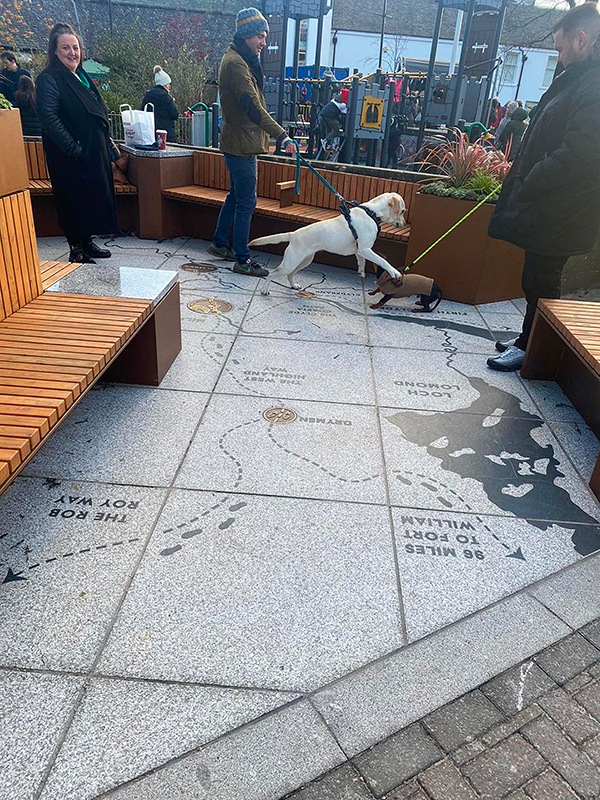 The growing familiarity of the stone processing industry with increasingly sophisticated computer-controlled saws, miller-routers, five axes waterjet cutters and even lasers in a few cases is leading to more designers appreciating that stone can be given an element of artwork affordably, often with inlaid contrasting materials that might be other stones, metals or hard-wearing man-made materials. Landscape materials supplier Hardscape has even set up a separate company, called IP Surfaces, specifically to supply the artwork to such schemes.
The granite paving pictured above came from CED, a leading supplier of hard landscaping materials nationally from seven outlets across the UK, including Scotland and Northern Ireland. The project pictured is in Milngavie, a suburb of Glasgow. CED's Commercial Division supplied the granite paving with its bespoke engraving and the company's Scotland depot supplied Steintec bedding, primer and jointing compound for the installation.
60m dry stone wall helps Graduate Gardeners win a BALI Grand Award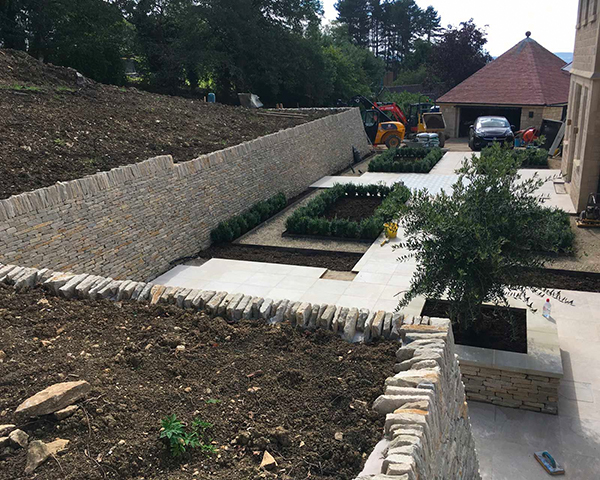 Although Graduate Gardeners, based in Stroud, Gloucestershire, are no strangers to winning BALI awards for their landscaping, Ian Morrison was not expecting to receive the Grand Prize when he entered a project for a private garden in Cheltenham in the awards last year. But that was what happened.
Admittedly the project was in the over £250,000 category and took almost a year to complete with six or seven people working on it most of the time, but the British Association of Landscape Industries (BALI) Grand Prize more commonly goes to even bigger landscape schemes in cities. So the Grand Prize was an unexpected welcome surprise for Ian.
The project was the garden of a large house on the side of Cleeve Hill, with views across Cheltenham to the Welsh Hills. It did not have a flat lawn and was to undergo a total renovation that involved digging into the clay-rich soil of the hillside to provide flatter areas for parking, an enhanced entrance, and more usable space in the garden.
There were a number of significant areas of construction, most notably and by far the most impressive being the 60m long traditional dry stone retaining wall using Cotswold limestone from Cotswold Stone Quarries' Tinkers Barn Quarry.
A structural engineer was brought in as Cleeve Hill is notorious for movement. A mortared wall was not an option because a solid structure on concrete foundations would simply have cracked. The foundations used for the dry stone wall were the stone beneath the ground. Dry stone walling also allows moisture to migrate through the wall rather than being trapped behind it.
Some 600 tons of material was excavated and more than 300 tons of walling stone was used to build the wall, each piece placed by hand to create a wall 1.5m wide at the base (500mm below ground level) and 600mm at the top, with the finished height averaging 1.8m.
The BALI Award judges said: "The attention to detail, outstanding finish, and wonderful workmanship in evidence in this scheme represents excellence at all levels. The in-house designer has fulfilled the client's brief with imagination, courage and panache and the contractor's build team have surpassed themselves, delivering a beautiful, breathtaking setting for the refurbished property."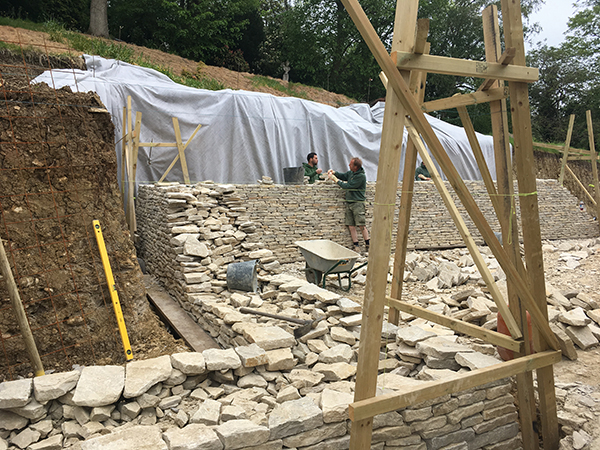 Last chance to enter Landscape Institute's 2022 international awards
The 7 July deadline is approaching for entering the Landscape Institute's 2022 international awards for landscape architecture.
There are five open categories, 15 professional categories, two for students and the President's Award for the best overall landscape scheme from all the categories combined.
Entries can be submitted online at https://awards.landscapeinstitute.org/award-categories/ and must be received by Thursday 7 July.
Those chosen as finalists will be announced in September and the winners will be presented with their awards at a ceremony at the prestigious Troxy in Commercial Road, London, on Thursday 24 November.
For the past two years the awards have been presented as a virtual event online only. Last year's presentation attracted 1,600 viewers, so with the knowledge gained from the previous two events, this year will also see the presentation streamed online, so those who can't make it to the Troxy can still take part.
The hybrid format will allow people from all over the world to join in, promoting discussions and showcasing projects that combat climate change, support health and wellbeing, promote biodiversity and 'level up' local spaces at a global scale.
The open categories celebrate excellence in landscape projects and include the Landscape & Parks Management category.
The Building With Nature category is open to recipients of a Building with Nature Accreditation for their residential, commercial, or community infrastructure scheme.
Submissions from any individual, organisation, employer, government, university or combination of groups across the globe can enter the open categories, which are:
Landscape and Parks Management: celebrating excellence in the management of a place or landscape.
Innovation and Research: an innovative product, service, publication, or piece of research or guidance that has influenced the industry or has the potential to positively transform landscape practice.
The Dame Sylvia Crowe Award: for landscape excellence around the world.
Landscape Legacy Award: for a person, organisation or group that leaves a lasting landscape legacy to the world.
Partnership and Collaboration: for excellence in partnership and cross-discipline collaboration.
Jane Findlay CMLI, President of the Landscape Institute, says: "The 2021 Landscape Institute awards were a great success – we received over 200 submissions. These were whittled down to 73 finalists by our esteemed judges from organisations such as Historic England, National Lottery Heritage Fund and Public Health England.
"In the UK, the government published its long-awaited Levelling Up White Paper, outlining its mission to 'level up' the country. The paper reflects the fact that landscape, green spaces and the built environment will be instrumental to this agenda. We know that landscape professionals across the globe are already implementing this holistic vision and the awards will celebrate their exceptional contributions."
Discussing the importance of the Landscape Institute awards, Edward Green, landscape architect at Southern Green and last year's winner of Excellence in Public Health & Wellbeing, says: "Winning awards is always special, but the Landscape Institute Awards represent the pinnacle of achievement in our profession, especially for projects that benefit the physical, mental and environmental wellbeing of our communities."
He says the awards highlight how green spaces and parks can help to improve the health and mental wellbeing of communities and drive the agenda for improving funding for a sector that believes it has been underfunded for years.
Headline sponsor of the Awards this year is Hardscape, which has supplied natural stone for projects featured in Natural Stone Specialist magazine such as Elephant Park in London, and the Glade of Light in Manchester commemorating the victims of a suicide bomber.
Category sponsors are: Vestre, Furnitubes, Building with Nature, Maylim, Civic Engineers, GrrenBlue Urban, AG, Green-tech, McParland Finn, Selux and Wildflower Turf.