Astronomical new range from Quartzforms
Quartz company Quartzforms introduces a whole new solar system of marble-effect quartz to the UK with its 'Planet' collection.
There's Mercury, Venus, Mars, Jupiter, Saturn, Neptune and Pluto. There is no Uranus for some reason, nor an Earth. And although Pluto was recently donwgraded to a dwarf planet, it will be available in the same jumbo format as the other slabs in the range, as well as the standard size (see below).
The new range will be among the products you will be able to see on the Quartzform stand at the new Hard Surfaces exhibition co-locating with the Natural Stone Show this year in ExCeL, London, 30 April-2 May.
Quartzforms says the Planet collection with its veined patterns is inspired by extra-terrestial landscapes, not to mention the natural veining of marbles on Earth. The veining is created in the quartz using exclusive 'long grain' technology that means it extends deep into the material.
Quartzforms says its materials are designed as the "perfect completion of man's space", and immodestly claims to have successfully achieved its ambitious project to create the perfect surface.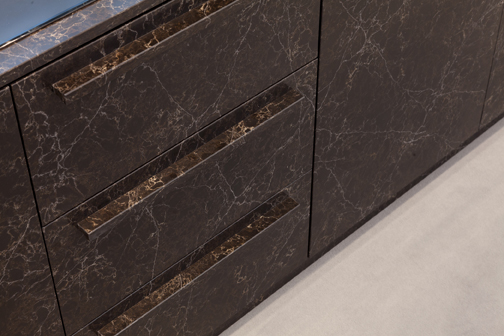 Mars, a symphony of power and elegance.
Quartzforms has established its own UK-registered company to sell its products in Britain, which are distributed from stock held at its warehouse in Harlow, Essex.
The quartz is made to the strictest of environmental impact regulations at a 120,000m2 factory in Magdeburg, south-west of Berlin, Germany – a location that has an efficient transport network of motorways, railways and the nearby port on the River Elba.
Quartzforms has now also produced an app, available for free on iOS and Android devices. You can use it to sort the complete catalogue (including four new colours of the Imperial collection and the Offmat collection, as well as the new Planets) by color or by collection.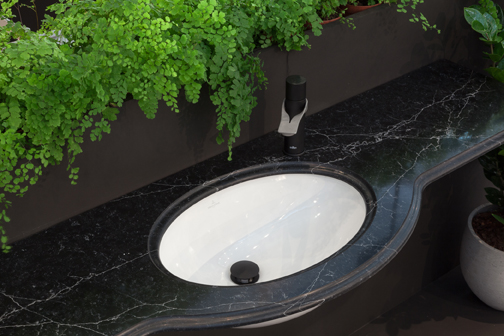 Pluto, the black planet - dark and mysterious.
Every material can be displayed in full screen mode with a simulation of dynamic reflection that changes with the inclination of the device being used to view it. You can download the app from files.i-contact.it/quartz/
Quartzforms also has an interactive catalogue, which it launched at the 2016 Marmomacc exhibition in Verona. You can see it at interactive.quartzforms.com.
Standard slab sizes are 3.05m x 1.4m in 12mm, 20mm and 30mm thicknesses, with jumbo slabs of 3.2m x 1.64m in 20mm and 30mm thicknesses.
Contact Quartzforms UK on tel: 07340 191495 or email: [email protected]