Let's talk about British stone
We are starting a discussion about British stone. If you have any questions about its use on your building or landscaping projects, post them below on this page (or on LinkedIn here if you want to use social media) and a response will be provided by an expert panel made up of:
Glenn Henson - Grants Group Technical Director
Iain Kennedy - Operations Manager of British Quarry operator Blockstone
Lee O'Connor - CEO of Grants Group of businesses encompassing Blockstone, Cadeby Stone and Grants Precast, as well as parent company Grants of Shoreditch.
Probably the best place to start thinking about British stone is to forget everything you think you already know.
It is not running out. It is not true all the best natural stone was used by the Romans – the stone being produced today is as good as it ever was.
It is not expensive. At least, it does not have to be. It depends how you use it, of course. It has a reassuringly realistic purchase price and is a durable, low maintenance building material that gives it an advantageous lifetime and recycling cost. It can even be less expensive than steel or concrete, as you can see from the online presentation of the Building Centre's 'New Stone Age' exhibition (click here to go to it). There's more from the exhibition here. 
It is available in large quantities and sizes. What the quantities and sizes are is determined by geology but modern production methods make the most of it.
It will be delivered on time. Developments such as the BlockStore at Cadeby quarry mean the blocks are already waiting to be sawn. The stone is available in a shorter time span than waiting six-to-eight weeks (sometimes more) for it to arrive from China or India. And you will be sure of what you get. Britain's building stones have a provenance of performance in the British climate.
It is sustainable. On a planet made of rock it is never going to run out. The winning of stone is a low carbon activity. It does not involve any of the energy intensive heating processes used to make steel, brick or the cement used in concrete (concrete and steel contribute about 10% each of the world's annual CO2 emissions). Nature has already done all the hard work of creating stone. It is simply sawn and shaped. And it is reusable and recyclable.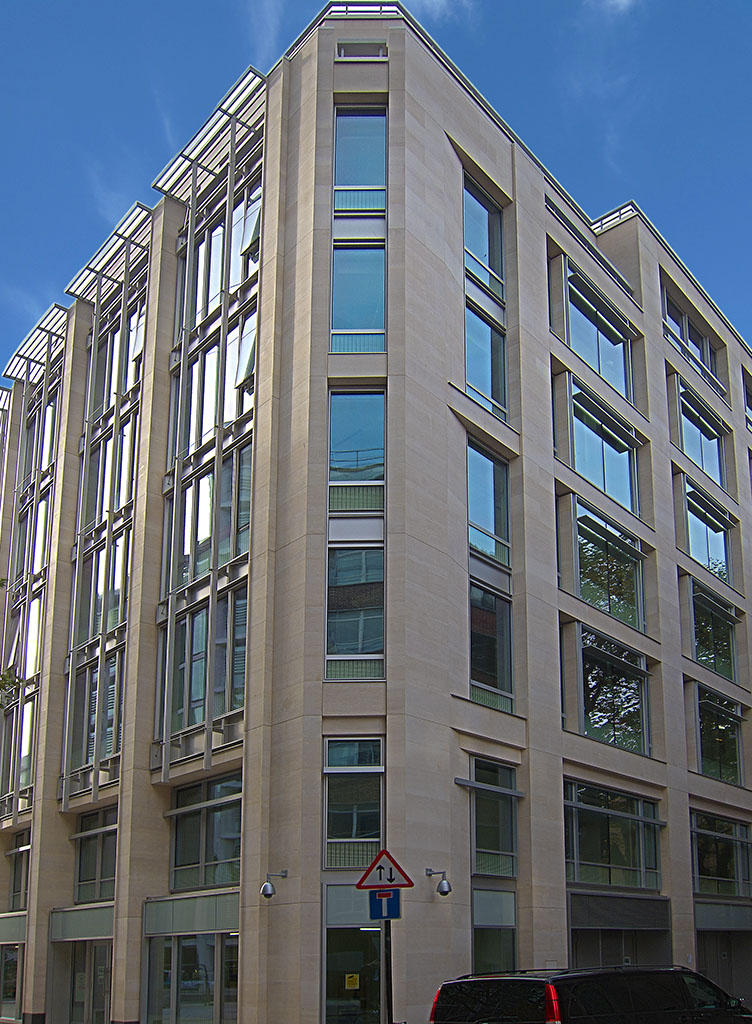 This is the Rolls Building, part of a judicial court complex on Fetter Lane in the City of London used by the High Court of Justice. The stone used is British, from Cadeby Quarry in South Yorkshire. Much of the stone used for building in London is Portland, another British stone. So let's talk a bit more about British stone.
A significant misconception is that the UK does not have decent stone resources and that is simply incorrect.
There are far more operational quarries than many imagine – about 250 actively producing dimensional stone.
We do have the skills and expertise right here in the UK to rival those in other countries and plenty of stones to choose from. The UK geology does not produce many highly figurative marbles, granites or quartzites, it is true, but it does have regionally appropriate limestones and sandstones in abundance.
And with environmental issues coming to the fore before the coronavirus pendamic and still in poeple's minds, the issues are only likely to have a higher profile in the post Covid-19 world. The construction industry can benefit from embracing low carbon, sustainable, appropriate domestic procurement.
Price has been the overriding element of the decision making process over the past 20 years. There has been an almost irrational drive to find ways to do things ever cheaper, with little credence given to the old adage that 'you get what you pay for'.
UK-based companies offer competitive prices that reflect the genuine costs of operating businesses in the UK. True, stone can be cheaper when it comes from low-wage economies where employees regularly die or are maimed in quarry and factory 'incidents' and are slowly asphyxiated because they have no protection from exposure to respirable crystalline silica dust from high silica content granites and sandstones.
Lee O'Connor, the CEO of Grants Group, says: "We need a major shift in thinking and attitudes towards the priorities in a construction project and nurturing and supporting domestic production. We have the extremely important environmental factors that are now part of every construction project and we need material provenance to have a place at the table of key decisions.
"It might cost a little more to specify British stone but the wider benefits will certainly be a far healthier for UK PLC. It's a simple principle that every pound spent procuring UK goods contributes towards boosting the UK economy and a pound spent overseas benefits an overseas economy."
That is why Grants Group is prepared to open a discussion with architects, designers, developers and contractors about British stone and invites questions about the stone available. They will aim to answer as best as possible and are willing to do that in the public domain of social media on LinkedIn.
Some topics you might like to ask questions about could be to do with cost, and how British stone compares with the price of overseas stone. "That is an interesting subject," says Lee. "There are many different factors involved, such as stone type and how it is used, but I believe we could give a response that would provide a decent high level overview of the subject. And I'm sure the answers would surprise a lot of specifiers, developers and clients."
Below. Eric Bignell, the Editor of Natural Stone Specialist magazine, is pictured with blocks of Cadeby stone in the Block Store at Cadeby quarry. In the Block Store are blocks of limestone and sandstone from nine different British quarries ready and waiting to be sawn and used on construction projects. The quality is high, the carbon low and there's no waiting.