Covid reboot could be good for stone
The government is trying once again to cure the ills of construction. Maybe turning it off and on again last year will have done the trick. 
The past year has been a game-changer, says Marcus Paine, the President of Stone Federation Great Britain and Director of quarry company Hutton Stone on the border between England and Scotland at Berwick-upon-Tweed.
"People don't normally have time to stop and reflect, but last year everyone stopped and they realised they want to live in a better environment. This will drive the economy, it will just be a different economy to the one we're used to," says Marcus.
One effect already being seen is an exodus from the office and, possibly, from high density urban living, at least for some.
According to Liverpool developer Romal Capital, which has concentrated on the regeneration of areas by creating high-quality waterfront developments, a third of UK households plan to change their living arrangements as a result of their lockdown experiences and home working. They want a more pleasant environment with a bit more green space.
Admittedly the figures are based on a survey of only 2,000 households (there are about 25million in the UK), but it found that nearly a third (31%) are planning to change their living arrangements. If correct, that's a staggering increase on the 4% to 5% that typically move home in any given year.
According to the survey, the desire to move is slightly higher in the 25-34 age category (32%) and less in those over 60 (28%). But 20% of them say they plan to move within the next three months to take advantage of the stamp duty holiday.
Whether all the plans will reach fruition remains to be seen, but demand for housing is clearly already high, as the continuing rise in domestic property prices unarguably  demonstrates. According to HM Land Registry the average house price increased during the year to January to £267,000 (+7.5%) in England. In Wales the average price rose to £179,000 (+9.6%), in Scotland to £164,000 (+6.9%) and in Northern Ireland to £148,000 (+5.3%).
The stone industry can verify across the board, from quarriers to worktop fabricators, that the housing market has remained the most active sector.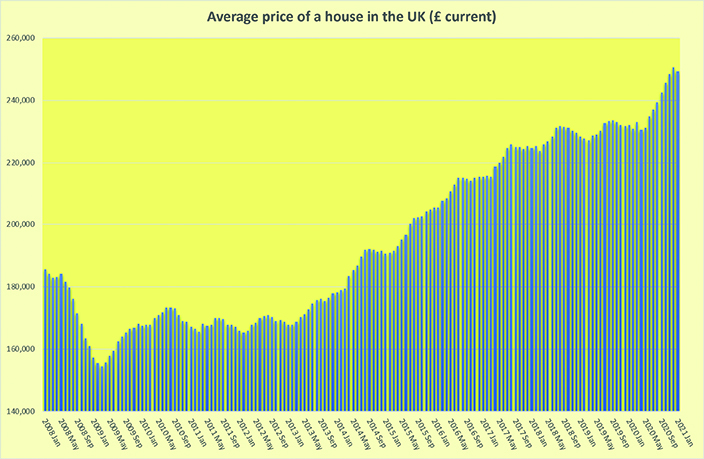 Rapid recovery
Figures from the Office for National Statistics (ONS) also clearly show housing played a major part in the construction industry recovery last year, although a 4% growth in private commercial work in February (the latest figures as this is written) show all private sector work is now increasing.
And indicators such as the Purchasing Managers' Index suggest the rate of growth is increasing. In March it reached its highest level (61.7) since the second half of 2014.
Survey respondents said new home sales were leading the way, although there were also reports of a boost from major infrastructure projects and mobilisation of delayed initiatives in hospitality, leisure, and office development.
How the UK works in the future has yet to be determined, but the twice daily commute to and from offices has started to look very 20th century. As people settle into working at home they want homes that provide an environment more suited to their new way of life. The fact more people have stayed at home probably also accounts for repair & maintenance not having fallen as far as construction in general last year and being first to return to its pre-pandemic levels.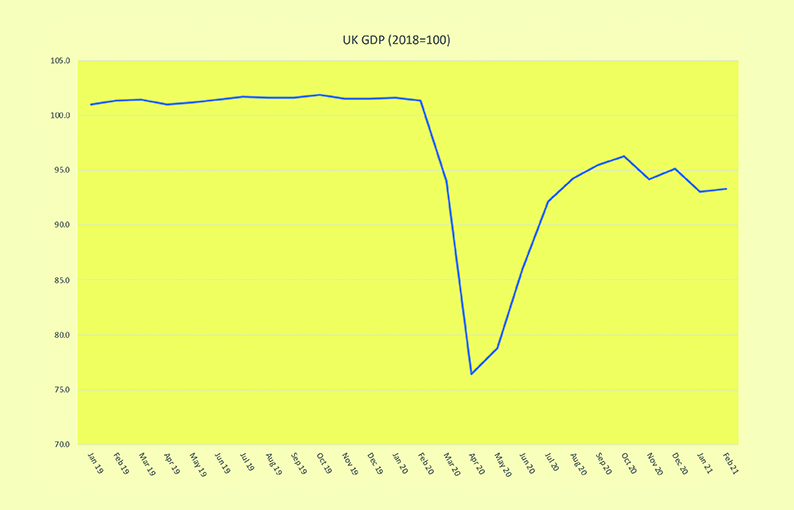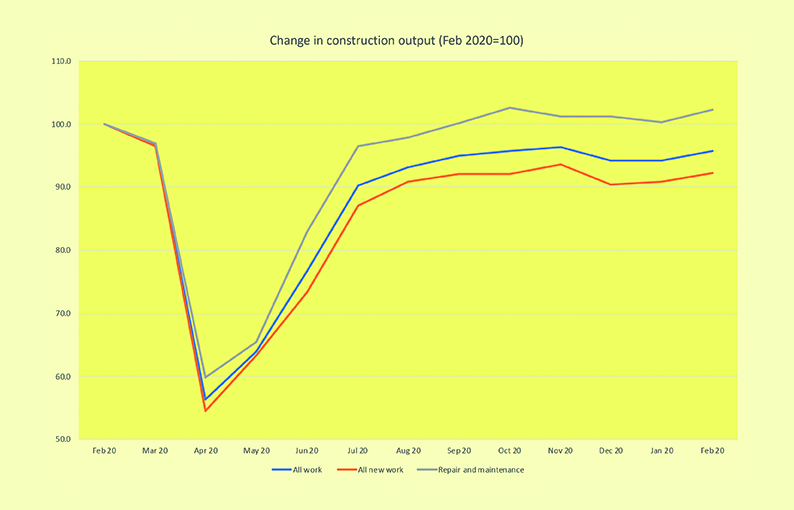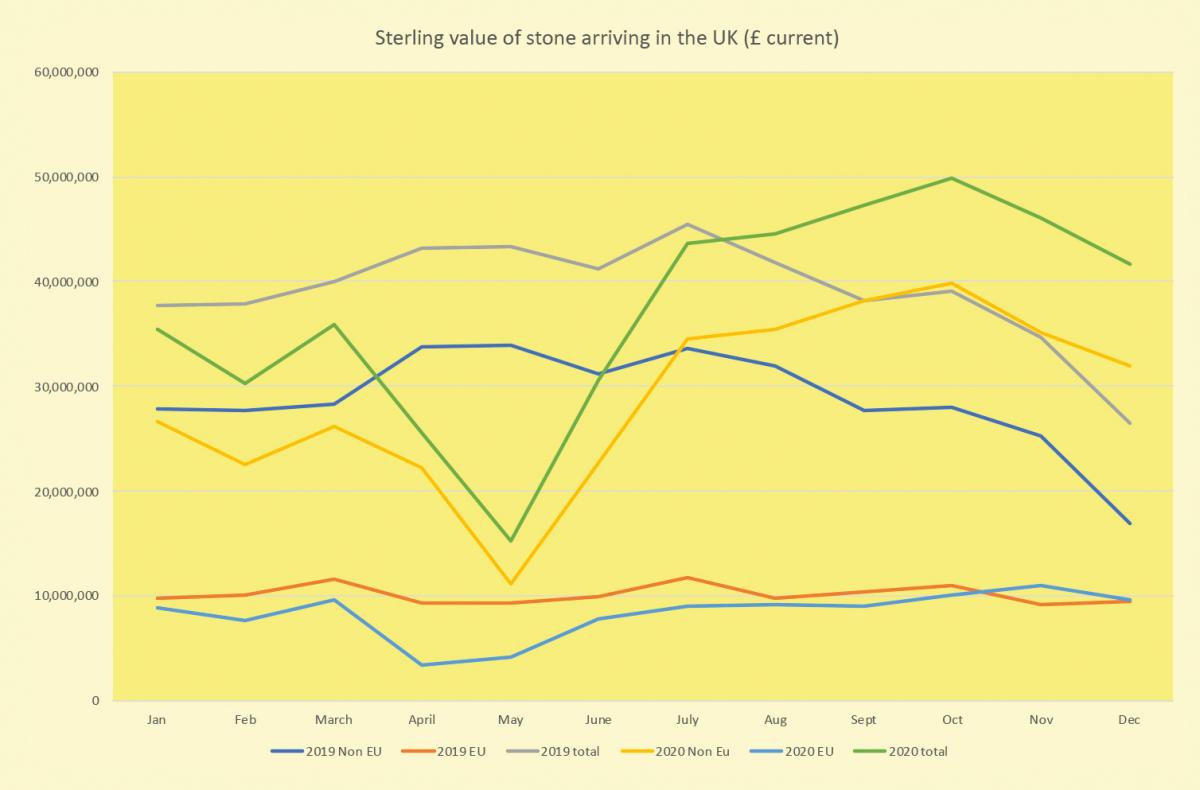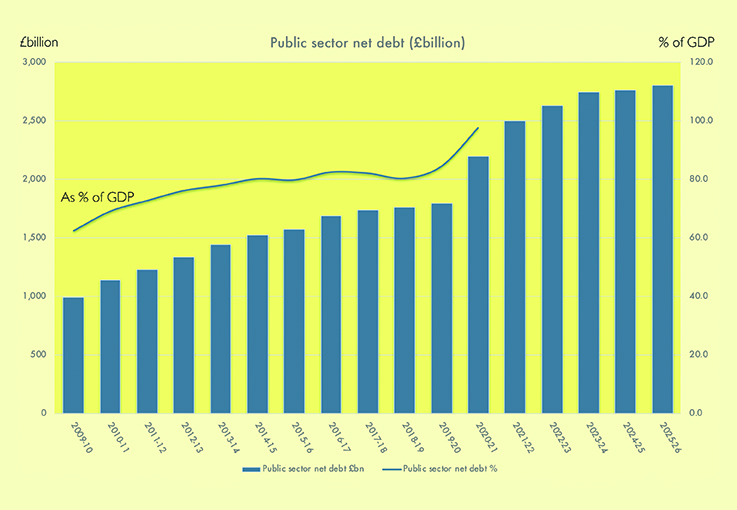 Sources: UK GDP and change in contruction output - Office for National Statistics; Imports of stone - HMRC; Public sector net debt - Office for Budget Responsibility  
Digital efficiency
The lockdown has also made us all more aware than ever of the role of computers and information technology, and not just for Zoom and Teams meetings.
Given a bit of time to investigate it, companies have increasingly seen the value of enterprise resource planning (ERP), business intelligence (BI) software, asset performance management (APM), supply chain management (SCM), project portfolio management (PPM) and a plethora of other acronyms we are going to have to get used to, along with application programing interfaces (APIs) that allow all the programs to communicate with each other. That's apart from BIM (building information modelling).
Companies in industries across the economy are incorporating the technology, especially with the spread of 5G telecommunications that threaten to make even fibre optics obsolete.
We saw in the report on Derbyshire-based Natural Stone Surfaces in the previous issue of this magazine how this leading worktop fabricator has adopted Moraware, designed specifically for worktop fabricators. It is for drawing and estimating and for keeping track of projects. It costs Natural Stone Surfaces  £2,000 a month, but with 120 or more worktops a week to keep track of, it is a price the company considers worth paying.
Another bit of automation at Natural Stone Surfaces comes from DataBridge Integrations, which works in conjunction with Moraware to automate communications with customers, automatically sending emails to let them know when a job will be delivered and what they need to have ready for the installation.
Portland limestone producer Albion Stone also took the opportunity presented last year to incorporate more IT by introducing Power BI into its management systems.
Power BI is a business analytics service from Microsoft. It is part of the Microsoft Power Platform. It gathers information from around the business and presents it as easily understandable graphics. Its visualisations and business intelligence capabilities are interactive with an interface that is simple enough for end users to be able to create their own reports and dashboards.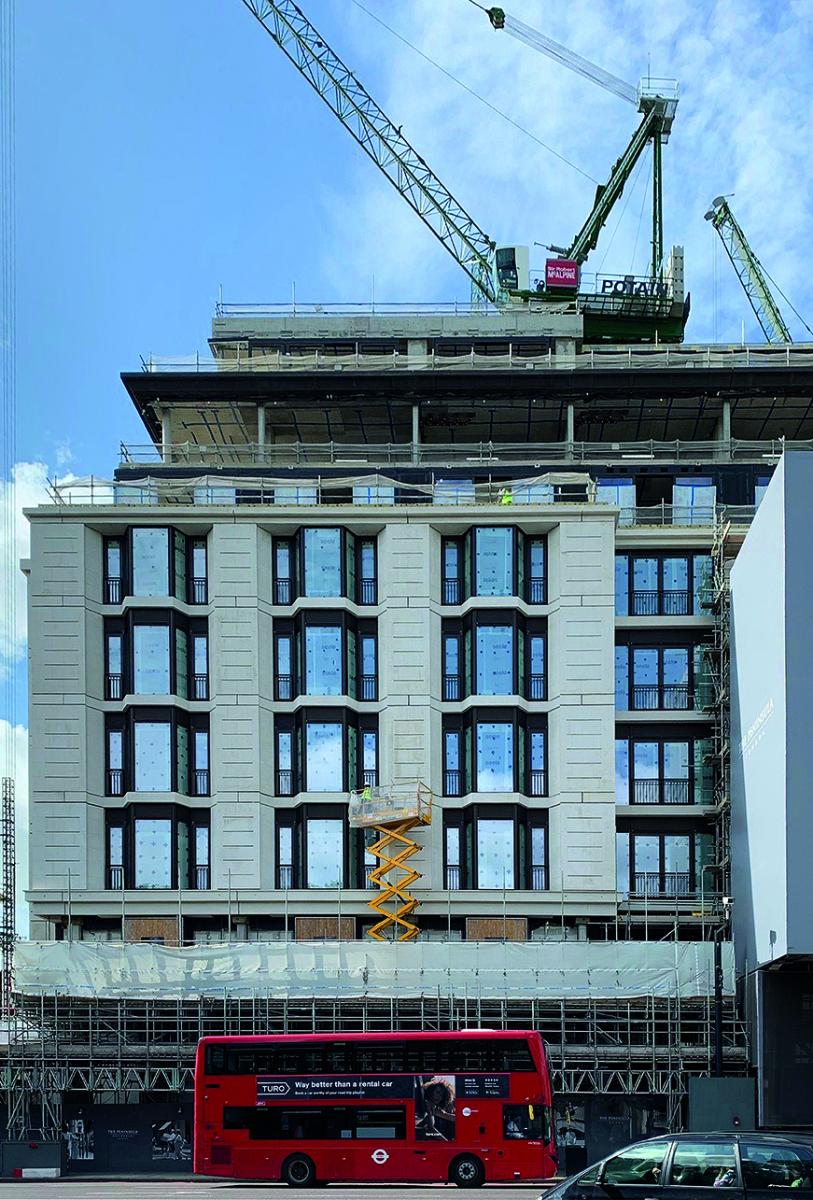 The Peninsula Hotel is a mixed use development in a single building arranged around a central courtyard. It consists of lower ground, ground and eight upper floors. Currently under construction in London SW1, this hotel will include 190 guest rooms, restaurants, spa and ballroom. It will also have 24-28 apartments. The design by Hopkins Architects is based on the Italian Renaissance palazzo. The main contractor is McAlpine. The project involved the demolition of a 1960s office block to make way for the new development. Grants of Shoreditch have installed the façade stonework, which is Portland Basebed limestone from Albion Stone's Jordans and Bowers mines on the Dorset island of Portland. Albion has supplied approximately 10,000m2 of the stones.
Information is king
At Albion, Power BI enables line managers to see, for example, how many hours a machine has worked so they know when it needs servicing. They can also see the results of any decisions they make instantly – and so can Managing Director Michael Poultney. For him, all the different aspects of the business are pulled together at a glance in real time, so he knows how profitable Albion is at any moment, where the profits are coming from and where costs are coming from.
Many people have commented that if the Covid-19 pandemic had come at any other time in man's history it would have been a lot more disruptive economically – and probably also a lot deadlier because the IT systems available to scientists have even made it easier to develop and share information about vaccinations and cautionary behaviour such as social distancing and isolating.
The pandemic has also been used to further the arguments of another social move that is having, and is likely to continue to have, a major impact on the use of stone in construction – the environmental lobby and efforts to combat global warming, which seem to go hand-in-hand, with champions such as David Attenborough and Greta Thunberg being internationally recognised.
Covid-19 might have been transmitted to people as a result of the open air meat markets in China where animals including bats are sold. Although other culprits have been suggested as sources of the virus, bats seem most likely.
The environmental / global warming lobby, summed up as Extinction Rebellion, has only strengthened during the pandemic. It has previously seen waves that seem to have tracked economic prosperity. The better the economy is doing the stronger the environmental movement has become, only to recede when the economy goes into recession. Before the banking crash of 2008 there had been an upswell of concern about environmental damage and global warming, but as a result of the crash some of the plans to tighten the environmental controls on construction through the Building Regulations were put on hold.
With Covid, environmental concerns have not gone away. Possibly because the economic crash resulting from the first lockdown was cushioned by government measures to support industry with interest-free loans, VAT deferment and meeting 80% of the cost of staff so they could be furloughed rather than made redundant.
As a result, the extraordinary fall in GDP during the first lockdown last year was followed by a rapid recovery, in no small part thanks to the construction industry, which has also continued to work through subsequent restrictions and lockdowns.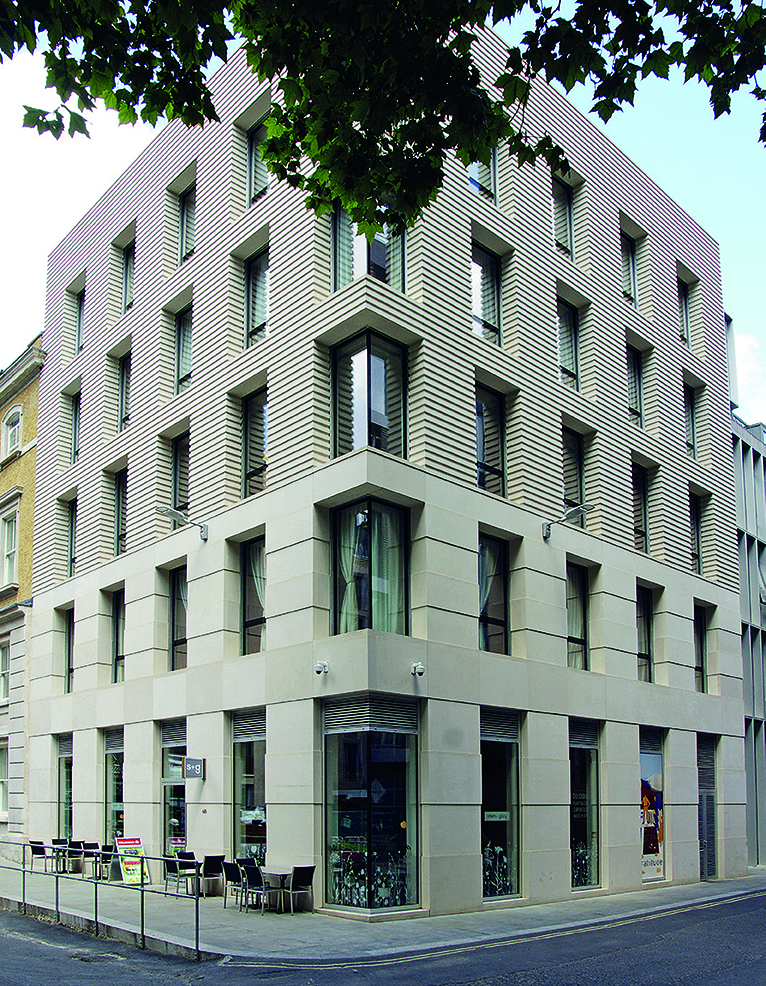 Helical's £170million new build mixed-use development in Barts Square, London, was Commended in the Natural Stone Awards presented in March. It includes  office and retail space and 236 residential apartments. The stonework, with Putney & Wood the principal stone contractor, involves 100mm thick, ribbed Moleanos limestone from Portugal, supplied by LSI Stone. The building was designed by Sheppard Robson architects to sit comfortably in its locale by reinterpreting existing fabric, knitting-in where required and creating new architectural statements where appropriate. The Stone Awards Judges felt the detailing of the stone façades created a monumental effect that gives the building a strong presence on the street corner.
Stone still popular
Even so, construction output in February (the latest figures from the ONS as this is written) was still 4.3% down on February last year. For 2020 as a whole, construction declined 14% compared with 2019, which is the largest annual fall since the current series of figures began in 1997.
Although there are no figures for the stone industry in the UK, imports recorded by HM Revenue & Customs showed a decline of 5% in 2020 compared with 2019.
Anecdotally, some stone has been in short supply since the turn of the year, which generally gets blamed on Brexit rather than the pandemic. The blocking of the Suez Canal by the supersized container ship Ever Given will also have delayed some stone coming from the Far East.
Because of the extra paperwork involved in buying from Europe, some of the companies that previously bought directly from abroad are now buying from wholesalers. There was also a logjam of containers at the docks, a shortage of containers and a shortage of transport. And companies paying £100 an hour for a lorry tend to become frustrated when those lorries are kept waiting at the docks.
Stone is not the only material imported by the construction industry that is facing delays. Cement, steel, ironmongery, tools and a lot of other products are also being held up, which is adding to shortages as construction quickly returns to normal levels of activity.
Shortages inevitably lead to price rises, which were already on the cards because of the rise in price of raw materials. Facing shortages, builders and developers are prepared to pay higher prices to secure the materials they need. There also seems to be some measure  of stockpiling, which is adding to the problem of shortages.
Builders Merchant Travis Perkins has warned of more price rises and shortages to come in its quarterly update in April, which came just a week after a Construction Leadership Council taskforce added aggregate, cement and plastic products to its list of items facing shortages. Steel specialist Billington also warned that last year's price rises of steel are likely to continue this year.
Exports from the UK to Europe fell 40% in January following the last minute trade agreement with the European Union in December. Companies that export had been told to prepare for the end of Brexit transition period, but without an agreement in place they struggled to know what to prepare for. Most are still struggling to understand the new system.
Not much British stone is exported, but one company that does export its stone is Portland limestone producer Albion Stone. Managing Director Michael Poultney says: "It took us four hours to sort out the paperwork on a £4,000 order for Northern Ireland!"
Albion has been a regular exhibitor at the annual international stone exhibition of Marmo+Mac in Verona, Italy, as it has sought to reduce its exposure to the British market. It was exporting more than £1million-worth of its stone most years, but since Britain left Europe orders have dwindled because customers are concerned the stone will not be delivered.
Michael: "We have been exporting for 20 years, we know our way around. I'm trying to say to our Asian customer these [delays at the docks] are just teething troubles but they don't believe me."
He says the customs officers are not helpful because they are also struggling to get to grips with the new systems.
Because most of the machinery used in the stone industry comes from the EU, so do spares and consumables. Albion says that because a container carrying a variety of products will be refused entry if there is a problem with any single one of them, he has started bringing in parts for his machines by courier individually, which inevitably increases the price.
Like much of the stone industry, Albion has carried on working throughout the pandemic. People working in the mines tend to be at least 20m apart and isolated in the cab of a vehicle. "A 2m distance between people is not one of our greatest difficulties," says Michael Poultney.
But customers were concerned supplies might not continue and wanted to ensure they had stocks. "The week after the Prime Minister announced the lockdown on television in March last year we had our busiest week ever," says Michael.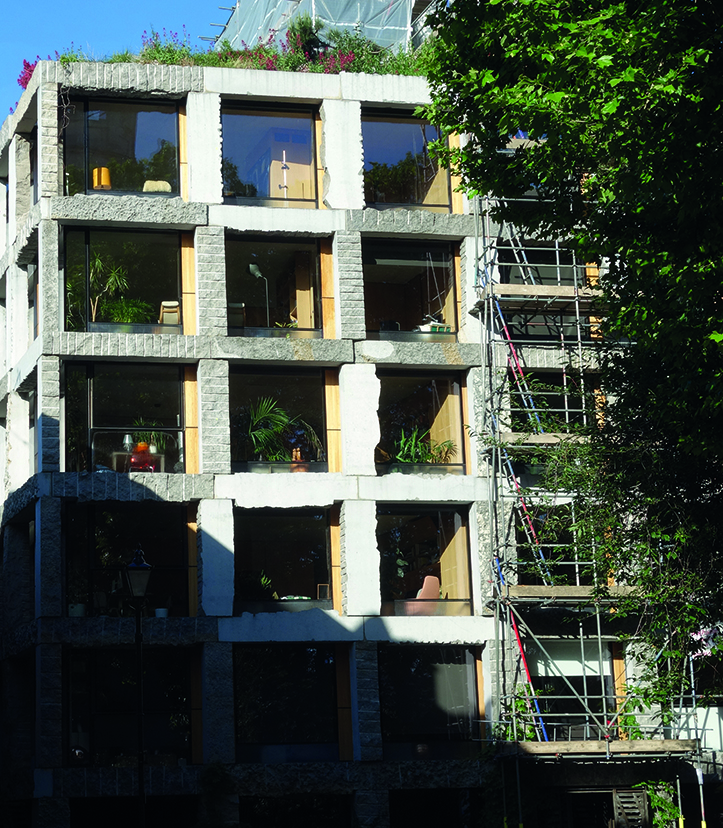 Amin Taha's 15 Clerkenwell Court in Islington, London, has reduced the carbon content of the frame by better than 90% by using a natural stone exoskeleton of Chomerac French limestone from a quarry near Lyon rather than a concrete or steel frame. The council initially wanted it demolished because they said it contravened planning permission, but the architect won an appeal to allow it to remain as well as a number of architectural awards. The stone specialist on the project was The Stonemasonry Company based in Wymondham, Leicestershire.  Photo: www.planetslade.com
Carbon footprint
Many in the stone industry have been encouraged by the concerns about global warming and the concentration on reducing CO2 emissions because stone is an inherently low carbon product.
A greater concentration on reducing the carbon footprint of construction could help the natural stone industry, although the cement and concrete producers have been among the first to latch on to the green construction message and announce projects to reduce the carbon content of their products in time for the 2050 net zero target proposed by the government.
Carbon capture and storage (CCS) and carbon capture and use (CCU) are much in evidence.
CCU dates back to 2008 when an American company called Calera started making cement by turning CO2 emissions into carbonic acid from which it produced a carbonate, like the Calcium Carbonate (limestone) used to make cement. It says its cement reduces the CO2 impact of the built environment by up to 60%.
The cement manufacturers understandably like to concentrate on the amount by which CO2 in the production of cement has been reduced rather the amount of carbon still being produced in the manufacturing process.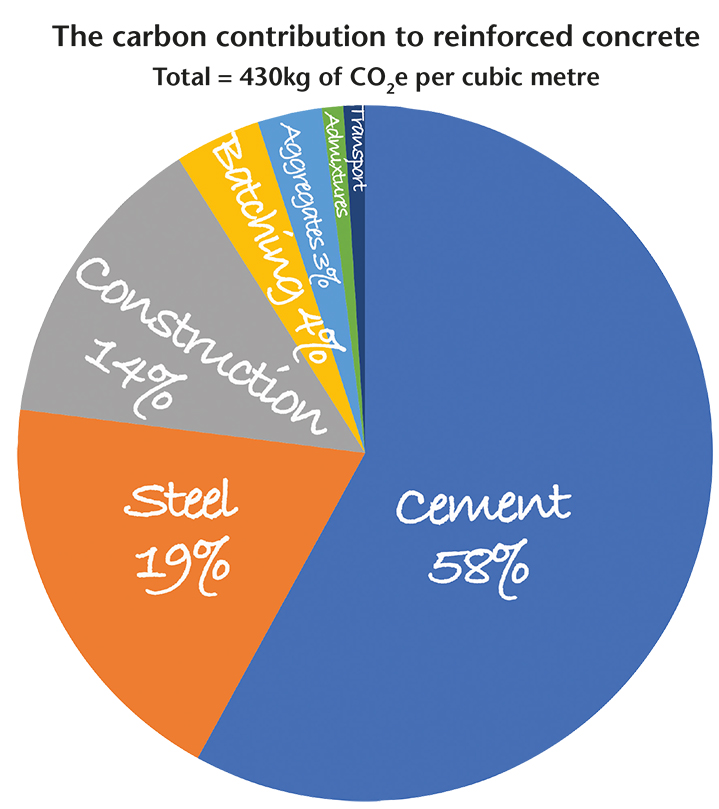 Figures from Paul Astle,
an Associate at Ramboll, in a
paper titled How Can We
Reduce the Embodied Carbon
of Structural Concrete?
Currently, cement production accounts for something approaching 10% of the CO2 mankind adds to the air each year. And the International Energy Agency has estimated that cement production worldwide will have to increase by between 12% and 23% by 2050, if the way we build does not change and the world's human population grows to 9billion people or more.
The Institution of Structural Engineers has produced a number of papers about carbon and its reduction in construction that it has made freely available on its website. There is quite a lot about cement, concrete and steel, some of it by the manufacturers of those products. There are some contributions about stone in construction, but there is a small fee to view them.
In a paper called How Can We Reduce the Embodied Carbon of Structural Concrete? (see bit.ly/carboncrete), Paul Astle, an Associate at Ramboll who leads the structures sustainability network at the company, has quantified the contribution made to each cubic metre of reinforced concrete by the materials and processes involved. The result is shown in the graphic on page 24.
Burning limestone to make cement produces CO2 and most of the fuel used to burn the limestone and the other components of cement (aluminium, iron, magnesium oxides ) in a kiln at a temperature of around 1450ºC also produce CO2 as well as other pollutants.
Net zero
Heating and cooling buildings in use adds more CO2 and in the UK the construction and use of buildings currently accounts for about 40% of the greenhouse gasses the country adds to the atmosphere. The government wants that to be reduced to zero by 2050, with an interim target of an 80% reduction by 2030, in accordance with the Paris Agreement, a legally binding international treaty on climate change.
Even if there were no global warming, burning exhaustible supplies of fossil fuels has a finite potential and at some time or another an alternative has to be found. In economic terms, although fossil fuels have made some people extremely wealthy as well as benefitting most of us and the economy in general, requiring less of them will mean the money can be spent in other ways. As Marcus Paine said at the start of this report, the economy will continue, it will just be a different economy.
The drive towards carbon reduction has become a mantra that companies have felt they have had to, and in most cases want to, adopt. It is manifesting in all kinds of ways.
In Sweden, hybrid and fully electric construction equipment from Volvo and Skanska was used in 2018 as part of a trial to test the practicalities of an 'emission-free' quarry.
Known as Electric Site, the project took place at Skanska's Vikan Kross quarry near Gothenburg over a 10-week period. The quarry produces aggregates and in normal operation uses a 70-tonne crawler excavator, a diesel-driven mobile crusher, a 50-tonne wheel loader and three 50-tonne capacity rigid dumptrucks to move around 700 tonnes of blasted rock per hour. Between them, these machines consume some 3,000 litres of diesel in a working day.
The Electric Site trial replaced those machines with a diesel-electric hybrid wheel loader, a cable-electric crawler excavator and crushing equipment and eight battery-powered autonomous haulers. Though not quite matching the production rate of 700 tonnes/hour of the diesel machinery, the test fleet did reduce fuel consumption to just 64 litres a day, along with 9,320kWh of renewable electricity. That is a reduction in carbon emissions of 98%, from 8,700kg/day to just 166kg/day. Overall there was also a 40% reduction in costs.
While production versions of the concept machines used would be more expensive to buy than conventional diesel machinery, Volvo is confident a quarry using them could cut costs by a quarter.
In this country, Kier is currently trialling Punch Flybrid Energy Store flywheel technology developed for Formula 1 racing cars on a tower crane at its £19million Shakespeare North Playhouse development in Merseyside.
The flywheel stores energy from when the crane is in use that is then used to overcome inertia when the crane is next used, meaning a smaller generator can be used. It has resulted in a 40% saving on fuel.
Stone Federation Great Britain also believes there is a lot of good news for the stone industry in the fast-track changes to planning being made by the government.
The Planning for the Future White Paper certainly contains plenty of pictures of attractive stone buildings.
Stone Federation President Marcus Paine says the planning changes are probably stone's big chance for greater recognition as a construction material and an opportunity to fight back against being continually tripped up by specification changes.

Planning opportunity
The Federation considered the White Paper represented too good an opportunity to waste, and retained Sam Thistlethwaite of planning and design consultancy Barton Willmore to write its response. Sam has also responded on behalf of the Federation to the later consultation on the National Planning Policy Framework (NPPF) and National Model Design Code (NMDC).
Sam updated Stone Federation members on the Federation's response to the NPPF and NMDC consultations on Zoom in February. The consultation period ended on 27 March, but if you want to see the changes proposed see bit.ly/NPPFstone.
The Stone Federation's response to the NPPF consultation has been to support the changes in principle while ensuring that: the link between dimension stone and good design encompasses new build as well as heritage buildings and areas; it is understood dimension stone can serve distant markets as well as local markets; and dimension stone should be included as a nationally significant mineral on the basis of design quality.
Nobody is going to oppose a drive for beauty in construction and the stone industry in general is likely to support a strengthening of the planning enforcement system, but Sam said in February that links between design codes and the supply of indigenous materials need to be clearly established, with stone producers seen as key stakeholders in that process.
He wanted Stone Federation Quarry Forum members to begin engaging with their local planning authorities now in order to have an input at an early stage of the planning process.
He asked Federation members to let him have specific examples of where specifications had been downgraded by builders and developers after planning permission had been obtained.
The cost of materials is not going to be disregarded in decision-making and Stone Federation members have often argued that they should be involved in design at an early stage so they can help designers make the most economical use of stone, but such considerations should be taken into account at the planning stage, not be 'value engineered' at a later stage.
There is a lot of talk about 'beauty' in the government's approach to planning. The body established to look into planning is called the Build Better Build Beautiful Commission (BBBBC). Its report last year was called Living With Beauty and, helpfully for the stone industry, contained plenty of pictures of stone buildings and landscaping.
Beauty is, of course, in the eye of the beholder and the government wants its interpretation to be at a local level, albeit guided by the National Model Design Code. The proposal is to appoint a 'Chief Place Maker' at each planning authority to oversee the interpretation of 'beauty' and enforce it.
If adopted, the NPPF changes proposed should strengthen the enforcement of planning authority decisions.
Revised BS 8298 for stone cladding makes it easier to decide to use stone
The revised version of BS 8298: Code of Practice for the Design & Installation of Natural Stone Cladding & Lining, is generally agreed to be an improvement on the standard as it stood since its previous revision in 2010.
It has been one of the most useful standards for natural stone since it was first developed in 1989 from a Stone Federation Great Britain code of practice – and Stone Federation members are among those who have been involved in the latest changes.
The 2010 revision broke one standard into what was intended to be five parts, although part five on internal cladding was never produced.
The standard has now been cut back to three parts, parts 2, 3 & 4, covering, respectively, hand setting, stone on precast, and rainscreens. Part one, which covered general principles, has been incorporated into each of the other parts.
The 2010 revision could have been considered ambiguous about certain aspects of using stone, which the latest revisions aim to clarify, including sample sizes of cladding to test and frequency of testing.
Stone consultant Peter Harrison, one of the Stone Federation members on the committee revising the standard, said the revision was necessary because designers are "using thinner and thinner panels in larger and larger format".
The revised edition is both more proscriptive and more useful in ensuring stone used will perform as expected and required, with a table to show how factors of safety should be assessed for thicknesses and sizes of panels used. There are also more explanatory diagrams with more detail that are easier to understand.
The result is that desirable mixture of making sure stone is being used safely without putting clients off using it at all.
The standard makes provision for more testing, including production control testing to ensure the stone actually being used lives up to the quality promised. And it requires the structural engineer and architect to set out the functional requirements governing the design principles, including maximum movement allowances, and agree them with those selecting and designing the cladding and its fixings at an early stage in the design process.
The standard is a code of practice and does not have to be used, but it is like insurance: the potential consequences of not using it are scary if anything does go wrong.
BS 8298 should now help clients and architects to understand why they would be well advised to resist the temptation to employ cut-price stone suppliers and contractors.
Stone Federation has negotiated a 10% discount on BSI publications for its members. The Parts of the standard are available separately from BSI's online shop.