Equipment
The latest news from the Stone Industry
The latest updates to Laser Products' LT-2D3D laser digital templater, sold in the UK by Laser Products Europe (LPE), have made it even easier to send DXF files straight to your CNC.Different...
J Rotherham was one of the largest worktop companies in the country with highly mechanised factory production lines when it went into Administration in February this year.Now five of the robot arms...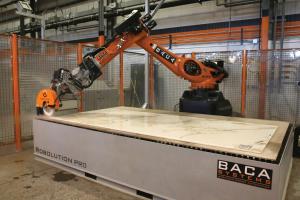 It's a Robolution! LPE Group introduced the American-made Robo SawJet to the UK and Europe. Now comes the Robolution Pro, with a disc and a waterjet cutter on the same head, both capable of mitres as well as straight cuts for the production of 20-25 worktops a shift in a fraction of the footprint required for a separate saw and waterjet. Robolution needs just 9m x 5.5m. One has already been ordered by a UK stone company. The Baca Systems saw joins other technologically advanced solutions to stone processing from LPE, including its laser digital templaters, the Easy DXF digitiser to create DXF files for CNC processing from physical templates, and Slabsmith for digitising slabs and maintaining an inventory. LTP is also the UK agent for Italian Comandulli edge polishers and Omni Cubed handling equipment, which has lately introduced a slim slab saver for use with porcelains. LPE MD Carl Sharkey says the fact that most of what it sells comes from America could be a bonus in the UK when the Brexit transitional period is over.
People might be talking about the 'new normal' but with the end of furlough and Brexit still to come, the new normal has yet to kick in. Whatever else it might bring, it will certainly...
Grabo is a hand-held lithium ion battery powered vacuum lift that can be used even with rough surfaces on porous or dusty stone.It has a double seal (foam and rubber) and its vacuum motor can run...
Thibaut, the French stone machinery manufacturer, has rationalised. It has rationalised its range of machines and it has rationalised the components of those machines, so they share more of the same...
If there's one thing the coronavirus pandemic has taught us it is that this is without question the digital age. Even those who had previously eschewed the digital communication revolution...
Stone machinery company Stone Equipment International / National Masonry is re-focusing on consumables with a promise of the best prices available. "I've decided to be the cheapest...
CityFibre and its construction partner Callan Connect are giving a new British-made wearable internet-connected technology its first live test on a construction site – and it could help prevent...
Limestone company Longcliffe says it has developed what it describes as a game-changing development in the way liquid screeds are applied.In conjunction with one of its global additive partners it...
THIBAUT invites you to its Open Days on 27 and 28 March at its headquarters in Castres, France French stone machinery company Thibaut extends an invitation to join it at open days...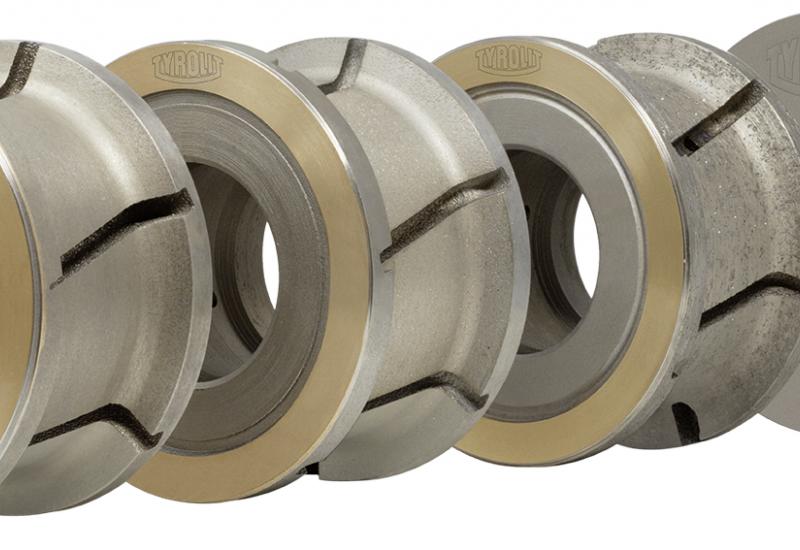 Tyrolit's HS-3 CNC tools previewed at Marmo+Mac in Verona are being officially launched globally at StonExpo in Las Vegas, USA, this month (28 to 30 January).
Tyrolit's series of HS-3 CNC tools previewed at Marmo+Mac in Verona in September are being officially launched globally at StonExpo in Las Vegas, USA, this month (28 to 30 January).The HS-3 range...
Natural stone is a particularly environmentally friendly building product, although it is greener still when appropriate measures are taken by companies processing it to manage water use by recycling...
It is not so many years ago that the few stone companies actually using diamond tools locked them away at night because they were so valuable. B.V. Diamond is one of the companies that changed that...
Following the agreement between Italian manufacturers Ferrari & Cigarini and UK company Stone Equipment International, pictured together are (left to right) Laura Salluzzo (F&G sales assistant), Andy Bell (Director of Stone Equipment International), Rosi Francesco (F&C Area Sales Manager UK and Ireland) and Riccardo Pieroni (F&C Sales Director).
Italian company Ferrari & Cigarini has been selling machinery for more than 50 years but it has tended to be on the tile side of the industry. With stone fabricators now taking more of an...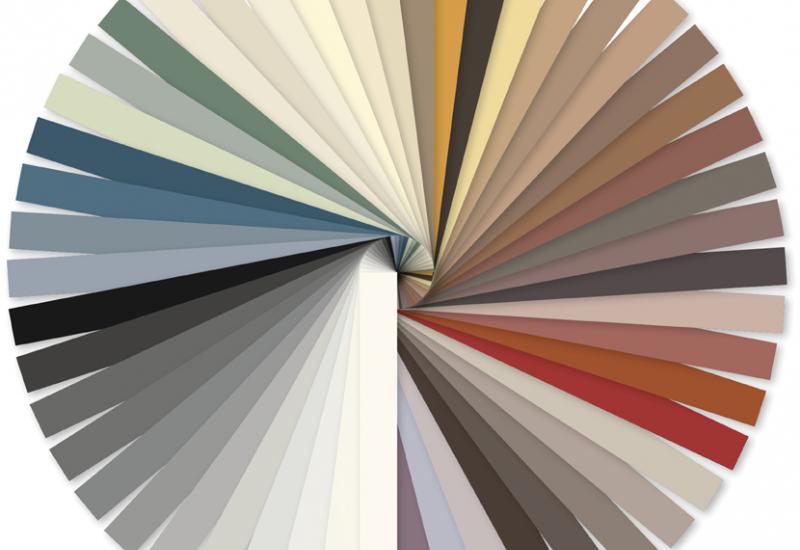 Adhesives, grouts, sealers, colour enhancers and the various other consumables used with stone continue to evolve. Here, some of the suppliers talk about their latest developments.Kerakoll's...
Pages