Annual machinery review: Think this is the new normal? You ain't seen nothin' yet
People might be talking about the 'new normal' but with the end of furlough and Brexit still to come, the new normal has yet to kick in. Whatever else it might bring, it will certainly include even more computer technology and internet connectivity in production.
During the coronavirus lockdown even reluctant technology users started to appreciate digital communication, which is already changing the way people live, both at work and in their social lives. With 5G, with or without Huawei (as long as all the masts are not destroyed), expect the communications revolution to accelerate.
Already all but the most basic of machines incorporate telemetry (on board internet connected sensors that facilitate remote diagnosis, analysis and, in some cases, operation). It is part of what is known as the Internet of Things, or, more specifically, the Industrial Internet of Things (IIOT).
First, however, there are the effects of Covid-19 to overcome and whatever Brexit might bring.
Some see the current position as being like the 'phoney war' in the first six months or so after the UK declared war on Germany in 1939. Nothing much changed. After that, all hell broke loose and paying for the war saw government debt go above 100% of GDP. It took almost 20 years, during which there was rationing and austerity, to get it back below 100%. Fighting the coronavirus has seen  public debt go above 100% again. 
With the end of furloughing after October, when there could be a significant increase in unemployment, and the end of the transition period of Brexit after December, not to mention a possible second wave of Covid-19, conditions are anything but certain – and uncertainty tends to be the enemy of growth.
The money put into the economy by the government has, according to HM Revenue & Customs, seen 171,400 construction companies claim almost 10% of the total £26.5billion the government paid out through the furlough scheme (officially the Coronavirus Job Retention Scheme) to the end of June. Across all industries there were 9.4million jobs furloughed by 1.14million companies.
The coronavirus CBILS loans have seen £13.5billion go to 60,000 companies (although some companies complain getting them is not as quick and easy as the promotion material suggests); £35billion of Bounce Back Loans have gone to well over a million companies; £3.4billion to 500 larger companies through CLBILS. There is also £7.4billion that has gone to 2.6million self-employed people through the Self-Employment Income Support Scheme.
Although with the loans firms have holidays from repayment and interest, they are loans and will eventually have to be repaid, which might present another problem down the line.
The official figures take time to compile and lag behind a fast-moving situation that is rapidly improving – even for the quarter to the end of June, GDP grew in May and June from a low in April when it was 26% down on the same month in 2019.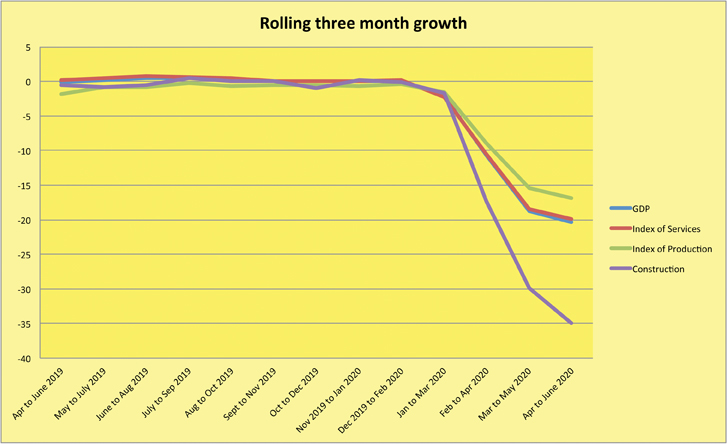 Construction faired worse than the economy in general, largely because most projects came to a halt in March and only resumed when the government started making it clear that lockdown only meant staying at home if you could work at home and if you had to go out to work you should... but with care. Both May and June saw record growth rates in construction, albeit from an extremely low level so the quarter as a whole was still well down, as you can see from the graph above. Worryingly, new orders were at their lowest level since records began in 1964.
In spite of the economy officially being in recession in August, which is inevitable when a country (in fact, much of the world) has shut down, there are underlying concerns about the possibility of a further fall in the value of the pound and rising inflation. If that happens, interest rates would be expected to rise and all of a sudden debt will not look so cheap.
An indication of inflation from too much money chasing too few goods comes from the Halifax House Price Index, showing the average price of a home in July was 3.8% higher than in July 2019, stimulated, no doubt, by the various government schemes and stamp duty holiday and exacerbated by less housebuilding. And the government would much rather supply increase than demand fall.
There are also reports of other building materials being in short supply, including some stone (such as Indian sandstone for paving and some marbles from Italy). The Office for National Statistics says 37% of builders reported problems with supplies of various materials in the fortnight ending 26 July, up from 34% a fortnight earlier.
The extra money in the economy includes a further £310billion in quantitative easing from the Bank of England since March, bringing the total since quantitative easing began in the credit crunch recession of 2009 to £745billion. There is now talk of even more to come. 
Another Bank of England intervention was to drop base interest rates to 0.1%, making the government debt less expensive but also making it even cheaper for companies and individuals to borrow while at the same time reducing the return on savings to encourage them to do so.
At least the money is benefiting industry, not least the construction industry. And some of it is making its way to the stone industry.
Some stone companies' plans for investment in new factories and machinery had been on hold awaiting the outcome of the Brexit transition period, but Covid-19 has distracted attention from Brexit and without the constant chatter about it (every cloud...) there seems to be a greater acceptance that life will go on after the UK leaves the European Union. Importers know their commodity codes and have their GB EORI  (economic operator registration & identification) numbers and are now starting to look for opportunities that might arise.
One major casualty of the coronavirus has been Marmo+Mac, Europe's major international stone exhibition held annually in Verona, Italy, where, as well as a lot of stone, you can normally expect to see the latest developments in stone processing technology.
Although the organisers say the exhibition will go ahead in some fashion online as Marmo+Mac Re-Start Digital Edition on three of the days (30 September to 2 October) that the exhibition was due to take place, details about what that will involve are scant at the time of going to press.
Without the impetus of the exhibition on the ground and with Italy, where most stone processing machines are made, having been locked down in the spring and then returning to work just ahead of the annual August summer holiday closure, developments in machinery this year have been muted.
Understandably, during lockdown in the UK not many people were buying machines, although with the return to work, some of the UK machinery supply companies have been pleasantly surprised with the level of demand, none more so than D Zambelis, which represents Omag, Terzago, Construzioni Meccaniche Donatoni, Achilli and others. Director Stella Zambelis says: "Things are going too well. You worry."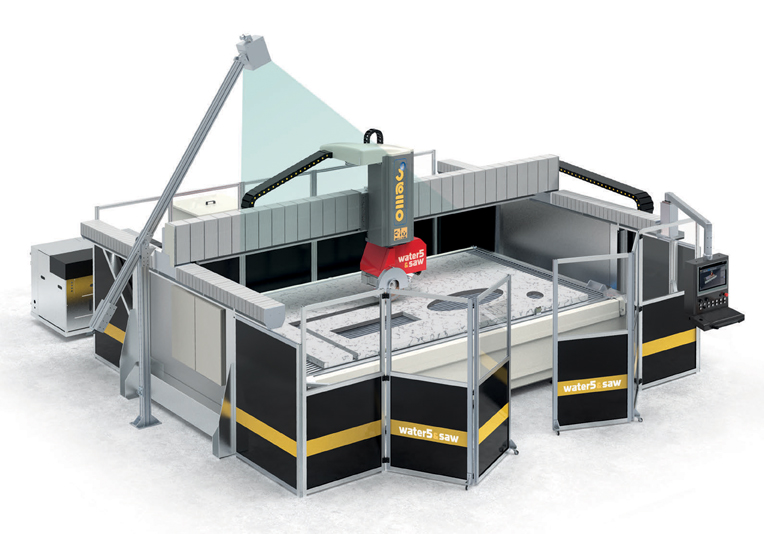 Above. The Water 5 and Saw combined waterjet and disc cutter from Omag, supplied in the UK by D Zambelis.
Below. Also from Zambelis, the Terzago Evo carries a blade up to 625mm driven by a 20kW motor. It has a footprint of 5600mm x 2800mm x 3000mm and the option to use DDX Easystone software. The head turns through 360°. The Touch screen panel and the keyboard are in a remote pendant box.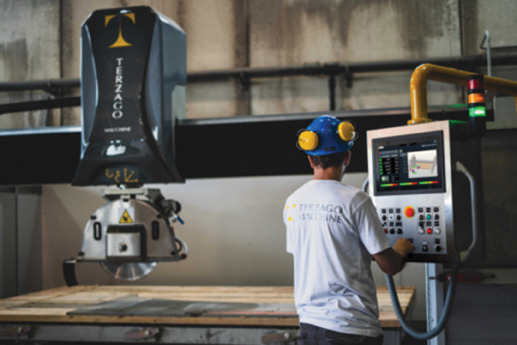 At Marmo+Mac last year D Zambelis announced it was dropping the agency for the Omag CNC machines and replacing it with a similar range from Prussiani. However, that did not work out quite as planned and now Zambelis is back with Omag.
"I never had a problem with Omag – people like them," says Stella. However, with the pound nearing parity with the euro, Zambelis wanted more support from Omag. They put their heads together and have come up with a series of aftercare packages that give customers priority.
There are four levels of service – copper, bronze, silver, gold. Customers buy these at prices that range from £420 to £1,500. All of them guarantee a priority response, but an increase in price covers more hours work by an engineer and discounts on the price of parts. And the scheme does not rely on Italian engineers, so the service will survive any future lockdowns, especially as all diagnostics are online these days and video conferencing with Facetime and Zoom makes it easier to see machines remotely.
"I felt we needed to bring some tidiness to aftercare," says Stella. "If it works, we will do the same for the other manufacturers as well."
The D Zambelis website is also undergoing more revisions to improve communications, add more information, make it easy to order spare parts for machines, and generally make life easier for customers – as with accounts that have a credit limit of £1,000 for regular customers, who are tending to buy less at a time and order more often.
The website will also feature used machines as well as new. And there is a page for the Taglio software D Zambelis sells, which manages the computer-aided manufacturing of stone. Stella's daughter, Angelica, who is managing the increasingly important software side of the business, has trained to help customers with all aspects of using Taglio.
Next year D Zambelis will be celebrating its 25th anniversary. It hopes to have an extension to its premises completed by the end of this year, where it will display some of the machines it sells. It hopes to have a three-day 25th anniversary celebration there next year, even if it requires some element of social distancing.
As for Brexit, it is likely to have a cost associated with it in more paperwork and possibly delays at the ports, especially while the new normal is established. Tariffs, such as the 2.2% on saws, will put prices up unless a trade agreement with Europe removes the tariffs. But all the machinery suppliers are fairly relaxed about it because everyone will be in the same boat.
Another company that has been "incredibly busy", according to Director Darren Bill, is Roccia Machinery, which is introducing the Bottero Pratica Plus CNC workcentre pictured on the cover of this magazine and below.
Roccia Machinery is best known for the best-selling GMM saws, waterjets and edge polishers it sells. Darren says Roccia has received an "amazing amount" of enquiries for new machines from across the board since companies started to return to work – everyone from kitchen worktop fabricators to sandstone quarries. "It's the equivalent of a good year," he says.
He suggests it is because machines have been standing idle for as much as three months and when they are turned on again the companies discover they need some maintenance. That makes people take a second look at the machines they have and some of them are deciding it is time to update and replace their existing machines by taking advantage of the government schemes and current low interest rates.
Among the machines companies are interested in is the new Bottero Pratica CNC Plus, which builds on the success of Bottero's previous version of the Pratica.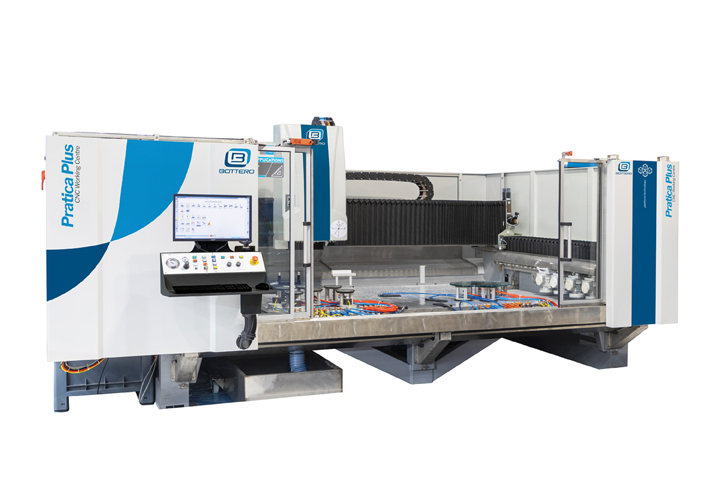 Bottero SPA has been making machinery for various industries for 50 years and has built up a strong reputation for high quality machines at a reasonable price.
The Pratica Plus is available in three and four axes versions and various sizes – the 2500 has a 2545mm x 1290mm working area; the 3300 a 3300mm x 1620mm working area; and with the 4000 it is 4300mm x 2320mm. There is also a platform version available with a 3300mm front opening and a working table that can be up to 18m long.
With so many different specification options and being easy to use, the Pratica Plus meets the requirements of a lot of companies. It has a self-ventilating, air-cooled spindle, an extra thick aluminium work table, laterally located tool magazines and the popular Taglio CAD-CAM software.
Italian supplier Amastone, which mostly supplies consumables, says the UK is its second largest market in Europe after Italy. As well as the consumables, it has introduced a compact, Italian-made own-brand CNC under the name of Next, which has already been bought by three of England's better known traditional masonry companies.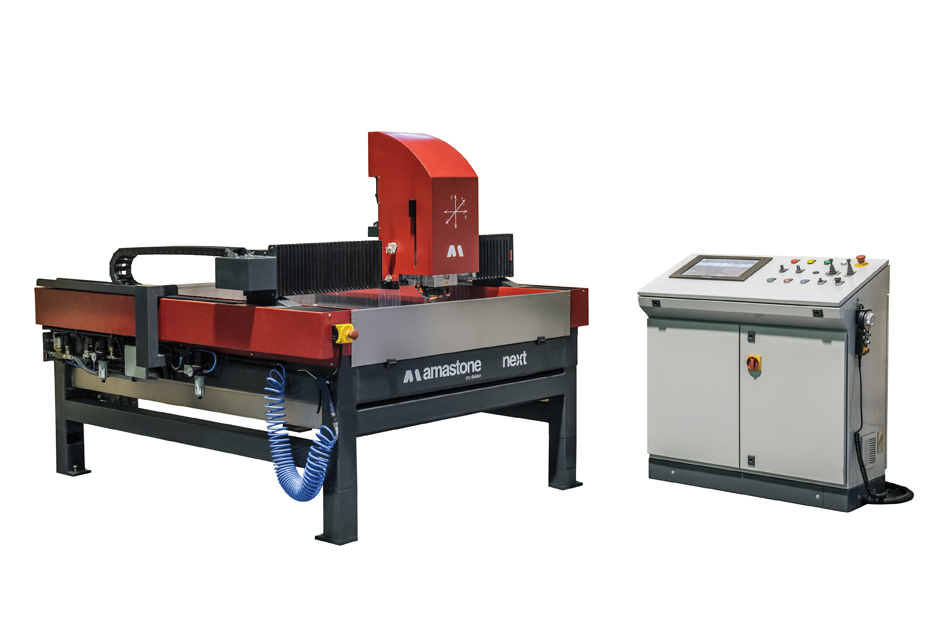 Next was conceived essentially for lettering and carving, but Next has, unusually for such a compact machine, four Venturi vacuum cups just 30mm high so the machine is easily adapted for small masonry and kitchen worktop work. Putting such work on a Next machine means it does not take up valuable time on the increasingly sophisticated larger CNC workcentres of the major machinery suppliers.
Next is a CNC router with three interpolated axes and an optional lathe with overall dimensions of 1800mm x 2070mm x 1700mm, a 1m X axis, 1.5m Y axis and a 260mm Z axis.
Although Next was designed with marble and granite in mind, it is perfectly capable of working other stones as well as glass, plastic and wood.
All axes are moved using ball screws with high-torque step motors controlled with the powerful and versatile OSAI Open-Xs, which keeps movement smooth even at high speeds to avoid stress on the mechanical components.
It is also able to read the G-Code language and is, therefore, compatible with widely used CAD/CAM software such as Alphacam and Vetric. If you already have such software in your factory or workshop it is easy, therefore, to incorporate Next into your existing network.
Next is an easy to install monobloc. Just level it up with the adjustable feet, plug in electricity, water and air, which the machine automatically handles, and start working. Compressed air is important because it is used to pressurise the bearings on the 2.6kW Saccardo electro-spindle to keep potentially damaging water out.
If for any reason the water or air pressure falls or fails the machine will stop and an alarm will sound. A useful feature with Alphacam is SFC (smart feed control), so the machine automatically adapts the feed rate according to the loading on the spindle.
This means that if the machine has difficulty cutting (if it hits a hard vein or element in the material being worked, perhaps, or the tool it is using has broken or blunted, or too deep a cut is attempted as a result of an error in CAM programming) it will automatically slow down to a point where the load is at an acceptable value.
It will follow a contoured surface, which is an important feature from the memorial trade so inscriptions and engravings on curved or natural surfaces remain consistent.
One final benefit of Next being made in Italy is that it can be adapted to the requirements of customers. And Amastone was so taken with the adaptations required by one of its English customers it is now considering putting the revised design into production as a standard configuration.
There is also another small CNC machine on the market now and, remarkably, it is British, including the software. It is called Procarve from Scancad Services in Surrey.
Like the Next (above) it was designed for the memorial market for lettering and engraving. It was introduced first at the Natural Stone Show at ExCeL London last year and then at NAMM Tradex in Warwickshire Event Centre near Leamington Spa. Like the Next, it has attracted the attention of some general masonry companies as well as memorial masons.
It was developed by Ricky Bennett, a monumental mason and industrial engraver, with programming by Stuart Scott of Amtech in Newcastle using Vectric Aspire software (which is also British).
Ricky had originally had an Incimar manual machine that he converted to be computer controlled. He then moved on to a Newing-Hall Pentagraph, which is where he met Stewart Scott.
Ricky started thinking about how he could develop his own lettering and engraving machine, which he did, using it for his own purposes for several years and frequently being told he should put it into production for the wider market. He eventually did so and the result was introduced last year with a price tag starting at just under £38,000.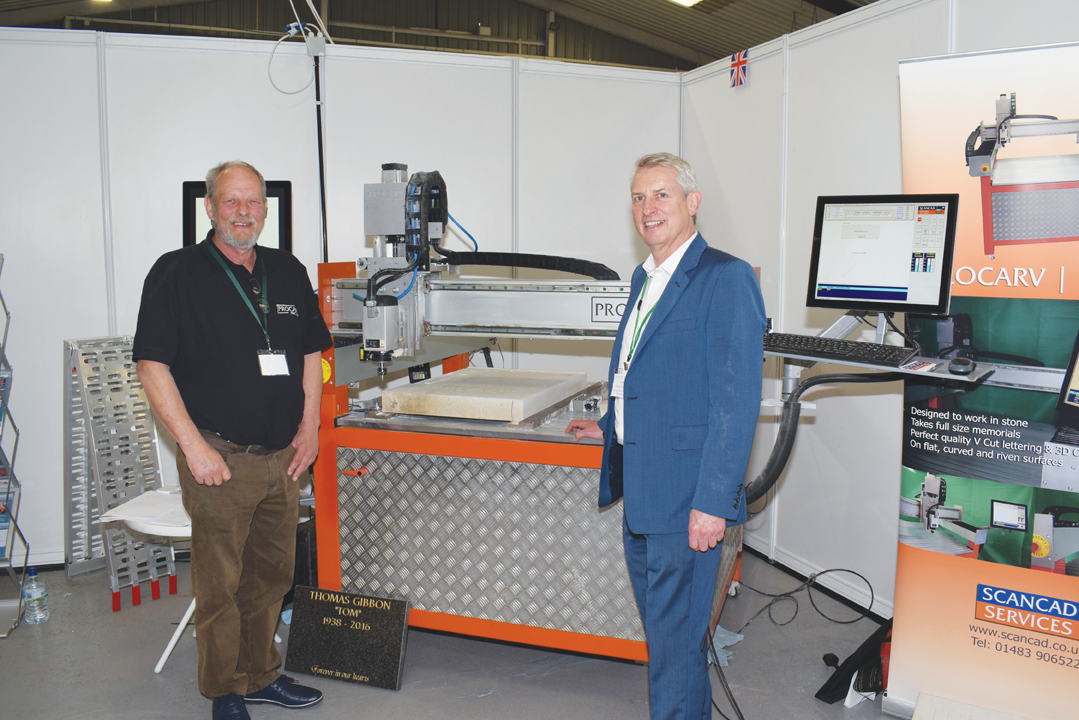 Ricky Bennett (left) and Stuart Scott at the NAMM Tradex exhibition last year with the Procarve CNC machine for engraving and V-cut lettering.
It is a three axes machine that cuts dry, although in use the head is encased and the dust is removed by a vacuum.
It is a compact machine just right for headstones, whether they are granite, marble,  limestone or sandstone. It could also be used to letter and carve wood, metal and plastic just as easily as stone. It incorporates a laser and can follow the contours of curved or irregular surfaces.
There are two standard versions, but because it is made to order it can be adapted to customer requirements – a company in London that received its Procarve last month (August) had wanted it to be wider, for example.
It is a tribute to the quality of work the machine produces that one has been bought by a student of lettercutter Richard Kindersley. He persuaded Ricky to give him a demonstration. It took Ricky an hour-and-a-half to get the inscription just right on the computer and an hour to engrave the stone, watched over by the potential customer. "He said: 'Wow! that's amazing. It would have taken me 10 days' and he bought one," says Ricky.
The best known name in British stone machinery manufacturing is that of Wells Wellcut, which makes bridge saws, croppers and tumblers, known and respected for their sturdy longevity and getting the job done.
Not everyone has a Wellcut as big as the one pictured at the top of this page with a 3m blade (although some are bigger) but the brand can be seen in quarries and traditional masonry yards all over the UK, Ireland and further afield.
During lockdown two saws were exported to Iceland. Director John Wells says: "We supplied a saw to a company in Iceland about 15 years ago. Then, out of the blue, we got two orders from different companies there during lockdown."
There were also orders for two more saws from the Caribbean, following one sent there last year, although it was not the first. John  assumes companies hear about the Wellcuts by word of mouth.
Another has gone to New Zealand. Wells supplied a saw to a masonry company there after the earthquake in Christchurch in 2011. One of the masons who used the saw then has now established his own business and has ordered a Wellcut for it.
John says nobody from the company will be going to Iceland, the Caribbean or New Zealand to install the saws because it is not necessary. "They are straightforward. You can have them up and running in four or five hours."
Wells Wellcut is a family business, with John running the office and dealing with sales and his son, Luke, and a handful of engineers making the machines.
There is a constant demand for them and last year the company was finding it hard to keep up with the number of orders. Lead times were stretching and Luke says he was glad when orders stopped arriving during lockdown so he could catch up. Wells have plenty of space and the engineers can practically have a shed to themselves to work in, so social distancing is not an issue.
A 3m Wellcut was delivered to Johnston Quarry Group's Building Stone business based at Wroxton in Oxfordshire just before lockdown. It is a well-equipped facility operated by one of the most experienced masonry teams in the South of England, managed by Maurice O'Donoghue.
Another 3m saw has since gone to a company in Ireland that has already bought two that are still working.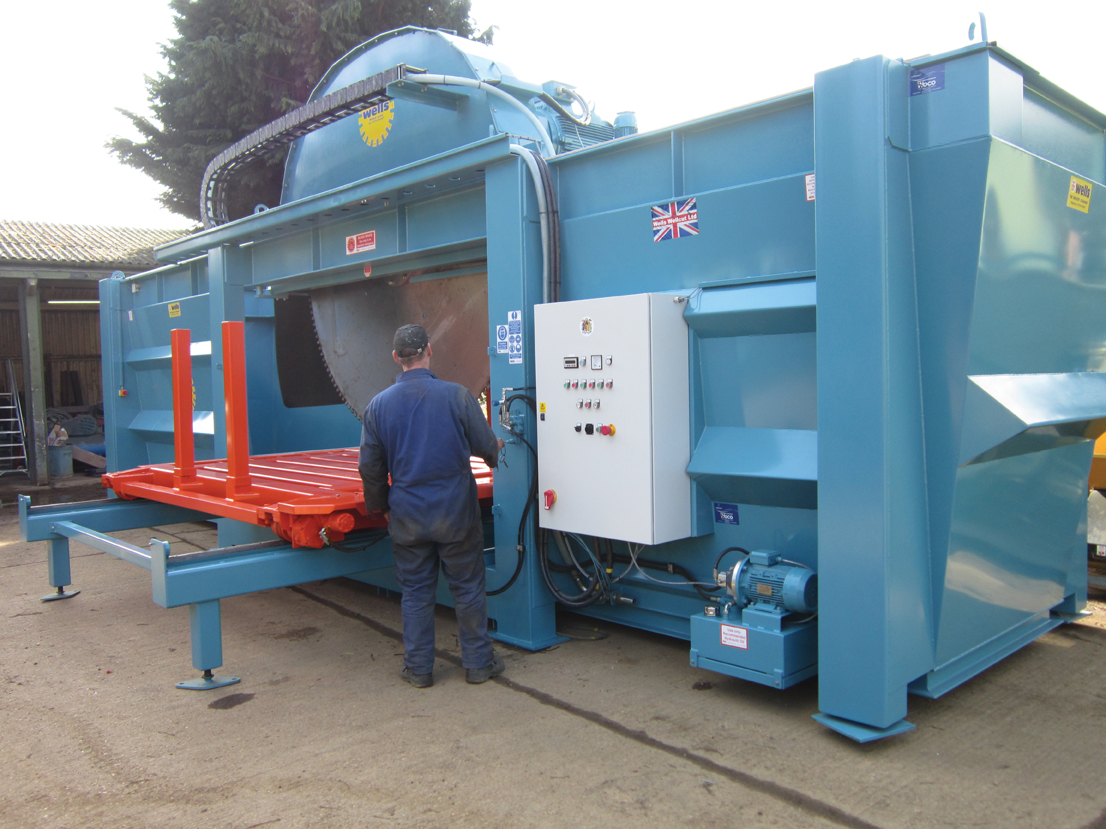 The Wellcuts are automatic and can be programmed using intuitive controls to perform a number of cuts and then left to get on with it. They are built to work in the open air and will carry on working in all but the coldest of British weather conditions.
Smaller Wellcut secondary bridge saws have been computer controlled with Allen Bradley touch screens for the past 14 years. John says coming next will be a five-axes saw for the granite and marble side of the industry that Wells has been developing for the past 15 months. John does not want to say too much, but what he does say is that it is "very fast".
Best known for Emmedue saws and MarmoMeccanica edge polishers, as well as reconditioned machinery, Stone Equipment International / National Masonry has also decided post-lockdown to re-establish its presence in the spares and consumables arena, making a splash by promising to have the lowest prices.
Managing Director Andy Bell does not expect machinery sales to disappear but likes the idea of smoothing the peaks and troughs of machinery sales with regular sales of products stone companies need to keep going.
He believes companies that have managed to keep working with staff on furlough are going to be asking themselves why they employ so many people when the furlough scheme finishes at the end of October.
He says companies returned to work with a backlog of jobs to complete but are wondering where the next orders are going to come from. If they do materialise, any extra capacity needed can be met by an investment in machinery such as the three axes Emmedue Astra saw, with an installed price of less than £40,000, or the four or five axes Discovery.
And Andy does not understand why anyone is still polishing edges with angle grinders when they could be using a MarmoMeccanica edge polisher, with prices that start at just £34,345 for the LCV 711. Even the sophisticated LCR that can produce pencil rounds and bevels only costs from £89,995. It is the best seller, closely followed by the MarmoMeccanica LCH 733, for polished flat edges and chamfers, so no need to buff up the chamfers once the material has come off the machine. Prices start at around £80,000.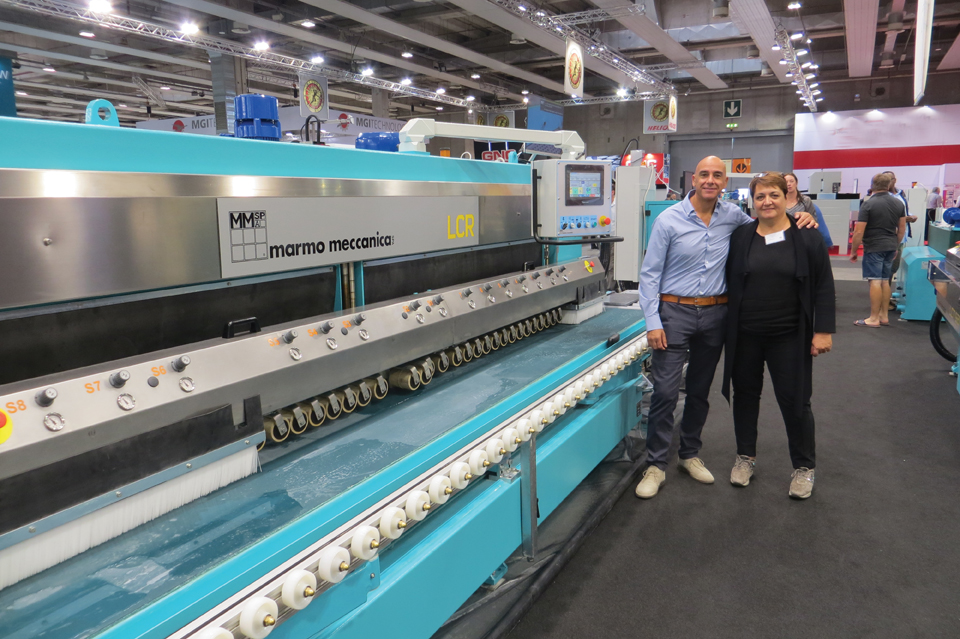 Andy Bell of Stone Equipment International (National Masonry) with Andria Ronconi of MarmoMeccanica at Marmo+Mac last year.
And because Andy offers advantageous trade ins for part-exchange on used MarmoMeccanicas when customers are buying a new one, there are always refurbished machines available for those who need to cut their costs.
To make sure slabs and already cut and polished stone is stored and moved around the factory safely, Stone Equipment International also offers a wide range of Weha products from stocks in the UK, so most can be delivered within 48 hours of being ordered.
Intermac, established in the UK in Daventry, Northamptonshire, led the CNC workcentre revolution in the stone industry in the 1990s and has sought to hold on to that position ever since by constantly evolving and expanding to meet the needs of its stone company customers.
As well as the Intermac CNCs, it also sells Donatoni CNC saws, Montresor edge polishers, Pedrini wire saws and polishing, finishing and resining lines, MEC stone splitters and croppers, E-Template laser templaters and 3D measurement systems, Dal Prete water and dust management systems, its own Sophia computer management system for integrating managerial and production approaches for increased productivity, and Diamut diamond tools for use on the various machines it sells.
Latest developments include the KSD 1 from Donatoni, primarily for cutting stones for façades, with material through feed and two independently operating heads to cut four sides and fixing points. Which head cuts what is automatically determined by the machine to maximise production.
Intermac has also been promoting a new way of cutting porcelain and sintered products using glass cutting technology of scoring the surface and snapping the slab on a machine called the Genius. It is fast and reduces the risk of the workpiece snapping in the wrong place, which is not unknown when using discs.
Paolo Tarchioni, Intermac's Innovation Director, says: "We are in the middle of a world transformation due to the new digital technology available."
On Point Engineering is the UK agent for the French Thibaut machinery company. It also sells German ECS Eich dust and water management systems, Manzelli vacuum lifts and used machinery.
The company is owned by Bruno Machado and specialises in the supply, repair, service and maintenance of CNC Machinery for the stone industry. It offers bronze, silver and gold service packages for customers.
Bruno says business is picking up again after the Covid-19 lockdown. As for Brexit, he  anticipates it being challenging to begin with but says: "It's that phrase 'the new normal' again. For now it's difficult, but in a year's time, when everything's on computers, we will adapt. There will always be something."
In France, Thibaut has been making some changes. It has sold its machines all over the world, including plenty to the UK. Exports account for 60% of the company's turnover.
Its range of machines has grown considerably from the jenny lind that started it all more than 60 years ago. But new machines have tended to add to the range rather than replace other machines, so Thibaut decided it was time to rationalise to ensure operator safety, optimise productivity and reduce environmental impact.
It is not just the number of different machines that has been rationalised, it is also the number of components, introducing more standardisation of locally sourced components to cut costs and CO2 emissions involved in transport.
There is also a new 'Pilot' interface that can be used on the various machines that incorporate it without the operator having to learn new skills for each one.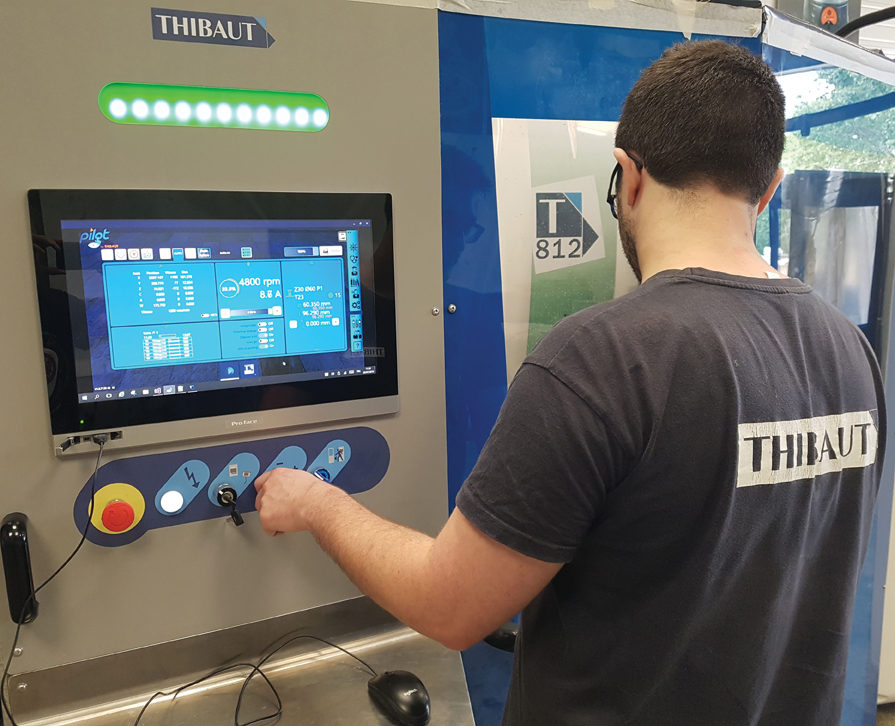 Thibaut MD Jacques Thibaut, says: "We have been present in the United Kingdom for more than 40 years and have more than 500 machines sold in Great Britain. We also have a trusted agent, On Point Engineering, who allows us to stay close to our customers.
"Despite Brexit, customers rely on us just as we rely on them. So there is no question of turning our backs on our English-speaking neighbours. What's more, as our factory is located in Normandy, it is no more complicated to install a machine in the North of England than it is to install a machine in Marseille."
Mark Brownlee of Accurite, which represents the Italian Denver CNC machinery company as well as selling an Accurite own-brand range of machines as well as refurbished machinery, says: "As far as I'm aware all my customers have survived [Covid-19] and they seem to be swimming in cash."
Mark buys his Denvers in a block at the start of the year to get the best price. He says the best seller is the Skema monobloc.
Last year was locked down by Brexit until the election in December seemed to unlock it. He had anticipated a good year this year, so his order was bullish, and seemed justified until the coronavirus lockdown in March.
But, says Mark, it has picked up again since companies returned to work. "People have got this £50,000 from the Bounce Back Loan and they're going to increase their level of mechanisation. For some people its as simple as an edge polisher. They've had three people doing edge polishing and they realise they only need one to operate a machine. It's getting almost like white goods or TVs. They break down and you go and buy whatever's in stock."
Denver had not planned any machinery launches for Marmo+Mac in Verona this year, although it has changed its software from Taglio to DDX. Customers with existing Denvers that have Taglio will continue to receive updates and support.
At New Stone Age, which represents Italian companies Officine BM, BV-Tech and Omec water treatment plant, MD James Turton says New Stone Age has now taken control of shipping in order to maintain the fastest possible delivery times and simplify invoicing for customers. He keeps stocks of spares and tools in the UK for immediate shipping and says he does not anticipate any problems getting them after Brexit transition.

At the top end of the machinery market, Breton, which has its own sales office in the UK, has adopted a new image, which it says better reflects its innovations in machinery and solutions using computer technology and artificial intelligence (AI).
Its 'Artificial Intelligence for Stone' project is backed by the Italian Ministry of Economic Development.
Breton says it has moved from a product model of operation to 'Product-as-a-Service' (PaaS).
Its 'Smart Business Intelligence' system will make a real-time analysis of the status and data of a whole plant through a customisable dashboard, which correlates information using analytics and automatically makes adjustments to maximise productivity.
'Smart Doc' service makes available all the machine, line or plant manuals, keeping the documentation always updated. Any spares needed can be bought online.
Breton has seen its sales increase by 35% in the past three years to reach €280million last year. It has increased its workforce by a similar percentage in the same period and now has about 1,000 employees.
Waters Group represents the CNC machinery of Cobalm although Daniel Downs, who deals with Technical Sales, says the company has been concentrating on consumables since returning from lockdown and has added Akemi adhesives and colourants to its range. He says because of Covid-19 they had decided not to attend Marmo+Mac in Verona this year even before the show was suspended.
Stone & Glass Group continues to offer CMS Brembana CNC machines, such as the Brembana Formax BT automated sawing line with a tilting loading table. The slabs are automatically loaded on to the cut-and-lift work table equipped with an undercut saw to cut the grooves for worktop reinforcing rods.
Once the worktop is finished, it is automatically moved to an unloading area at the same time as the next slab is delivered to the cutting area, giving continuous production. One operator can process 25 slabs or more in an eight-hour shift.
Stone & Glass Group also sells Bovone and Sasso edge polishers and Ghines manually operated machines, along with Sigma dust extraction and water treatment, and BDT tooling.