TOOLS: Sweat those assets
The competences needed in the stone industry are becoming as much about computer and IT skills as they are about traditional trade skills. Improving productivity is not exactly a new idea, but tools are now available to make it easier to achieve – and those tools are digital.
There are new tools making their way into the workshops of the stone industry. They are certainly not the traditional tools of the trade, but companies are rapidly discovering their benefits.
Reducing down-time, improving machine wear and taking the guesswork out of colour-matching are three ways fabricators are investing in technology to get more out of their existing resources.
That was the message members of the Worktop Fabricators Federation (WFF) took from a demonstration day on 8 March organised by WFF sponsors LPE Group, which supplies the stone industry with machinery, tools and equipment, and hosted by manufacturer Zoller at its premises in Derbyshire. LPE sells the Smile tool pre-setters Zoller makes.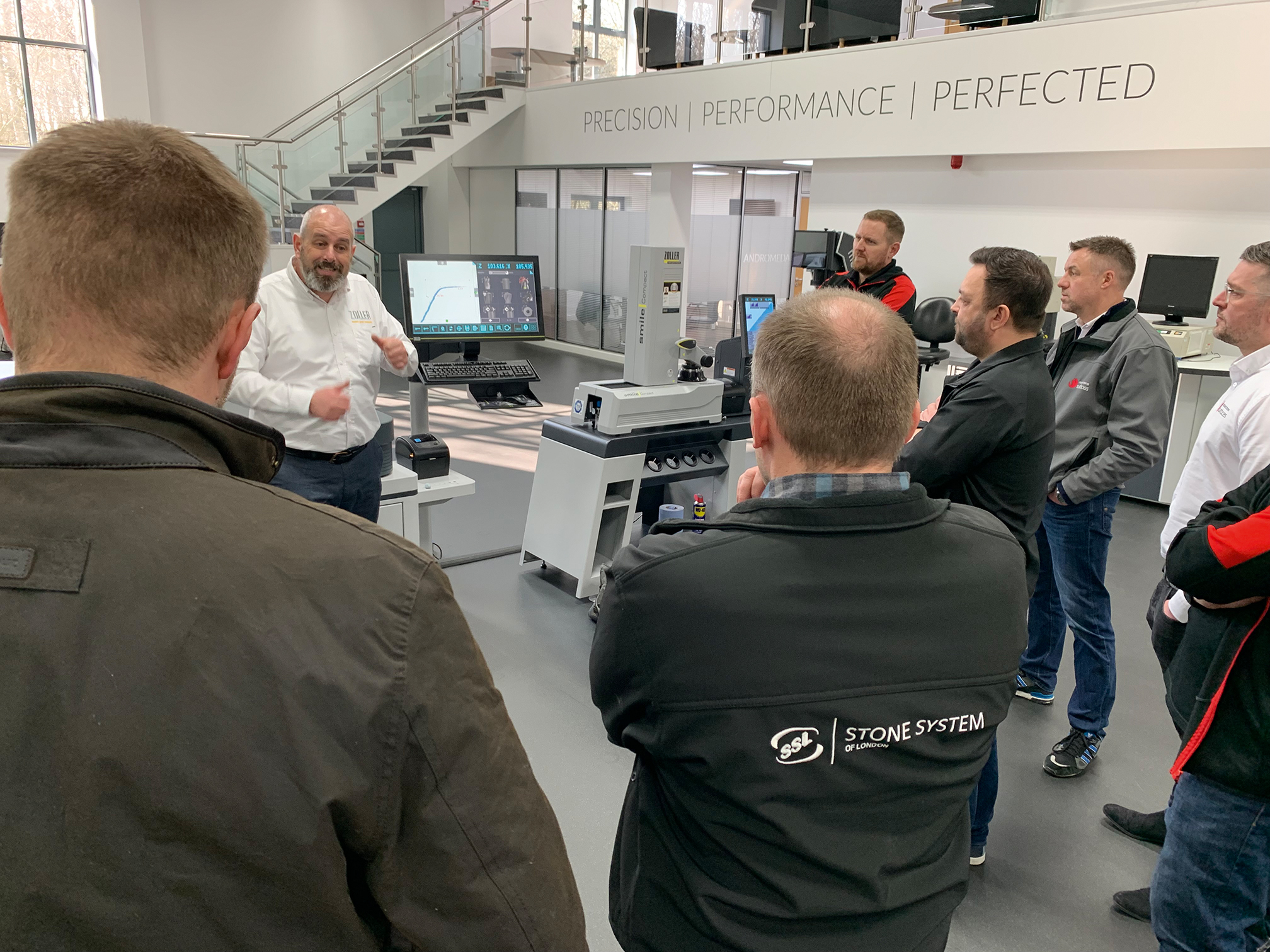 Zoller demonstrated its Smile Compact and Pilot machines for measuring and pre-setting CNC tools – both in theory and in warts-and-all practice, thanks to some real-life cutting and polishing tool heads brought in by the attendees from WFF members Natural Stone Surfaces.
The aim of the machines was explained by Zoller sales manager Andy Dyche. He said checking tools are within acceptable gauge and adjusting CNCs to allow for observable differential wear on each tool in a set is bound to result in longer machine and tool life, not so much requirement for cautious 'touching-on', and repeatable operations.
The Zoller Smile's high-level accuracy and repeatability is due to its CNC spindle and auto-focus. It is easy to operate for the professional presetting and measuring of cutting tools, and thanks to its robust construction performs comfortably on the shop-floor.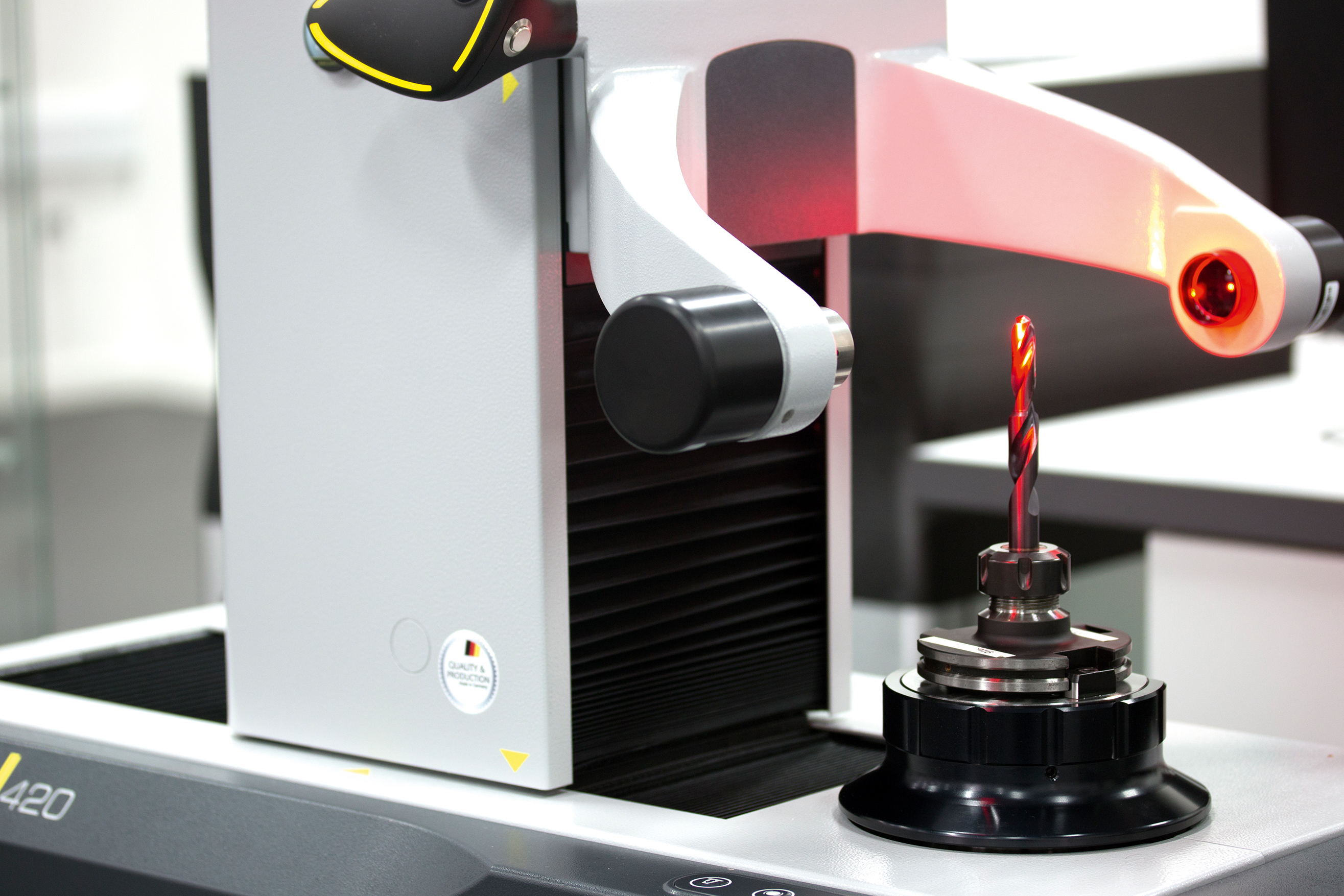 The Smile's variable control unit, ergonomic, single-handed operating handle and freely accessible tool clamp make working more comfortable. Tool readings are transmitted directly to machines seamlessly. 
"The difficulty is that unless you are measuring in the first place, it's hard to attribute costs, parts or downtime just to tool-setting," said Andy. "Most foremen and machine operators can't do that with certainty. But they do understand the costs of re-work. And they certainly understand that if we can prevent one spindle-collision the machine will have paid for itself."
Zoller reckons busy worktop fabricators who incorporate regular tool-measuring into their tool-room rou-tines should expect to be able to recover the £12,000+ cost of a machine within 12 months.
Also on display – and backed with a similar pay-back claim in terms of reduced re-work and better use of off-cuts – was LPE's X-Rite portable spectrophotometer.
James Weston and Director Dave Roy from Natural Stone Surfaces, also based in Derbyshire, spoke about the benefits of their X-Rite spectrophotometer during the Stone Digital online conference in February (click here for a report from Stone Digital).
James said then: "This colour checking technology is now digitally advancing the matching of materials during selection and manufacturing."
Previously, deciding whether the colour of different batches of material matched was often a question of who was looking and under what lighting conditions. It frequently involved some level of discussion and sometimes disagreement.
The X-Rite hand-held spectrophotometer had done away with any debate, and acceptable levels of variation between batches was now determined in advance and ascertained instantly. It had reduced waste by allowing more offcuts to prove acceptable for subsequent jobs and avoided any awkwardness on-site when fitting worktops that clearly do not match.
Some of Natural Stone Surfaces' suppliers have even started using spectrophotometers to check slabs from different batches to make sure they are colour-matched before delivering them, which has reduced the amount of handling at the Natural Stone Surfaces factory and contributed to the company's 'lean systems' manufacturing.
James Weston was also at the WFF Zoller event, this time with his colleague Chris Hill,  and they again shared their experiences of how this device has taken the guesswork out of materials-matching at the company. He said it is particularly useful on white and marble-effect quartz.
He said the improvements brought about by the spectrophotometers the company uses meant "they paid for themselves within six months by taking the guesswork – and the heavy lifting – out of selecting material to complete jobs".
LPE is offering WFF members exclusive price deals on Zoller and X-rite machines, providing another reason to join the organisation, if you have not already done so. For information about the WFF contact General Secretary Chris Pateman at [email protected]. 
Another new piece of technology that should be available by the end of May or early June is a machine to measure, in real time, levels of respirable crystalline silica (RCS) dust in the atmosphere. It is being introduced by Stone Industry Group (SiG).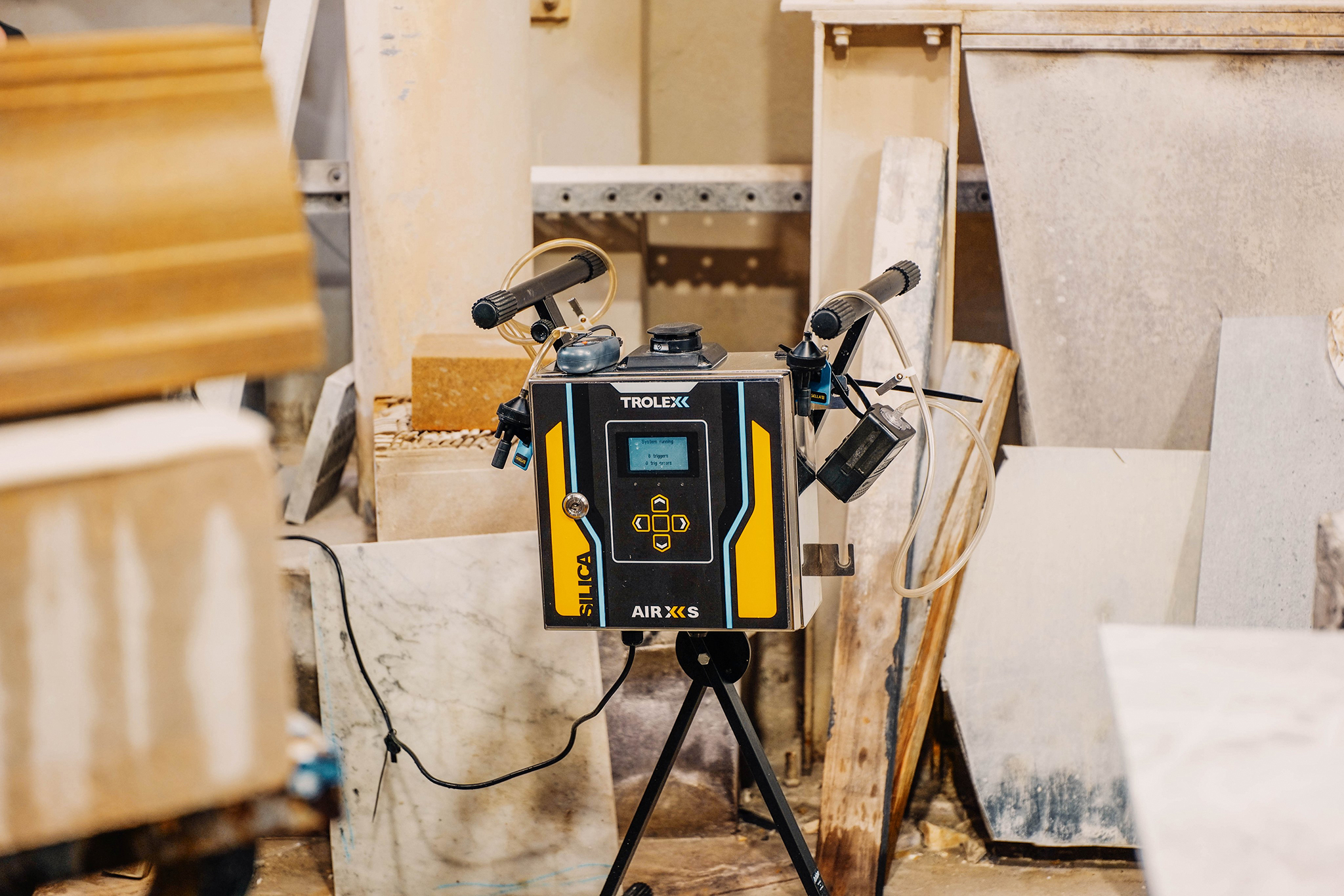 The device is called Trolex Air XS, and is said to be more than twice as accurate as the X-Ray diffraction units currently used to measure RCS levels, as well as giving instant readings, which you don't get with X-Ray diffraction.
The unit was introduced to members of the Worktop Fabricators Federation (WFF) at their meeting at machinery company Intermac's premises in Northamptonshire last year, when volunteers were recruited to carry out field trials. The development of the unit by British company Trolex is now almost complete. It will be sold to the stone industry by SiG in the UK and also in America and Europe.
It was introduced to the Americans at StonExpo/Marmomac in February, part of the International Surfaces Event in Las Vegas. And it won the 'Best of Technology 2022' award at the exhibition.
Among those manning the exhibition stand in Las Vegas was Ash Butler, who has now joined SiG and will be selling the Trolex Air XS in the UK.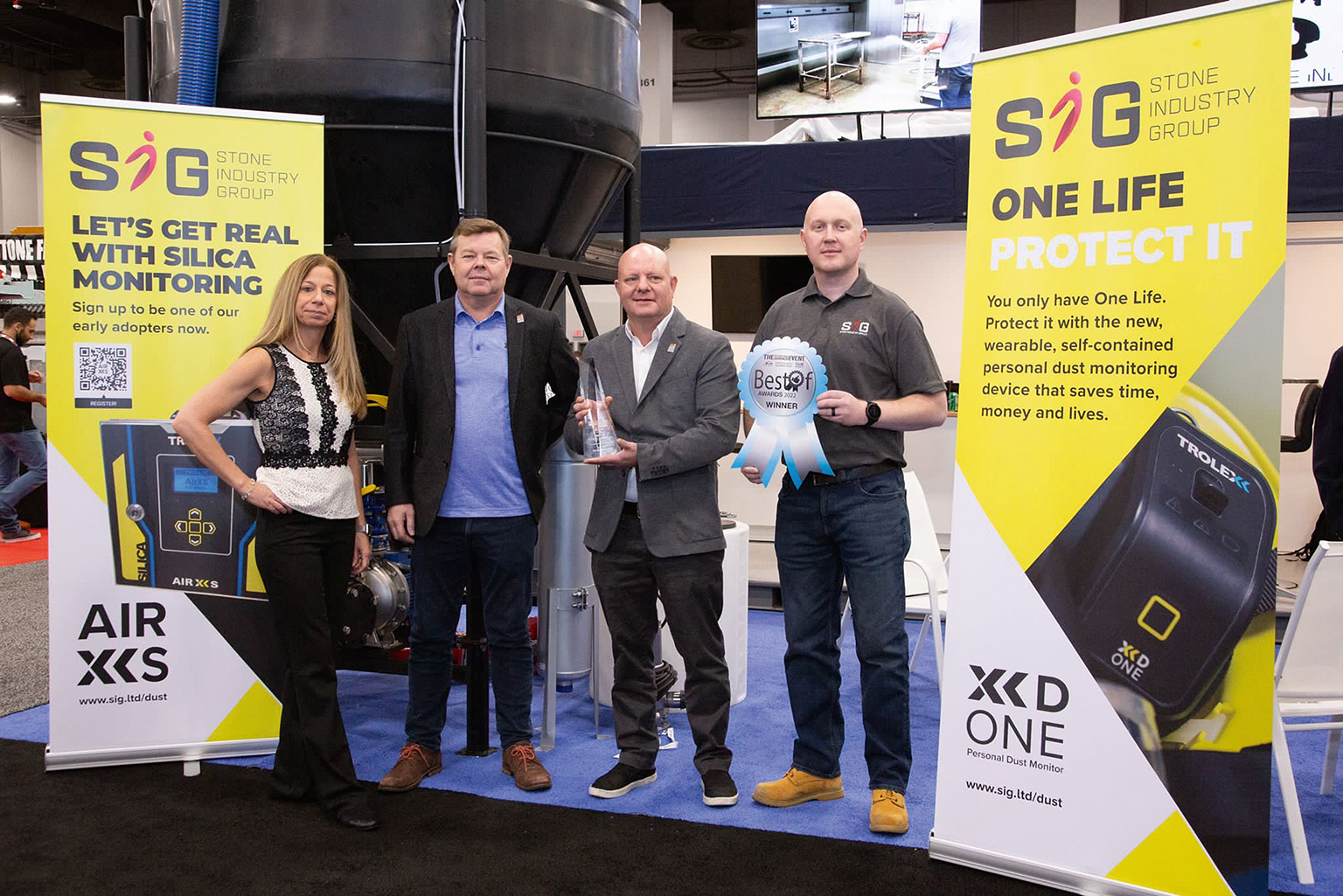 In the USA the permitted workplace exposure level to RCS is half the current level in the UK, although the All-Party Parliamentary Group for Respiratory Health (APPG) said in its 2020 report, Silica – the next asbestos? that the UK level should be reduced to the American level, although the Group is currently reviewing its recommendations in the report.
In the British sandstone industry the risks of breathing RCS are taken seriously and people are routinely protected by substantial PPE, including positive pressure helmets – and SiG says it is also introducing a positive pressure helmet to its range.
SiG Director Simon Bradbury discovered the positive pressure helmet he is introducing during Covid. It was developed during the coronavirus pandemic to protect key workers from the Covid-19 virus. It is effective but lightweight for comfortable use over sustained periods.
At worktop fabricators in the UK, protection often involves a mask over the mouth and nose that might or might not fit properly and be worn regularly by the operator.
Even when worked wet, RCS will float in air-born water droplets that can be inhaled. Health & Safety Executive (HSE) tests have shown air-born levels of RCS can exceed legal exposure limits outside as well as inside CNC machine enclosures. Using angle grinders/polishers, wet as well as dry, also produces RCS levels in the air well above legal limits.
"In the USA fabricators are putting warning stickers on slabs saying there's an inherent risk of silicosis from handling and cutting this material," says SiG Director Simon Bradbury. In the UK the HSE is getting ever more vigilant about dust in general and RCS in particular because silicosis is second only to asbestos as the cause of lung disease in construction.
The Trolex Air XS is mobile, so can be used to test the RCS levels in different areas of a factory. It has a price tag of just under £10,000, but Ash Butler says if companies look on it as an investment to protect their employees, and themselves from injury claims, it does not seem too high a price to pay.
Flexijet and Optimo from Stonegate
Stonegate continues to innovate with the Flexijet digital templater and Optimo tool set-up service.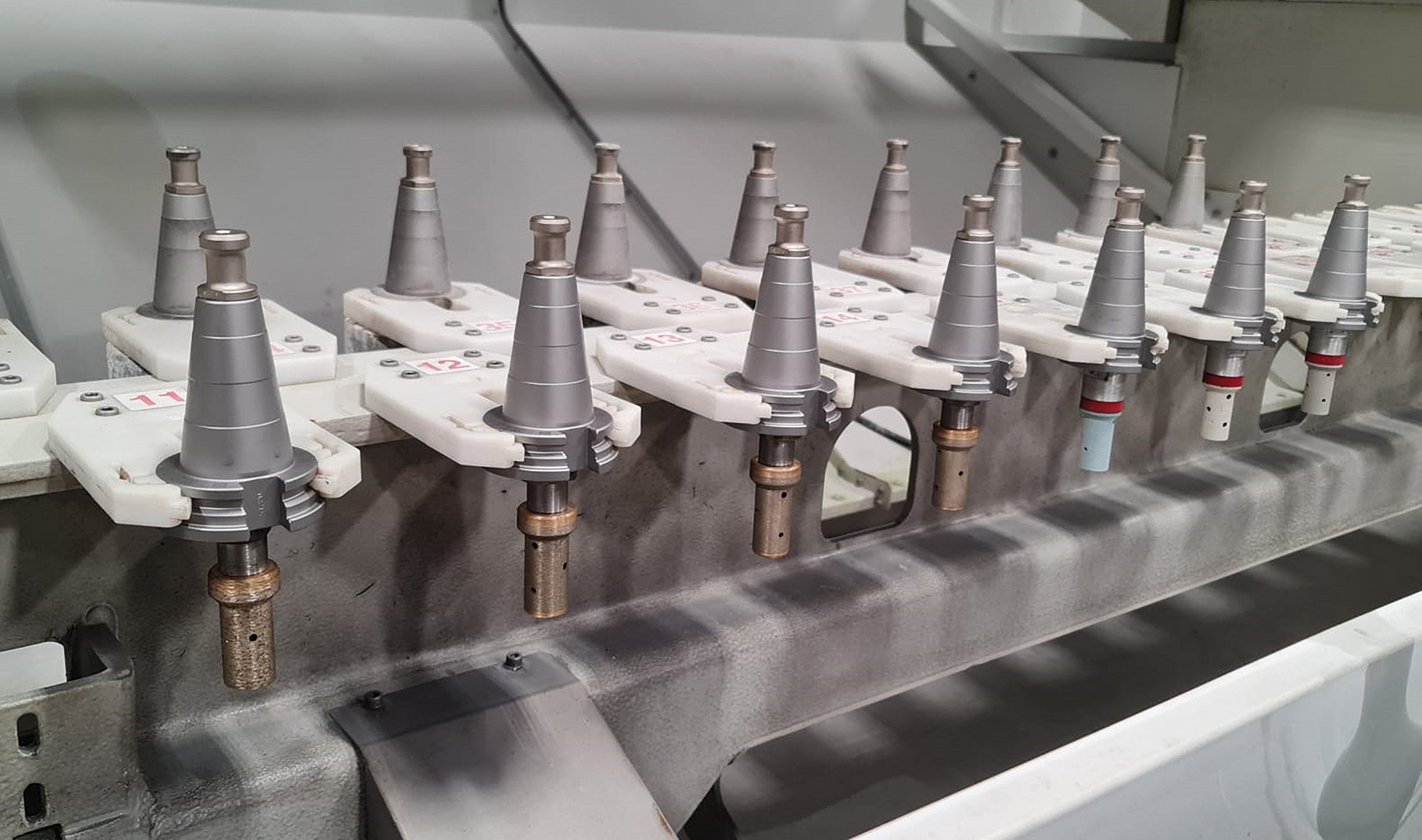 OPTIMO
Developed over three years using Stonegate's experience and relationships with both CNC manufacturers and customers, as well as the hands-on experience of its technical team, Optimo is a service that has proven to significantly improve productivity.
With technology used by opticians, Optimo measures CNC profiling tools to five micron accuracy (0.005mm) through a full 360º.
The benefits of this level of accuracy include:
Reduced set up time – it takes approximately 15 minutes instead of a laborious four hours.

Human error is almost eliminated. The operator copies measurements supplied by Stonegate into the CNC operating system. This also reduces the number of tools accidentally damaged during set up.

Increased tool speed by a stated 30%, although in practice Stonegate has found many businesses do even better than that.

Longer tool life. The tooling only works as hard as it needs to and it's right first time.

A final polish straight off the CNC with no need for hand finishing.
Stonegate now also offers Optimo Rental for practically plug and play tooling set-up. There's a one-off standard charge for up to 10 linear metres with a charge per metre thereafter. Customers can have the edge profiling of their choice at a set rate, with all tools supplied in a handy travel case, ensuring they are in pristine condition when they arrive.
Carl Hazell, Director at Stonegate Tooling, says: "Feedback so far on the Optimo service as a whole has been extremely positive, with customers saving hundreds of pounds in set-up time." He says initial trials on the Optimo rental service have also proved popular.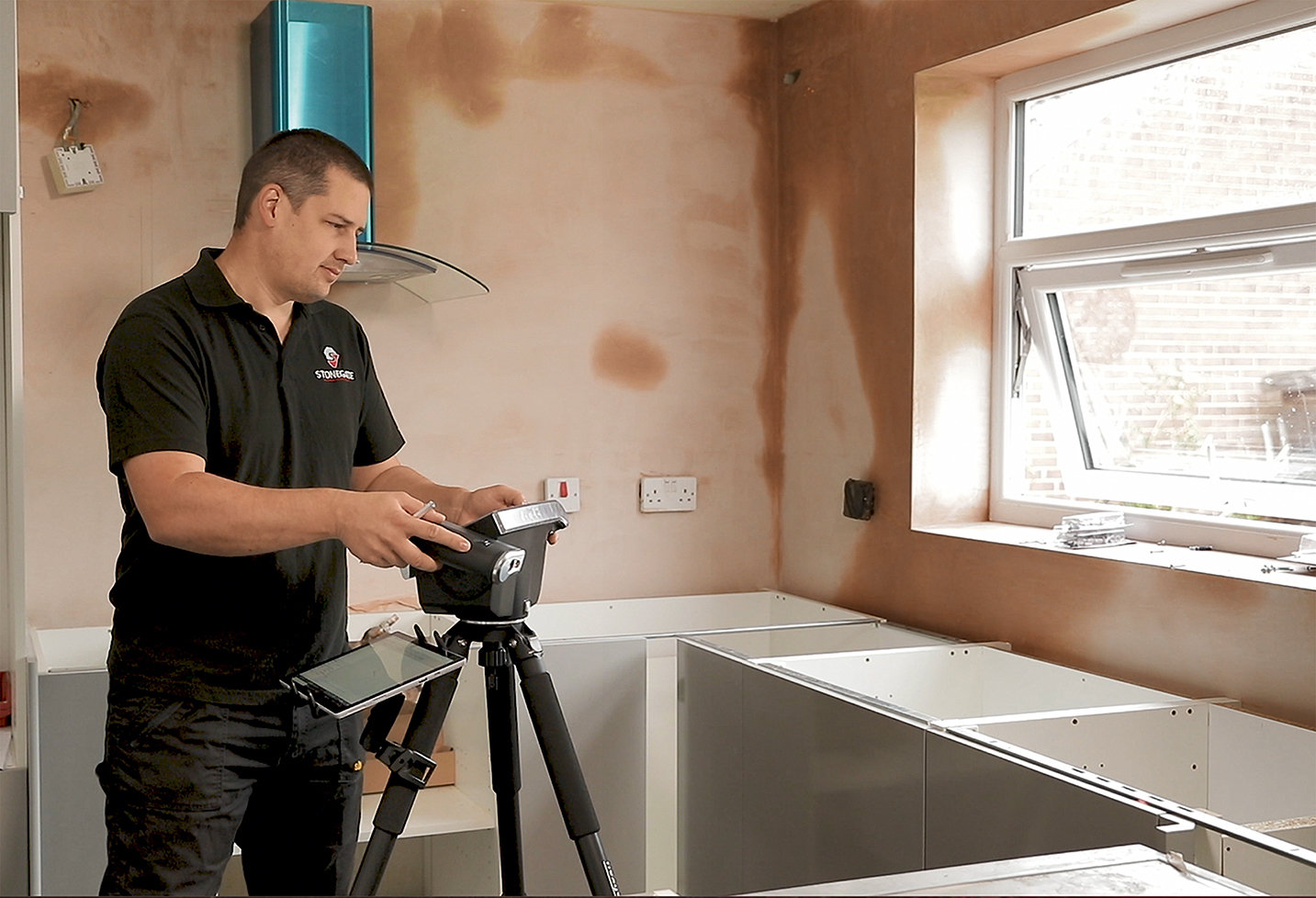 FLEXIJET
Stonegate has become the accredited UK distributor for Flexijet, for easy and precise measurement of countertops and other surfaces.
Here's what Flexijet offers:
Instant auto-levelling. Flexijet has an internal tilt sensor, so setup is quick.

Integrated shock sensor. If the device is knocked, a warning appears on the touch display and in the software.

Error elimination. Measure complex angles and shapes with no possibility of wrong or forgotten dimensions.

Remote control for complete flexibility.

Built-in camera for site photos and a voice recorder.

Full 3D image of the template you are creating.
Since becoming the accredited UK distributor of Flexijet, Stonegate says feedback has been exceptional, due to the accuracy and ease of use of the equipment.
Stonegate also offers a wider service of analysis and reporting on both Flexijet and Optimo.