Diamond tools: Everyone is looking for tools that are a cut above the rest
The makers of ultra-compact engineered stones and ceramics have successfully created a demand for their products but it has left stone processors in the KBB sector struggling to find ways to manufacture worktops from the materials quickly and efficiently – although they are getting there.
They now understand the edges have to be cut off to release the tension; that cuts have to be made in the right order; and that you can't hurry it.
They have also learnt that you need the right blade for each material, which necessitates down time while the blade is changed. And nobody is happy when machines are not working.
The machines themselves are so powerful these days that they can drive just about anything through just about any material. Dimitri Zambelis from the tool and machinery supply company that carries his name (click here for more about D Zambelis) describes it as forcing a snow plough through the stone. But forcing a snow plough through ultra-dense material and porcelain takes its toll on the tools and the machines driving them – and quite possibly on the stock being worked.
To avoid the down time of changing tools for different materials, some companies have turned to waterjets that can slice through a variety of materials with no blade to change, although not as quickly as a diamond blade made for the purpose can slice through granite.
When Dekton was first introduced, Cosentino, the Spanish manufacturer of the material, had approached diamond blade makers to ask them to develop a range of tools that could be used on the material. Cosentino approved those that worked best.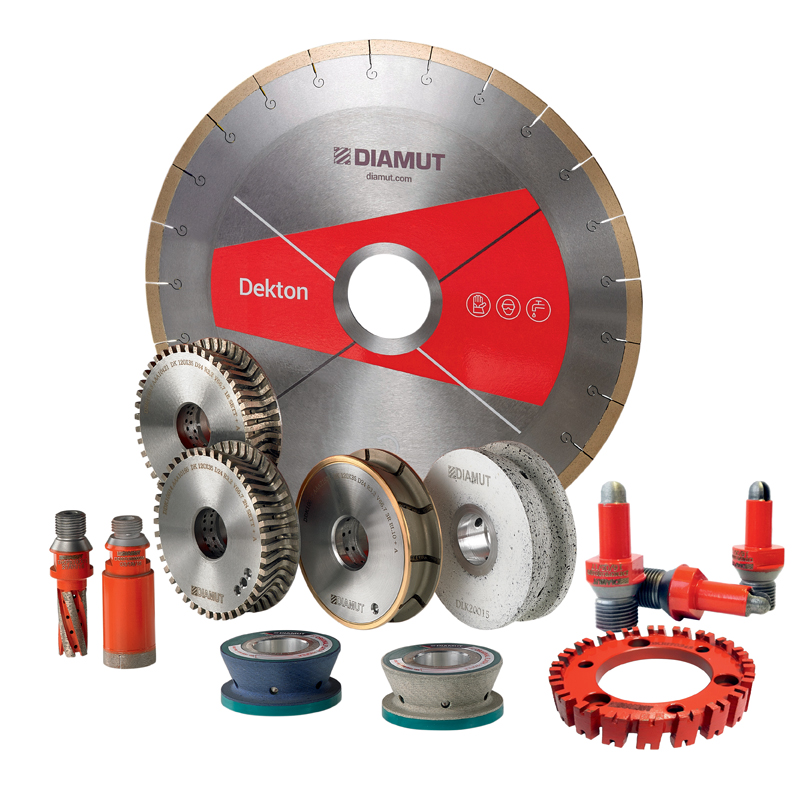 One of the companies approached to produce a range was Diamut, the tool maker in the Biesse Group that includes Intermac CNC machines, Primus waterjets and the Genius cutting table shown at the Natural Stone Show in London this year and at Marmo+Mac stone exhibition in Verona last year. It is a product developed for cutting glass by scoring it and snapping it. It has been adapted for use with porcelain and the new generation of engineered products in the stone market, which are made in a similar way to sheets of float glass and can be cut in the same way.
But for now at least, stone processors tend to continue to cut, shape and polish all the materials they use with diamond tools and the diamond tool makers continue to strive towards their holy grail of one tool to cut them all.
The range of tools developed by Diamut in collaboration with the Cosentino Group was the result of close technical collaboration between the engineers in the tool division at Biesse and Cosentino.
The set consists of drill, milling cutter, peripheral wheels, engraving wheels and cutting discs, which can be used on glass and porcelain as well as Dekton and quartz.
The wheels set is available in the most popular profiles, although custom made profiles are also available from Diamut.
Some of the toolmakers were keeping their new launches under wraps to reveal at this year's Marmo+Mac, which opened as this issue of Natural Stone Specialist was being printed.
Some companies told us beforehand what they had planned. Sanwa Kenma Europe (better known as SKE), for example, was marking the Japanese parent's 70th anniversary with the launch of three-step Dia Ceramica W3 100mm flexible polishing discs. They can be used on any material but are being promoted as especially good on engineered stone and ceramics because of their low frictional resistance that  gives a lower risk of getting burn marks or discolouration, even on whites. The discs can be used dry but will last longer if they are used wet.
And although W3 is three-step polish, there is also an additional coarse grit disc if you need it. The discs are Velcro backed and should be used at speeds from 2000rpm up to a maximum of 4500rpm. SKE says you will get an exceptional gloss with W3.
Waters Group will be in Verona supporting its suppliers, although the company suggests you keep an eye open in the coming months as it has something in the pipeline that it is not yet ready to share. 
In the meantime, a year on from the introduction of the Allbrite range of three and five step polishing pads, Waters says the UK industry is snapping them up, with sales topping 1,000 sets a month.
If you want an endorsement, Rob Harlow of Prostone Interiors in Ammanford, South Wales, says: " The three-step pads are really quick for polishing, especially good on white quartz and fantastic on all Dekton colours. We also use the five-step pads on the much more difficult materials."
Waters Group's big hitter this year is the new range of Zenesis 25 bridge saw blades. This silent core bridge saw blade, exclusive to Waters, has 25mm arranged diamond segments suitable for use on granite and quartz. Along with long life and excellent cut quality it achieves speeds of up to 6m a minute on 30mm quartz – cutting costs to 21p per linear meter.
Then there's Waters Group's new range of Ceramic Heavy Duty Knife and Scraper blades, which are not only extremely sharp with a long lasting edge, they eliminate the metal transfer on lighter quartz and when scraping back a glued joint.
From Stonegate is a new Status High-Speed Router that has smaller, angled, arranged diamond segments, is lighter than its counterparts in the Status range and can run at nearly double the speed for granite and quartz. It has a reinforced end segment for plunging and rebating while a medium-hard bond gives it long life. It can cut almost any material exceptionally quickly.
Stonetools has also speeded up. It has introduced an Extra High Speed (EHS) range of CNC edge profiling tools from Marmo.
For use with for quartz, granite, ceramic and Dekton, they can reach a feed speed of up to 10,000mm/min thanks to the latest copper bond diamond technology.
Every CNC profile set purchased from Stonetools is sold with the offer of a free on-site set up service to ensure high performance of the tools from day one and the best polish quality. James Denyer, CNC Representative, has successfully set up more than 50 CNC profile sets since the EHS range was introduced this year. Stonetools have all common CNC profiles in stock for next day delivery.
Stonetools also introduces MITERcut, which cuts ceramics perfectly straight, does not chip the material and stays sharp. It is from Italians Diatex, which also makes DEKcut for sawing Dekton, LAPIcut for Lapitec and GREScut for Laminam, Neolith and Porcelaingres.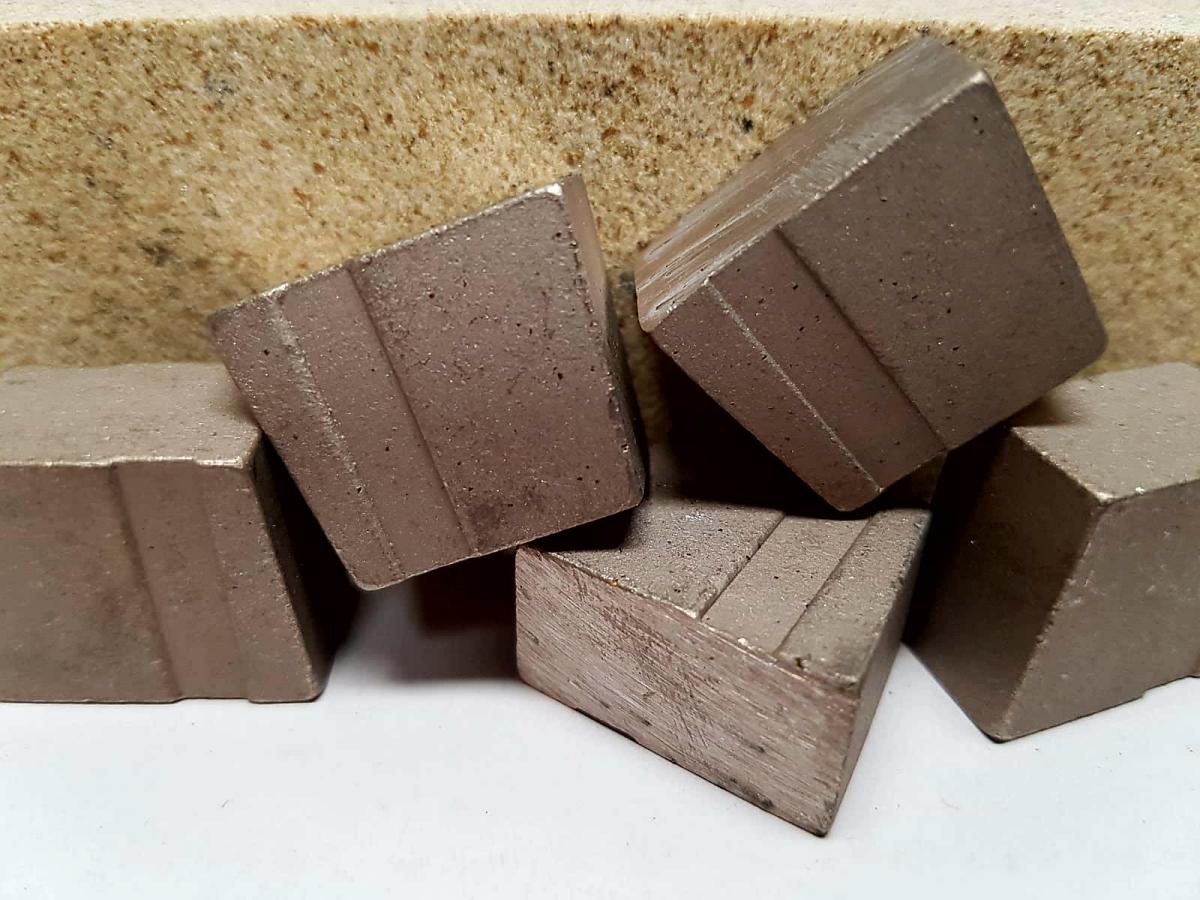 Above. New from BV Diamond, which offers a re-tipping service across the UK, is the new trapezium shape FS Segment Range segment for a faster, smoother cut without reducing the life of the blade and without having to start slowly. Vertical slots on either sides of the segment improves water supply to the cutting face and reduces drag. With more than 40 years in the stone industry, BV Diamond is a leading provider and servicer of diamond cutting tools throughout the UK.
Accurate calibration for better outcomes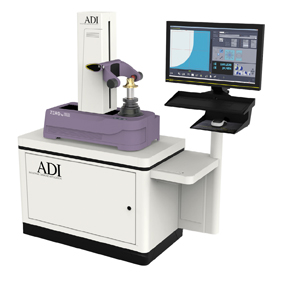 It will come as a no surprise to anyone that tools wear, nor that worn tools on a CNC saw or workcentre do not cut accurately. When a machine is not adjusted for the wear they do not work as quickly, either, can lead to further accelerated wear of the tool and can put more strain on machines.
Some CNCs come with their own tool measuring devices, but for those that do not, or for operators not satisfied with machine's own tool measuring device, there are alternatives.
One comes from tool company ADI and is available in the UK from Waters Group. During Marmo+Mac in Verona, Waters Group planned to show customers the new ADI Zero tool pre-setting and measuring machine by Zoller.
The ADI Zero measures CNC tools to an accuracy of 0.001mm, sending the measurements directly to the CNC machine operator, which can reduce down time on tool installation by up to 70%.
In some instances tool life has been increased by as much as 40% as a result of the accurate re-programming from the ADI Zero.
ADI and Waters Group also plan to release an app soon to work alongside the ADI Zero.
All ADI tools now come with a QR code. Using this, the ADI Zero will track the tool's wear rate, accurately predict how long it will last before it needs replacing and suggest re-dressing when necessary.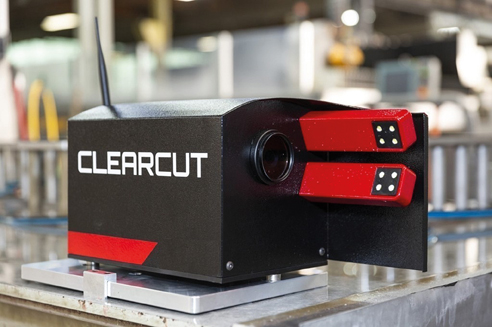 Another version is the ClearCut from LPE Group. It, too, was being demonstrated at Marmo+Mac last month (September).
ClearCut is a high-resolution optical device with eight LED lights for accuracy. It was developed in America specifically for the stone industry.
It captures images of the entire CNC tool set on any CNC machine for a fast, accurate and proven method of setting up tools for precision cutting. It lengthens existing tool life and reduces the amount of rework and manual polishing necessary.
All tools are calibrated on the CNC, which means tool wear is measured in relation to actual spindle performance.
ClearCut comes with user-friendly software on an accompanying tablet. It is compact and lightweight for easy handling and placement on your CNC. Set up is straightforward, taking only a few minutes.