Improve your profitability with LPE Group

The Americans achieve some of the highest productivity in the world by devising innovative solutions that reduce waste, save energy and achieve more product per employee.
You can see some of those innovations on the LPE Group stands (D60 and E59) at the Natural Stone Show taking place in London at ExCeL next week (30 April to 2 May).
The initials LPE in LPE Group stand primarily for Laser Products Europe, because the group started off by selling the Americal Laser Products' digital templaters. Digital templaters make their own significant contribution to the so-called fourth industrial revolution, Industry 4.0 (or i4.0) as it is known, by increasing the connectivity between measuring up on site and getting the project on to CNC machines for production. But LPE Group goes a lot further than digital templating these days.
Other brands LPE sells from the USA include the Slabsmith digital management system, which is another LPE Group contribution to Industry 4.0. A new bit of digital kit is Easy DXF, which uses a dimensionally accurate photographic system to create the DXF files required by CNC machinery from templater-fitters who are still using MDF, hardboard, Correx, or other physical templates cut on site rather than Laser Products' digital templater.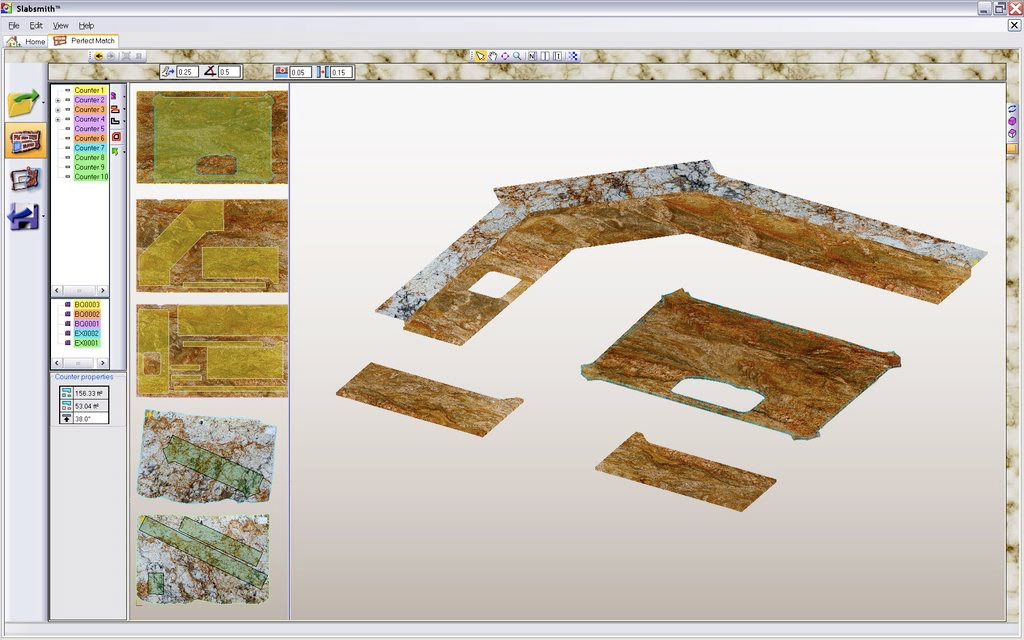 The SlabSmith for better management and stock control.
Many companies keep a digital templater in the factory to convert physical templates into DXF files. Easy DXF does it in the click of a camera shutter and just about anyone would be capable of using it once it is set up, so nobody is twiddling their thumbs.
Another innovation from the Group is ClearCut, a high-resolution optical device developed exclusively for the stone industry. It images the entire set of CNC tools on a machine for a fast, accurate and proven method of setting up tools for maximum precision cutting and usage. It lengthens tool life, saves energy, eliminates rework due to calibration issues and cuts out guesswork to make your CNCs more efficient.
Carl Sharkey, the Managing Director of LPE Group, came across the Slabsmith when he first started talking to Laser Products in America about representing the digital templater in Europe. He liked the idea of Slabsmith creating a digital inventory of slabs that could be used for sales and setting up machines. But he wanted to see how digital templating went before encompassing the super-sophisticated Slabsmith.
It has gone particularly well and after he had sold 350 laser templaters, Carl was persuaded the digital revolution had a place in stone processing and returned to Slabsmith to talk about representing the company in Europe. The talks clearly went well.
Slabsmith is not just software. You could not run Slabsmith on your average office PC because it requires some sophisticated hardware to cope with the no less sophisticated software and is sold as a package that includes two computers, a special camera for photographing slabs, and fixed stands for the camera and stone slabs so the inventory will be recorded in dimensionally accurate high definition with calibrated colours. What you see digitally really is what you get in the physical world. Slabsmith is being used by stone processors in the UK.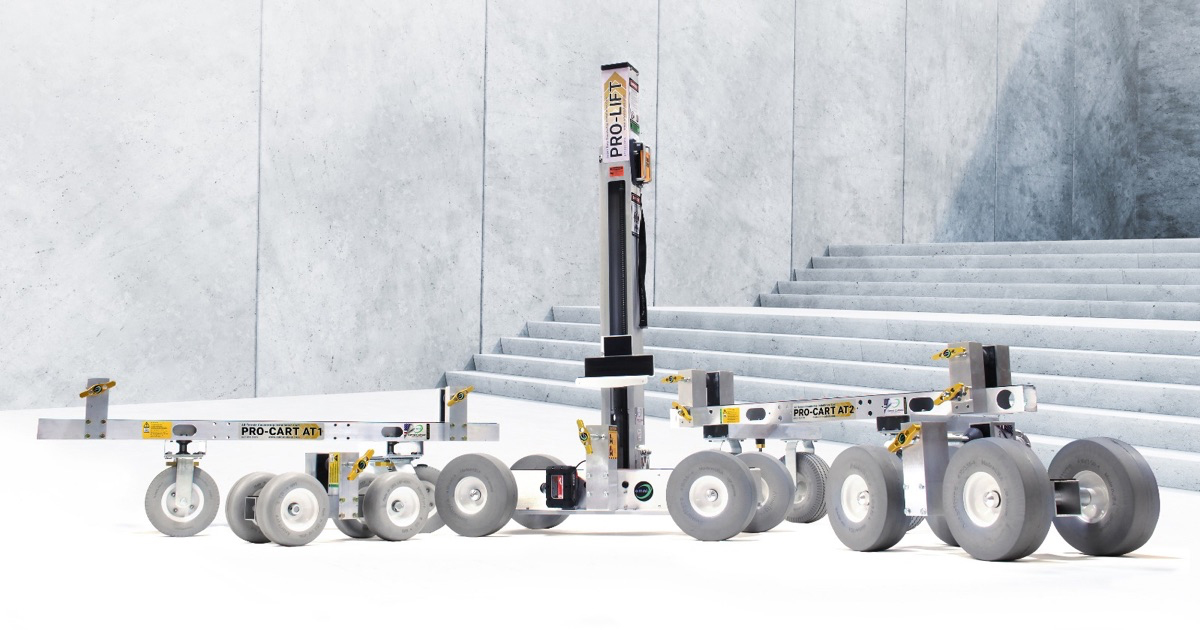 Omni Cubed handling devices.
Not that everything on offer from LPE Group is high technology. The OmniCubed materials handling products it sells are mostly mechanical aids to handling stone safely around a factory and onsite. In their own way some of them are just as ingenous solutions as the digital products.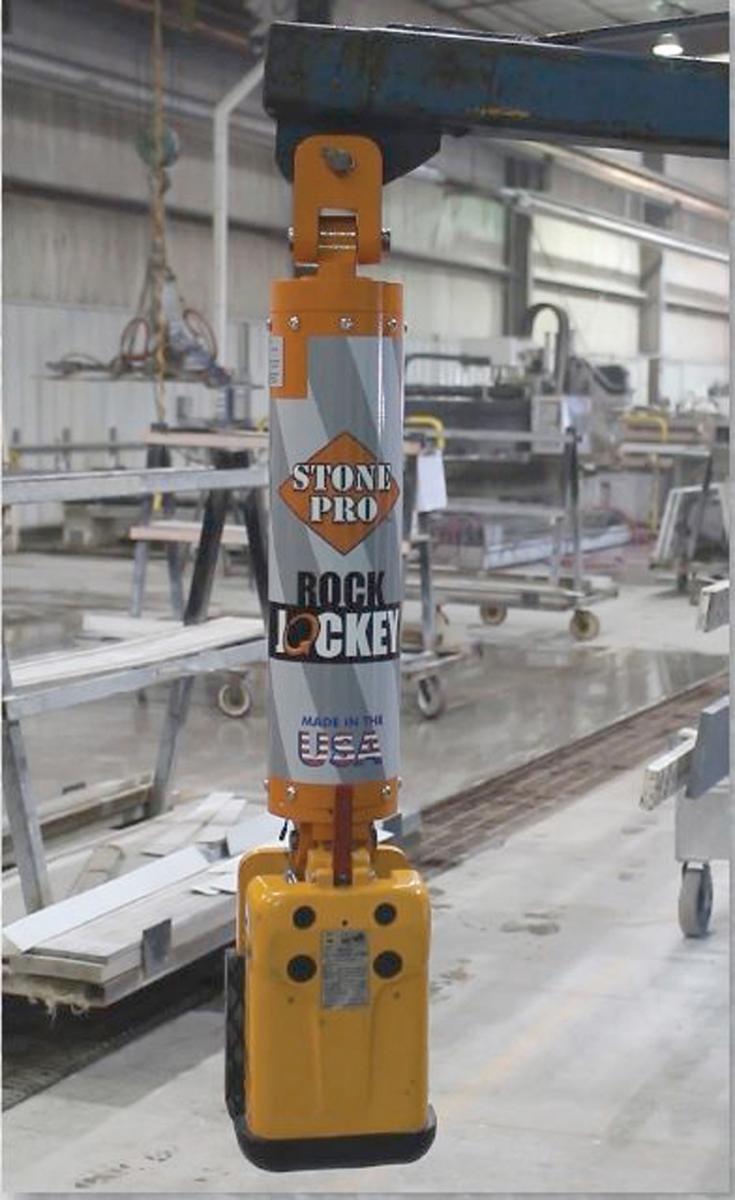 The Rock Jockey.
In between the two is the Rock Jockey from another American company, StonePro. It is a radio controlled, motorised, 360º steerable swivel that attaches between the boom on a fork lift and a slab clamp. A palm size remote control unit allows the forklift driver to swivel the slab to manipulate it off a lorry or out of a storage rack and through a factory without the need for a second person to guide it, which also means they are in the dangerous drop zone and walking just in front of a moving forklift. It means getting stock on to a machine is a lot quicker and is a job for one person instead of two.
There are other elegant innovations on the LPE Group stands - the Seam Phantom, for example, for glueing up almost invisible seams and a new, easy-to-use vacuum cup. There will also be a Comandulli edge polisher from Italy, which LPE Group represents in the UK. It is certainly worth taking a look.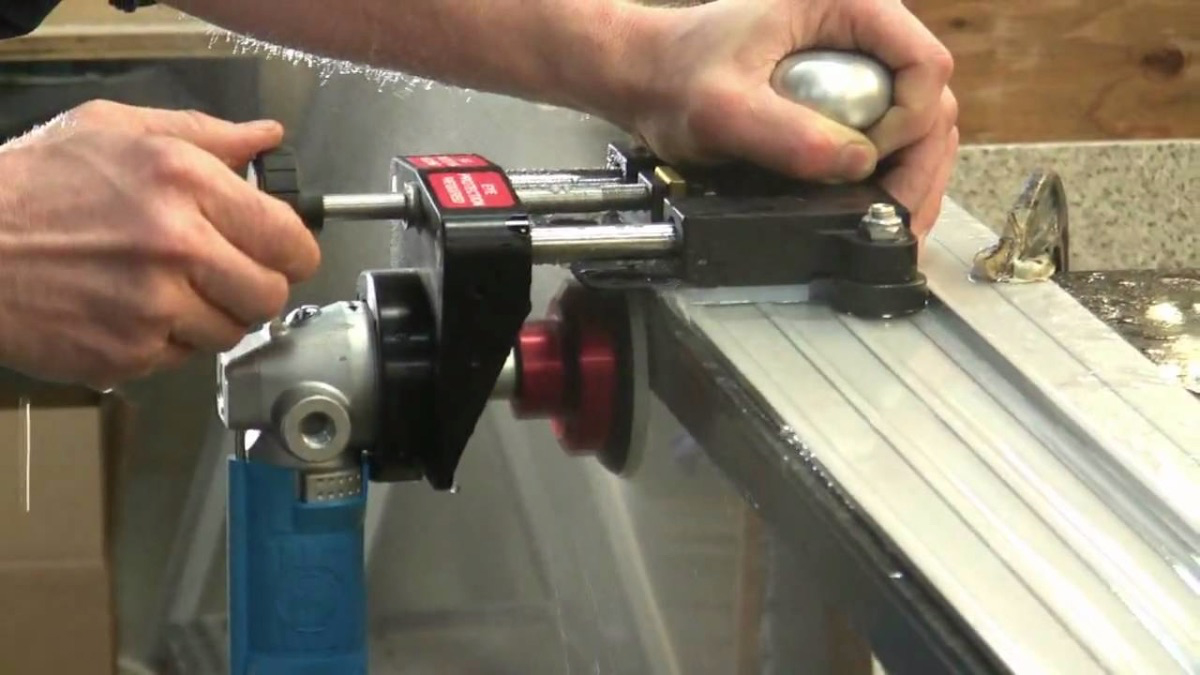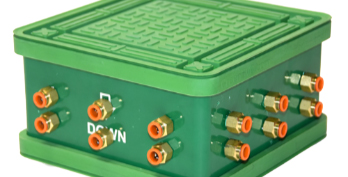 For a preview of what else is at the Natural Stone Show and Hard Surfaces click here