Machinery: No compromise with the Omag Digitale

Omag has made a more compact, monobloc five axes CNC bridge saw for making worktops and fireplaces. It is called the Digitale 5, which it introduced at Marmo+Mac in Verona in September. It has proved an instant hit, with the first two sold by UK agent D Zambelis installed this month (November) with two more in the pipeline.
Stella Zambelis says the first 10 to be bought in the UK will be sold at an introductory price of less than £100,000 (as long as there is no major change in exchange rates).
The Digitale 5 is Omag's response to customers who wanted a more compact five axes machine that arrived ready assembled and is easily installed. It might be looked on as a monobloc version of the Area Cut, so although the Digitale 5 is new, it uses well established design parameters, including the software.
Omag agreed to make the more compact monobloc but has refused to compromise on the quality of the build. The overall dimensions of the Digitale 5 are 5.9m x 4.7m x 2.3m high and it weighs four tonnes. With that much metal it is as steady as a rock and combined with all its digital refinements is accurate to decimal places – maybe slightly more accurate than the average kitchen worktop company or fireplace maker expects or needs. Nevertheless, Omag is used to making big machines that work to fine tolerances and it did not want to put its name to a machine that failed to live up to that standard.
It is the same with the motor at 18kW, and the tilting 3.6m x 2m table that can incline to 85º and carry a load of 1.5tonnes.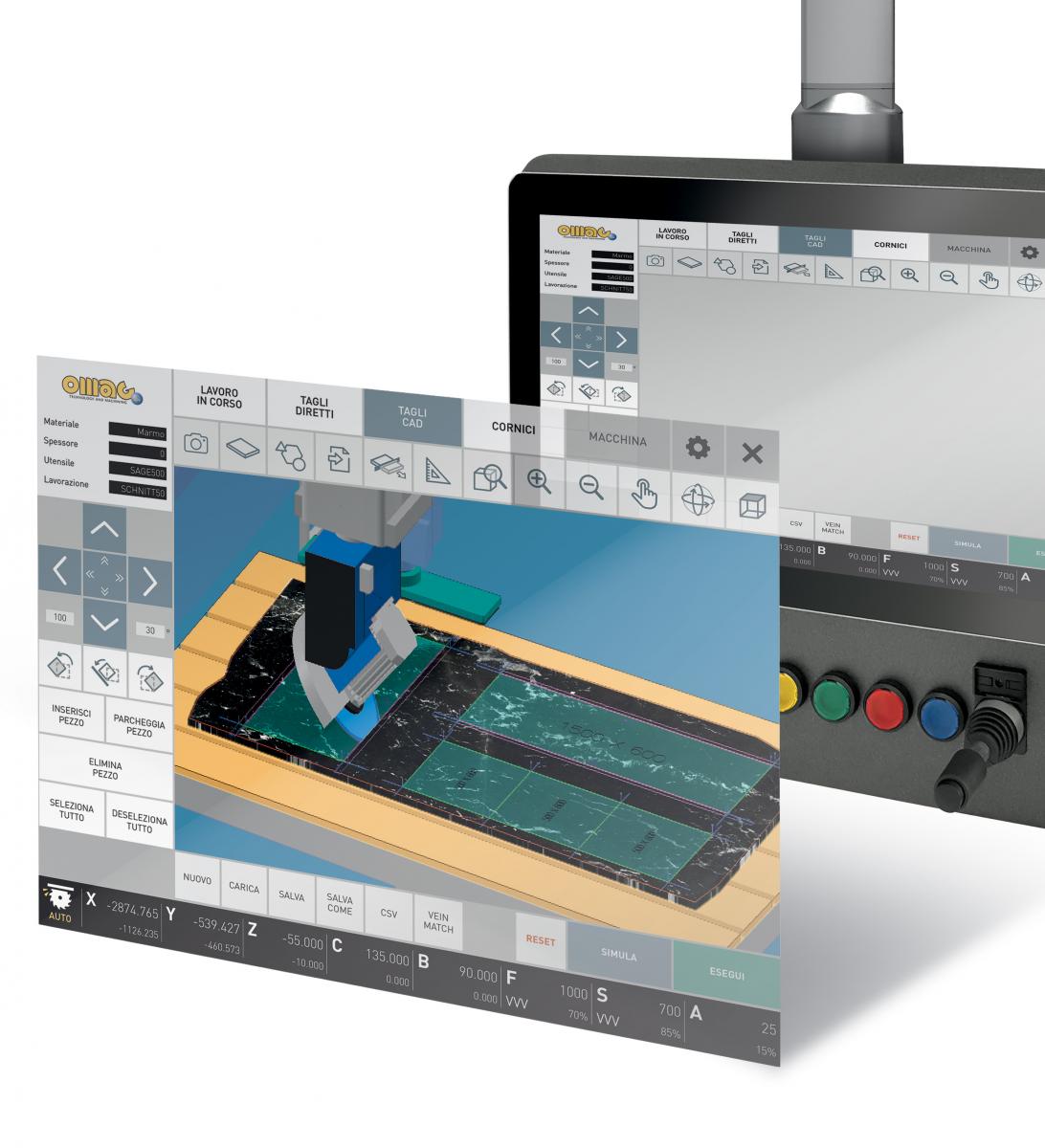 The frame is galvanized and painted to resist corrosion. Operation is via a 15in touch screen, big enough to allow a detailed overall view of both machine function keys and the geometry of the work pieces.
The familiar Omag FastCut software makes it easy to import digital templates or draw using parameter programs.
FastCut incorporates Omag Image to digitize slabs using a digital camera. The camera is adjustable, colours can be balanced, brightness and contrast optimised, shadows removed and any areas of a slab that will not be used identified and excluded from the work area. And with Image now including Vein Match, cuts can be lined up along the veins of the material.
A vacuum lift moves cut material out of the way to maximise finished material from the slab. Milling and routing tools can also be accommodated in the spindle.
There are sensors for measuring the tools and the thickness of the slabs for maximum efficiency (especially with mitred cuts) and tool life.
There are sensors on all the moving parts for monitoring the performance of each individual element so that routine maintenance, such as lubrication, can be carried out automatically by the machine.
Digitale 5 also uses its monitors to provide detailed feedback in the form of working reports on operating functions such as up time, square metres produced and the proportion of finished product achieved from each slab. This is information that is rapidly becoming a significant driver of improved efficiency.
And from next year, D Zambelis will have the capability in-house to answer all the questions relating to software used with the machines the company sells, rather than customers having to wait for a reply from Italy.
Stella Zambelis says: "Sawyers know the machine but not the software. Engineers know the theory but not the machine and how it is being used. I am trying to fill that gap."
D Zambelis will be able to answer questions not just about operating systems like Omag's EasyStone and Terzago's Taglio, but also those relating to Alphacam Stone and Autocad.
This will be available free (at least for the first few months after a machine has been purchased) to support the training that goes along with a new machine, because it is not easy to absorb everything during a week's tuition after a machine has been commissioned.