Machinery, tools and consumables at the Natural Stone Show in London
If you are looking to gain an edge on competitors by investing in new machinery, tools or consumables, the Natural Stone Show at ExCeL in London from 30 April to 2 May offers you a chance to make a hands-on assessment of what's available from leading suppliers.
In machinery there are manufacturers exhibiting on their own behalf, such as Intermac, Breton, Prussiani and Sasso (although Sasso will be supported by UK agent Pat Sharkey Engineering), alongside major UK distributors such as D Zambelis (Omag, Achilli), Stone Equipment International (MarmoMeccanica, Emmedue, Ghines), LPE Group (Laser Products, Fab King, Omni Cubed, Comandulli, Turrini Claudio), On Point (Thibaut, Manzelli and ECS Eich), SMC Stone Machinery (CMS Brembana and Bovone) and others.
Intermac UK promises something completely new, never before seen at the UK Stone Show from any company. Chris Arend, Commercial Director, says: "We are very excited to be demonstrating something new to the sector, but we're going to be keeping it under wraps until closer to the show."
It will take its place alongside the Intermac Master CNC workcentre and Primus waterjet, Donatoni Macchine bridge saw and Montresor Edge polisher that give Intermac the complete stone processing package.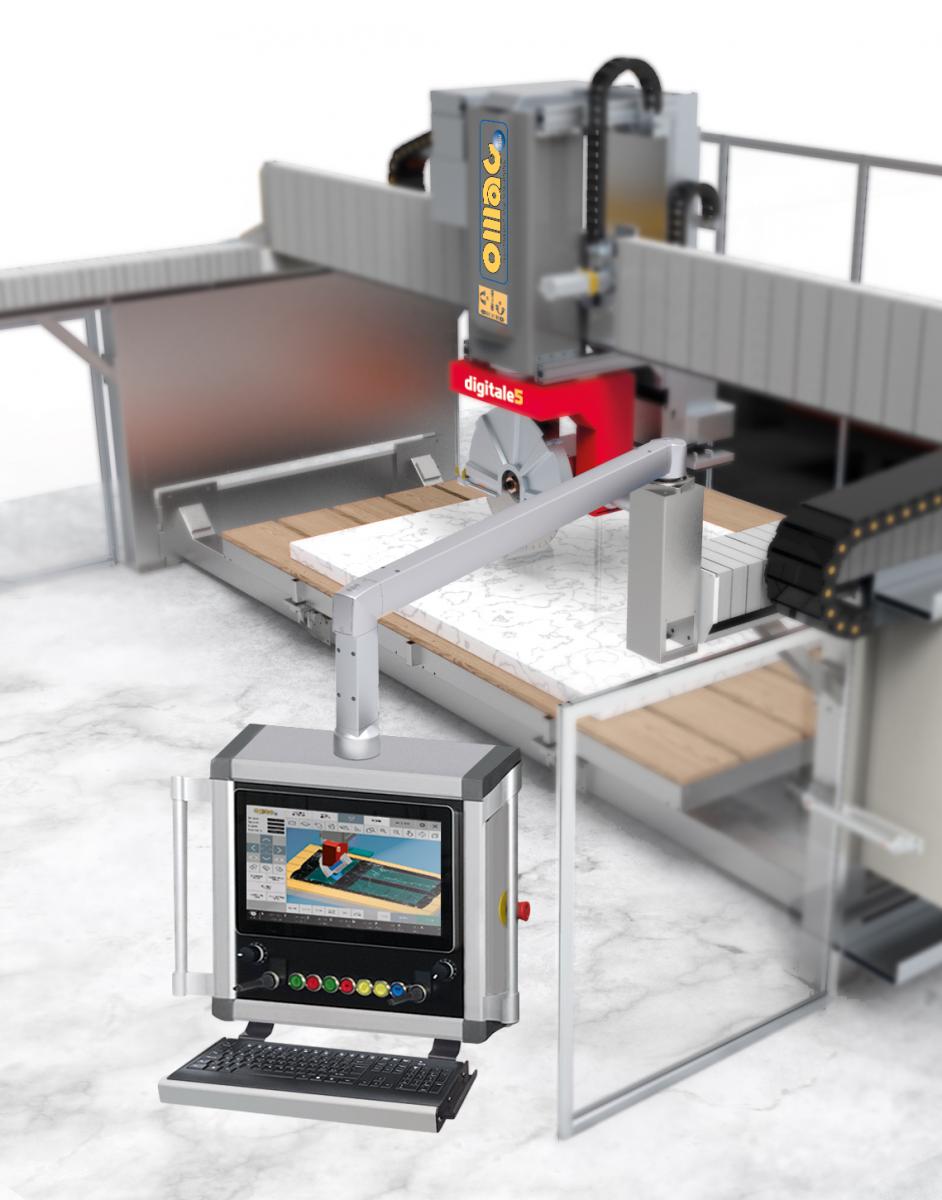 Find out why Omag is so popular with a visit to the D Zambelis stand.
And if you are getting involved in the Internet of Things (IoT), you might like to look at Intermac's Sophia, which provides a comprehensive overview of machine performance, with remote diagnostics, machine stoppage analysis, and fault prevention. It promises the next big jump in productivity improvement.
The Intermac stand will have something for everyone, from those looking to purchase their first CNC machine to those seeking technology fully capable of integration in large production lines.
There will be more high technology on the D Zambelis stand, where products sold by Zambelis will be shown working on a screen wall. Stone CNC machine giant Omag, which Zambelis represents in the UK, has had the same sort of arrangement on its stand at the Italian exhibition of Marmo+Mac in Verona for the past couple of years.
There will, however, be an Omag Digitale5 five axes bridge saw / milling machine on the stand for you to see. It is making its debut at the London Stone Show following its introduction last year.
There will be a wide range of handling equipment to help keep you safe and healthy and the tools, chemicals and abrasives that D Zambelis sells, including the new Odyssey blades – a unique 125mm blade that can be used to dry cut all natural stones, quartz and the new ultradense sintered materials.
You will even be able to enjoy an ice cream from the Gelato trolley, although you might be asked to make a donation to MoonWalk London 2019 that D Zambelis is supporting to help fight breast cancer.
On Point will be showing a Thibaut five axes CNC Saw and machining centre, a water treatment system and waterwall from Eich, plus vacuum lifts from Manzelli, including two new versions being introduced at the Show.
On Point does not want to say too much in advance, but promises it will be well worth your while to visit the stand, where there will also be plenty of food!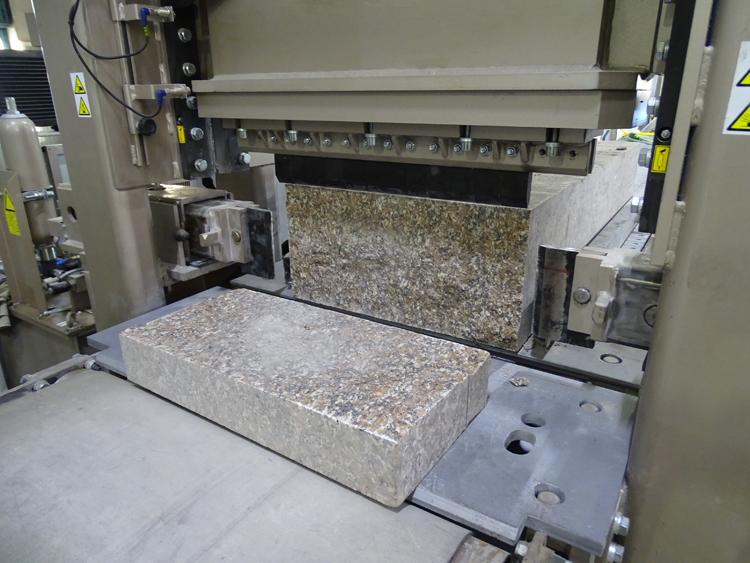 Newcomer Gestra introduces its splitters to the UK.
Making a move into the UK market is Gestra from the Czech Republic. It has been making stone splitters (guillotines) since 1992, and with demand for sawn and split walling growing along with the increase in housebuilding, it sees an opportunity to expand into the UK. As well as the croppers,  it offers conveyors and its own novel manipulator for handling the stones.
There will be all kinds of tools to choose from at ExCeL, from hand tools to diamond machine tools. At the diamond end of the market, tool manufacturers have been concentrating on developments to make it easier to process ultradense sintered stone and porcelain.
Diatex, for example, will be showing its Poker line of long-lasting diamond blades for cutting jumbo sintered and ceramic slabs rapidly and cleanly. The company says it has tested its blades successfully on Dekton, Neolith, Laminam, Porcelain Gres, Techlam, Sapienstone and Maxfine, among others.
Each blade comes with what is called a D-Code (it is a QR code) that can be read by a smartphone or tablet to access information about the correct speeds and feed rates for the material being cut.
Vetro Tooling, with its Kline range of CNC tooling, is a relative newcomer to the stone industry. Hannah, the company's digital guru, will be on the stand to demonstrate its new website – and if she convinces you to sign up to it at the Show there's the promise of some superb, show-specific savings.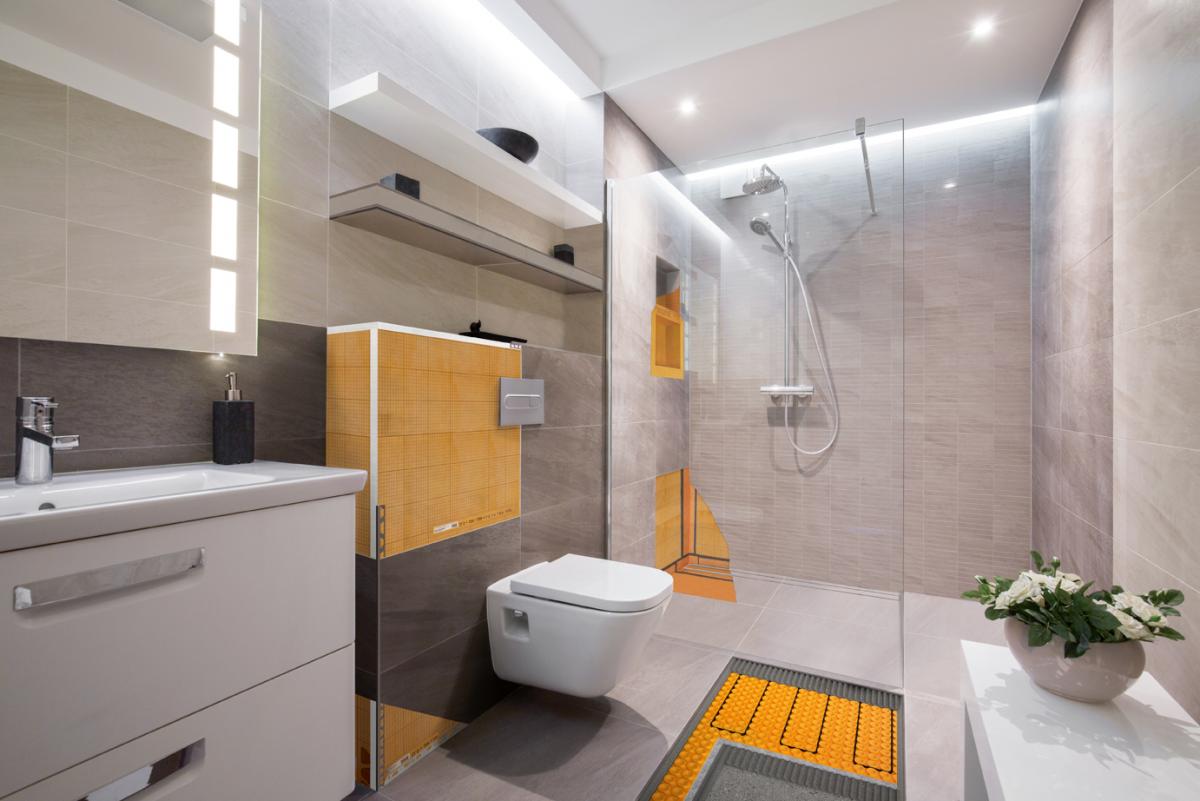 A unique stand from Schlüter will have a functioning wetroom with tiles strategically cut-away to reveal Schlüter's products.
Schlüter plans to demonstrate its all-round prowess, not just of­ products but also of applications and services.
The Coalville-based UK operation of the internationally renowned company is selective in the national exhibitions it attends, but has identified Hard Surfaces, in conjunction with the Natural Stone Show, as an excellent match for its solutions and sphere of work.
It promises a unique stand with a functioning wetroom as a focal point, tiles strategically cut-away to reveal Schlüter's solutions for substrates, waterproofing, uncoupling, under-surface heating, drainage and profiles.
Latest additions to the company's portfolio will include the Schlüter-Troba-Level, a pedestal system for loose-lay tile and pavers, and the Schlüter-Shelf range of designer shelving solutions.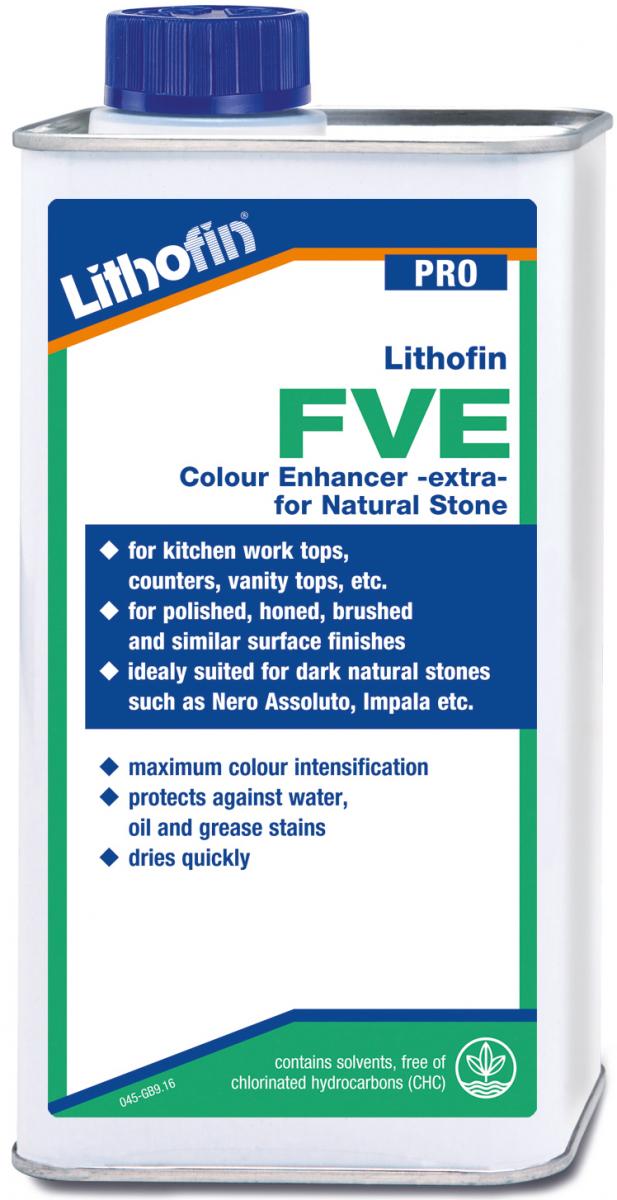 For the trade, an exceptional colour enhancer from market leader Lithofin.
Lithofin is introducing Lithofin FVE, a colour enhancer for worktops, vanity tops and smaller areas of stone such as shower trays, being added to more than 60 advanced cleaning, protecting and maintenance products that will be at the show.
The intense depth of colour produced by Lithofin FVE, even on today's textured surfaces or slip-resistant floors, needs to be seen to be believed. And at the same time as bringing out the colour of the stone it also gives it water and oil repellence.
When you visit the stand, don't forget to hand in your Golden Ticket that will be on the front of the Natural Stone Show / Hard Surfaces Official Catalogue, available at the Show and sent in advance to subscribers to the Natural Stone Specialist magazine. With the Golden Ticket you will be able to enter the Lithofin Prize Draw that has more than 50 prizes on offer.
On the Dry Treat stand, three new products will be introduced.
Stain Proof PQ has been specifically designed for the latest generation of porcelain, engineered stone and quartz surfaces. It seals micro pores to create a unique molecular bond for long lasting protection against oil and water stains.
Then there is Stain Proof WB, a single application waterborne sealer with the same attributes as Stain Proof PQ and the same 10-year warranty, but for use with stone and masonry surfaces.
The third product is Stone & Masonry Cleaner. This is for removing stubborn organic stains and deeply embedded dirt in porous stone. It is a deep penetrating foam that lifts dirt from the stone, and with a pH of 7.5 it can be safely used on most substrates, even historic structures. It is ready to use and works quickly – a true labour saver.