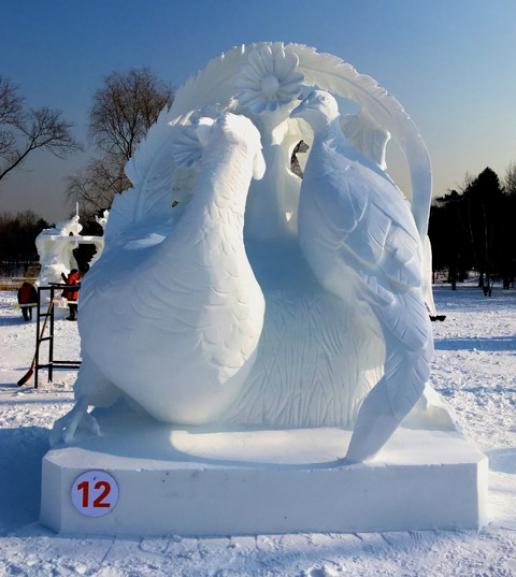 A male urban pheasant wooing a female back to his nest. The snow sculpture by team USA/GB in China that gained them third place in the contest against the highest standard of international competition.
This week promises what will hopefully be the last of this winter's snow showers in the UK. But for some of the country's top stone carvers, winter brings an (albeit ephemeral) artistic opportunity in the various snow carving festivals that take place at this time of year in the northern hemisphere. Maya Martin and her friends were among those who have been enjoying the snow at festivals this year, as she reports here.
This year has been particularly successful for British stone carvers who have been competing in snow sculpting competitions across three continents. Snow carving is perfectly suited to stone carvers because it uses the same principle of removing the stone to reveal the sculpture. Working in snow gives the opportunity to work on a large scale, quickly and effectively. And the snow carving festivals are an opportunity to travel and  to meet sculptors from around the world. They also offer the thrill of working under extreme conditions to create something you can be proud of.
For me, having been to Breckenridge, Colorado, last year, I was delighted to have been asked back by team captain Oliver Annaly this winter, to travel to Harbin, China.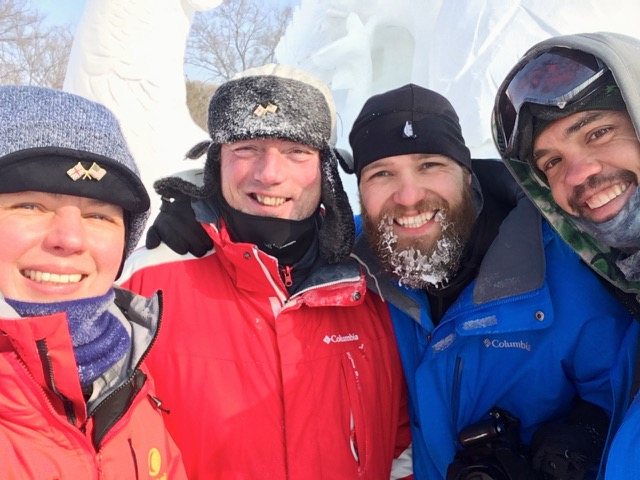 Firstly, I was excited to be going to China but then I became equally excited to find out that it is regarded as the highest calibre of competitions, with 25 teams from across the globe competing. GB and USA, normally competing against each other, decided this year to join forces and become team USA/GB.  We sculpted a male urban pheasant wooing a female back to his nest, designed by our American teammate Adam Warmack. That's the four of us in team USA/GB in the photograph - me, Ollie, Adam Warmack and Hans Suedoff in Harbin.
Each team had four members and four days, equating to 37 hours, to carve their design out of a block of snow 4m high x 3m wide x 3m deep. The snow blocks are made by layers of snow being tipped into a wooden frame, each layer is pressed down by foot before the next layer is added. Then the frame is removed.
Snow can be carved easily using a variety of tools. Ours were either hand made by us specifically for this job or bought at the local garden centre or hardware store. We also purchased a few locally made tools specifically designed for this job. The tools, though larger scale, represent the hand tools you would find in a stone carver's toolbag. We also use wood chisels and knives for some of the finer detail.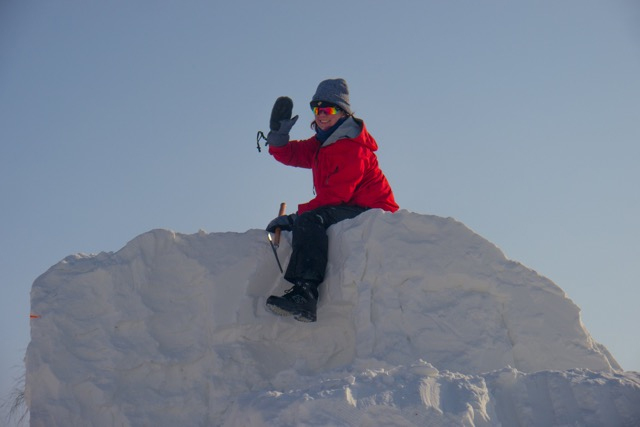 The first thing to do was to take out blocks and chamfers to reduce the block down to the core elements of the design as you would in masonry. Working at this scale, and because snow is soft and vulnerable, means you have to work from the top down. It is important to leave substantial snow to sit / stand on while working, as you can see from the photo of me working on top of a block of snow. 
The centrepiece of this design was a feather arch reaching the height and spanning the width of the block and pierced through. This was thin and delicate and as it needed to be done first, we were relying on the temperatures to remain low, so the arch would not get too soft and collapse.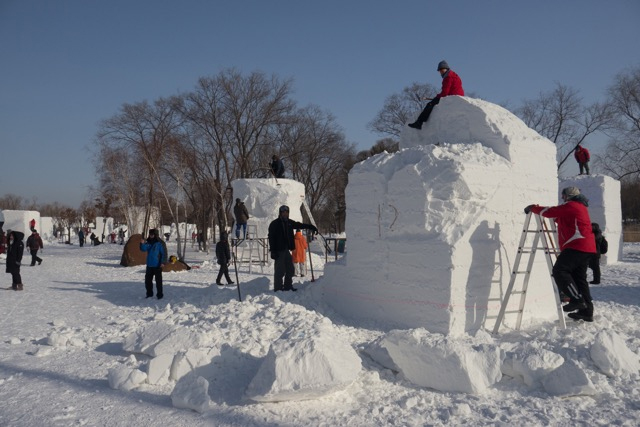 The final day was spent finishing off and smoothing away tool marks. For this we used a variety of handmade rasp type tools and coarse waterproof sandpaper - again, the same principle as for stone. We downed tools at lunchtime on day four, exhausted but contented that we had executed the design to the best of our ability. That evening we had the reward - we had come third in the cntest. The standard of competition was was extraordinarily high and we has been surrounded by awe-inspiringly inventive designs and top class craftsmanship.
Temperatures throughout the week were consistently approaching -30oC. The key to working in these conditions is wearing ski apparel and layering up… a lot!
Working wearing three pairs of gloves and thick mittens is just about adequate and every bit as difficult as it sounds.
After a hectic week and a long journey home, I returned to the UK exhausted and happy to rest. But Captain Ollie went straight on to the next challenge - in Pontebba, Italy, where he was joined by two more fellow British stonemasons, James Wheeler and Will Whitmore. Here they were delighted to bring home First prize for their carving of a snake hiding behind an apple.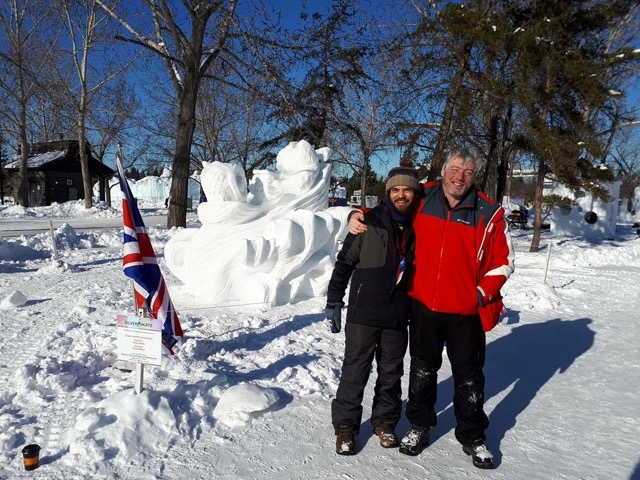 Captain Ollie, who doesn't appear to need much recovery time, then jetted off to Edmonton, Canada, where he met rookie David Wilkins to carve a representation of characters from the Edward Lear poem, 'The Owl and the Pussycat'. That's Ollie (on the right) with David in front of their carving. 
David embraced the challenge and worked tirelessly to come up with a 3D scale model of the design in clay. This maquette, in a box with grid lines, went with them to Canada and proved invaluable in the execution of the piece. I was unfortunately unable to join them on the trip but I worked collectively as part of the team in the design process and I followed their progress closely from home on social media.
As well as all the success we had, Devon stone carver Pippa Unwin triumphed in the Dolomites with Mark Luscombe and Patrick Barker. They came third with a snow carving of snow carvers.
Overall, this leads me to the conclusion that stonemasons make exceptionally good snow carvers.
Imagine what we could do if we just had that bit more snow to practice on throughout the year.
Unfortunately, on the next warm day or the next time it snows heavily, our snow carvings disappear. Though at least that makes more space for next year's challenges.