Hard Surfaces exhibition opens in London on 30 April
People love hard surfaces. Horizontal and vertical, inside and out. And they love the look of stone. But one of stone's selling points is the variation with which nature alone can imbue it over eons in the making – and that is not always what a customer wants. So mankind has come up with more consistent alternatives for stone processors to transform into the worktops, floors, wall linings, showers, paving... and a whole lot more of the products they make.
Quartz, sintered ultradense surfaces, large format porcelain... they have greatly expanded the stone industry's market share of surfaces and they continue to do so, notably in worktops. After all, who really wants plastic faced chipboard?
You will be able to see that latest developments in hard surfaces at the new Hard Surfaces exhibition, co-locating with the Natural Stone Show in the ExCeL exhibition centre in London from 30 April to 2 May.
While hard surfaces include the many stones that will on display at the Natural Stone Show, they go beyond the stone industry into tiling, where clay, glass and metal are appearing as additions to traditional ceramic and stone.
These products have also expanded the aesthetic of interior design (in particular, but also cladding and hard landscaping) as they do not have to look like stone.
They are often given a stone look because of the popularity of it and because the minerals used to make the materials are often basically stone. But now they are taking on the look of wood, iron and steel, concrete and other materials, especially with a distressed, industrial appearance that has found a ready market among the urban chic.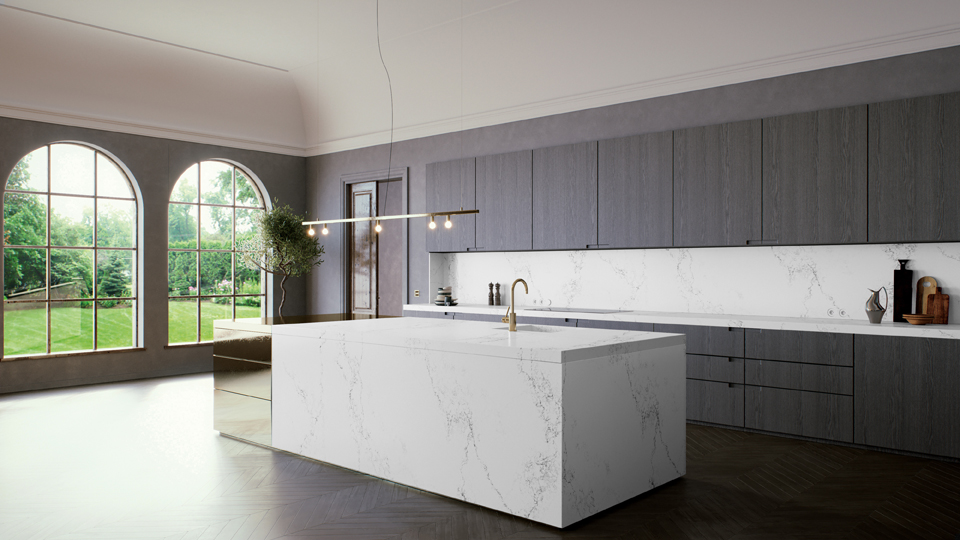 Empira White is the latest launch from quartz company Caesarstone.
One of the companies offering such looks at ExCeL is Caesarstone, which is fighting hard to become the UK's market leader in quartz, distributing its ranges from its warehouse in Enfield. Jon Stanley, Vice-President Marketing, says: "Caesarstone will showcase its wide range of quartz surfaces and finishes at the Show, including the award winning Metropolitan Collection.
"In addition, we will showcase our latest marble-inspired product, Empira White." Empira White was Launched on 13 February. 
"Marble continues to be one of the most desired stone styles for UK kitchens and bathrooms, demonstrated by the ever growing interest in our Supernatural and Ultranatural collections. We expect this trend to continue through 2019 and into 2020."
Another company, CRL Stone, will be showing its complete range of more than 75 colours of Ceralsio ceramic and CRL Quartz surfaces, including 12 new colours – six Ceralsio colours that are out now and six CRL Quartz colours being launched this month  (March) – all inspired by natural marble or incorporating the growing trend for industrial designs. There will also be an area of the stand displaying the company's stone tools and accessories, the complete range of which is laid out in a new 132-page catalogue.
Italian company Ceramica Fondovalle will show its My Top brand of large format 12mm and 20mm thick slabs.
MyTop porcelain stoneware surfaces already include 12mm thick slabs, non-straightened and mesh-mounted, and now will also include 20mm thick slabs with marble veining running through the whole thickness in the 1.63m x 3.24m slabs. This is achieved thanks to the Naturtech technology installed on the Continua-Plus line allowing sophisticated material mixes managed by Easy Color Boost and Freestile technologies created by LB.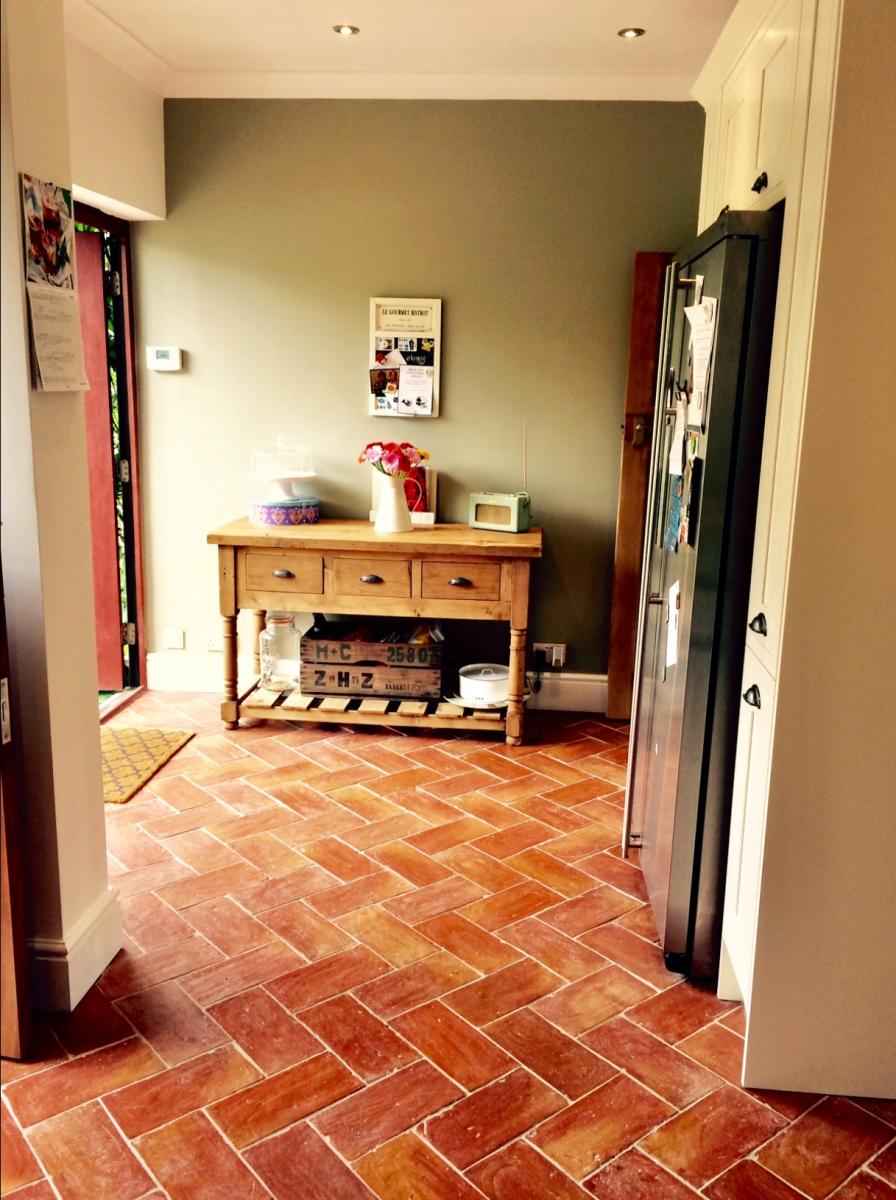 Baked Earth offers natural, handmade terracotta tiles made in its family-owned factory.
Fondovalle says the technical and aesthetic qualities of porcelain stoneware have been boosted to challenge natural materials as worktops, bespoke baths, washbasins, sinks, table tops, cupboard doors, container lids and custom furnishings.
Baked Earth offers natural, handmade terracotta tiles made in its family-owned factory. Baked Earth can supply just a few meters or a container load and the tiles are suitable for outdoor and indoor use – and are ideal with underfloor heating.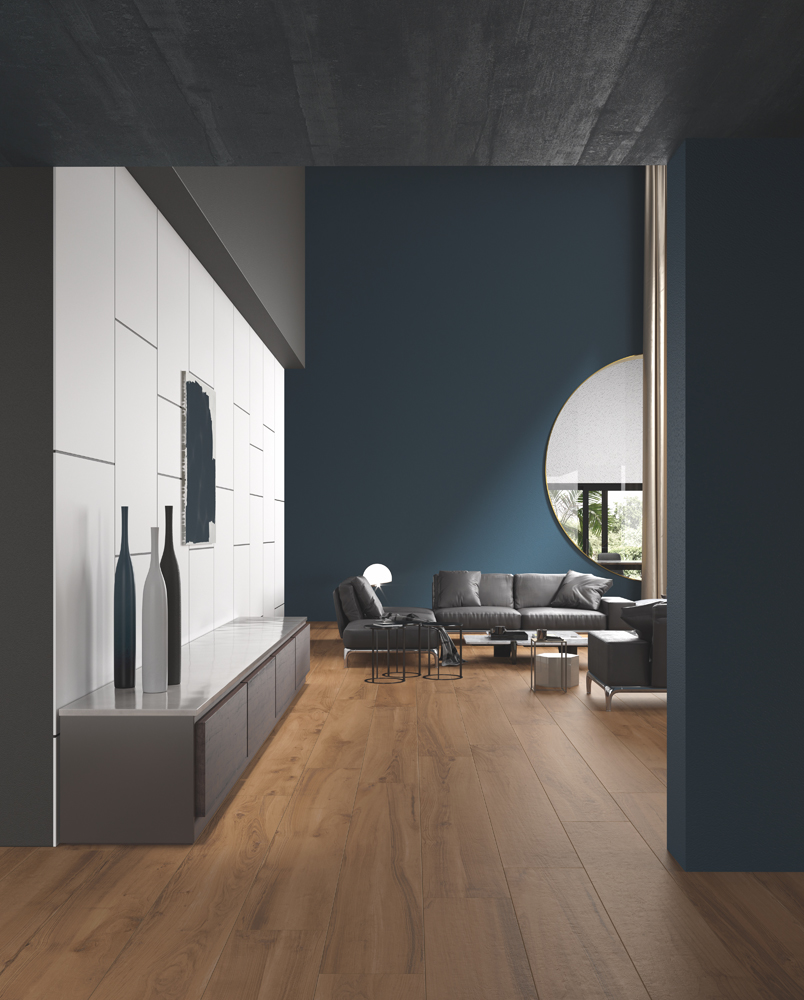 Ceramiche Keope introduces extra large ceramic slabs.
Ceramiche Keope is thinking big. It is introducing Emotions, a new range of extra large porcelain stoneware slabs.
These are surfaces that capture the elegance of marble, the warmth of wood and the urban appeal of concrete and resin. There are 15 collections offering more than 50 colours in five finishes and three thicknesses (6mm, 12mm and 20mm). Slab sizes are 1.2m x 2.4m, 1.2m x 1.2m, 3.0m x 2.4m and the latest 1.2m x 2.78m.
The new PLUS extra large slip resistant slabs are specifically for indoor-outdoor applications to maintain the visual aesthetic and functional continuity between interiors and exteriors.
Chinese company Zhongguanshi Stone Industry Company supplies quartz, glass and composite engineered marble kitchen countertops.
Quartz company Quartzforms introduces a whole new solar system of marble-effect quartz with its Planet collection. There's Mercury, Venus, Mars, Jupiter, Saturn, Neptune and Pluto. There is no Uranus or Earth. The standard size is 3.05m x 1.4m in 12mm, 20mm and 30mm thicknesses, with jumbo slabs of 3.2m x 1.64m in 20mm and 30mm thicknesses.