Lettering Arts Trust presents 'On a Knife Edge – Nature in Peril'
The Lettering Arts Trust at Snape Maltings, in Suffolk, is currently host to an exhibition entitled 'On A Knife Edge – Nature in Peril', running until 7 November with the work of 28 lettering artists on display.
They have each created a personal response to the 2019 State of Nature report that highlights the fragile status of some of the UK's habitats and species.
Among the artists whose work is included in the exhibition are John Nielson, Iain Cotton, Annet Stirling, Tom Perkins, Eric Marland, Louise Tiplady and Charlotte Howarth. There are also pieces by three former Lettering Arts Trust apprentices and four beneficiaries of the Trust's journeyman schemes. 
The exhibition is open from 11am to 5pm seven days a week at The Lettering Arts Centre, Snape Maltings, Snape, Suffolk IP17 1SP. Entry is free.
The 'State of Nature' report draws attention to the perilous plight of numerous species, flora and fauna, and habitats in the UK.
On A Knife Edge is also a nod to the precious heritage art and craft of hand lettercutting – an art form the Lettering Arts Trust charity is dedicated to sustaining in the face of much lettering that would once have been cut by hand now being produced by computers and machines.
The works on show form a compelling collection that illustrates and highlights the need to conserve and protect the environment.
It is a mixed media exhibition, with inscriptions on stone, calligraphy, etching and woodcarving. Each work demands a closer investigation of its topic.
For example, Jo Sweeting has created a series of 'Empty Nests' as an indictment of disappearing bird life. She explains: "On the Red List we see sparrows, swallows, thrushes, starlings, curlews, hawfinch… to name but a few, their names acting as an incantation. I have carved the Empty Nests as a celebration of our birds. I hope they will not be needed as memorials."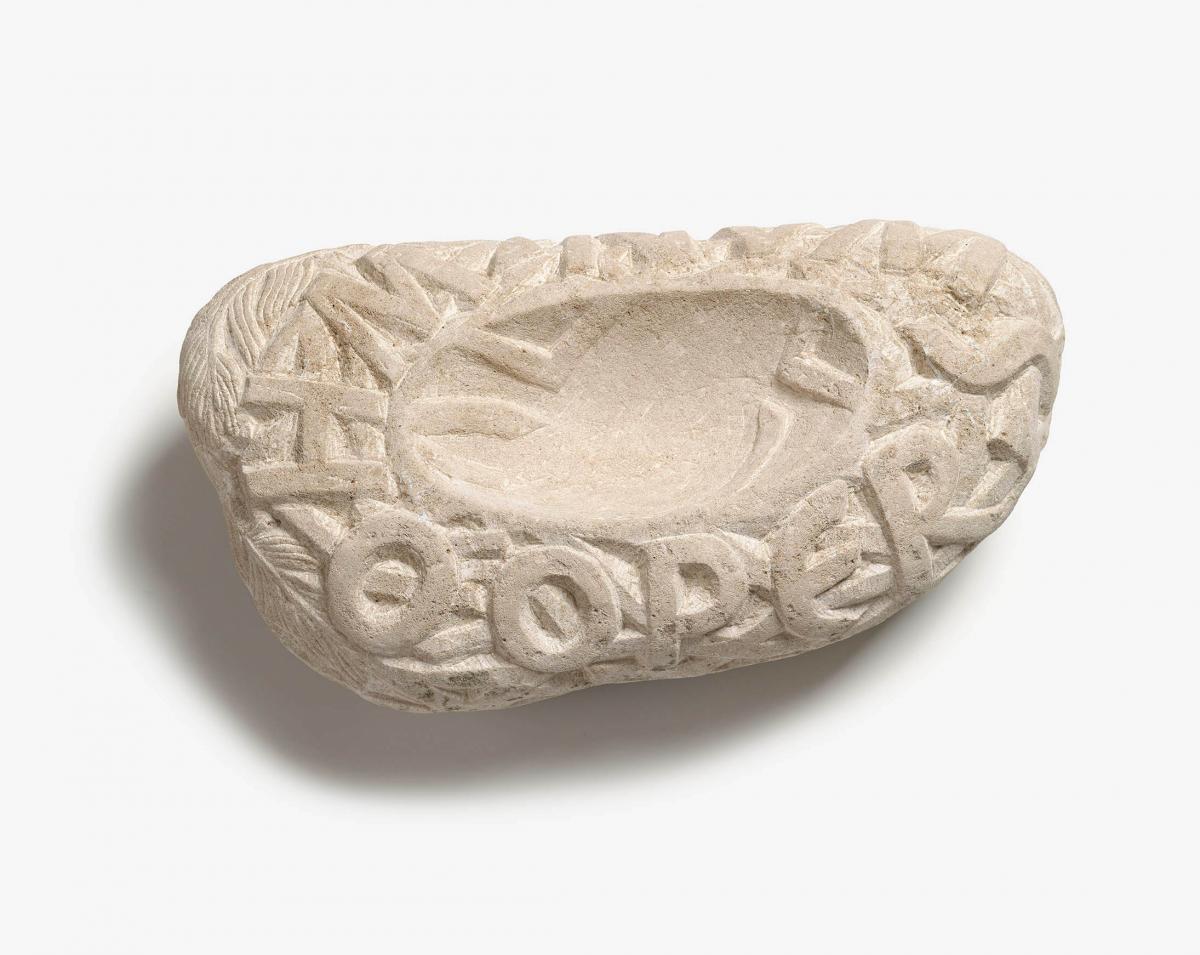 Another of Jo Sweeting's 'Empty Nests'. This one depicts the nest of the declining Whooper Swan.
A fully illustrated catalogue, featuring the artists' personal views and details of their creative approaches, alongside essays and comments from world renowned naturalists inlcuding Sir David Attenborough accompanies the exhibition.
Lynne Alexander, curator for On A Knife Edge says: "The Lettering Arts Trust is presenting the On A Knife Edge exhibition as a call to action, using art as the vehicle to bring it home to visitors and the wider population that it's not too late to change our habits and live in synergy with nature, while helping to highlight the devasting consequences of doing nothing.
"It's clear that lettering artists, as a community, feel strongly about this topic and are using their craft to voice their concerns. I have been particularly heartened by their responses; the subjects they have chosen – and, of course, the skill displayed in executing their ideas."
Inspired by the theme of On A Knife Edge, members of the Suffolk Poetry Society have composed some poignant poems that have been published in a booklet that can be purchased from the Lettering Arts Centre.
As part of its ambition to sustain the craft of hand lettercutting, the Lettering Arts Trust supports the training of the next generation of artists with 'journeyman' opportunities, supporting those developing their skills to spend time with various established artists.
As part of current journeyman George Edwards' time spent training with Master lettercutters he selected one of Suffolk Poetry Society's poems – 'Honey on a Knife Edge' by Valerie Denton – to carve in stone. This is displayed in the exhibition.
All of the works in the exhibition are for sale and commissions will be accepted by the artists exhibiting.
East Suffolk Council Greenforum
In association with the exhibition the Lettering Arts Trust is also taking the lettering and conservation message to primary schools in East Suffolk with 'Wild Little Letter' workshops, which are being supported by East Suffolk Council through its Greenforum initiative.
These cross-curricula sessions combine nature studies with literacy and, in association with Suffolk Wildlife Trust, help to give local children a greater awareness of their natural surroundings.
Cllr James Mallinder, the council's Cabinet Member for the Environment, says: "I'm delighted East Suffolk is able to support this exhibition, which highlights important concerns in our natural world. It is clear inaction is no longer an option and we must make sure we start to be proactive in supporting and championing our varied biodiversity.
"Reaching back into our history to our varied lettering skills provides a strong narrative to illustrate our threatened wildlife. I hope very much this exhibition will provide a catalyst to start that conversation to a change in better environment behaviour."
Pictured below is Louise Tiplady's Wildflower Meadow.