Marmo+Mac online attracts almost 5,000 visitors
"Natural stone, like wood, like earth, is an extraordinary natural material that can be used in exceptional ways to create spaces of immense architectural quality" - Stefano Boeri, architect and urban planner
Europe's big international stone exhibition, Marmo+Mac, usually held in Verona, Italy, was online only this year because of the coronavirous pandemic.
It took place between 30 September and 2 October, attracting nearly 5,000 visitors from 135 countries to the website in the three days to see the 'stands' of 210 exhibitors, 111 of them from 22 countries other than Italy, including Carl Sharkey's British-based Laser Products Europe.
Most of the online visitors were from Italy, followed in order by India, Brazil, the United States, Turkey, Spain, the United Kingdom, Portugal, Germany and China. 
That compares with 1,650 companies that exhibited in Verona last year (64% from 60 countries other than Italy) and about 65,000 visitors from 150 countries (including Italians).
The decision by the fair organisers to go online was taken late in the day. Until July it was still intended to hold the show at the fair ground in Verona - but exhibitors were nervous. They did not want to commit to exhibiting, especially as it was not at all clear how many people would visit. The exhibition organisers, Veronafiere, were left in an impossible position.
Given the late date it was decided to take the event online, Veronafiere did well to prepare the website and get it up and running. It was not the easiest site to negotiate or understand and there could have been more links to simplify navigation, but the fact the event actually opened on the scheduled date was an achievment in itself.... because computer engineers can be as bad as the construction industry for hitting targets.
More than 3,100 products and 840 projects were uploaded to exhibitor profiles. 
This year's show was going to be called 'Marmo+Mac Re-Start' because it was hoped it would represent a rejuvination of the Italian stone industry, which has suffered at the hands of international competition and economic crises in recent years. As it was, it became 'Marmo+Mac Re-Start Digital Edition', which was even more radical. 
The 4,975 networked visitors included 200 top buyers invited by Veronafiere and ICE-Italian Foreign Trade Commission. Others included 1,480 natural stone processors, 709 distributors, 230 plant and machinery builders and 290 architects.
The exhibition was accompanied by 158 live-streaming events, including webinars, company presentations and Marmomac Academy lectures for architects and designers. All in all, 67 speakers took turns on-screen. The most popular market focus session covered the Brazilian stone industry (click here to watch it). Presentations about the United States and China were also popular. Videos of all the presentations will be available on the exhibition's website from 26 October.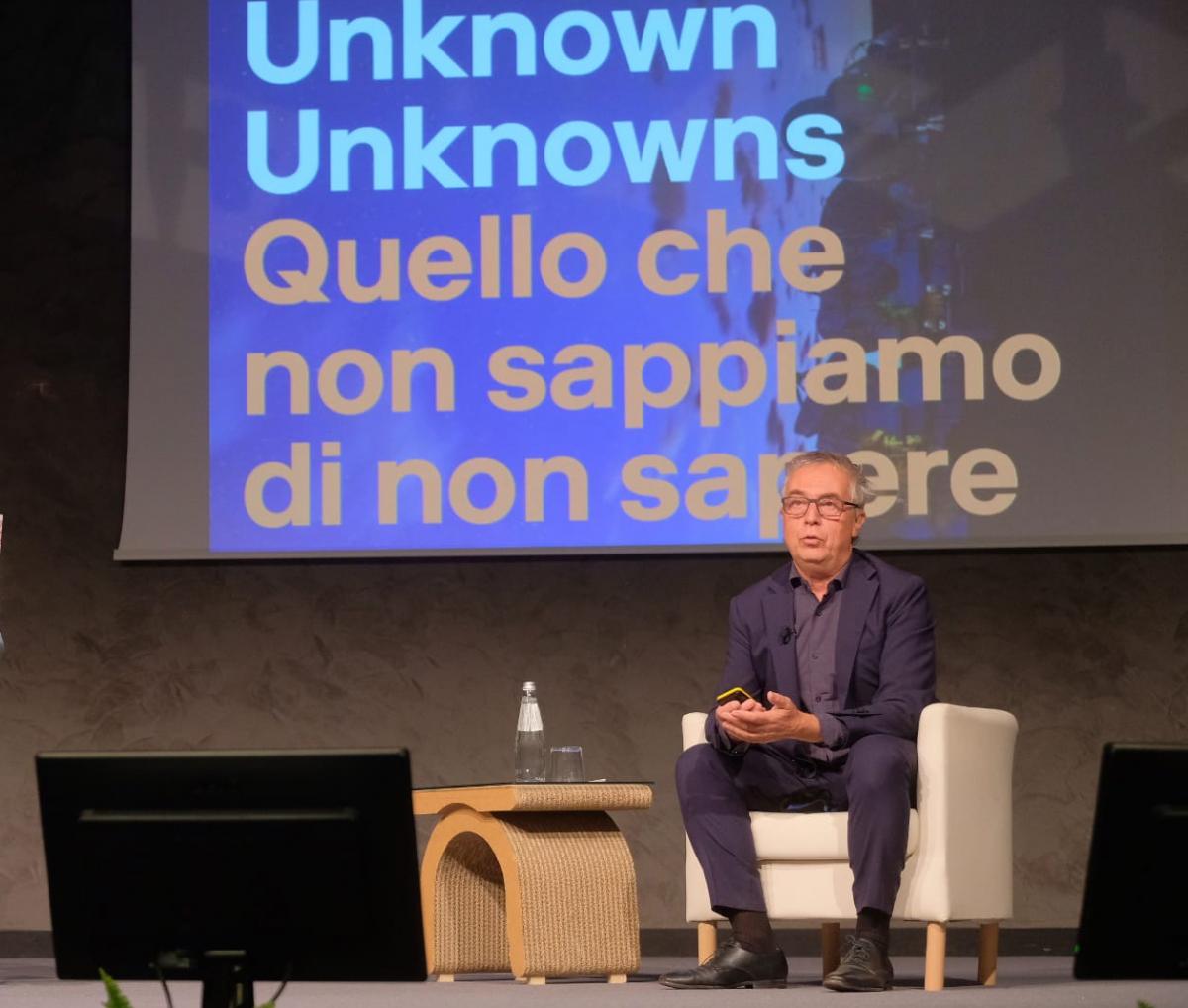 Stefano Boeri giving the keynote presentation at the start of the digital Marmo+Mac last Wednesday.
On the opening day (Wednesday), Stefano Boeri, an architect and urban planner, presented a Lectio Magistralis in which he emphasised the role of natural stone in reducing the carbon footprint of construction to help tackle global warming.
"Today," he said, "our cities must move on from being the victims of climate change to become protagonists in the battle to combat it. And, as designers, we have a duty to guide this change even through the choice of natural materials."
This keynote presentation was called 'Nature and architecture: new visions for urban spaces'.
 
Stefano Boeri explained that "the pandemic we faced, despite all the difficulties it entailed, was also an opportunity, since it changed our way of conceiving spaces for private and social life.
"The intense sensation of fragility that we perceived must now be turned into strength. We realised the need to change our relationship with nature, to rethink it not only as something outside us but also as something that starts from within and the need to find a new balance with it.
"Cities must also be reinterpreted from this standpoint and even become the richest expression of the biodiversity of natural forms.

"
Over the years, cities have expanded to become the cause of significant acceleration of the climate change process - it need only be mentioned that 75% of the CO2 we find in the atmosphere is generated in cities and that the only tool capable of absorbing the CO2 already emitted are trees and plants. Our cities today must consequently move on from being the cause and victims of climate change to become protagonists in the battle to combat it.
"Against this background, architects play a fundamental role.
"
Professional architects must review the role of cities and their new configuration as an archipelago of neighbourhoods where spaces, services and environments are designed to give life to new forms of integration and rebalancing between human and natural spheres. 

"
Yet this balance with nature also involves natural materials and their features of durability and sustainability. In this context, natural stone can assure excellent quality. Natural stone, like wood, like earth, is an extraordinary natural material that can be used in exceptional ways to create spaces of immense architectural quality.
"Working with a conscience and respect for the relationship with nature by no means implies placing any limits on our creative and entrepreneurial skills."