Meet the exhibitors at the Natural Stone Show 2023, 6-8 June, ExCeL London: Northern Precision
Northern Precision is back at the Natural Stone Show this year hoping to repeat the success it had at the exhibition in 2019.
Northern Precision is the supplier of specialist fastenings, and one of the products it was showing at the Stone Show last time was Italian company Specialinsert's Keep-Nut.
It turned out to be just what Wandsworth Council and its lighting contractor, Armadillo Lighting based in Essex, had been looking for to fix new low energy LED downlighting on the sides and under the arches of London's Putney Bridge.
The bridge is built from Cornish granite, which helps explain how it has survived so well.
It was designed by Sir Joseph Bazalgette and opened in 1886. Today, it is a Listed ancient monument, which means any interventions need to be kept to a minimum.
The Keep-Nut from Northern Precision was ideal. It comes in a number of sizes but requires a hole of just 8-10mm deep. It is made of stainless steel and is simply hammered into the hole. An M6 machine screw only goes into the Keep-Nut 6mm to securely fasten whatever is being attached to it.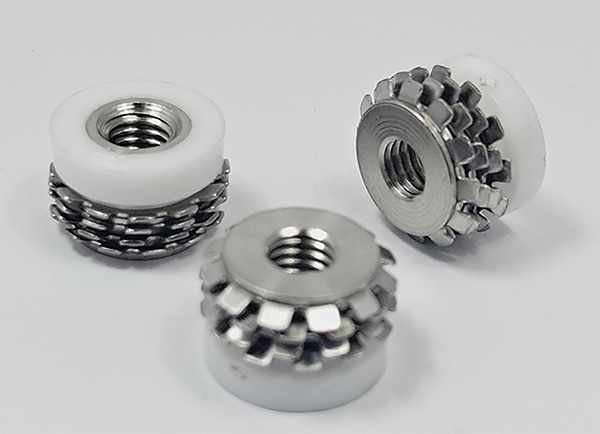 Each Keep-Nut is said to be able to resist a pullout force of 280kg. To demonstrate the strength of the Keep-Nut at the Stone Show at ExCeL London in 2019, Northern Precision had a 200kg piece of marble hanging from a single fixing.
Wandsworth Council and its lighting contractors satisfied themselves that the Keep-Nuts would work just as well in the Cornish granite of Putney Bridge by putting one into a piece of the same granite and lifting three men from it at the same time.
It had been expected to take a week to fix the lighting on Putney Bridge but using the Keep-Nut meant the job was finished in three days.
Keep-Nut is just one of the specialist fastenings sold by Northern Precision. At this year's Stone Show it will be introducing a new fastener, called Fast-Con, from the Italians. It is a two part concealed, quick assembly snap on / pull off fastening.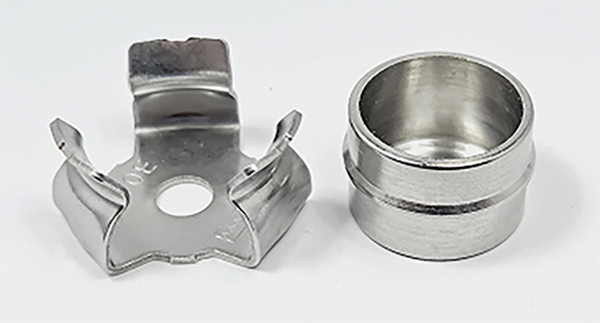 Made from stainless steel, it is practically indestructible and allows panels and coverings to be quickly snapped into place. There are no edge fixings, so panels can abut perfectly. If a panel is in front of pipes or electrical units, it can be removed without having to re-tile the whole wall. The release force is 7-10kg, depending on which Fast-Con is used. A Fast-Con stainless steel centre-marking device is available to facilitate perfect hole alignment every time.
Steve Smith says Northern Precision is back at the Natural Stone Show this year because it is an event that works for the company. He says: "We have stopped doing a lot of shows and are just concentrating now on those where the quality of visitor makes it worthwhile for us."
To see the full list of exhibitors at the Natural Stone Show this year visit the website www.stoneshow.co.uk.