NAMM Tradex memorial masonry exhibition takes place at Warwickshire Exhibition Centre on 15 & 16 June. Here, NSS takes a look at some of the developments being featured by exhibitors on their stands.
Companies that exhibited two years ago at the first stand-alone Tradex memorial exhibition for 14 years gave it a resounding thumbs up. They liked the event run by the National Association of Memorial Masons so much that most of them (more than 80%) are back again for this year's exhibition, taking place at the same venue, Warwickshire Exhibition Centre, this time on Thursday and Friday 15 and 16 June.
The exhibition centre is in the countryside outside Leamington Spa. The easiest way to get to it is to drive. If you are using satellite navigation the postcode to enter is CV31 1XN. There is plenty of on-site car parking.
Last time Tradex was a week after the National Funeral Exhibition (NFE), which takes place at the nearby Stoneleigh Park. It was felt there was clash and Tradex should be held in alternate years to NFE. In the interim, NAMM decided two years was long enough to wait for another Tradex. So this year's show is once again a week after NFE. Does it matter? Some people feel it splits visitors between the two shows because they only have time to go to one or other. Some exhibitors are at both and would prefer alternate years.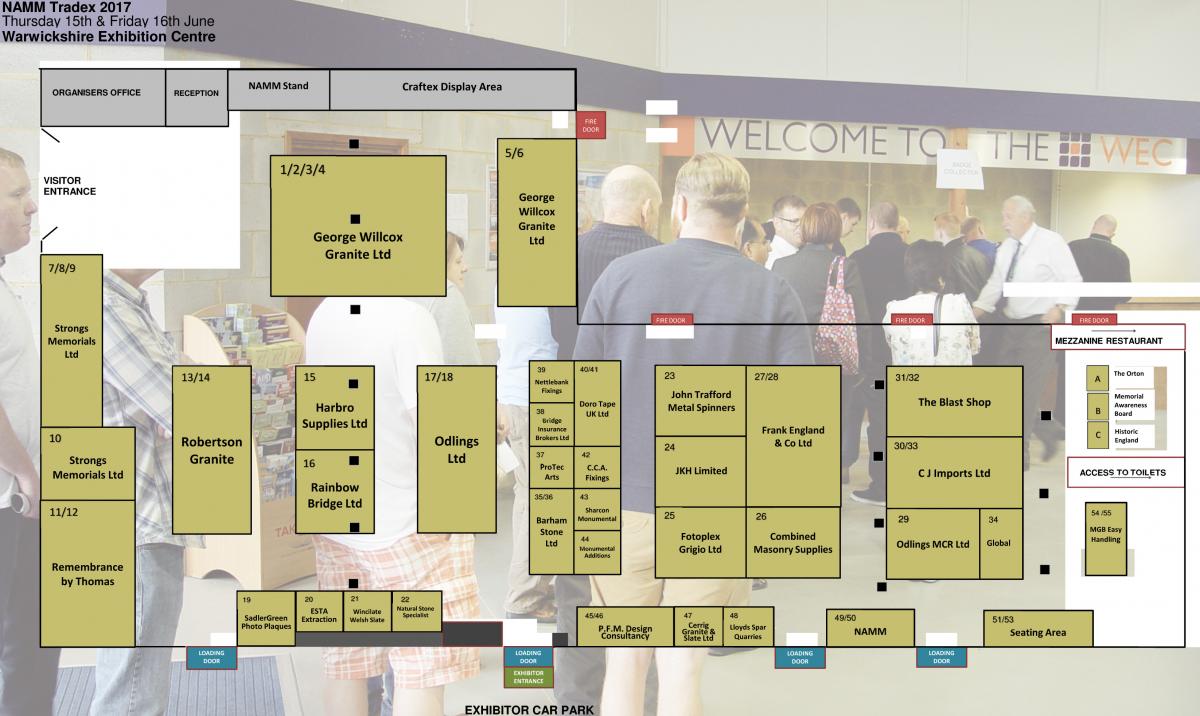 The memorial side of the stone industry is small, which is reflected in the size of the exhibition and the number of visitors, which is measured in hundreds. But the show's visitors are the right people, making it a success, as clearly demonstrated by the number of last time's exhibitors that are back again for this year's Tradex.
And the industry is buoyant, in spite of price increases following the fall of the pound after the Brexit vote. Even Indian memorials have become more expensive because although they are paid for in UK Pounds the people who make them are paid in Rupees and there are fewer Rupees to the Pound now.
Wholesalers have not, however, passed on the full currency fluctuation increases to the retailer customers, which is squeezing their margins. If the Pound does not strengthen, more price increases are likely.
Memorials are not overly price sensitive, but like everything else these days, price comparisons can be made easily on the internet so people do know what to expect for their money. Bereaved tend to set a budget and try to get as much memorial as they can for that sum.
There are some changes to Tradex this time. The previous show was on a Friday and Saturday, this time it avoids the weekend and is on Thursday and Friday. Last time there was a conference held in conjunction with the exhibition and the NAMM annual meeting was moved to coincide with the show. There is no conference this time and the annual meeting is to be held at its usual time in the autumn (28 October at Coombe Abbey, near Coventry).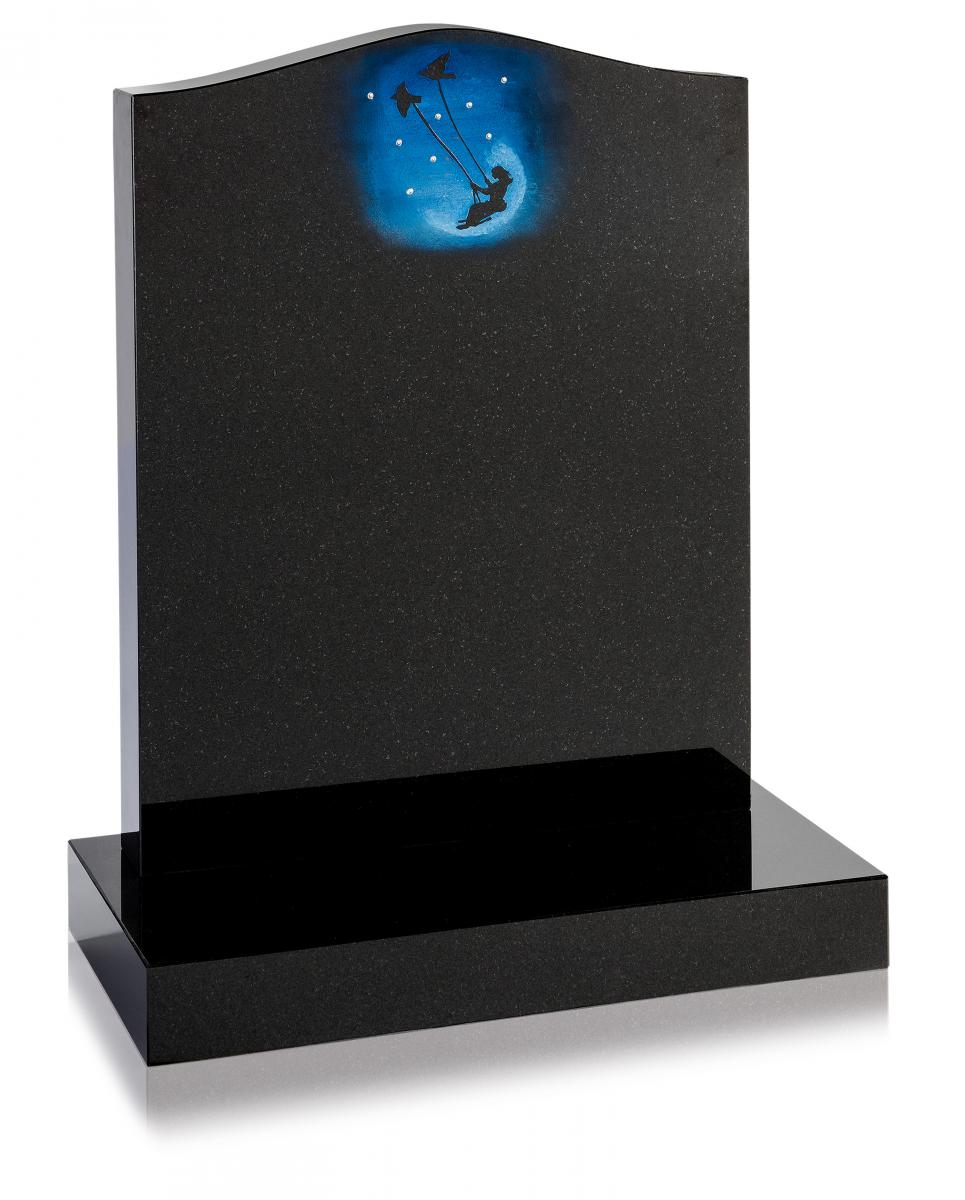 Among the new exhibitors this year is the memorial side of major stone wholesaler The Thomas Group, which says the only reason it was not at the exhibition last time was because it was undergoing some changes to its corporate structure.
This time it will be promoting its 'Nature Series' brochure, which has just been updated with the addition of a dozen new hand painted designs, some new laser etchings and three revised hand carved memorials. (The picture here is of one of the new hand painted designs.)
It will also be promoting its tree dedication programme. Under this scheme The Thomas Group plants a tree in a Woodland Trust wood for every stone in the Nature Series purchased. The species of tree can be selected by the person buying the stone and it is dedicated to the person commemorated by the memorial, adding value for the customer and enabling The Thomas Group to make a contribution to carbon reduction.
The Group's stand will include a drop-in centre explaining the benefits of the Thomas on-line ordering system, providing a guided tour of exactly how the website can be used to check prices, the availability of stock items and to track orders. It also promises show discounts.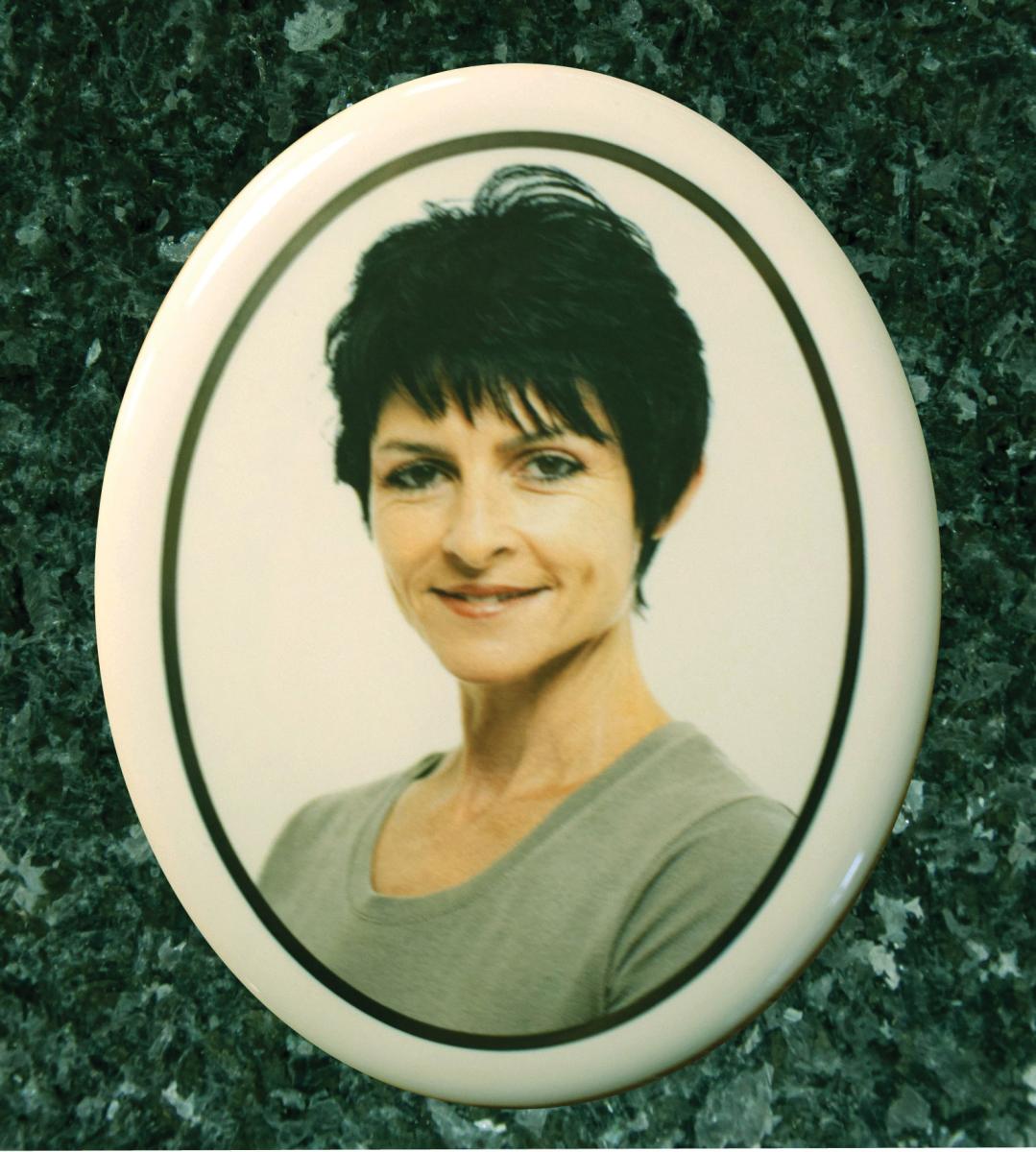 Another new exhibitor this time is Sadler Green, which makes ceramic photo plaques. Previously it has exhibited at the funeral exhibition but has changed its allegiance this year. It is introducing a plaque with a 2mm wide platinum band around the picture, instead of the usual gold band. It is designed to complement silver lettering, which Sadler Green Managing Director Howard Quinn says is becoming increasingly popular as an alternative to gold lettering. There is the offer of a free plaque for new customers.
Another photo plaque company exhibiting is Fotoplex Grigio, run by Colin Gray, who has been selling his plaques to the memorial sector in the UK for 27 years. He says his use of ceramic toners fired at 900ºC rather than dye sublimation means he has never received a single complaint about fading colours, even though some of his plaques have been used on memorials going to the West Indies and Africa.
Cost savings from the digitisation of ceramic printing and economies of scale of printing about 250 memorial plaques a week have produced considerable savings over the years and Colin says his prices now of about £40 a plaque are much the same as they were when he first started selling them. His last price increase was eight years ago, although he does warn that a £1 increase might be on the cards.
He suggests visitors to the show check out for themselves the particularly high quality of his '3D' plaques.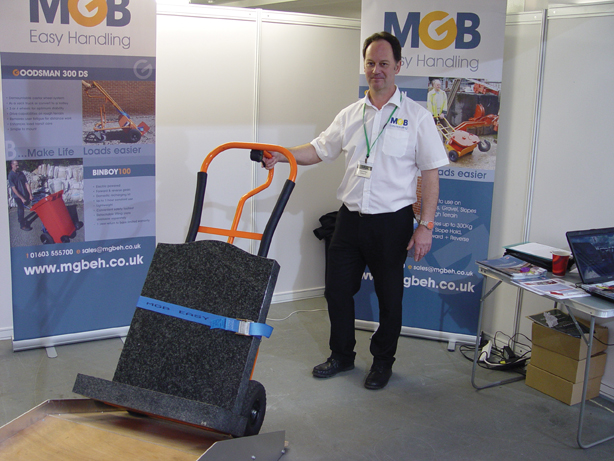 MGB Easy Handling is back hoping for a repeat of the success of the previous Tradex when the company sold 20 of its £900-a-time electric sack trucks. "I'm blown away," said Matt Bridges, who designed the trucks that are made in MGB's factory in Norfolk. "It must have been just the right product for this trade." Although possibly not quite right because the truck he will be showing this time includes modifications suggested by masonry customers, such as a lower toe blade, an eight degree lean and larger, 12in (300mm) wheels to negotiate uneven ground more easily.
The Tradex exhibition was his introduction to the stone sector and he was so pleased with the result that he also exhibited at the Natural Stone Show in London this year. "That was a good show for us," says Matt, with particular interest coming from the restoration side.
The stone industry has proved so good for MGB Easy Handling that it was worth its while modifying its product into what it now calls the 300 Mason Truck (the 300 denotes its capacity to carry 300kg). Matt admits he had not even thought about marketing to the stone industry until he met a mason who bought one of his trucks at a show for a different sector.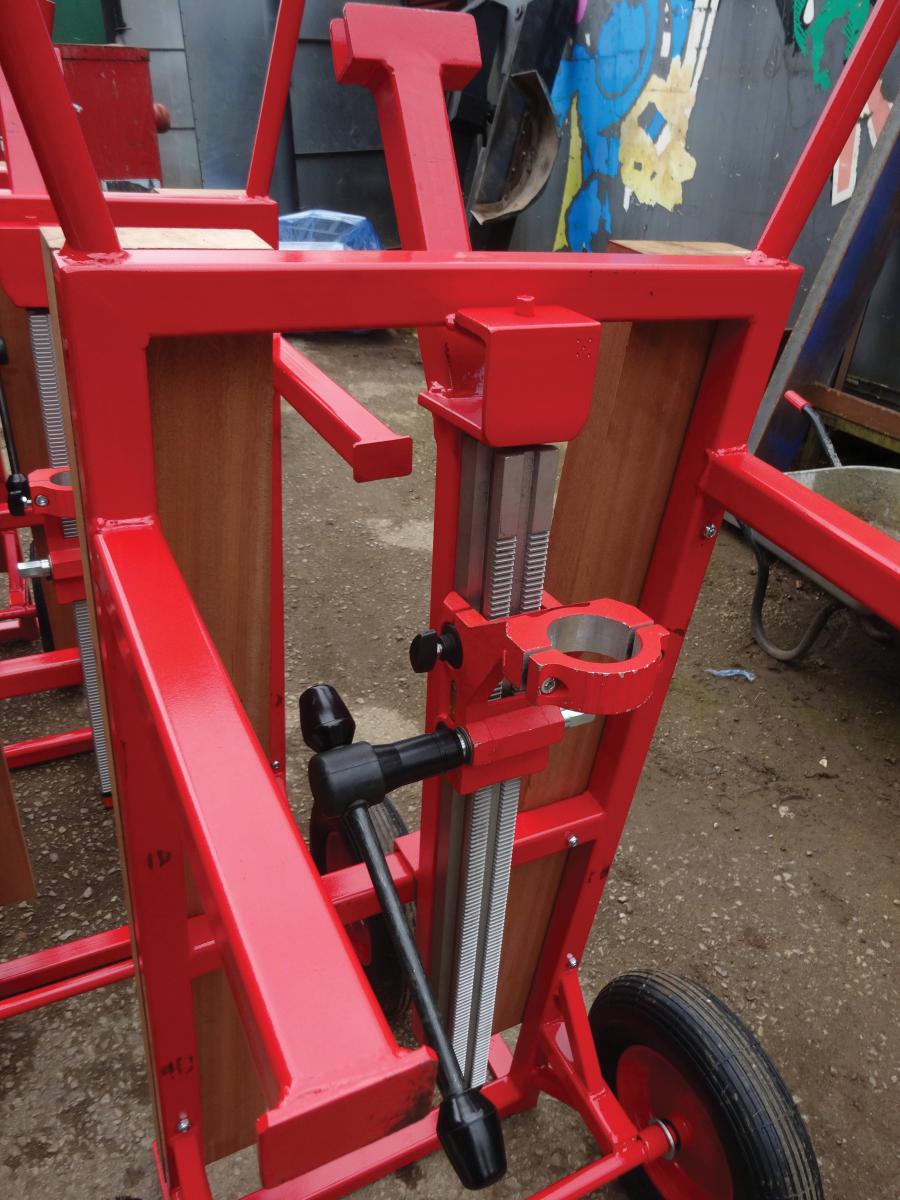 Clearly visitors to the show last time were looking for solutions to handling memorials because Peter Moles at PFM Design Consultancy, which sells manual sack trucks and other handling solutions, said he, too, sold a lot more than he expected to. "I went to the show expecting to sell £2-3,000 worth and did £20,000." He says at 75 he would like to retire but people keep coming to him for the products he designs. At the show he is introducing a trolly with an integral pillar drill for drilling bases for ground anchors.
Another company dipping its toe into memorial masonry is first-time exhibitor Lloyds Spar Quarries based in Mold, Flintshire. It is part of Border Aggregates, which has five depots across the UK and believes it has probably the UK's largest catalogue of decorative aggregates, 95% of which are currently used in landscaping.
Terry Lloyd says the aggregates can be used to fill kerb sets, which take about 75kg of material. He does not expect the memorial sector to become big volume business but says it is high value.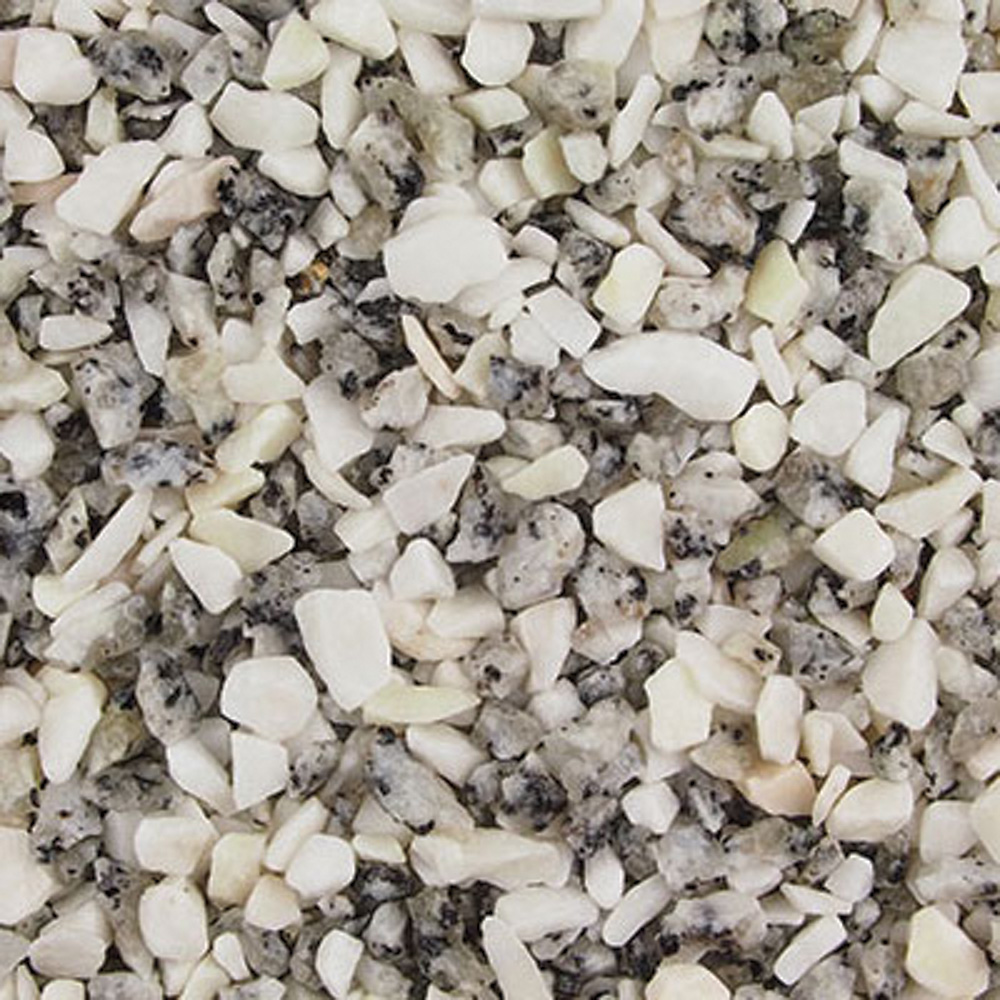 Memorial wholesalers returning to the exhibition this time all have something new they are introducing.
A&J Robertson has moved to new, 1,600m2 purpose-designed premises, with storage space and car parking around them, and rebranded as Robertson Granite, replacing the religious cross that was previously its logo with a more Celtic-looking device.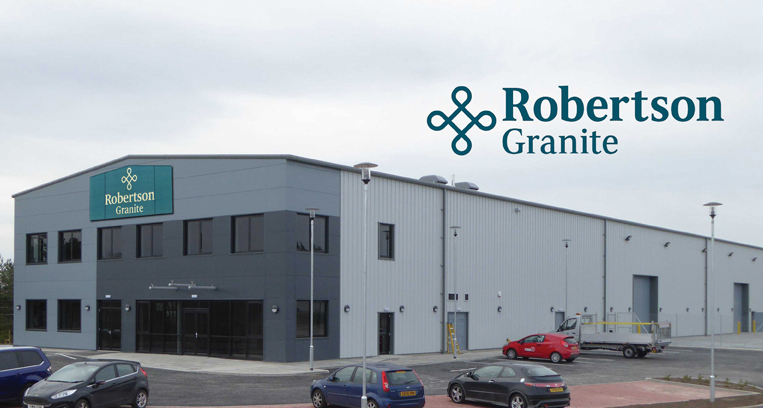 The new premises are on an industrial site on the outskirts of Aberdeen, with the factory designed for the easy flow of work using 10tonne, 5tonne and 2tonne cranes that run the 81m length of the building.
The new factory has been equipped with new machinery. There is a Spielvogel Boa wire saw, two Birdie secondary saws, and an adaptation of the articulated Pelican for polishing, grinding and milling. There is a Fickert & Winterling face polisher and new Goldmann sandblasting cabinets, sold in the UK by The Blast Shop (which is also exhibiting at Tradex). The Vytek laser etching machine Robertson's has had for a number of years has moved with the company.
On the stand, invitations to visit the new premises will be handed out, as Robertson's intends to show off its new premises during a number of open days, demonstrating its continued commitment to manufacturing in the UK. It also hopes its new website will be launched by the time the show opens, which customers can use to place orders online.
New from Cerrig Granite & Slate in Wales, which is also committed to manufacturing but in its case in British stones, is a memorial in Hopton Wood limestone.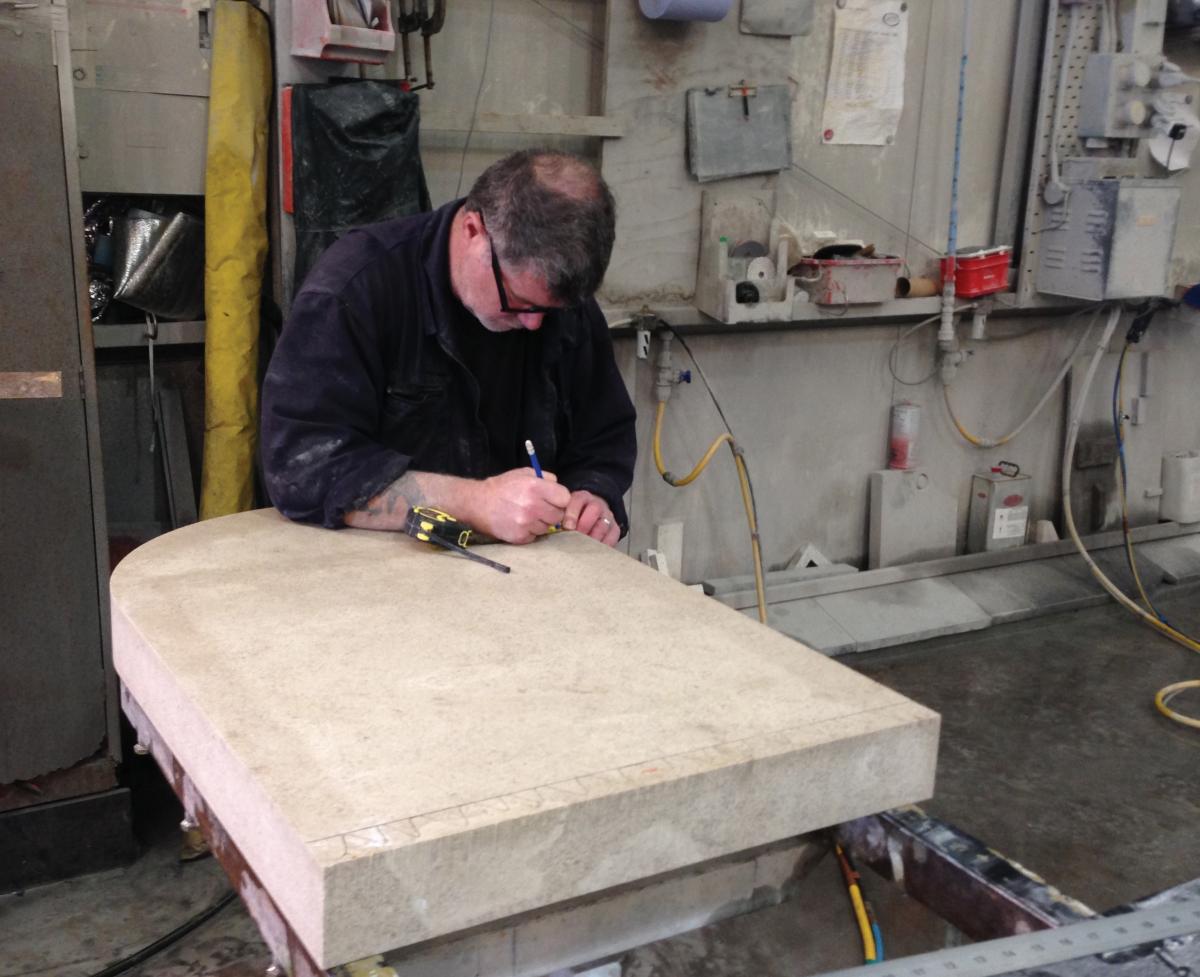 It has been years since Hopton Wood was readily available as memorials, but Cerrig is now buying boulders of it that it is sawing into scants and selling like that, or sawn six sides, or as finished memorials, mostly to lettercutters. The company hopes to persuade the trade to use it instead of imported Nabresina.
Cerrig had its first 24tonne load of Hopton Wood delivered nine months ago. That has sold out and has been replaced. Hugo Were, the Managing Director of Cerrig, says there is sufficient demand to sell more British stone but it is not always easy to get enough of it. "If I could get twice as much stone I could sell twice as much of it," says Hugo.
Odlings will be showing marble. The wholesaler has new designs just for marble and some it has also produced in granite. Managing Director Duncan Reynolds says the marble memorials complete the company's brochure. They will also complement the theme of the stand, which celebrates Hull, where Odlings is based, as this year's City of Culture.
"Some people will say nobody buys marble but the fact is people do buy it. The vast majority of memorials are granite but we have a reasonable amount of marble go through our site," says Duncan.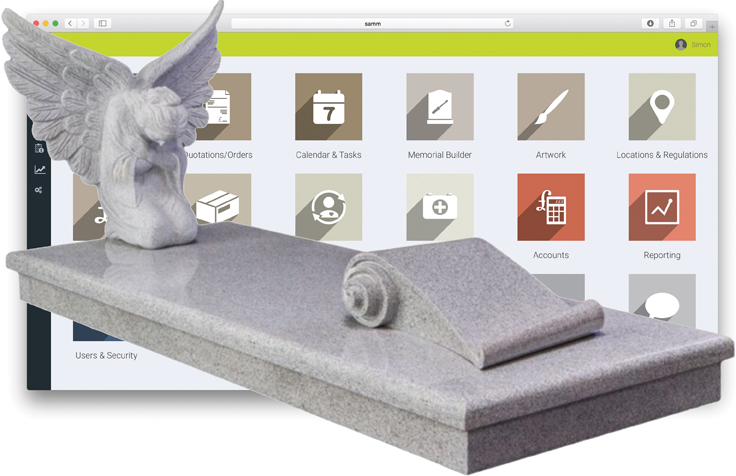 Willcox Granite, which won the award for 'best large stand' last time, will highlight its Cotswold Collection of traditional and modern memorials and the latest version of its SAMM web-based computer management system specifically designed for memorial masons. 
It was introduced at Tradex last time and since then has been enhanced to the point where it offers order processing and full work flow management. It helps manage the processes from initial customer contact to final installation in the cemetery, as well as everything in between, including placing and tracking orders.
Barham Stone, which was judged the best small stand last time with its mixture of memorials in British and imported stones, will be showing a mix this time that includes white marble as well as Portland and Nabresina limestones and Welsh Slate.
Managing Director Roy Barham says: "I think there's an increase in interest in marble and stone… and slate as well. In 2008 I went and collected three tonnes of Welsh Slate in our seven-and-a-half-tonne Merc and it lasted all year. Last year we sold 30-35tonnes of it. It's the Rolls Royce of materials."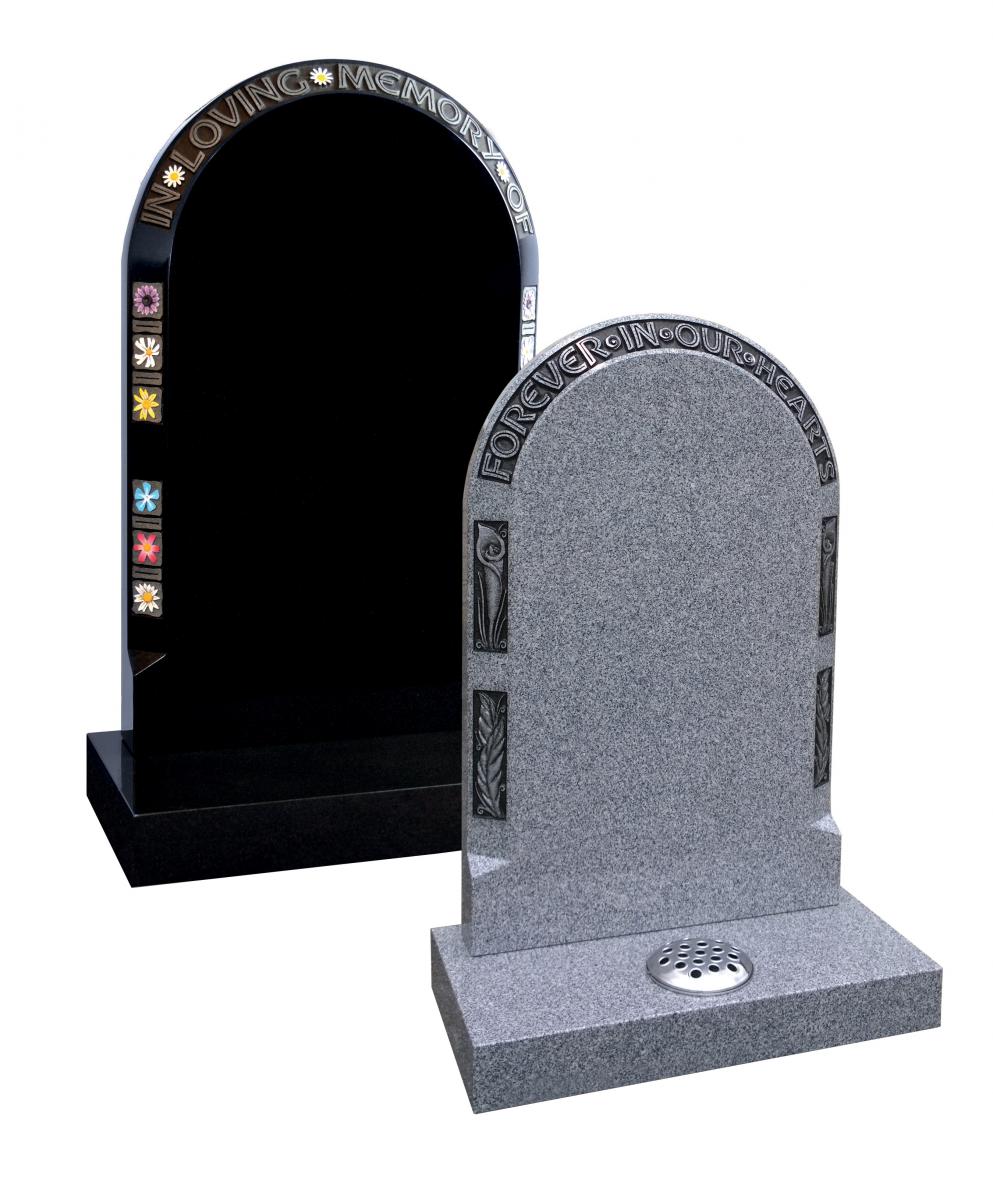 The Frank England stand will display 20-or-so of more than 100 designs in its new brochure that will be available for the first time at Tradex. Managing Director Nick Livermore says: "It highlights the company's commitment to bespoke, elegant design work, showing memorials made in our UK factory in Retford, Nottinghamshire, alongside the imported range." He said Frank England is proud to maintain its long history of manufacturing in the UK.
Also to look out for: a new automatic Goldmann blast cabinet on The Blast Shop stand plus the reintroduction of Anchor Tapes; a new brand on the Strongs Memorials stand that the company wants to keep under wraps for a big launch at the show – "We will have some amazing new designs on show, nothing like these have ever been seen before in the memorial Industry," says Carla Brindley, Strongs Marketing & Design Manager; Combined Masonry Supplies will be launching a new MGI saw (the GLS 520) with a 500mm blade specifically for memorial masons.
Diane Gregory is Office Manager
In March, Phil Potts retired as NAMM's National Executive Officer. He has not been replaced directly, but memorial mason and NAMM member Peter Hayman is now working for the organisation for three days a week and Diane Gregory (pictured left on the NAMM stand at the Natural Stone Show in London at the end of April) has been appointed as Office Manager working 30 hours a week.
Diane joined NAMM as a temp in January to help out. She had been a Business Manager at St Peter's Primary School in Market Bosworth but wanted a job nearer to her home in rural Rugby now that her children have grown up. Diane heard about the job at NAMM from Eileen Higham, another of the NAMM team, who she had previously worked with at the National Association of School Business Management.
At NAMM, Diane is dealing with day-to-day operational management. She says her strong points are training and development and she hopes to help NAMM increase its work in these areas.