NAMM Tradex 2019: Some surprises for memorial masons
With the memorial wholesalers staying away from this year's NAMM Tradex exhibition in the Warwickshire Event Centre near Leamington Spa in June, expectations of the event from those who did exhibit were not high when it opened. But many were pleasantly surprised by the end of its two-day run.
It was a bit of a surprise to discover that a computer controlled carving and lettering machine at the National Association of Memorial Masons' show had been built in Cranleigh, Surry. But there it was on the MGB Easy Handling stand alongside the electric sack trucks. It is called the Procarve PNC 1010 and comes from Scancad Services.
It has been developed by Ricky Bennett, a monumental mason and industrial engraver, with programming by Stuart Scott of Amtech in Newcastle using Vectric Aspire software (which is also British – the company is based in Wolverhampton).
Ricky had originally had an Incimar manual machine that he converted to computer controlled and then moved on to a Newing-Hall Pentagraph, which is where he met Stewart Scott, who was at that time (2004) working for Pentagraph.
Ricky started thinking about how he could develop his own lettering and engraving machine and the result was introduced to the trade by Ricky and Stewart on the MGB Easy Handling stand at NAMM Tradex. With a price tag of just under £38,000, Ricky said: "This is the first time anyone has seen this and I think a lot of people here have been genuinely interested."
It is a three axes machine that cuts dry. Normally the head would be encased and the dust created removed by a vacuum, which is an efficient way of keeping dust out of the workshop. It was not fitted to the machine at the show because people like to see the head and the tool, which was not cutting stone during the exhibition. 
It is a compact machine just right for headstones, whether they are granite or limestone. It could also be used to letter and carve wood, metal and plastic just as easily as stone. It incorporates a laser and can follow the contours of curved stones, such as ledgers.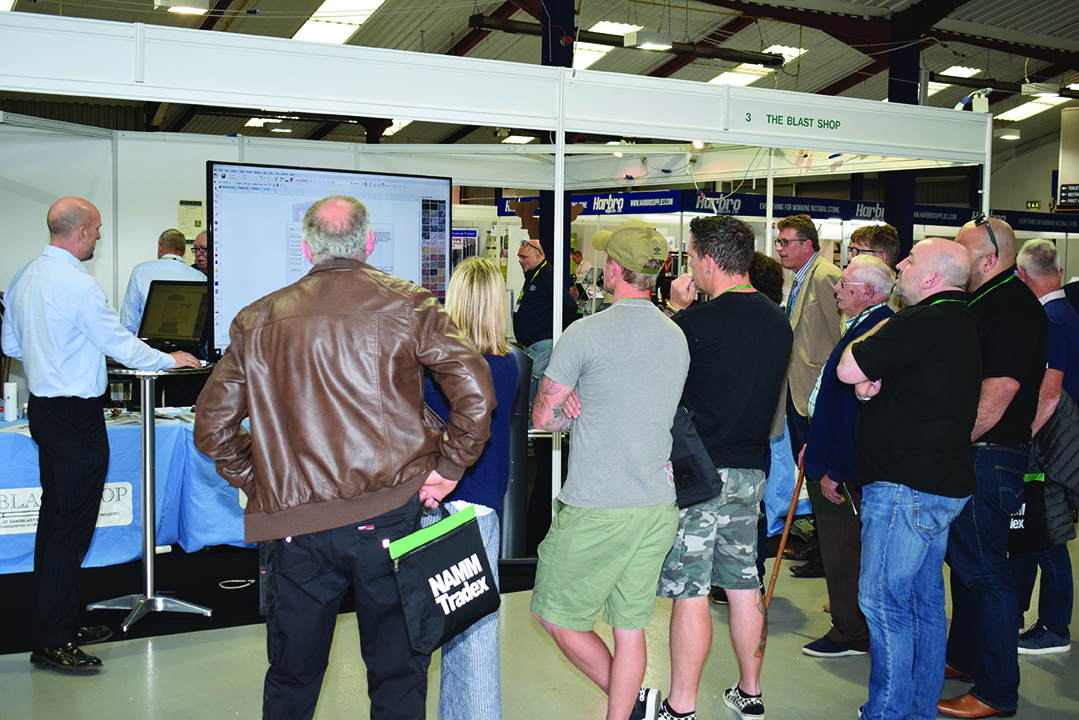 On The Blast Shop stand there was another piece of computer wizardry being introduced, with Director Rob Critchley demonstrating its capabilities. Called Memorial Design, it is an add-on to CorelDraw, a program already familiar to many memorial masons, to make it easier to use specifically for memorials. It is for designing lettering and decoration to be cut into masking tape for gritblasting and comes in two versions, one basic and one for advanced users. 
It provides a proof for customers before any work is carried out on a stone – and Rob said during his presentations of the system that the proof is so photorealistic that customers have been fooled into thinking it is a photograph of their finished memorial.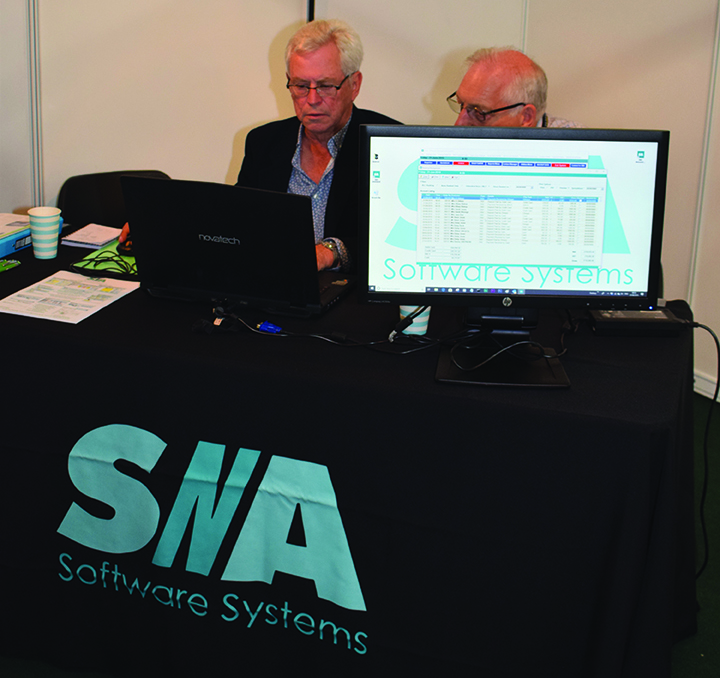 SNA Software, which created the Masonry Management System, was at the exhibition for the first time since the show parted company with the National Funeral Exhibition in 2015 to present its own stand-alone exhibition. Simon Neild was on the stand to explain the up-dates in the new version three of the programme that handles most of the management and administrative functions of running a memorial masonry business. The latest version was expected to have gone live by the end of July.
The program was first introduced 30 years ago and is widely recognised by memorial masons. With HM Revenue & Customs rolling out Making Tax Digital, which gives companies no alternative to submitting their tax returns online, even die hard analoguers might be persuaded to use it.
Normally a company signs up for a monthly fee based on the number of computers it uses (typically it costs about £30). That includes frequent updates that ensure it is always up-to-date with latest requirements, as well as incorporating improvements asked for by users.
Another move is the incorporation of near field communication (NFC) technology. This is a chip put on to a memorial that can be used to connect a mobile phone or tablet to a web-site containing information about the deceased. There can be multiple pages if there is more than one person commemorated. The system can even be used to locate a grave in a cemetery.
The chips work in the same way as contactless payments in supermarkets, which people are increasingly familiar with using in conjunction with their mobile phones. One such system was introduced by Fotoplex Grigio, which is still seeing an increase in popularity of its ceramic plaques that typically contain a photograph of the deceased. 
The chip is hidden behind the plaque, which contains a discreet symbol on it to indicate the presence of the NFC chip. Fotoplex Grigio's chip connects to the website of the Eternal Time Keeper.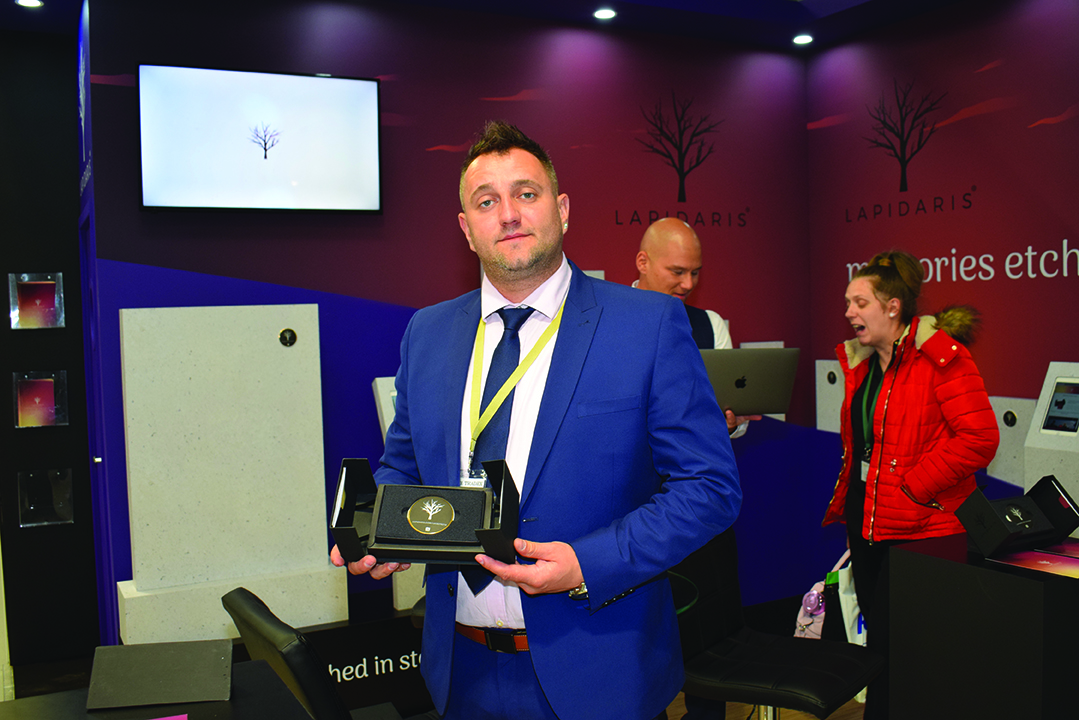 Another version was introduced by Lapidaris, which has its own website. Lapidaris was launched in Hungary in August last year and now also has an office in Sheffield. Its chips are behind black plaques containing the Lapidaris logo and trimmed with gold foil.
On what for many memorial masons will be more familiar ground, sub-base suppliers Sharcon and JKH both had developments in their concrete products, including landings for kerb sets supplied in pieces for assembly on site to make them easier to move.
Daniel Prince of JKH says concrete itself is always developing, with the latest talk about including graphene, a newly developed carbon material, to force out more air and create a denser concrete. JKH tried it but found the added strength was negligible so have not used it, preferring instead to use ground granulated blast furnace slag (GGBS).
A new development from JKH was a larger foundation made in response to a cemetery in Kent requiring it. Masons had come to JKH to ask for a solution and the E3 was the result, which is now in the company's range.
Precision Blast Systems exhibited to try to educate masons in the use of its cleaning systems and make them realise they are not sand blasters but gentle and controllable cleaning systems. 
The systems are not especially for cleaning memorials – in fact Precision Blast Systems supplied the equipment used to clean thousands of square metres of brick during a three-year contract at London Bridge railway station – but Director Ian Simmonds said the MicroStrip machine being shown at Tradex could be used for any precision cleaning. It had been frequently used for cleaning war memorials and was often used for cleaning historical timber as well as stone and brick.
The blast medium it uses includes baking soda, olivine and recycled glass. The baking soda competes with dry ice systems sometimes used to clean memorials. Baking powder is more effective, says Ian, because baking soda crystals are angular with sharp edges whereas dry ice crystals are round.
There was also a new cleaning system being introduced by D2 Bio UK based in Glasgow. This is an American chemical system that Ivor Taylor, who is selling it in the UK, says is ef-fective and safe. It has been used to keep the White House in Washington DC living up to its name. 
Without the memorial wholesalers participating in the NAMM Tradex exhibition this time there were 27 stands in the Warwickshire Event Centre, including major equipment suppliers such as Harbro, Combined Masonry Supplies, Odlings MCR, BI Crawshaw and The Blast Shop. Fixing system suppliers, including Nettlebanks and CCA Fixings, were there with their ground anchors newly re-tested by NAMM to confirm they conform to the latest revisions in BS 8415.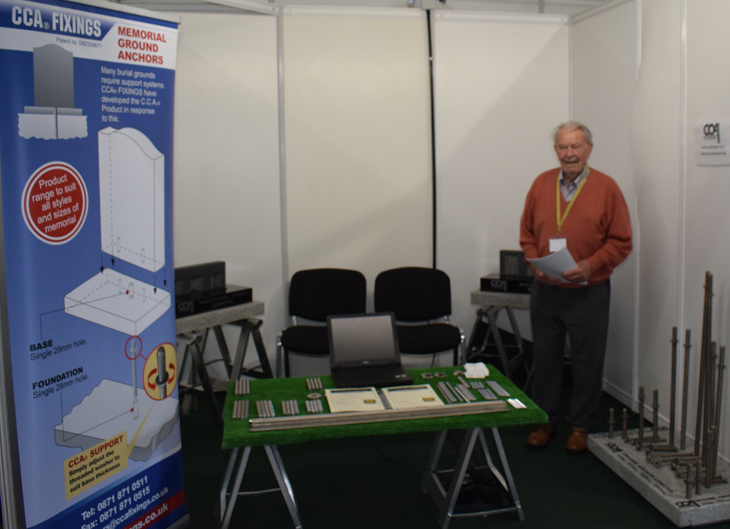 Congratulations to Wilf Burt of CCA Fixings (pictured on his stand), by the way, for having been awarded the British Empire Medal (BEM) just before Tradex in The Queen's Birthday Honours. Wilf gained the honour for services to scouting. He is 91 years old and still selling his memorial fixing system. Although he has stopped being a Scout leader, after more than 80 years he is still involved with the movement he joined at the age of 10.
The only memorials on show in Warwickshire were from Welsh slate company Wincilate and Cumbrian slate mining company Honnister.
During the event, NAMM presented a number of continual professional development (CPD) presentations as it encourages its members to engage with CPD to keep up to date with requirements such as health & safety. The Ministry of Defence (MoD) also came along to encourage masons to bid for its contracts that are coming up for renewal, as they do every two years, although the masons are usually only changed every four years, and this is one of those years. They said they require on average 70 memorials a year for armed forces personnel.
As the two-day exhibition came to a close, Sally Clarke of Odlings MCR cracked open the Champagne as she looked through a stack of enquiry forms to follow up. Not everyone was quite as positive, although the expectations of most exhibitors had been low due to the absence of the memorial wholesalers and most had seen more people than they had feared they might at the outset. 
The wholesalers had stayed away because they say the two year timeframe for the show is too frequent. They like to present new collections of memorials to justify the expense of exhibiting but do not want to produce new catalogues every two years. They asked for the show to be held every three years – and there was some sympathy for that proposal among those who exhibited this time. 
The wholesalers had offered a compromise of taking smaller stands every other event but wanted NAMM to assure them that no wholesaler would be allowed to take a large stand and dominate the show. The wholesalers say NAMM did not want to do that. That led to an impasse and the boycott of this year's show. They plan to return next time.