TILES & CERAMICS Joe Simpson says... it's good to see some science in sustainability
It is always fascinating to identify the messaging underpinning a major international exhibition like Cersaie. The majority of the 90,000+ visitors may well be there to see the latest tile trends at first hand but for the 600+ exhibitors and associated trade bodies and pressure groups this is an unmissable opportunity to set the construction agenda.
This year it was clear that much of the messaging concerned sustainability. And, thankfully, after many years of insipid greenwash, 2022's environmental agenda had rather more substance.
It all kicked off with an economic conference entitled 'Ceramic manufacturing: sustainability and responses to the energy crisis.' This featured contributions from Roberto Cingolani, who is the implausibly titled Minister for the Ecological Transition (via Zoom, of course). He spoke alongside such luminaries as Paolo Magri, ISPI Executive Vice President, Stefano Bonaccini, the Governor of Emilia-Romagna, and Giovanni Savorani, who chairs Confindustria Ceramica.
Giovanni Savorani highlighted the importance of sustainability as a competitive factor for the Italian ceramic industry. He said: "Along with innovation in terms of design, technology, and the way we present our products on the market we are also innovating in the field of sustainability, as evidenced by the new communication campaign we are launching on social media channels across all major markets.
"Further important developments include the publication of the first international ISO standard on ceramic tile sustainability, and the agreement with all the institutions for environmental monitoring of the ceramic tile industry with the aim of reducing emissions.
"For an export-oriented manufacturing sector like ours, losing control of energy supplies is a very serious concern. The situation is undermining the very concept of energy transition and we have serious doubts about the proper functioning of the TTF and ETS mechanisms, which have been left at the mercy of financial speculation. As for financial issues, ceramic companies are in urgent need of a loan moratorium and financing of energy supply contracts, which now require many companies to provide unsustainable guarantees." 
[TTF stands for Title Transfer Facility, which, since its launch in 2003, has become Europe's leading natural gas price benchmark; the ETS is the Emissions Trading System, which is a cornerstone of the EU's policy to combat climate change and its main tool for reducing greenhouse gas emissions cost-effectively.]
At the show itself, the issue of sustainability was featured on many stands. Panaria, one of the major Italian tile manufacturing groups, even had a stand that was totally dedicated to its sustainability messaging.
The group – whose brands include Cotto d'Este, Lea Ceramiche, and Panaria Ceramica – presented 'Think Zero, an innovation strategy that confirms the Group as a leader in sustainability'.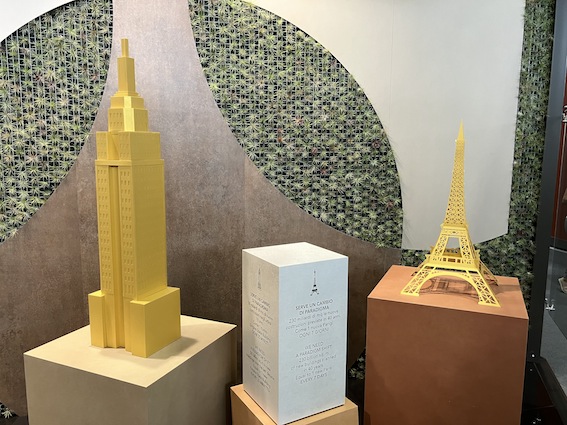 This dedicated stand showed off innovative production processes for large ultra-thin slabs that limit the consumption of raw materials and CO2 emissions. Panaria also showed how, with all emissions 100% compensated, it is capable of creating products that are carbon neutral.
Meanwhile, Coem used its stand in Hall 37 to trumpet the fact it has been awarded third-party verification by Certyquality to ISO 17889-1 – Sustainability for Ceramic Tiles, the new international standard for determining the level of sustainability of ceramic products in construction.
This standard analyses the entire life cycle of the product, from raw materials to disposal, while also assessing the health & safety of workers, among other aspects.
ISO 17889-1 provides 38 parameters for which compliance is mandatory and which determine a specific score for each product, comparing it with reference values. Only ceramic tiles that achieve a minimum score of 117.5 can obtain ISO 17889-1 certification.
It's great to see some hard science finally replacing PR puff in this vital area.