American report highlights silicosis danger of engineered quartz
Engineered quartz presents possibly a greater danger of causing silicosis among people who breath in the dust from it as they cut and process it than sandstone, granite or slate.
In a report this week in the American Morbidity and Mortality Weekly Report, researchers from California, Colorado, Texas and Washington identify 18 cases of severe silicosis, including two fatalities, among young, mostly Hispanic men who worked at engineered quartz fabrication plants.
The makers of quartz like to boast about the level of quartz (which is a form of silica) in their products, usually stating it is well over 90%. That exaggerates the volume of quartz in the material because it is based on weights, and resins (usually produced from petrochemicals) that are used to hold the quartz together are light, whereas quartz is heavy. By volume, the quartz represents about 70% of the material. Nevertheless, that is still a high proportion of silica.  
Cecile Rose, MD, MPH, professor of medicine at National Jewish Health, who co-authored the American study, said: "We believe there may be hundreds, if not thousands of cases of silicosis among workers in the engineered stone industry."
Silicosis is a lung disease. Once contracted it cannot be cured. It is progresive in the same way as asbestosis, accumulating in the lungs with continued exposure, effectively turning the lungs to stone. It is caused by inhaling particles of crystalline silica of a size of about five microns. Much bigger and they do not enter the lungs; much smaller and they go in and come out again when you exhale. It is at the five micron size that the dust is known as respirable crystalline silica (RCS). Even with wet cutting it can be a threat because particles can be suspended in the air in water droplets, although the water tends to make it fall to the ground quicker and because it is wet it will not return to the air so easily.
Silicosis patients also appear to be at higher risk of autoimmune diseases and lung infections, including tuberculosis, which is making a come-back as a drug-resistant disease all over the world. 
It was as a result of a rise in silicosis cases among her patients that Dr Rose decided to review patient files and discovered seven recent cases of silicosis among engineered stone workers in her Colorado practice alone. Public health officials in California, Washington and Texas identified 11 more cases through various surveillance programs. Two of the California cases had resulted in the deaths of the sufferers, who both worked at the same stone fabrication factory. Several of the patients with silicosis were found also to be suffering from autoimmune diseases such as rheumatoid arthritis and scleroderma. Two had latent tuberculosis infections.
In 2018, the American stone fabrication industry is estimated to have been employing 96,000 people in 8,700 mostly small fabrication plants. 
Australia has also raised the alarm over the processing of quartz. Screening workers in the stone fabrication industry there has shown about 12% have developed silicosis. Comparable rates of silicosis in the USA would mean 11,500 workers in the industry could have silicosis.
In the UK there are estimated to be about 1,100 worktop fabrication factories. If they each employ eight people and the incidence rate is the same (12%), about 1,000 workers would be expected to be suffering from silicosis. Small stone fabrication companies in particular face challenges protecting workers due to limited awareness and cost of exposure control technologies, including machinery.
Amy Heinzerling, MD, MPH, co-author of the MMWR report and Epidemic Intelligence Service Officer at the Centers for Disease Control and Prevention / California Department of Public Health, said: "We urgently need to identify stone fabrication workers at risk and reduce their exposure to silica dust. Employers, public health authorities and health care providers must all work together to address this emerging silicosis threat in the stone fabrication industry."
You can read the report on the Medical Xpress website here.
There is guidance on avoiding the danger of silica dust on the Health & Safety Executive website in the UK. Click here to view it.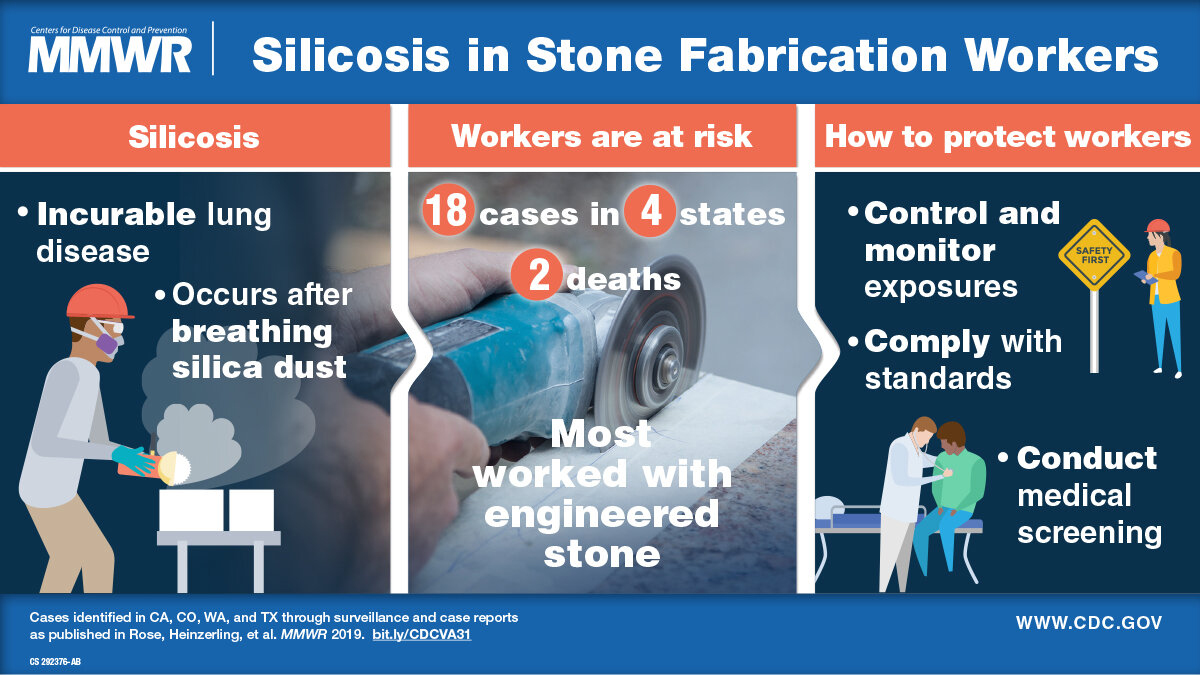 An infographic from the American Centers for Disease Control & Prevention.