END MODERN SLAVERY: London Stone Director calls for help with the No Child Left Behind campaign
The No Child Left Behind campaign is aiming to get children out of quarries in India and into school. Landscaping product company London Stone has thrown its weight behind the campaign and Director Steve Walley wants more UK stone supply companies to get involved.
If you think the Covid pandemic has hit the UK hard, spare a thought for parts of the world where there is less support – Budhpura, for example, which is a region of Rajasthan in India that supplies the UK with many of its cobblestones.
There are many women working in the quarries there and they often have no alternative to taking their children with them. Once there, the children also work. Cobble production is a sector that is notoriously vulnerable to the use of child labour. The challenge is to persuade all community stakeholders that children should be in school, not working in a quarry.
That's the aim of the No Child Left Behind campaign, which aims to create Child Labour Free Zones (CLFZs) by establishing schools and encouraging parents to send their children to them.
Sometimes they give simple, practical assistance, such as providing sanitary products for girls so they do not stay away from school some days every month.
The project has had successes, with more than 1,000 children leaving work and enrolling into formal education. The whole community has been mobilised to take control of its own future.
But since last March when the coronavirus pandemic struck, the schools have been closed.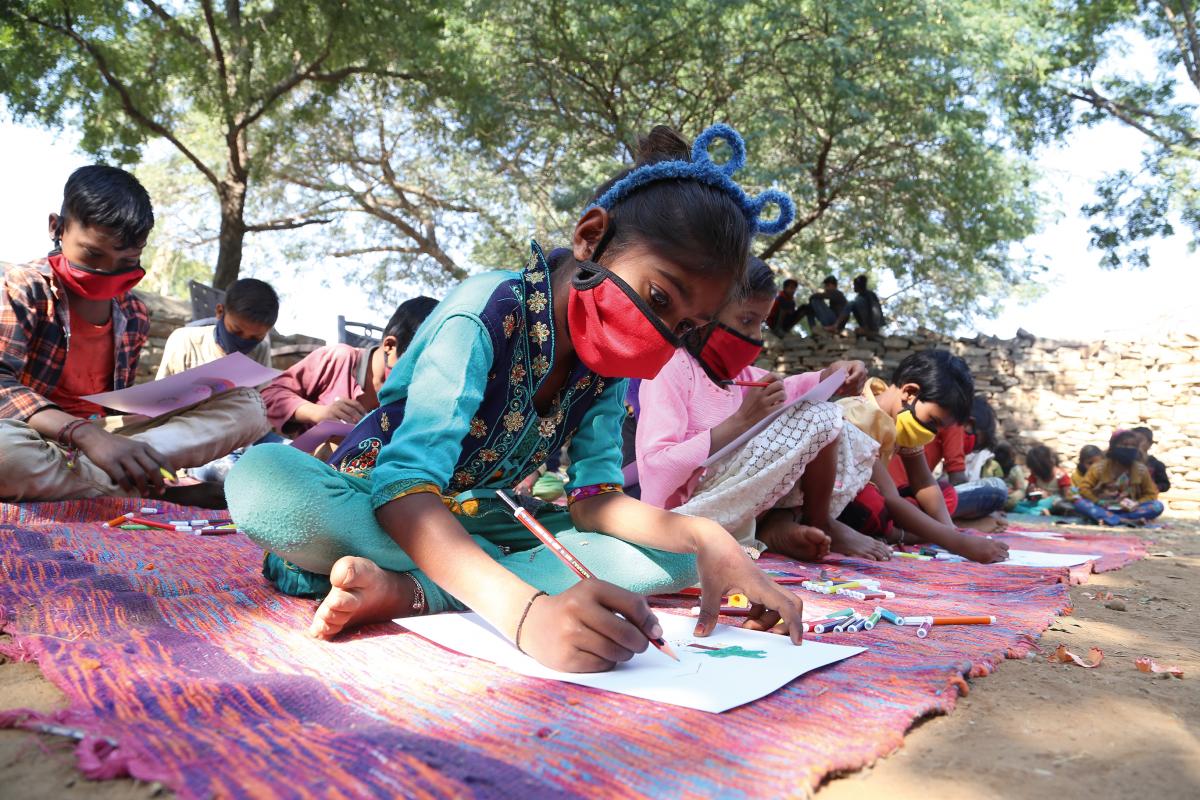 Classes have been held when possible during the Covid Pandemic. Photo: Manjari
The response in Budhpura by Manjari, one of the non-governmental organisations (NGOs) involved in India with No Child Left Behind has been to take the schools to the children, delivering educational material and face masks.
No Child Left Behind also started a mobile library service. It began with just 60 books, but has grown and has lent 3,000 books to 1,000 children in the past year.
No Child Left Behind was started in 2013 and Steve Walley heard about it and got involved in 2015. Beltrami and its sister company Stoneasy, both now part of Brachot, are also involved.
Steve had seen the conditions of the people working in Budhpura, including child labour, on his visits to his suppliers. "They're not just people in a far off foreign country," he says, "they're part of our supply chain. We want to treat them the same way as we treat our own workers as much as we can."
Steve was originally involved with the Ethical Trading Initiative but found it "all a bit corporate" with its big office in London.
He says: "This project, No Child Left Behind, is much smaller in scope. It actually makes a difference."
He has written blog posts about the project, which you can read at www.londonstone.co.uk/blog/tag/no-child-left-behind/.  He says: "I think it influences specifiers. They are very open to this. We have tried to get our customers to be advocates."
But Steve would like more of the stone industry in the UK to get involved with No Child Left Behind. You can find out more about it at www.nochildleftbehind.co.uk as well as on Steve's blog. And if you want to help, contact Steve at London Stone on 01753 212950 / [email protected].
Below. Women stacking cobbles into crates for transport in Budhpura, a region of Rajasthan in India. Photo: Eline Wijnen