Government calls on business to commit to Net Zero
The government is calling on firms, including SMEs, to sign up to its Net Zero carbon commitment. It might save the planet and it could be good for business. 
Sign up to the Net Zero commitment at 

bit.ly/netzerohour
Business & Energy Secretary Kwasi Kwarteng says: "Small businesses are the backbone of our economy and as we transition to a green future, they will also be the backbone of the UK tackling climate change.
"There are huge opportunities for a small business to go green – not only playing their part in saving the planet from climate change but helping grow their business and ensuring it is fit for the future.
"Simple changes could differentiate a business from the competition, attract new customers and investment and save them money on their running costs. That's why I'm urging the nation's small businesses to sign up to become business climate leaders and lead the charge in protecting the future of our planet."
Ahead of the COP26 climate change summit in Glasgow on 1-12 November this year, the government is calling on even small businesses to get involved in hitting the targets of Net Zero carbon by 2050 and being 50% of the way towards it by 2030.
Even many of those who have previously denied mankind is contributing to global warming or that climate change is a problem are coming round to the idea that a global temperature increase of 2ºC has the potential to be disruptive, at the very least, and possibly disastrous. Rising sea levels could swamp low lying areas; changing rain patterns could hit agricultural production; ocean current disruption could hit fishing; and hot weather kills people – Public Health England says the summer heatwaves of 2019 resulted in almost 900 extra deaths in England.
If mankind is going to reduce greenhouse gas emissions sufficiently to restrict global warming to less than 2ºC above pre-industrial levels, and preferably below 1.5ºC, as required by the International Paris Agreement of 2015, action is urgent. The UK Met Office warns the world could see 1.5ºC temperature increases in the next five years, albeit temporarily.
There is, it says, more than a 40% chance that the annual average global temperature in at least one of the next five years will reach 1.5°C above pre-industrial levels.
And it is becoming more likely all the time, says a climate update led by the Met Office and published by the World Meteorological Organization on 27 May.
However, climatologists stress this does not mean the world will have broken the Paris Agreement with 30 years still to go because international temperature targets are based on 30-year averages.
But it does mean action is becoming more urgent and it will need to involve interests across the economy, which is why the UK government has called on smaller businesses to sign up to Net Zero with the launch of its 'Together For Our Planet Business Climate Leaders' campaign launched on 28 May.
It emphasises that there is always a cost to the production of greenhouse gases, so reducing emissions saves money because you are using less energy.
Launching the campaign, Prime Minister Boris Johnson and Business & Energy Secretary Kwasi Kwarteng called on every small business in the UK to take small, practical steps to cut their emissions as part of the UK's journey to Net Zero by 2050, and reaching the half way point to that by 2030.
It invites directors to go online and sign their businesses up to the Net Zero commitment on a new website called the UK Business Climate Hub at bit.ly/netzerohour.
As an incentive, from 30 September, contractors bidding for central or local government projects worth more than £5million a year will have to publish clear and credible carbon reduction plans before being considered.
The Cabinet Office has now warned that firms which fail to set out a carbon reduction plan, updated at least annually and published on the firm's website, will be excluded from bidding for public sector contracts – and the  government normally spends something approaching £300billion a year on procurement.
Some larger companies already report some of their carbon emissions, although usually only Scope 1 (direct) and Scope 2 (indirect) emissions. The new rules require reporting to include Scope 3 emissions covering items such as the carbon footprint of imported materials used, business travel, employee commuting, distribution and delivery of goods produced, and waste.
For many smaller companies, including stone companies, these Scope 3 emissions will represent a significant proportion of their carbon footprint.
Early moves towards Net Zero in construction include Laing O'Rourke appointing its first head of sustainability, as have Aecom and Severfield. And the Environment Agency has pledged to use low-carbon concrete as a default product on new flood defences.
With sustainability and global warming high on the agenda, companies are trying to compete to show they have the greenest products, and the variety of ways that is measured and reported can be – and is sometimes intended to be – misleading, with accusations of 'greenwash' as a result.
Customers have shown they care by asking the question but are generally time poor and can be misled by the information they are given, so that they are not comparing like with like. For example, some companies offer cradle to gate rather than cradle to grave carbon figures, which makes their products look more sustainable. Cradle to gate is a valid measure to use, but for the customer to make informed decisions it should be clear which measure is being used.
One company leading the way in sustainability is major hard landscaping product supplier Marshalls.
Marshalls tries to cut through the noise by using external validation of its sustainability credentials from reputable sources, which is why it has joined certain organisations and achieved standards that require measuring and reporting. As the company says, one of the reasons people buy Marshalls products is because the company is credible, and retaining that reputation is important.
Its commitment, the first in the sector, to keeping global warming to below 2ºC has been verified by the Science Based Targets Initiative, created by the United Nations and World Wide Fund for Nature (WWF) to set the standard for carbon reductions. And, as reported in the June issue of NSS, Marshalls has been recognised as a European Climate Leader in a list published by the Financial Times and Statista.
Among its impressive array of standards, Marshalls holds BES6001 (responsible sourcing), ISO14001 (environmental management), ISO9001 (quality management) and ISO 50001 (energy management).
It is one of 1,100 companies that hold the Carbon Trust Standard, which recognises organisations that demonstrate leadership in measuring, managing and reducing their environmental impact.
And it has a respectable 'B' rating on the CDP (previously the Carbon Disclosure Project), a charity that runs a global disclosure system of environmental impact. CDP scores companies (and others) from D to A, the aim being for them to move towards an 'A', or 'Leadership' status. The scoring system measures the comprehensiveness of disclosure, awareness and management of environmental risks, and best practices, for example by setting ambitious and meaningful targets for reductions in greenhouse gas emissions.
CDP's stated aim is to see a thriving economy that works for people and the planet by focussing investors, companies and cities on taking action to build a sustainable economy by transparently measuring and understanding their environmental impact.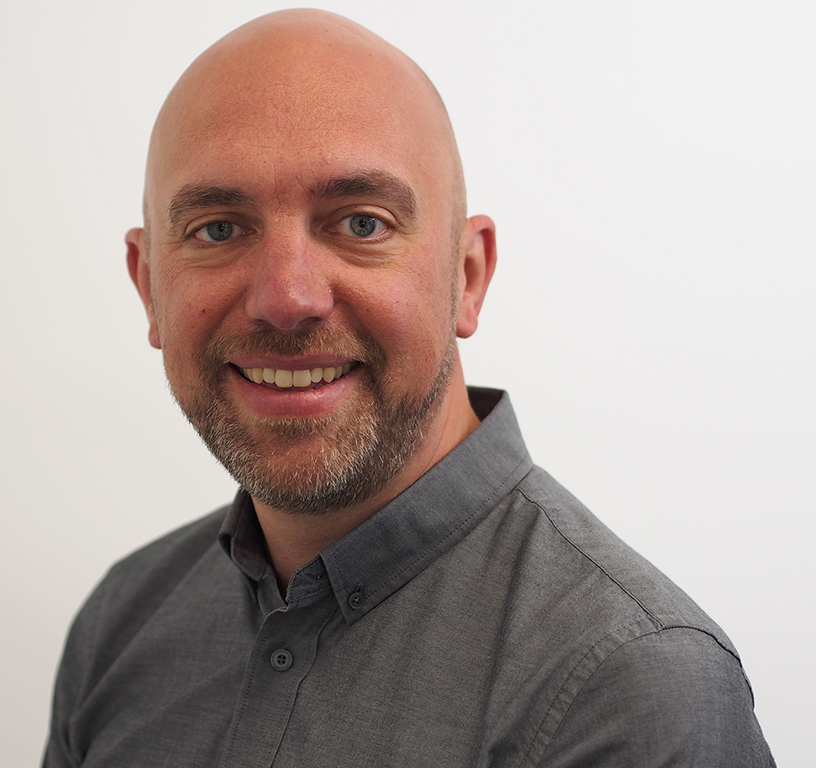 Chris Griffiths, Head of Product Sustainability at Marshalls.
Marshalls has a dedicated Sustainability Team, which monitors, oversees and controls the environmental impact of its business. Chris Griffiths (pictured right), who has worked for Marshalls for 10 years, is now Head of Product Sustainability. He told NSS that although the team leads the environmental moves, the monitoring and controlling of them, as well as identifying new opportunities for further improvements, would not be possible without everyone in the company being involved. Success relies on a culture permeating the whole organisation.
"Everyone is involved," says Chris. "There's a lot of data collection. There are people in the wider team whose job it is to collect the data. We then have to interrogate that and improve it."
Data collection is technology driven. Chris: "Using the right tech to collect the right data is a massive part of our carbon reduction strategy. For example, we have sophisticated energy management systems installed at all of our major production works with agreements in place to include all sites within the next two years. These have proved to be hugely effective. They highlight production inefficiencies (in terms of process and delivered product) so successfully that the return on investment (ROI) is usually less than 18 months – another example of where reducing carbon goes hand-in-hand with helping us to become a leaner, more efficient business.
"Our logistics department also relies on information technology (IT) to help it manage our fleet as efficiently as possible. Each of our delivery vehicles is fitted with telemetric devices which monitor its performance. The data we receive from these systems can highlight areas where we may be able to train our team to use the vehicles more efficiently.
"Of course, we've been using tracking systems to organise our fleet for many years – but we're always learning new ways to interpret the data we receive. For example, we used to measure a vehicle's efficiency purely in terms of 'miles per gallon', but we soon realised that this was too simplistic (empty wagons are more efficient than loaded ones in terms of fuel use, but that doesn't help our customers!), so we now measure miles per gallon versus tonnes delivered to encourage the right balance of fuel efficiency and timely product delivery."
The process of improving energy efficiency is also reiterative. "What didn't work three years ago might have become cost efficient now. Our R&D team has been looking at alternative materials for as long as I have been here. There were ideas perhaps five, six, seven years ago people were excited about but which came at a slight cost. At the specification end people don't want to pay more and we are a specification-led business."
Whatever clients say about the importance of environmental improvements, price often matters most, with recent research from the Construction Products Association (CPA) showing as much as 80% of specified products are substituted for cheaper alternatives when a project gets under way.
Nevertheless, sustainability is entering the equation. Chris says when Marshalls set out on its sustainability journey two decades ago it was seen as a fringe activity that was 'nice to have'. In the past 18 months or so the approach has been vindicated and others in the market are now trying to catch up.
"Two years ago I would have said that construction changes at a snail's pace... but all of a sudden we seem to be an industry that is wanting to change and is prepared to take a risk."
Chris believes Covid has helped achieve that, giving people time to step back and look around them.
As Marshalls Group Sustainability Director Chris Harrop OBE (the OBE was in recognition of his role in services to the prevention of modern slavery and exploitation) has said, Marshalls has reduced its total carbon footprint by 50% since 2008 in spite of the growth of output by the company.
He says: "Climate change is very real for all of us – for us as a business but also for our customers. At Marshalls, we understand the role we have to play and we've taken some really big steps to reduce our carbon emissions, including getting approved science-based carbon reduction targets, installing solar panels and switching to green electricity.
"We also know that it's vital that we help our customers make an active choice to reduce the impact of their purchasing decisions. In some of the sectors we operate in, our products have a footprint 50% lower than those of direct and substitute products."
One way the carbon has been reduced is by using between 45% and 60% less cement in the concrete products the company makes. Another is by using green energy, some of which is generated by Marshalls itself using photovoltaic cells on its roofs.
But there is more to come – and not all of it is complicated. Chris Griffiths says one of the biggest single contributions to carbon reduction would simply be to get everyone to turn off electrical and mechanical equipment when it's not in use.
Water, too, is probably wasted, although much of it is recycled at Marshalls and also harvested from rain. There are plans to measure the use of water at individual sites to identify leaks and waste.
That culture of responsibility goes beyond the environment into social issues across Marshalls' whole supply chain. "As a United Nations Global Compact signatory, we approach sustainability in terms of environment, labour, governance and human rights. We have a Business & Human Rights Director and a clear human rights roadmap to 2030," says Chris.
"Robust human rights due diligence systems and processes including country risk assessments and advanced supply chain mapping are employed alongside live monitoring, ethical auditing and worker grievance mechanisms. This all helps to identify risk, guard against child labour and other forms of modern slavery, and to constantly inform decision making."
Again, Marshalls is a member of various organisations, such as Made In Britain, CIRIA, UNGC UK Modern Slavery Working Group and the Ethical Trading Initiative (ETI). It is a signatory of Women's Empowerment Principles and the Social Mobility Pledge and has BES 6002 (ethical labour sourcing).
Chris: "We know what we have to do as an industry to clean our act up. We can't just look at things through a financial lens any more."
Arguably one thing Marshalls could do to reduce its carbon footprint is to encourage more local sourcing of stone from the UK and Europe. Shipping may be a fairly low carbon way of moving goods per tonne but the stone has to reach the ports (usually by lorry). Transport accounts for most of the carbon footprint of stone from the Far East because its extraction and processing are a relatively low carbon activity.
However, Marshalls is not planning to stop importing. Rather it sees its role as a provider of all relevant information to help its clients make informed decisions about the materials they use.
Chris says Marshalls hopes that, given the figures it supplies about the carbon embodiment of its products, customers will make responsible decisions. And the company has tried to make it easier to choose products from Britain and Europe (even though Brexit has complicated supplies from Europe).  
Below is Marshalls' depot in Sittingbourne, Kent, showing the photovoltaic cells on the roof.