Materials handling: Get a grip!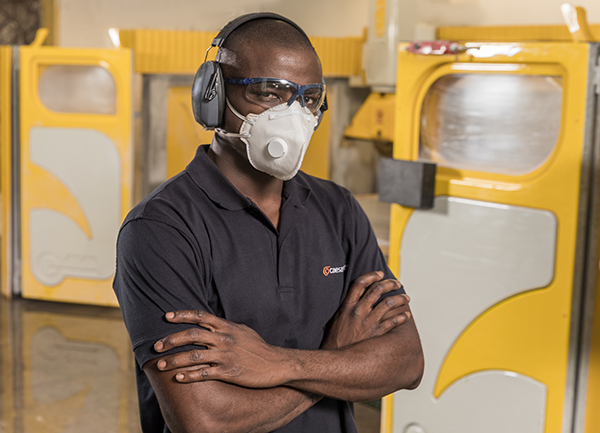 There are around 40,000 cases of people suffering from musculoskeletal disorders in construction every year, according to the Health & Safety Executive (HSE). That's aches and strains and painful joints, sometimes to a point at which it is debilitating.
There's no getting away from the fact that sometimes working in the stone industry can be punishing, but there's also no getting away from the fact that there have been a lot of devices created over the years – and many of them not so many years ago – that can take at least some of the strain out of moving stone around a factory and on to and into a building.
As D Zambelis says, traditional handling tools that have been used daily in factories, such as forklift booms, slab lifters and suction cups, are usually considered to be the first choice when it comes to lifting a piece of stone for processing.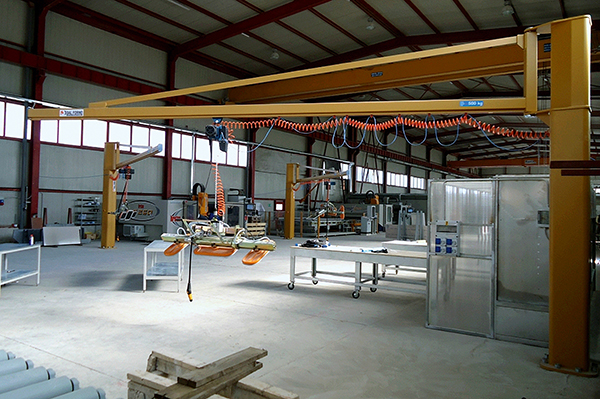 But, says the machinery tools and equipment supplier whose range includes many materials handling products, with technology improving and more technologies being available, and with HSE expecting companies to be more responsive to how stone is handled safely, jib cranes and overhead cranes with vacuum lifters are a popular solution to moving materials around a factory. And D Zambelis supplies both.
They can be used for moving slabs into a factory from a store area, loading slabs on to a machine and unloading finished work pieces, as well as manoeuvring pieces around the factory for processing.
Jib cranes are used for moving pieces of stone between machines or placing them on A-frames, while an overhead crane is a safe solution to unloading slabs from vehicles rather than using slab lifters on forklifts. And there are bundle slab lifters, which can be attached to a crane and used to unload more than one slab at one time.
But D Zambelis says there is a growing interest in integrating material handling with the machines that are cutting stone on a production line, so that carrying the slab and processing it are part of the same system or structure.
For example, conveyor belts with automatic loaders can be used to feed slabs into the Italian five Axes OMAG saw that D Zambelis sells. The saw uses the suction pads on the head of the machine to position the workpiece. Once one job is finished, it can be moved off the table on a conveyor and the next slab put in place.
Such solutions require a more permanent installation or structure, but D Zambelis says they are considered an investment in safer operating procedures.
One of the benefits of such systems is that it reduces the amount of handling, which reduces the opportunities for people to get hurt and the workpiece to be damaged.
Digital inventory is also playing an increasing role in reducing handling and lifting, says D Zambelis, who supplies one of the systems available for this.
This involves setting up an area so slabs can be photographed as they are delivered. Slabs are individually photographed when they are unloaded and are given a unique QR code, with the data and photograph stored in a database. The information can be used when designing projects, making it easy to determine where the cuts will be made to make the most of veining, which really comes into its own for vein matching on waterfalls, back splashes and for book matching.
Having a digital inventory of slabs means that fabricators are aware of the slabs they have, what projects those slabs have been allocated to, and how they are to be cut for those projects, as well as having the drawings associated with them.
As a result, slab lifting and manoeuvring becomes more efficient. Slabs that are most suitable for vein matching are more easily identified, rather than an individual having to comb through the slabs to find them.
When cranes with vacuum lifts, automatic loaders and digital slab inventories are used in combination, the result is a factory that minimises manual handling, creating a safer fabricating environment, says D Zambelis.
Another Italian machinery company leading automation is Breton, and it has now introduced an automated slab storage unit called Breton Vertika, which is being sold by LPE Group – and LPE also offers a photographic slab inventory system. It is called Slabsmith.
The Breton Vertika is similar to storage systems used in archiving and in some warehouses outside of the stone industry.
Stones are stacked on separate frames for storage. The frames are on rails so they can easily be slid into a closed or open position (see the photographs below) by the motors operated from a simple control unit.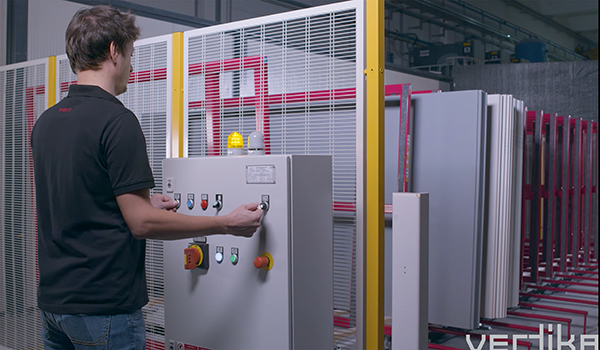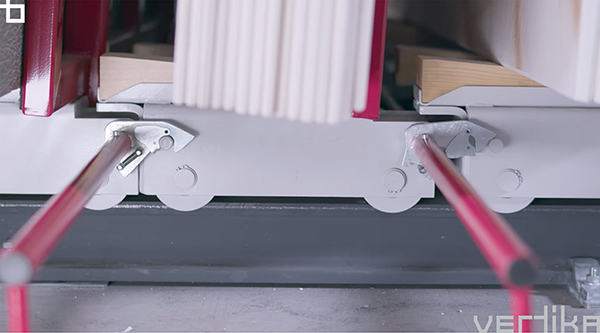 The control unit is separated from the moving parts, so the operator cannot be in danger of being hit or squashed by the slabs as they are moved.
 It is self contained, so needs no special foundations or structures as long as the floor can support the weight of the slabs. A single unit is 8.8m long and 5.15m wide. Units can be added together to increase the storage space.
Vertika allows stones to be stacked close together to minimise storage space (or maximise the amount of stock that can be stored in that space). To access the slabs, the simple electronic control unit operates a rack and pinion movement to separate the slabs that are required so they can be lifted easily from the frame. When the gap is closed, mechanical clips automatically join the units together.
You can see Vertika working on a video on You Tube at youtu.be/2-HmOKG9mKI.
It is ideal for use with the kind of slab inventory systems offered by LPE and D Zambelis, and Breton says it can be integrated easily with any warehouse system.
Materials handling equipment has not suffered too much from the shortages that have impacted many construction material supplies in the past couple of years, with many of the companies supplying the goods saying they had already increased their stockholding of faster-moving goods ahead of the Covid lockdowns in case there were any problems associated with Brexit.
Prices of transport and raw materials, particularly metals, have put pressure on margins and there have been some price rises, but all the suppliers are trying to keep prices as steady as they can.
One change at LPE, which sells ranges of materials handling equipment from Omni Cubed in America, Weha in Germany and Elephant in Italy, is that Kelly Wood has been recruited to sell the materials handling equipment. LPE Director Carl Sharkey says she is doing a great job and sales are up again this year.
She replaces Ash Butler, who has joined Simon Bradbury's Stone Industry Group (SiG). 
Among the products introduced by SiG is the No Lift Install System for transporting and installing worktops. It tilts through 90º, so it carries the worktop vertically for transporting and getting into the kitchen, then tilts to horizontally at the right height to slide the worktop on to kitchen units. It is especially good for tight spaces.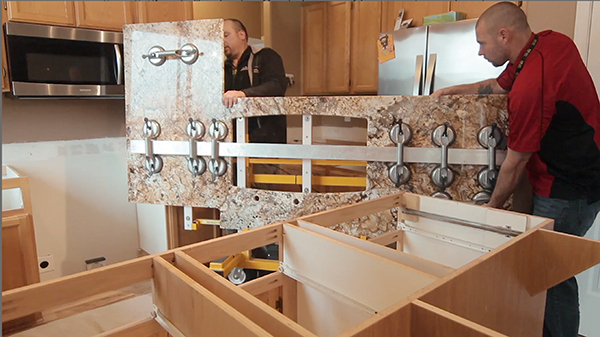 Because it is easy to use, it speeds up the installation. And because the worktop can be slid straight off the No Lift on to the cabinet it is always supported, which reduces the risk of cracking or damage.
It means minimal awkward lifting for installers and makes it possible to fit large worktops without having to get more people involved in lifting, saving backs and time.
When it comes to the welfare of your staff, there's no room to question quality, says Stonegate, which supplies an extensive range of products to help people lift and move stone and finished products safely.
Stonegate says it independently tests all its lifting and handling equipment to ensure it is well built and safe. It says stocking tried and tested brands, such as Hercules, with its heavy-duty, professional products that have undergone extensive testing, means its customers can feel secure they are in safe hands.
Stonegate says: "Underperforming lifting equipment is every stone fabricator's dread.  Our cutting-edge range of stone magnets, clamps and lifters are designed to handle all types, sizes and finishes of stone.
"From polished granite and marble slabs to porous concrete, rough-cut boulders, and sandstone blocks, we have a variety of stone lifters to get the job done right. 
"Take, for example, the Stonegate Heavy Duty Scissor Carry Clamps, which are constructed using only the highest quality materials, including vulcanized rubber pads for added grip and protection.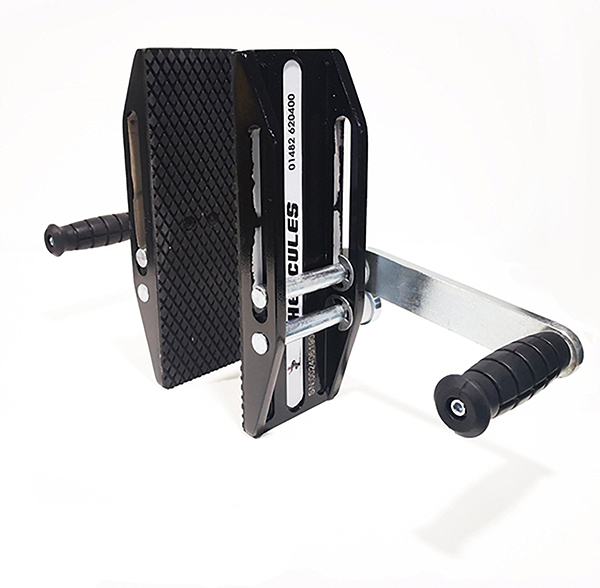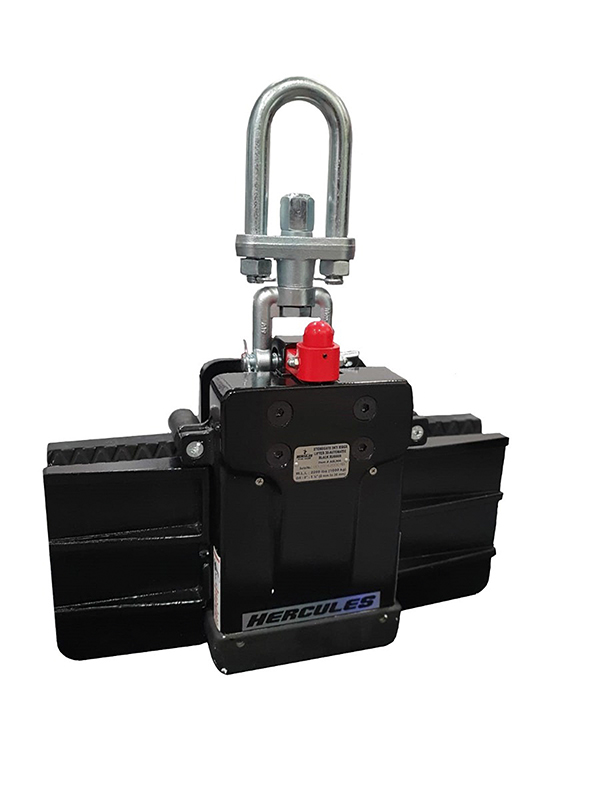 "Or try our Sky Rider, an automatic lifter specifically developed for lifting thin materials such as porcelain – it's fitted with extra wide pads for increased surface area. 
"We know first-hand how back-breaking even the smallest of installations can be, not to mention the numerous difficulties that can crop up on site during installation (gravel drives, steps – need we list any more?). Take the hard work out of the job and ensure it gets completed in one piece with our extensive range of handling equipment, including A-frames, dollies and carts, sink bars and winch carts.
"Our A-Frames are particularly popular for fitting out vans for ease of transportation. And, true to our quality-first policy, all Stonegate A-frames are powder coated for an extended lifespan and come with options of wheels, support bars and lifting eyelets." 
Stonegate also sells the EZ Pro Winch Cart, which is designed for raising, loading, and unloading finished slabs safely and with minimal labour. It has four solid rubber tyres on a sturdy frame, with remote control for additional versatility.
Another supplier of handling equipment is Waters Group. It has been the distributor of Righetti vacuum lifters in the UK and Ireland for more than 15 years and says the Righetti P3A625, a three-pad lifter with a 625kg lifting capacity and pneumatic tilt, is by far the most popular in the range as it perfectly suits the needs of the kitchen worktop fabricator lifting granite and quartz.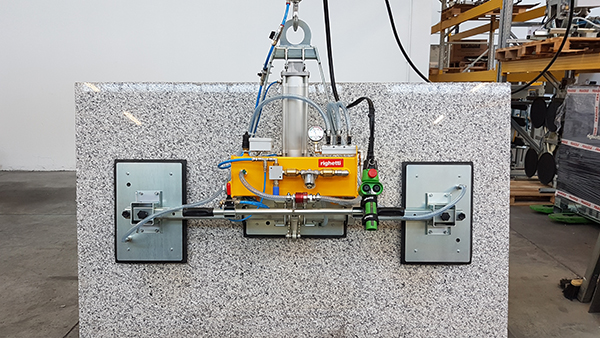 The easily replaced non-marking gasket pads are one of the reasons the Righetti lifters are so popular. Michael Nicholas, Director of The Marble Group in Hatfield, says: "I purchased our first Righetti vacuum lift around eight years ago to load our saws. This vacuum lift is still going strong, working in the harsh conditions of a worktop factory. We have since purchased another five units to service our edge polisher, CNC machines, waterjet, masons area and face polisher.
"The pneumatic system makes the loading and unloading of fragile materials accurate and effortless. We simply attach the unit to our jib cranes, plug in an airline and off you go.
"The Righetti vacuum lifts are a solid piece of handling equipment. The non-marking gaskets are easily replaced. All in all, very happy with this system."
And with the increasing popularity of large ceramic slabs, Righetti saw a need for a new range of vacuum lifters specially for handling them. Righetti's Sales Director, Olga Kaliska, says: "When we started to develop a new line of vacuum lifters entirely dedicated to big porcelain and ceramic slabs, we immediately understood that this material could not be handled in the same way as marble and other stones.
"What we learnt from the handling natural stones was useful but not enough. We were approaching a completely different material. The vacuum pads used for stones were not performing perfectly on ceramic, so our R&D division had to start projecting something distinct.
"After several experiments and plenty of material tested, we developed two types of suction cups specifically for porcelain. One is for smooth, standard slabs and the other, with softer gaskets, for irregular surfaces."
Since porcelain slabs can be thin, to avoid them bending and breaking, especially when they are being lifted horizontally off a machine, the slab must be grabbed at various points, using several smaller vacuum pads. So, Righetti decided the standard central beam couldn't be shorter than 2500mm.
Also, the frame had to be modular in order to be adaptable, with the arms moving along the central beam, and the suction pads had to move along the cross-arms. It would be necessary to be able to shut off individual pads so the vacuum lifter could be used for kitchen tops and semifinished products and the lift had to be able to tilt.
All this has been incorporated into the standard P8 and P12 ceramic Righetti lifters, which have a 0-90° powered tilt system driven by a joystick beside the handle. And they can be operated by compressed air or electricity.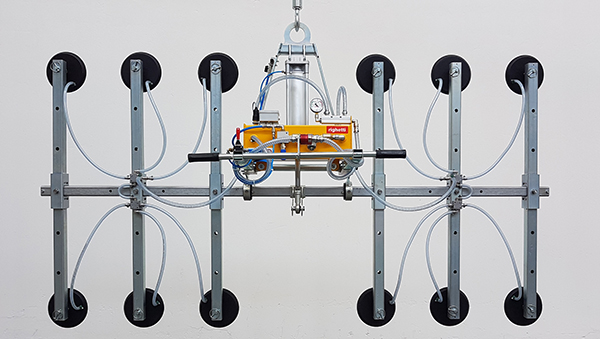 P8 and P12 suit most of the needs of ceramic handling, but Righetti can also build customised vacuum lifters if customers have any specific requirements.
Righetti also saw a space in the market for a portable, customisable, single pad vacuum lifter aimed towards specialist architectural masonry companies.
Gone are the days of requiring a special size vacuum lifter for a one off large project. The Righetti Serie S1 has a range of eight easily replaceable suction pads. Custom made pads are also available on request.
And if there is no access to electricity onsite, the battery powered Serie S1-B, with an easily removable and rechargeable integrated battery, is the answer. It incorporates a visual and acoustic alarm warning of low vacuum levels as an essential contribution to health & safety on a noisy construction site.
HSE site for stone workers www.hse.gov.uk/stonemasonry