Warning about dust as testing firm fined
The prosecution of a company checking air quality and the effectiveness of local exhaust ventilation (LEV) for firms should be a warning to stone fabricators working with high silica content materials such as granites, slate, sandstone, engineered quartz and porcelain to make sure they accurately measure and record the risks in their factories and workshops.
The Health & Safety Executive says one company offering to test workplace air quality and ensure ventilation systems were performing properly could have put hundreds of workers at risk of serious lung diseases by not adequately training its staff.
Manchester Magistrates' Court heard on 4 November how Airtec Filtration Ltd was used by businesses across the UK to test extraction ventilation systems in workplaces.
But an investigation by the Health & Safety Executive (HSE) found the firm, based in St Helens, Merseyside, provided its customers with reports that potentially left staff in those businesses facing risks to their health.
The issue came to light when HSE inspectors requested Through Examination & Tests (TExT) of local exhaust ventilation (LEV) systems from a number of businesses as part of routine inspections and investigations.
Documents presented to inspectors based on tests carried out by Airtec Filtration Ltd raised concerns and an investigation by HSE determined that in 2018 and 2019 Airtec Filtration Ltd was providing TExT of local exhaust ventilation systems claiming its work met the requirements of the Control of Substances Hazardous to Health Regulations (COSHH) 2002. However, reports provided to businesses left hazardous substances inadequately identified and it became apparent local exhaust ventilation tests had not been carried out correctly.
HSE inspectors visited multiple sites where testing had been undertaken by Airtec and a number of significant and common failings were found.
As a result, Airtec was served with an Improvement Notice on 23 October 2019.
The Improvement Notice required Airtec to provide training to its engineers to ensure they had adequate knowledge and expertise in the assessment, evaluation and control of risk arising from exposure to hazardous substances.
HSE found that Airtec was aware of the need for a competent person who held professional qualifications to carry out the testing but did not provide the necessary training for its engineers.
As a result, Airtec Filtration Ltd, of Manor Street, St Helens, Merseyside, appeared before Manchester Magistrates' Court on 4 November this year where it pleaded guilty to contravening Section 3(1) of the Health & Safety at Work etc Act 1974. The company was fined £2,666 and ordered to pay costs of £4,074.
HSE inspector Rose Leese-Weller says: "Airtec Filtration Ltd provided inadequate training to their engineers while claiming to provide a thorough testing service for LEV systems.
"They provided businesses with unsatisfactory reports based on limited or inconclusive evidence, with little or no consideration of the level of risk of different hazardous substances.
"Inhalation of hazardous substances at work can have devastating consequences to workers leading to occupational asthma, cancer, chemical asphyxiation or neuro-toxic effects.
She said the company had potentially put hundreds of workers at serious risk, adding: "HSE will not hesitate to take appropriate enforcement action against those that fall below the required standards. We hope this sentencing sends out a stark warning to the industry."
HSE says people who believe they may have been exposed to a hazardous airborne substance in the workplace will understandably be anxious and concerned about the possible effects on their health.
Anyone who is concerned is advised to consult their GP and ask for a note to be made in their personal record about possible exposure, including date(s), duration, type of substance and likely exposure levels (if known).
In some circumstances, the GP may refer people to a specialist in respiratory medicine.
Many stone companies already offer annual silicosis checks to employees as part of their duty of care to employees.
Research from Imperial College London suggests that around 900 cases of lung cancer each year in Britain can be attributed to past exposure to silica dust in the workplace.
This year has seen the launch of a device, the Trolex Air XS, that specifically measures levels of RCS in the air in real time. It is easy to use and mobile. It is made in the UK and is being supplied to the stone industry by Stone Industry Group (SiG) based in Derbyshire. It has already won several awards. Read more about it here.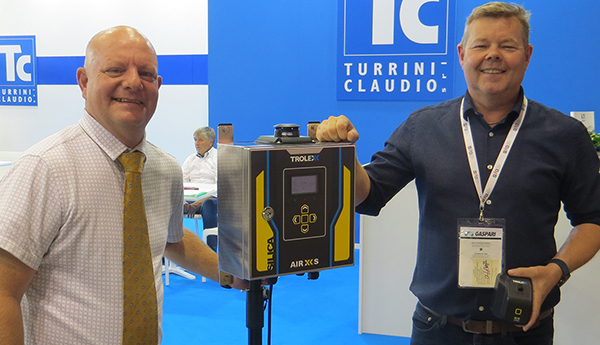 This year has also seen a new range of British-made face masks launched that have been designed to be more comfortable to wear for an extended period. It is called the Alpha Sentinal range from Globus Group. There is more about that here.