Water recycling: Stone companies clean up their act
The more machines you have the more water you need, which is why companies all over the UK are upgrading their water recycling systems. 
Perhaps it was improving work environments to make them Covid safe. Perhaps it was a brief respite from the day-to-day workload in spring last year. Perhaps it was the cost of water supply and disposal, with charges looking likely to increase again next year as water companies face more bad debts from businesses that regulator Ofwat says business customers should pay for. Perhaps it is because a lot of companies have invested in new machinery. Perhaps it is because a loss of water supply closes factories.
Whatever the cause – and probably all those mentioned above and more played their part – a lot of stone companies have included water recycling systems among their investments of the past couple of years, helped in some cases by one or other of the 50-or-so national or regional Covid schemes, such as the capital allowance Super-deduction and the Coronavirus Business Interruption Loan Scheme (CBILS).
"Over the period of the pandemic we have seen huge growth in all our markets, not least the UK market," says Simon Bradbury of Stone Industry Group (SiG), a constituent UK company of which is Turrini Ltd selling Turrini Claudio Italian water recycling systems. SiG also has a company in America selling Turrini Claudio.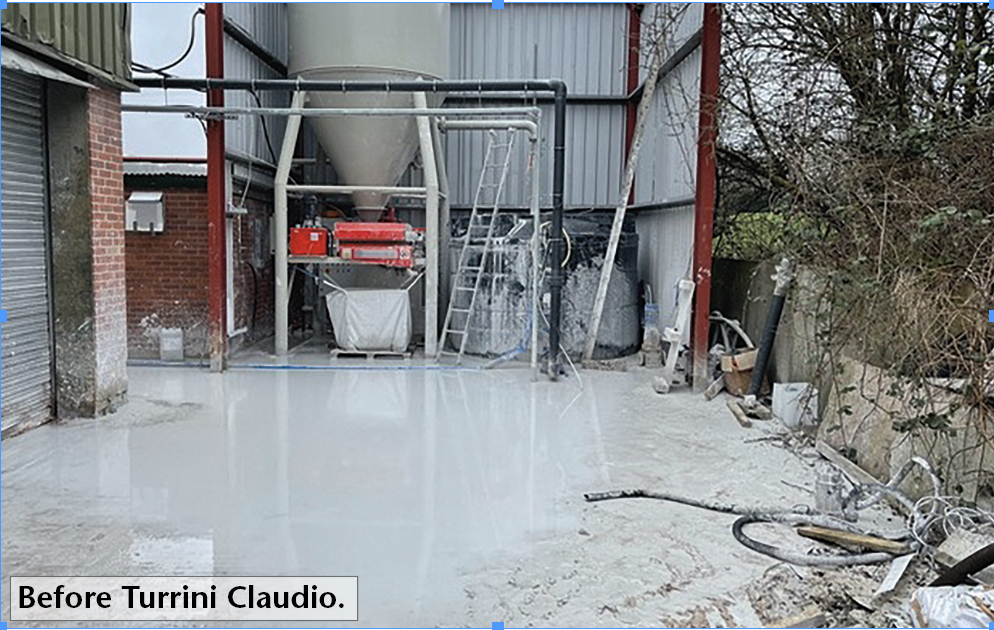 Simon says: "We have installed 10 plants in the UK in the past 18 months, including a large system at Athena Stoneworks in Eardiston in the West Midlands. Athena had outgrown its system from another major Italian manufacturer and was awash in water most days – and not the clean kind!
"We replaced Athena's system over a bank holiday weekend with a bespoke, dual silo Turrini Claudio system, giving Athena 1,500 litres per minute of water at six bar, on demand, automatically and with just 10 minutes maintenance per week.
"Standard features for us are duty and standby pumps with inverter control to minimise energy use and maximise life cycles. Athena produced 18 tonnes of mud from the system in its first six weeks of operation, which gives you an idea of how water recycling needs to be a primary service and not a low budget afterthought.
"An added benefit was that the company's workshop went from dusty and white to super clean in the first few days, with the now cleaner water and with new housekeeping regimes meaning it's a much more pleasant environment to fabricate in."
Turrini Claudio is one of the major brands of water recycling systems in major markets all around the world, including the UK, but unlike some of the other brands it does not push filter press systems.
Filter presses are popular with many natural stone companies because of the volume of sludge generated, although filter press plates still need regular cleaning, even when they are 'self cleaning'.
When it comes to countertops, Simon Bradbury maintains that two things mean filter presses are not the solution to water recycling: one, the volume of sludge generated is not usually sufficient for a filter press; and two, the sludge mix from quartz, granite, quartzite and these days often also porcelain is much more sticky than the sludge from natural stone alone.
"We do include filter presses, but only for our natural stone customers," says Simon. "For everyone else we use bag systems.
"Bags work great if you use the correct bags. Sure, they are a little more expensive than the cheap builders bags, but they are double the size and have the correct porosity to allow the water out and keep the mud in.
"If you fill one of our bags with muddy water, the water will have drained out in half an hour.
"I recently did a side-by-side at a client's premises using one of our bags against a bag supplied by a UK tooling supplier. After 30 minutes ours had lost four inches (100mm) of water and the water in theirs hadn't moved.
"Then what typically happens is the customer has to jab the bag with something to let the water out. They stop emptying the sludge from the silo, so it fills up, reducing the capacity of water and affecting the clarity.
"Clients with well run systems are typically getting virtually crystal clear water, which we then filter again at the CNC to maintain warranty to 10 or one micron. They are then fully recycled. (These filters are available to anyone, by the way, not just those with our Turrini Claudio systems)."
Simon says that Howdens uses Turrini Claudio systems for both its older and its new automated lines at the former
J Rotherham site where it now produces its worktops. The water is filtered to one micron for its six Breton CNCs. "That site has been with Turrini since 2003," says Simon.
In April last year the UK company of Turrini Ltd moved into a new 600m2 triple unit in Burton On Trent to enable it to keep up with the stock level required to service a constantly growing number of customers, already almost 300 in the UK, North America and elsewhere.
Turrini has six people employed at Burton on Trent and five in the USA. It expects to recruit more people next year as demand continues to grow.
"We are constantly refining the machinery and changing the chemical formulation to give the best possible results for fabricators," says Simon.
"We identified a real need for a lower priced system, both for the US and the UK market, and late last year acquired a small US-based company that was manufacturing a lower cost, less featured system based on a polyethylene silo instead of stainless steel.
"We have spent the past year evolving that system to perform more like ours and currently have nearly 20 systems live in North America and a couple in the UK, which we use for local testing of revisions.
"We hope to bring this new product line to the mainstream UK market in the new year and manufacture in the UK, too.
"Not only does it fit nicely with Turrini Claudio, being under the price point of the smallest system from the Italian factory, but it has helped us supply customers in the US that have not been able to wait for a new stainless steel system to be built. More than one has had a complete system in place while we're waiting for the cost of shipping large machinery to come down."
Simon says Turrini Claudio will remain his flagship, prestige product line covering a wide range of client requirements, but a lower entry level system will fill a niche and introduce new clients to the Turrini family.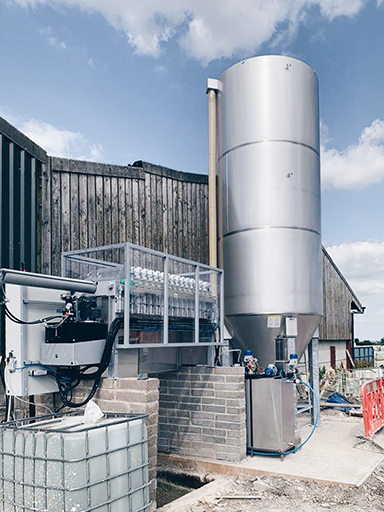 An ItalMecc water treatment plant supplied by UK company D Zambelis to Pack Masonry.
Another company that has been supplying a lot of water recycling equipment is D Zambelis. It sells systems from another of the mainstream Italian manufacturers, ItalMecc. It says in the first half of this year the water recycling systems became D Zambelis's number one selling product – and that was not because any other products were selling badly. Director Jasper Zambelis thinks Covid loans and the Super-deduction for capital allowances were incentives.
One of the systems D Zambelis installed this year was for Pack Masonry in Bradford Leigh, Wiltshire (you can find out more about Pack Masonry from page 28).
Pack Masonry has grown rapidly since the company was formed by James Pack in 2014. It quickly outgrew its original premises and moved to its present location in former farm buildings in 2018, where James Pack's brother, Nic, is now in charge of production.
The company is a busy architectural masonry business, processing mostly Bath and Portland limestones and operating machinery that includes three Terzago saws, two Wells Wellcuts and a Minorsa Portuguese wire saw. There is also a lathe and a saw kept for cutting up offcuts.
All the water used is rainwater collected from the workshop roofs, where they also have solar panels producing electricity. The water has always been recycled, but until the ItalMecc plant was installed that involved collecting it in three settlement pits and letting the sludge settle out, which it often didn't before it was recycled back to the saws.
Anyone who has ever cleaned out a settlement tank will understand why James and Nic wanted to replace them. Cleaner water is also kinder on the machines and the tools they use, and was essential for the Omag CNC that is the next investment planned at Pack Masonry. D Zambelis represents Omag in the UK and will also supply the CNC.
The ItalMecc water recycling plant was installed by D Zambelis engineers, with Pack Masonry working with D Zambelis on what was required in terms of infrastructure, including drainage channels and plumbing to distribute clean water to the machines, before it arrived.
Jasper Zambelis says Pack Masonry were a pleasure to work with because they worked with D Zambelis to understand the water supply they needed for their current and future requirements and had completed all the preparation work perfectly by the time the equipment arrived ready to be installed. For its part, Pack Masonry praises the efficiency of the installation and Nic says that Darren, the D Zambelis engineer, was very patient in explaining how it all worked.
He says Pack Masonry decided to invest in the ItalMecc recycling system after visiting Traditional Stone in Sussex and seeing the water management there. "I thought: we have to have that," says Nic.
The system incorporates one of the settlement pits Pack Masonry had used previously. Only one was used because it had sufficient capacity and using all three would have trebled up on pumps and equipment.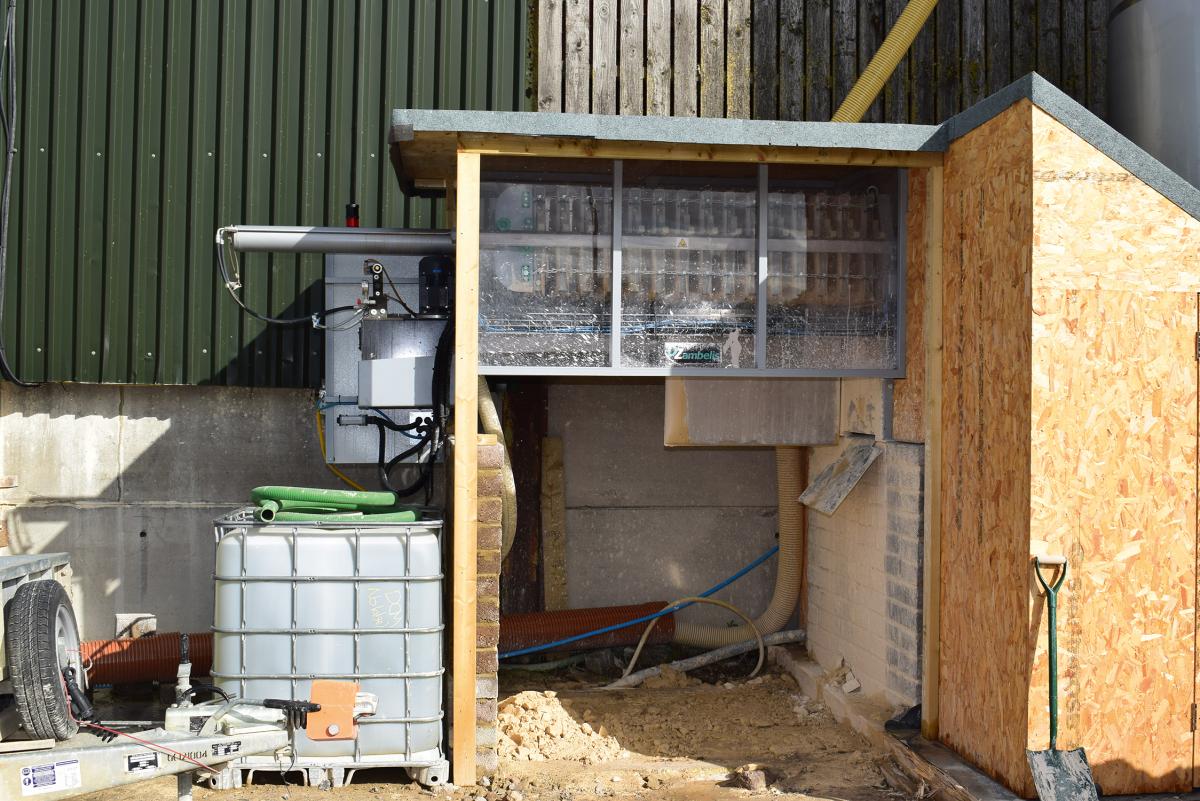 The Ecopress 500-15 filter press in the ItalMecc system supplied by D Zambelis to Pack Masonry. In the enclosure on the right is the Skid-F automatic flocculent station and to the right of that (out of the picture) is a 20,000 litre silo.
There is a 20,000 litre silo, a semi-automatic flocculent dosing station and a press for dewatering the sludge. The system delivers 8,000 litres of cleaned water a minute.
The Skid-F flocculent station, which takes up a marginal amount of extra space, is equipped with an energy efficient motor driving a transmission shaft and mixing propeller, all made in stainless steel to resist the corrosive nature of flocculents, although ItalMecc says the flocculent it uses is of high quality, in spite of a low price, and used in conjunction with 1% or less salt will not corrode pipes or machines.
Level sensors indicate how much Flocculent is left and if the tank becomes empty a blue warning light and an acoustic alarm are activated.
The Ecopress 500-15 (it has 15 plates) is managed by a programmable logic controller (PLC) with a touch screen display using a user-friendly graphic interface. The energy efficient hydraulic block is capable of high performance from low levels of compressed air consumption. An automatic pneumatic system frees the dewatered sludge from the plates, which are large, making the dewatering and ejection of the waste efficient.
ItalMecc CNC filter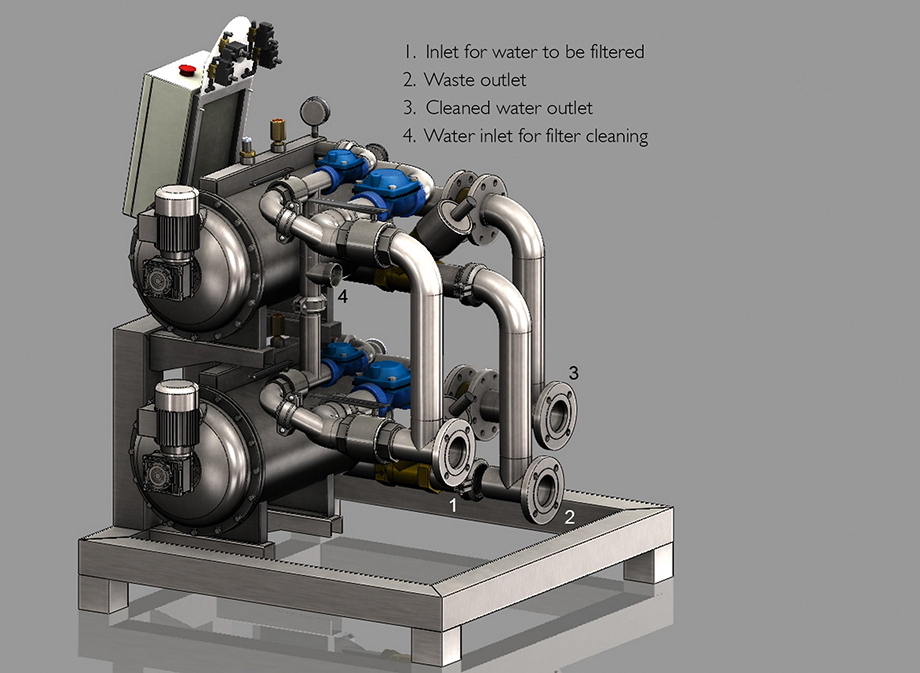 The ItalMecc CNC Filter is installed just after the water delivery pump. Its task is to further filter clarified water so it is clean enough to be used in the spindle of a CNC, protecting spindles and tools from wear and avoiding scratches on the workpiece. It even reduces limescale deposits.
Using state of the art technology, including a PLC for fully automatic or manual control, the ItalMecc CNC filter can separate out any remaining solids down to a micron (1µm) using a series of rotary filtration discs.
It can, however, be adjusted for controlled micron filterage to meet the specific requirements of volume and clarity of water needed, because many spindle manufacturers suggest a working range of 25-54µm (although most concede 5µm would be better). At 25µm one ItalMecc CNC filter could feed four or five CNC machines.
The four main components of the CNC filter are the frame, filter body, rotary filter discs, and piping and valves.
Enabling ItalMecc to guarantee that its CNC filter will deliver a consistent level of filtration and water supply is its self-cleaning system.
The self-cleaning cycle takes place by subjecting the lamellar pack filter discs to a high pressure water jet by rotating them on a robust rotor shaft. It means you do not need expensive spare cartridges and do not waste time changing them.
The ItalMecc CNC filter has a stainless steel (AISI 304) frame and components and an internal filter disc pack made from a patented polyester.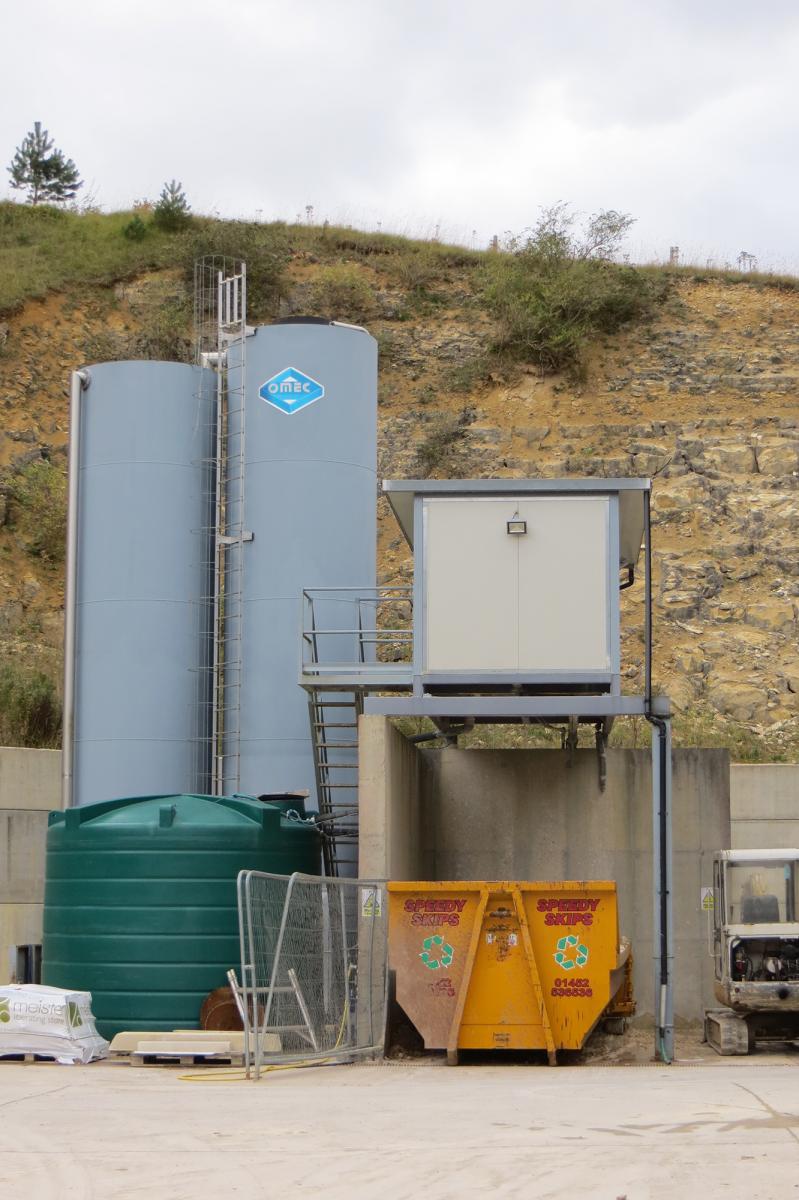 At Meister Masonry New Stone Age supplied the OMEC OMD30 Cleaning Silo, OMT30 Clean Water Storage Silo and an OMF814 Filterpress.
New Stone Age in Keighley, Yorkshire, has been selling Italian company OMEC's water recycling systems for more than 17 years. The systems have now become the solution of choice for many in the industry thanks to their proven track record at major companies such as Meister Masonry in Gloucestershire and Dringstone in North Yorkshire.
OMEC solutions are especially popular among larger companies, although the systems that have been installed by New Stone Age range from the compact (200 litres a minute) all the way up to 3,000 litres a minute, with  New Stone Age and OMEC understanding the need for correctly dimensioned systems specifically suited to the requirements of the complete range of stone companies operating in the UK.
A selling point of OMEC water recycling systems is their designed-in redundancy, such as extra pumps. Under normal conditions the pumps are used on regular rotation to ensure they continue to work. That has the added advantage of lengthening maintenance and replacement intervals, but is essentially in place to ensure if one pump fails another is immediately available to take its place, so the whole works is not brought to a halt.
For example, at Dringstone there are two clean water pumps and valves, with one working at any one time and the other on stand-by, and three sump pumps, with two working and one on stand-by.
Director Alan Dring says he had the water recycling system installed when he was changing his electricity supply in 2017. Until then, his site was powered by a generator but, with some difficulty and taking two years, the company had managed to arrange for a three-phase supply to replace the generator.
Until then, water was being recycled in lagoons, but with some considerable disruption involved with the electricity supply Dringstone decided to modernise its factory and along with it the water management.
"The water treatment was the easy part," says Alan Dring.
He had previously had a quote on another water recycling plant but says: "We were always told James's was the best on the market." James is James Turton, the Managing Director of  New Stone Age. By the time it came to installing a new system Alan says he had decided on the OMEC with its galvanised structures and stainless steel pipework and fittings.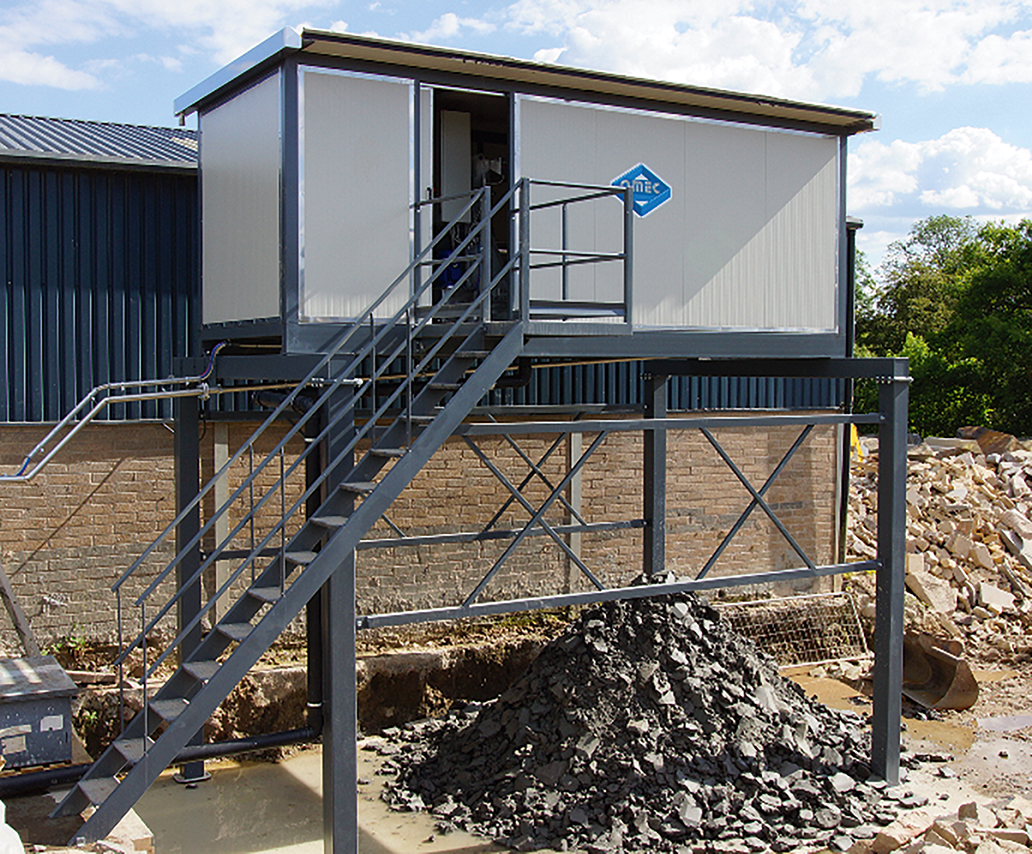 Being on the North Yorkshire moors, Dringstone likes the fact that the OMEC  silos and filterpress housing offer protection against frosts and biting winds.
Dringstone provides sandstone and limestone walling and masonry to the general public, the trade and to builders merchants, processed using a variety of machines, including two BM primary saws (for which New Stone Age is the UK agent),  two Terzago saws and three hefty GMM Litox CNC automatic bridge sawing and moulding machines.
The saws are kept busy and there's plenty of water to be filtered, so Dringstone went for a complete water treatment system capable of supplying up to 1,500 litres of water a minute.
It includes a fully automatic filter press and flocculent system. Alan says it uses "loads and loads and loads" of flocculent, but he's not complaining. Neither is he complaining about the extra he paid to have the automatic system so the company does not have to think about it.
The Dringstone site is not the easiest to work from, with the saws in a number of different sheds, but all the water to be recycled arrives into a collection well with two pumps (one working and one on standby, as explained above).
The water is gathered in an OMD30 (30m3) silo for cleaning and the treated water overflows into an OMT30 silo for clean water storage. This provides a good head of water to feed the clean water pumps  providing up to 4.2bar pressure.
The filterpress is a hi-tech OMF814, pressing 0.33m3 per cycle. It automatically monitors how dry the waste has become, so it knows when to release it. It is fully programmable using touchscreen PLC controls, and once it is programmed it works without intervention. It regulates its own cycles and only presses when there is enough material to press. This ensures a good press each time.
If something needs attention it presents a series of photos and suggests what to do. For example, it flags up when the waste collection area under the press is full and needs emptying.
Normally, the filterpress would be supplied and installed on four galvanised columns if the mud is to be discharged into a skip or trailer. Or the customer can build a concrete support or boundary wall to retain the pressed sludge, although Dringstone decided to construct four H-section columns as it was quick and easy to construct.
The stainless steel AISI 304 tank for flocculent preparation has a 1,000 litre capacity. It has an electric mixer and shaft, also in AISI 304 stainless steel. A dosing pump with speed reducer in an oil bath and a stainless steel injection unit provides adjustable delivery of 0-150 litres per hour.
Preparation of the powdered flocculent takes place in a 50kg polypropylene container. The dosing unit has a heated aluminium body with a pneumatic piston.  
OMEC also has a coagulant dosing system that integrates into the system to further improve the clarity of the water, which can be important for those processing different coloured materials – perhaps red sandstones and light coloured limestones – and do not want to risk there being any contamination when switching between the two.
For customers who have CNC machines and need their recycled water to be filtered to an even finer degree, OMEC has developed special CNC filters to remove microscopic particles so seals and bearings on machine spindles will not be damaged and a perfect polish can be achieved on marble and granite.
Compact recycling for fabricators from On Point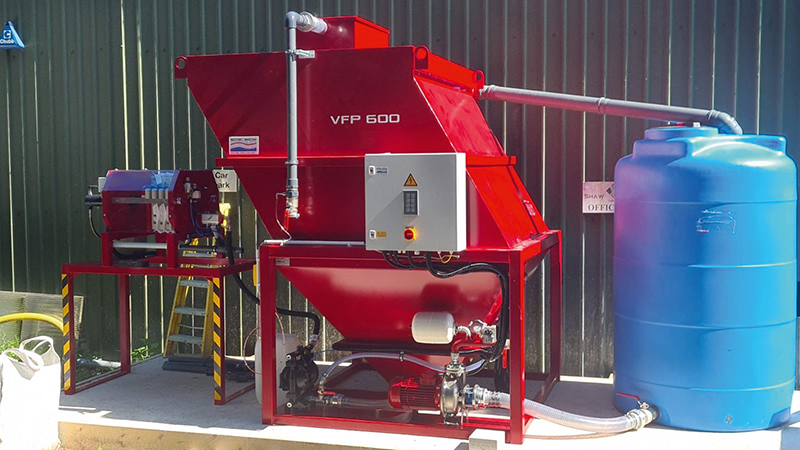 Bruno Machado, the owner of On Point Engineering, which sells ECS water recycling plant in the UK, says: "The demand in water treatment systems in 2021 has been astonishing. With customers expanding their factories by purchasing new equipment and also looking into ways on saving water bills and becoming more efficient, we have been extremely busy supplying and installing new ECS water treatment systems."
The ECS technology allows a lot of recycled water to be delivered from a compact system that fits comfortably in most factories.
The latest ECS system installed by On Point was at Shaw Stone in Hampshire (pictured above). It delivers 600 litres of recycled water per minute. The clarifier is combined with a filterpress and the recycled water is used to feed all the machines, including the internal water for the spindles of the CNCs. 
On Point has four more systems to install this year and says it already has orders for more in 2022.