STONE DIGITAL: Shaping a Sustainable Future – available on catch-up until the end of April
In a world committed to reducing greenhouse gas (GHG) emissions a raw material like stone that has a zero carbon footprint should have a natural advantage. But the fragmented industry that supplies dimensional stone products lacks the multi-billion pound international companies of other sectors – such as concrete, steel and glass – to champion its cause. As a result, its message can be hard to hear amid the clamour of every other sector to emphasise how green it is.
It is amazing how, given a sufficient budget, a concrete company's claim to have cut its carbon emissions by 30% can sound more impressive than a stone company's message that its products always have been low carbon.
The Stone Digital – Shaping a Sustainable Future conference held online on 22 & 23 February was a ground-breaking attempt by the stone industry to get its message heard.
And with a good measure of success, with some 845 people getting involved on the days. It is expected the number who watch the presentations will top the 1,000 mark now recordings are available on catch-up on the stonedigital.co.uk website.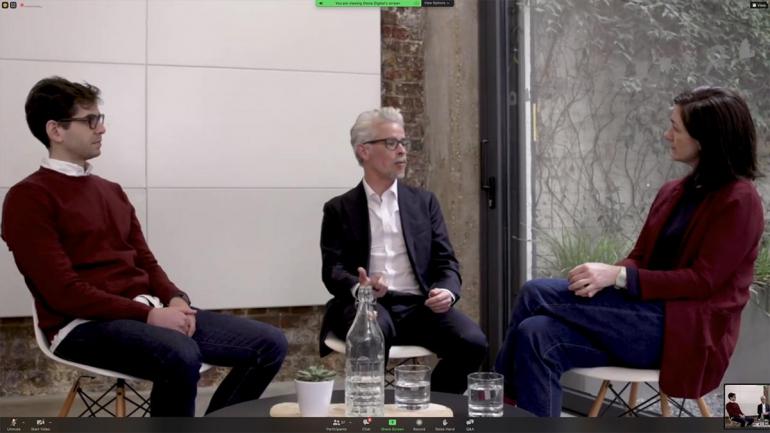 The Stone Digital event was staged by the organisers of the Natural Stone Show & Hard Surfaces, normally held every other year at ExCeL London but, like other exhibitions around the world, cancelled because of Covid. The Stone Show is due to return to ExCeL 18-20 April next year.
Stone Digital, like the Natural Stone Show itself, was supported by Natural Stone Specialist magazine as media partner and Stone Federation Great Britain, which has launched its own series of webinars called The Case for Stone to further spread stone's message.
Stone Digital – Shaping a Sustainable Future covered a wide area of the use of stone in architecture, including new build, heritage, landscaping and interiors.
Many of the presentations also made it clear just how much the march of digitalization has accelerated during the restrictions imposed by the Covid pandemic. It was a subject specifically addressed in the final session of the eight presented during the two days of the event.
It became clear during the presentations that digitization is already playing a significant part in increasing the productivity of the stone industry and construction in general and can only take a growing role in improving communications and reducing waste going forward.
 Stone Digital was sponsored by the following companies: