TILES & CERAMICS Joe Simpson says... Cersaie: The compelling ceramic catwalk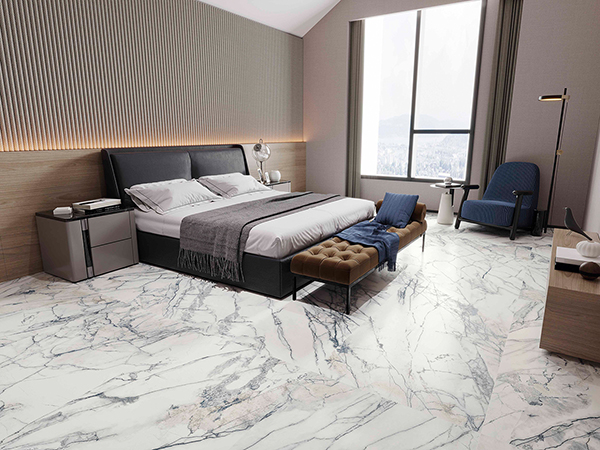 It will be fascinating to get back to a fully functioning Cersaie this year following last year's diminished event. Held in the shadow of Covid-19, Cersaie 2021 saw its audience fall by around 50% – with few visitors from large tile markets such as USA, Australia, and China – so it could not fully exploit its recent investment in new halls and features.
What's more, when the show opens for business on 26 September, the impact on the tile sector of the war in Ukraine, the global market changes caused by the Covid pandemic, and the spiralling energy costs can finally be judged at first hand.
In 2021 it was clear that design trends, reinforced by significant advances in tile production technology, had changed Cersaie's DNA. Over the past three decades, it had become, primarily, a floor tile show, with wall tiles and other tile-related products and services playing second fiddle.
While most exhibitors are, as ever, keeping their cards close to their chests, it is already clear that this year's Cersaie will be, in effect, four or five tile shows in one.
Italy retains it's technological and aesthetic leadership in floor tiles, so it is no surprise that Bologna remains the premier catwalk for the latest floor tile fashions. But I am also anticipating this year a host of exciting and exuberant wall tile designs, reflecting the renaissance of interest in small formats, glaze effects, patterns, geometric shapes, and surface relief.
Another key area – and one that seems to grow every year – is 20mm and 30mm tiles for external applications – it is one of the product categories to have benefitted most from the working at home movement.
Many of the recent introductions in this market sector have drawn inspiration from European tile heritage, with faithful reworkings of artisanal tiles from Italy, Spain, and Portugal sitting alongside faux Morocco encaustics and other facsimiles of long-lived favourites.
Cersaie 2022 will also shine a spotlight on the burgeoning porcelain slab market. With a number of tile-based brands now enjoying a growing share of the worktop sector we can expect to see more manufacturers making a pitch for slabs to be used as ceramic wallpaper, bespoke murals, tunnel linings, book- and end-matched stone-effect feature walls, furniture facings, and much more.
With advance publicity hinting at air-purifying and self-cleaning tiles, tile-covered raised access floors, ventilated mechanically-fixed ceramic façades, and adhesive-fixed ceramic cladding, Cersaie 2022 promises to be a particularly diverse event. With sections covering shipping and transport, construction chemicals, display systems, underlays and substrates and installation aids, there will be plenty to keep the anticipated audience of more than 100,000 fully engaged.
Fresh features
Cersaie Upstairs – a walkway connecting Galleries 21/22 and 25/26 – is a new feature this year. Hosting contract design firms, it is intended to offer visitors a new sensorial, relational, and cultural experience, plus the chance to take part in recreational and culinary activities. The space is inspired by the classic elements: air, water, earth and fire.
Gallery 21/22 will host the third edition of Archicont(r)act.  Aimed at the world of architecture and contract design, it features six major architecture firms: Lombardini 22, Pininfarina, One Works, Noa, Iosa Ghini Associati, and Handel Architects.
Each is assigned a portal where visitors can explore the firm's projects and philosophy through augmented reality experiences curated by Vection Technologies.
For those with a more hands-on approach, the 10th Tiling Town will feature professional training events, practical demonstrations, a web radio, and a space devoted to women. 
Tiling Town's technical seminars on slab laying will be held in a permanent conference area and will consist of two hours of classroom sessions and two hours of practical experience in the installation workshop.
Another initiative is Tiling Town Matinées, a series of daily tile installation events organised by Assoposa's technical partners of Fila, Mapei and Raimondi.
Spotlight on sustainability
I am anticipating this year will see a detailed and fact-led focus on sustainability. Given the all-too evident impact of global warming and faced with an urgent need to reduce energy use and mitigate other environmental impacts, the ceramic tile sector has really embraced the green agenda. Water-recycling, energy co-generation, waste-heat recovery, packaging reduction and lightweight products are to the fore.
We have just seen the launch of 'The Ceramics of Italy for Sustainability' communication campaign, with a video created by Milan-based agency Muse Factory of Projects being posted on ceramica.info. The campaign communicates the efforts and achievements in the field of sustainability made by the Italian ceramic industry. The launch video ends with a call to action, an invitation to visit the ceramica.info website to discover Italian ceramics at Cersaie 2022. 
Many will be banging an eco-drum!
Company highlights
As I said, few of the leading tile manufacturers are giving much away in the run up to the show, preferring to unveil their latest designs in Bologna. In years past, many factories used Cersaie as a sounding board for outlandish new designs, showing laboratory-created prototypes alongside new, full production ranges. Today, with the shift towards just-in-time production, clay shortages brought on by the war in Ukraine, and rising transport costs, I am anticipating that fewer of these design kites will be flown, with manufacturers preferring to offer a carefully selected array of proven new products.
My selection of new designs includes a new inside-out collection, called Crete, from Cerdomus. This cotto-effect porcelain range comes in seven earth tones: Terracotta, Rame, Bronzo, Oro, Cobalto, Piombo and Zirconio.  It is offered in three thicknesses, and 10 formats up to 1200mm x  2800mm.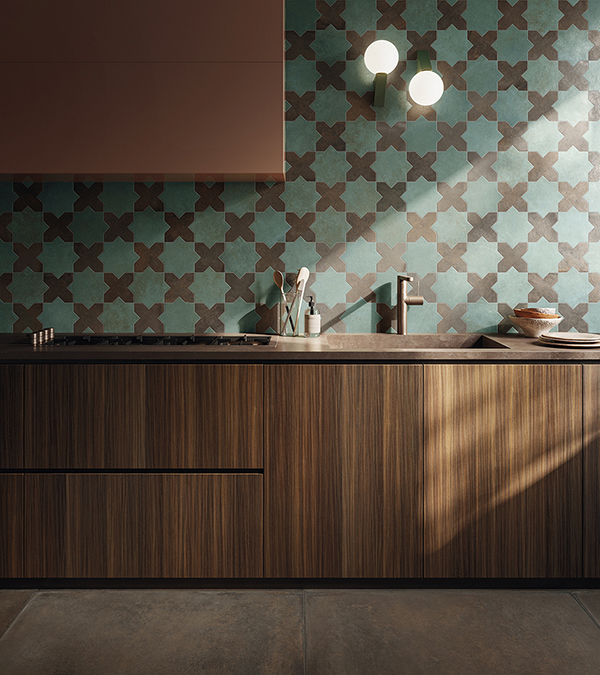 The collection includes a selection of mosaic and decor options for intricate and intriguing floor and wall designs.
From Ceramica Bardelli comes Tiles (R)evolution, designed in collaboration with Seletti. It is a playful and expressive collection from one of the sector's fashion leaders.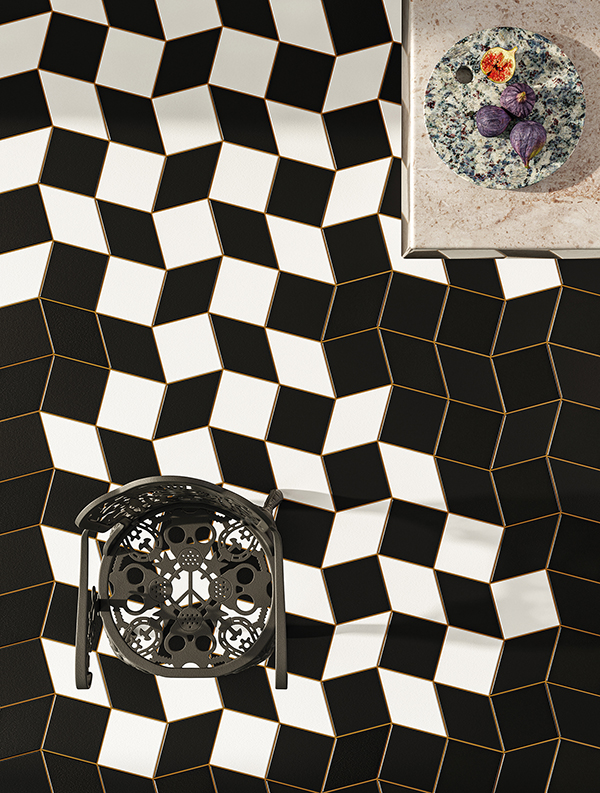 Drawing inspiration from water, sky, geometric patterns and mirrored surfaces,  the collection is available in five styles: Clouds, Water, Diamond, Black & White and Distortion. They are designed to be mixed and matched to give architects and interior designers free rein in artistic expression.
Entice is a new collection from Atlas Concorde. Inspired by the beauty and charm of oak, with its diverse, natural veins and knots, this porcelain tile range comes in four warm shades and a variety of plank formats.  It is ideal for creating contemporary indoor-outdoor designs.
Astrum by Supergres blends classic materials and contemporary design. This striking series is available in six elegant shades and finishes for a fresh, contemporary take on travertine that evokes romantic images of a luxury Italian villa. These porcelain tiles come in four formats up to 1200mm x 1200mm with matt or grip finishes, and 9mm or 20mm thick. Again, Astrum is suitable for indoor or outdoor installations.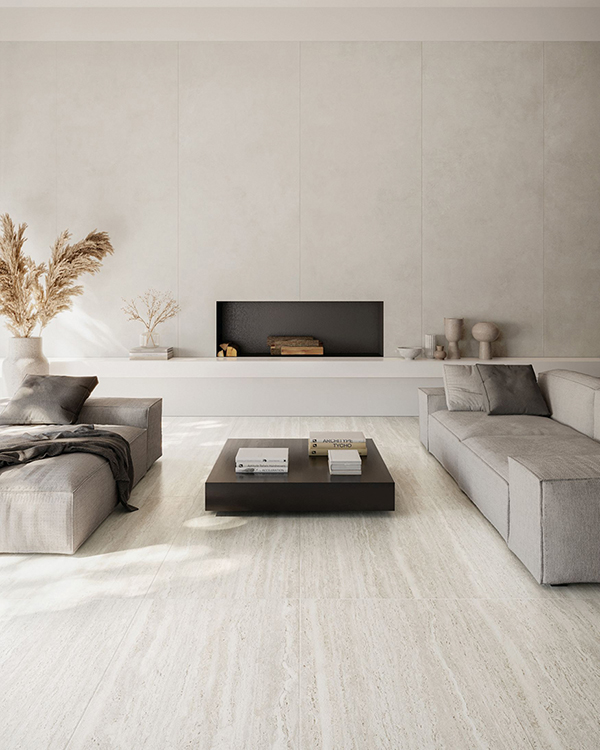 For the contract sector, Ceramiche Piemme presents Opus, which is clearly inspired by cocciopesto, a material that characterises the architecture of the Mediterranean. 
Abandoning the classic red shades for more contemporary neutral colours of concrete, ranging from the light Opus Album to the darker Opus Griseo, the typical grain size of the cement agglomerates is faithful to the original to create a texture enriched by glossy inclusions on a matt background.
One of the interior themes I expect to see more of at Cersaie is captured by Memorie by Sartoria, a Terratinta Group brand. This is an exploration of materials, upholstery, and colour, a sort of journey into memory, although the study of 14 bright, bold colours project it towards the future. With a 65mm x 130mm brick format that harks back to the artisan ceramic tradition, the gloss glaze embellishes this vintage vibe, offering new nuances and subtle shading via digital technology. I think this will be just one example at Cersaie 2022 of how new vintage concept tiles can be used in modern design to look forward by looking back.
Cersaie Digital: a virtual venue
The final thing to note about the forthcoming show is Cersaie Digital. With features such as an exhibitor catalogue, a business matching service and a congress centre, Cersaie's new digital platform allows professionals to meet up and do business remotely. It includes a 3D map of the site and a virtual flight over the exhibition centre.
Online from 19 September to 7 October, it is intended to be an integrated business matching platform that allows visitors to plan the time they spend at the exhibition and find new commercial partners, either with face-to-face meetings or by meeting online.