Affordable Granite: From IT to reality
After a career in information technology Andy Phillips wanted to make something tangible. Stone worktops filled the bill nicely. 
Andy Phillips has not entirely left his first career in computers and management consultancy behind him because he believes you use what you know to your advantage. Most of the kitchen worktops he sells are ordered from the website of his company, Affordable Granite.
"We're asking people to spend thousands of pounds without ever having met us," he says. To do that successfully requires a website that distinguishes itself from everyone else's. "70-80% of the websites in the industry are all the same," says Andy. "Ours is different." You can see for yourself at www.affordablegranite.co.uk. Andy even uses his experience from his past life to write some of his own code. The site typically achieves something approaching 20,000 hits a month.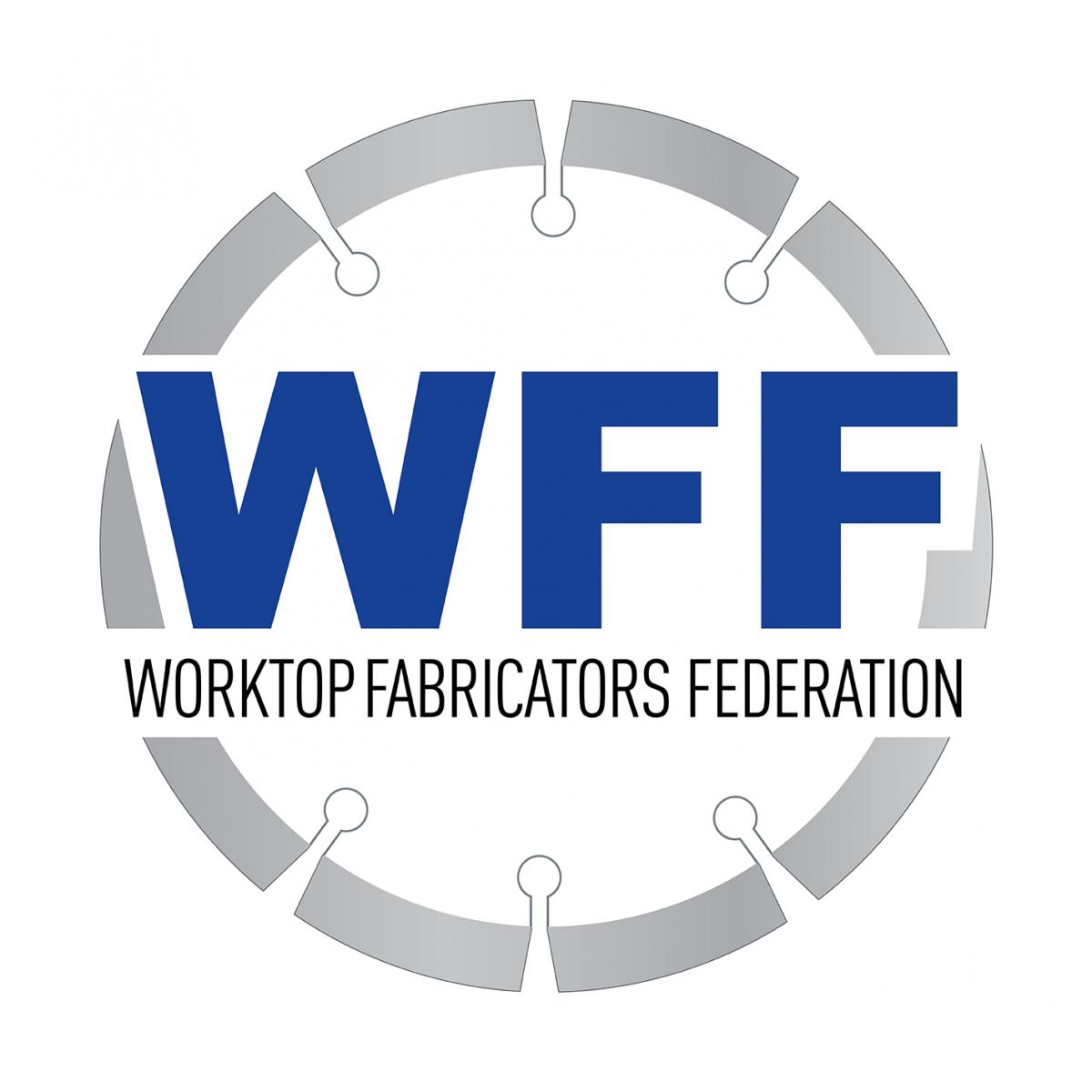 Andy is one of the five people behind the new Worktop Fabricators Federation (WFF) launched at KBB in the NEC, Birmingham, at the beginning of this month (March).
As we have reported previously, the guys who have formed the WFF did so after discovering the benefits of discussing their mutual business interests during a visit to one of their suppliers. Each of them opened their factory doors to the others to come and have a look at how they operate.
They found they all had something to learn from each other and that sharing their knowledge did not disadvantage themselves.
Andy was happy to invite his colleagues to his operation in industrial units at John Lory Farm in Charlwood, Surrey, where he also has a showroom, although few of his customers visit it to choose their worktops.
Affordable Granite operates from a pleasant rural setting but the industrial units on the farmyard site are not straightforward to find, do not offer the easiest parking and the smell of cows is not to everyone's taste.
But Andy's business model does not require customers to visit the site because transactions can be carried out remotely with the benefits of modern technology. "The vast majority of people who buy from us never visit us," says Andy.
On the other hand, websites can make a company appear more than it is. Affordable Granite has its own factory, templaters, fitters and office staff. Not every company with an attractive website does. Recently there has been quite a lot in the KBB trade press about inconsistencies among kitchen fitters. "People buy a kitchen and have it thrown in by Joe Bloggs and they have problems," says Andy. Combatting that was one of the motivations behind the formation of the Worktop Fabricators Federation.
Businesses will know about the quality of work of people in their areas and members of the Federation will be able to share that knowledge and police each others' standards, so that customers learn they can trust the work of WFF members.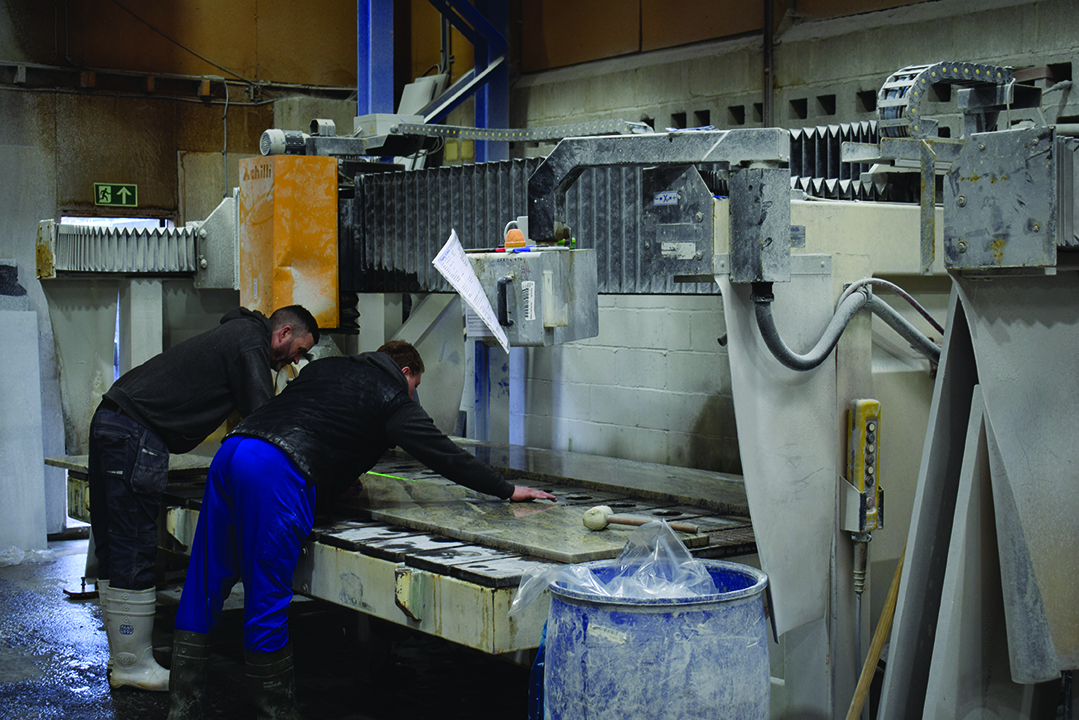 Part of the Affordable Granite workshops showing one of its Achilli saws.
From IT to worktops
So what, you may well be asking, motivated a person successful in IT and business management to start selling kitchen worktops?
"I was coming up to 40 and I decided I wasn't enjoying what I was doing," says Andy.
He worked for IBM, where he trained as a software engineer. He progressed through the career path and went into management consultancy, running IT projects for various significant organisations. But information technology moves quickly and skills become obsolete every decade, requiring constant training.
Some people also reach a time when they want to be in charge of their own destiny. Andy had reached that time, so decided to study for an MBA.
"I wanted to make something tangible. My MBA thesis was on transferable skills and I have transferred my business consultancy skills to Affordable Granite – and I'm now delivering a service that people actually want. I see Affordable Granite as consultants who happen to make things as well."
And when it comes to making something, Andy says: "I enjoy working with stone. I don't mind running a machine personally." He also goes out to do templating, which keeps him in close contact with customers.
Time to invest
Andy had not thought about moving into kitchen worktops particularly but his father-in-law pointed out to him an advertisement in the Sunday Times offering a manufacturing business for sale. It did not say what the business made.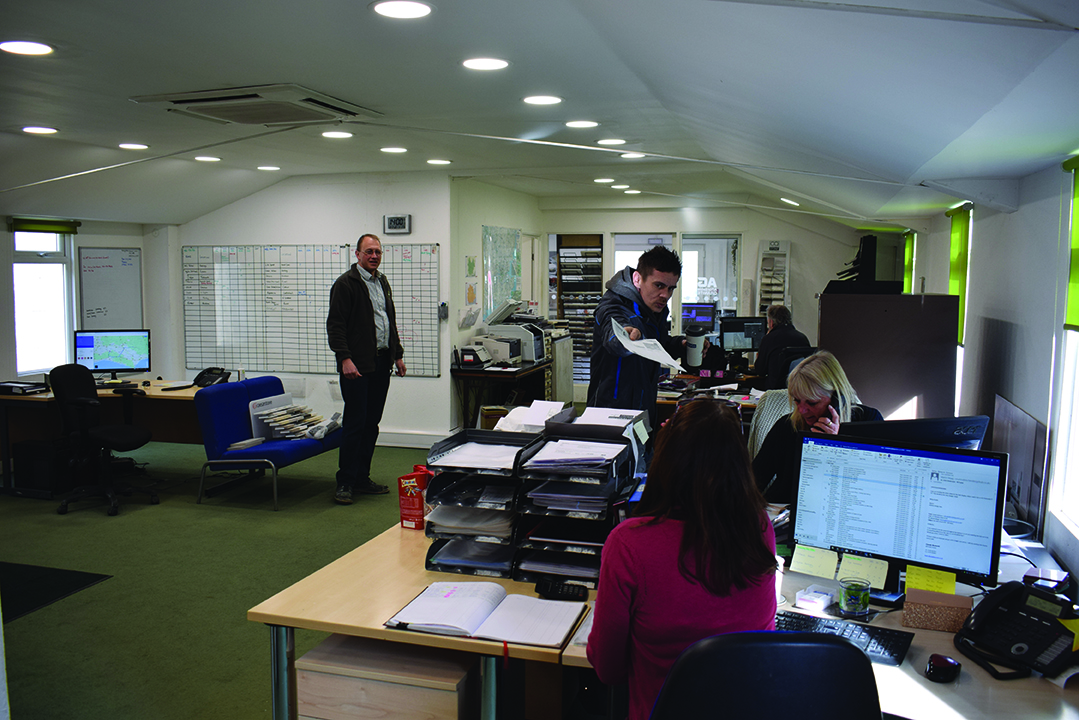 He followed it up and discovered it was Clive Marett selling Affordable Granite in Surrey. Clive had established the business in 2003 as a result of building a house and discovering how much granite worktops were selling for. Clive saw an opportunity and started importing worktop blanks from India, which was easier in 2003 because 95% of the worktops customers wanted were black granite.
The options expected by customers have grown somewhat these days and 75% of the worktops Affordable Granite makes now are quartz, 20% granite and 5% sintered stone or porcelain, although granite does seem to be making a comeback, especially as more people become aware of environmental impacts. Affordable Granite no longer imports material directly, although it does buy slabs in sufficient quantities to be able to get at least two kitchens out of matching material, which minimises waste.
By 2010, when the ad was placed in the Sunday Times, Affordable Granite had become what Andy describes as "a hobby that had got out of control", with a staff of 10 working from a rusty portable cabin and using old machinery in the factory that had been sweated to exhaustion.
The Affordable Granite website was already established, but a considerable chunk of the investment Andy has put into the business has gone into developing it further. "We must have spent a couple of hundred thousand pounds on it – as much as a CNC. But it's a critical asset."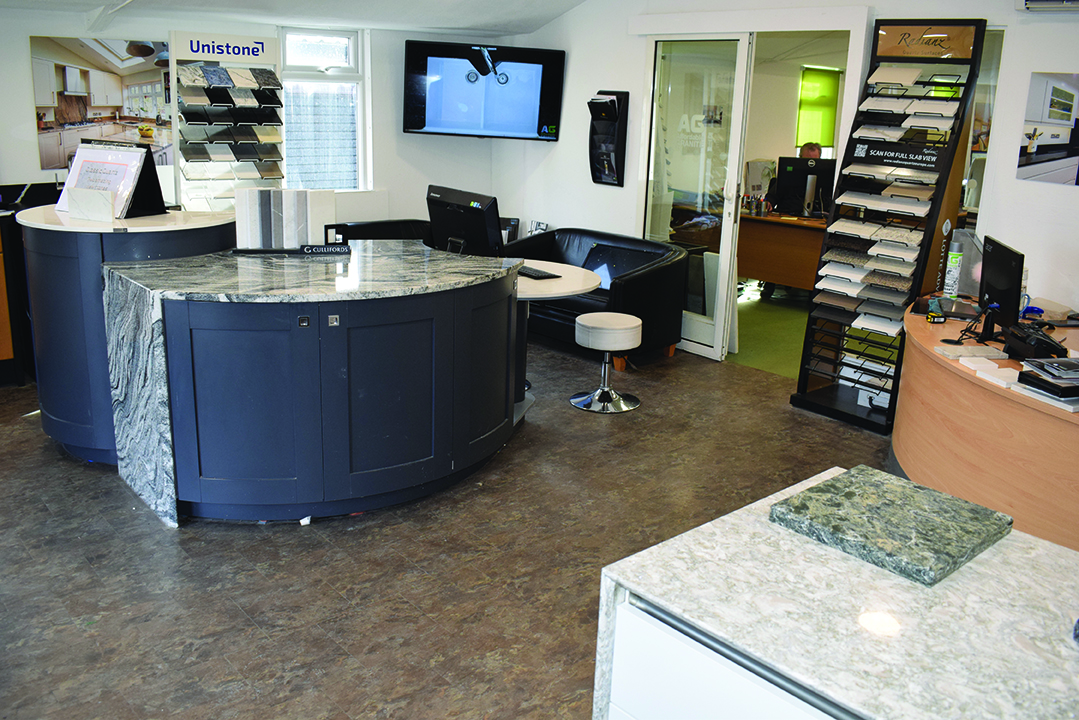 The workshop factory has also had a lot spent on it. It has been expanded into a second adjacent unit previously occupied by an engineering company and re-equipped with two new Achilli saws, a Montresor edge polisher, and Master 30 and Master 33 CNC workcentres from Intermac. "That has transformed operational flow," says Andy. A new water recycling system with a filter press has been added, a waterwall dust extractor and low energy LED lighting. "They're incremental improvements but together they mean the 17 people now working here can be more productive," says Andy. "We have less down time and there are fewer problems for the office to have to manage."
The offices have left the portable cabin and been moved into another unit Affordable Granite has taken over, which also now houses the showroom.
Affordable Granite has bought a digital templater, although it has not been used much. The person who does the templating at Affordable Granite is familiar with and likes to use Cordex. And because Affordable Granite deals mostly with consumers on domestic projects, a physical template is easy for them to see and understand.
"Mrs Smith isn't familiar with the terminology, but with a piece of Cordex she can see where the worktop will come to and if it is going to get in the way, or stop a door opening, or something like that."
However, the next upgrade in the factory is going to be a GMM CNC saw, which means a digital template can go straight to a DXF file on to the saw and into the workcentres, so the digital templater from Laser Products Europe is going to get more use.
Internet interface
The website is still the shop window and main sales tool of Affordable Granite. It now has some 130 pages to lead customers through the process of selecting their worktops and it is regularly updated by someone who comes in two days a week to do just that.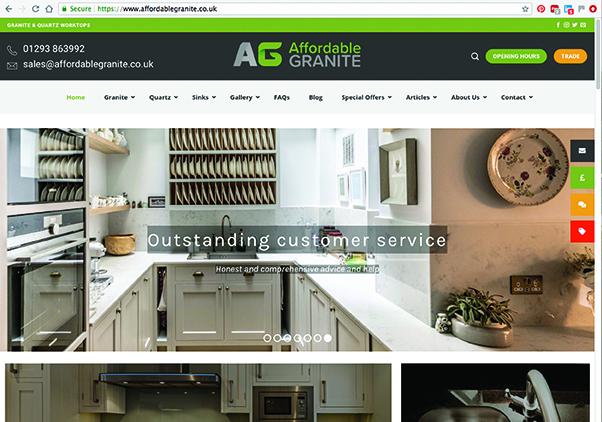 Not that Affordable Granite spends too much time trying to keep up with the changes to Google's algorithms by chasing search engine optimisation (SEO) tricks. It concentrates instead on the content and manages to top the unpaid for lists of 'affordable granite' searches most of the time and is on the first page of results for Google's 'granite worktops' searches.
The website aims to answer all the questions a customer will ask. "It's understanding what the customer needs to know," says Andy. "And you have to show the client respect. The worktops are probably the highest value capital item they will put in their kitchen. They want to feel rewarded for making that decision. We don't want to pump the price up after we have templated, so if they have a large veined material that is going to be book-matched, we tell them they are going to need two slabs to achieve the result they want and price accordingly. They won't have thought of that and a lot of our competitors wouldn't have told them about it up-front."
Honesty feels good
Being honest tends to engender trust and trust is rewarding for the customer. A one-year, no holds barred warranty on all its work also helps promote trust, as does having been around since 2003.
The company's longevity helps the website, too. It takes a while for websites to work their way up search engine rankings, so having existed for 17 years is beneficial.
Having been around for 17 years also means Affordable Granite has fitted a lot of kitchen worktops – around 20,000, in fact. Customers are normally happy with their new kitchens, so recommend Affordable Granite to their friends. That is a formidable network of soft selling in the affluent stockbroker green belt around London that is the target audience of the company.
Customers are also given a Check A Trade form to fill in for feed-back on the service they have received. "I don't think it's won us any business," says Andy, "but it keeps our team on their toes because they know the customer will be providing feed-back."
While most of Affordable Granite's business is directly with consumers, it also has a trade element supplying small developers, builders and specialists such as Cedar Kitchens, which is reflected in a trade area on the website. A significant selling point is a quick turnaround – templating and fitting is often achieved in just three days and seldom takes more than a week. With the broader range of materials expected for kitchen worktops these days, achieving that turnaround time means a speedy response from suppliers is more important than ever.
Consistent materials
Cosentino are one of the company's main suppliers, but Quarella, ArenaStone, Cambria, Classic Quartz and others are all important. "I don't really mind where it comes from but it has to be consistent and because I can't hold as much stock as I need I have to be able to get deliveries quickly," says Andy.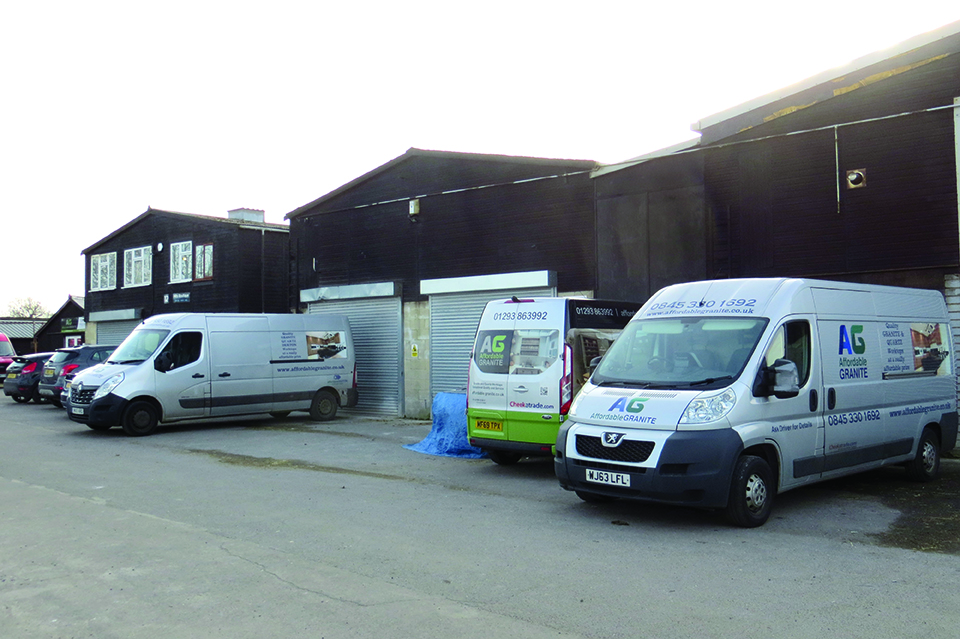 The aim now is to improve productivity and get production up from its current rate of 20-30 kitchens a week, although that is the sort of size of business that the Worktop Fabricators Federation expects most of the companies that join the Federation to be, simply because they form the largest part of the industry numerically. However, the WFF hopes to attract some of the larger fabricators as well.
Andy believes there is strength in keeping a cap on the size of business you run in the worktop sector because of the fluctuations in demand. "You need to be geographically local, in control and not overstretched," he says.
The future
When Andy took over Affordable Granite his aim was to increase turnover and profitability. He has made moves along that path but is not yet quite where he wants to be. A new GMM saw should help.
For now, Andy says he believes the Brexit effect has made people think twice about the level of debt they are holding and has reduced their enthusiasm for increasing it, which has reduced demand. It remains to be seen if that is temporary or a trend.
For the longer term, Andy sees potential benefits of joining in a partnership with another company to expand geographically or to move into new product areas.
"I never expected to be running a granite company," he says, "so perhaps there are other opportunities that I don't currently know about. Who knows where we're going to end up?"
Below. One of Affordable Granite's projects. The worktops are Silestone Eternal Calacatta.