Amir Reske: We must avoid a race to the bottom
Amir Reske, Managing Director of Caesarstone in the UK, Europe, the Middle East & Africa, talks to NSS about his move into hard surfaces and his introduction to stone fabricators.
NSS: You came into the worktop market from outside the industry. Now you have spent four years in it, what would you say are your three most overriding impressions of stone fabricating?
Amir Reske: The four years have gone by very quickly and I can genuinely say that I've enjoyed every one of them due to what we achieved as a team over this time and what we've learnt along the way. Caesarstone continues to grow and expand and our growth is driven by our team's skills, expertise and dedication from both within as well as outside of the industry.
My three overriding impressions of our industry would be:  
1) It is highly fragmented and lacks transparency. There is no consistency in information about materials, quality, pricing, or service. To a consumer, it is almost impenetrable and few understand the differences between the different quartz surfaces available. Even some of the big players in the design or housebuilding communities struggle sometimes to get consistent and reliable advice.
2) A consequence of the fragmented nature of the industry is that there is no coherent and enforced regulation, particularly relating to health & safety. There are some outstanding companies that have raised their own bar in this respect, but overall, standards remain low.
3) Little attention is paid to material provenance and the many sections of the market are in a race to the bottom, where how it's made, with what raw materials and aftercare support and maintenance, are far less important than price. Many players in the industry are enticing customers solely with low prices and low-end products and as a result may be putting their customers at risk.
These factors significantly undermine our industry's growth, which is perhaps why quartz penetration in the UK remains low compared with other markets. However, there are signs of change, as some fabricators, designers and housebuilders are increasingly focusing on consumer experience – service and buying experience – and will only push brands that offer technical assistance, aftercare, long warranties and genuinely certificated products.
Tell us what sector you were in before joining Caesarstone and how stone fabrication is a) different; and b) the same.
I had several different management roles prior to joining Caesarstone and am a qualified lawyer, having practiced global corporate law for more than 10 years. However, immediately before joining Caesarstone, I was the CEO of a large air conditioning firm.
a)         Different: Both the B2B and the B2C markets in the air conditioning industry understood the importance of dealing with reputable well-established brands due to the R&D involved and the after-care service that comes with them. It's not only about the low price. Like worktops, air conditioning units are constantly being used in our homes and are installed by professional installers, therefore the long-term product reliability, technical backup and warranty counts for a lot. 
b)         The same: The GTM (go-to-market) is similar – it's a B2B2C business model and brands need to work with all players in the chain. However, no matter what business you're in, it's all about the people to people relationship and the care and support you give your customers.
What's your idea of your favourite customer?
It would be easy to simply say someone who buys a lot and pays on time. In reality, we like to work with customers we can form close relationships with and develop trust. We talk to our key stone industry partners about colour trends and technical innovations and we use their feedback to provide what they need. Caesarstone continues to take a bespoke approach to each and every  relationship rather than a one size fits all, and this has helped drive our key accounts, where projects are won together and we are set up for a mutually beneficial long term relationship.
We don't believe in a dictatorial approach to relationships; they rarely work in the long term. The value chain has to work together in order to deliver a quality product to the end consumer and this can happen only through partnership. 
Before you joined the industry, were you aware of Caesarstone as a product?
Having worked in real estate developments for almost eight years, I knew the brand and what it stands for. Moreover, I was in Israel before, where Caesarstone has almost 90% of the market. So yes. Many members of the team that joined from outside the industry also knew the brand name in the UK. 
Did/do you have Caesarstone in your home? What is the most interesting use you have seen Caesarstone put to?
I do have Caesarstone in my home, in our kitchen, bathroom vanities and also used as shelves throughout. I also recommend it to all my friends, not just because I work for the brand, but because I honestly believe what it stands for and I don't think you can find a nicer suite of products.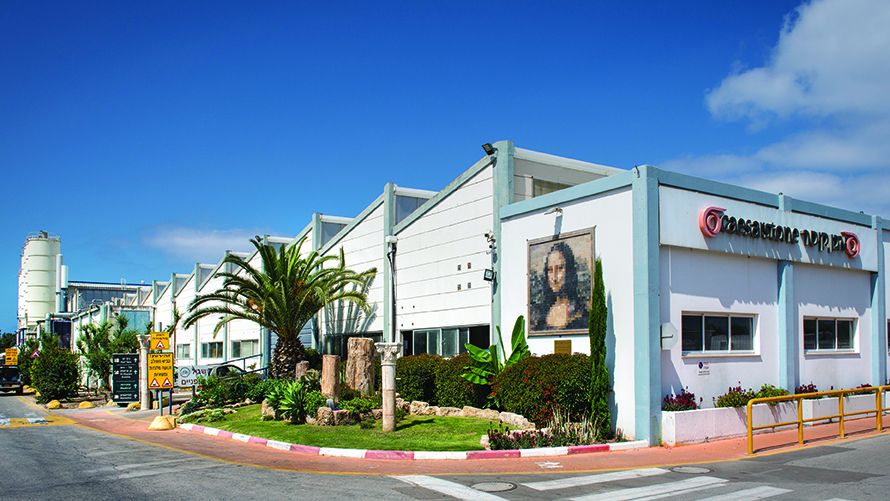 We've been lucky to be a part of many projects in the UK since we launched in 2017, small and large scale, and I've seen some incredible designs that feature Caesarstone. One such project is the Beavertown Brewery Bar in the new Tottenham Hotspur Stadium. That's very impressive. It is reputed to be the longest bar in Europe and the entire length is clad in one of my favourite Caesarstone products – Rugged Concrete. In terms of craftsmanship, there are several large statues made of chipped quartz that I've seen made by particularly skilled fabricators. And, of course, there is the Mona Lisa made from Caesarstone hanging on the factory wall in Sdot Yam in Israel.
Are you now, or were you, working at home as a result of Covid-19? If so, how did that work out?
The pandemic effected Caesarstone in the same way as it did the entire world. Although our warehouses remained open with minimal staff mainly for inbound activity, the remaining staff we either furloughed or worked from home. I also worked from home and although technology allows us to stay in touch with our team and customers and provide us with the ability to continue trading, I did miss the human interaction and face-to-face 'real life' contact.
Have you now returned to the offices in Enfield, or do you spend some time there and some time at home, maybe some time out on the road or at head office in Sdot Yam?
Caesarstone UK has returned to full working capacity and all employees are back to work. Not only did we keep the same team we had before the lockdown, but despite the pandemic we even recruited new members that joined our team. As I'm MD of Caesarstone EMEA (Europe, Middle East, Asia) I do travel to meet our customers in Europe and also have to attend meetings at head office. Both are challenging at the moment, but when I'm in the UK I spend five days either in our Enfield or Manchester offices or on the road meeting customers (which is what I enjoy the most).
If things are returning to normal, is it a new normal or the old normal with a mask on (as Simon Souter of the WFF said in the September issue of NSS)? What's the same and what's different?
I don't distinguish between new normal or old normal or temporary new normal. I do what needs to be done in order to promote and build our Caesarstone business in changing circumstances, ensuring that we keep on track to becoming the number one quartz company in the UK. The primary change is that this is all now happening while maintaining even stricter health & safety measures for the benefit of our employees, our visitors, our customers and the wider community.
What about Brexit? As Israel, where Caesarstone is based, is outside the EU, I guess Brexit might even make life easier for you by levelling up the playing field?
I don't know what you mean by levelling up the playing field; we never felt at any disadvantage. To the contrary, coming to the UK only strengthened our global brand. Caesarstone's decision to come to the UK was made before the Brexit referendum, and the result of the referendum did not deter us nor change our plans about committing to the UK. In terms of impact on our trading activities, we're already importing our slabs from our factories in Israel and the USA, both of which are outside of the EU, hence we've always been prepared and have all the necessary paperwork to ensure the continuous uninterrupted import of our slabs. However, should Brexit have an impact on the UK economy we will not be immune to it.
Give us a quick SWOT analysis of the UK KBB / worktop fabricator market for next year.
STRENGTHS: Skilled people, product quality and R&D/design innovation among the big brands.
WEAKNESSES: A lack of attention to the health & safety of those working in our industry
OPPORTUNITIES: To bring our industry into the 21st century in terms of service levels, customer expectations and experience 
THREATS: A race to the bottom on price that will impact product quality and service.
What do you like to do as a hobby / to relax when you are not working?
I played basketball for many years but now my body is unable to reach the same peaks as in my youth. I try to get to the gym early in the mornings at least 2-3 times a week and at weekends. When I'm not working, I meet up with friends. My family lives overseas so I spend as much time as I can with them when I go back or when they come to London.
What's the most interesting thing you have ever done for work?
I'm fortunate that my career has enabled me to work in different countries and different continents and I love working with different people and adapting to different cultures and business etiquettes. Setting up Caesarstone UK from scratch with no offices, employees, customers, stock etc was very interesting and challenging.
In my previous roles I was involved with ground-breaking medical device companies, helping them reach their full potential, from inception to multi-million-dollar valuations. I was also lucky enough to be involved in some very interesting real estate projects around the world, one of which was the former GDR broadcasting station, Funkhaus Berlin, that has subsequently became a globally known music, entertainment, recording venue as well as iconic location for some very famous films.
I do believe, however, that the future still holds many highlights for me personally as well as for the bigger Caesarstone brand..